How to Make French Toast 
Learn how to make French toast so it is extra special for holiday brunch or breakfast. Many of us want to do some different for the holidays. The following recipe is a good breakfast idea or can be used for an Easter brunch. It is made unique by adding stuffing and a sauce.
When I first learned how to make French toast, it was simply egg bread in my home when I was growing up; bread dipped in egg mixture and browned in skillet. We didn't even eat syrup on this recipe; just plain. How I have come a long way! Many years ago I experienced my first French toast at a Marriott Hotel in Orlando. It was Texas toast dipped in egg batter and deep fried; then dusted with powdered sugar. Wow! I thought that was dessert served with maple syrup. After many more years I found it actually is dessert in some countries. Another misconception I had was that this had to have originated in France due to the name. Now I have been told it originated in New York, Whatever! All I know is that this dish can be very elaborate and I could eat it for dessert.
STUFFED FRENCH TOAST RECIPE

8 Ounces soft cream cheese
5 Tablespoons chopped pecans
3 Full tablespoons apricot preserves
1 Teaspoon grated orange rind
2 Pound loaf heavy bread, unsliced
½ Cup butter
6 Large eggs
1 Cup milk
4 Tablespoons Grand Marnier
Combine the cream cheese, pecans, preserves and orange rind together and blend until smooth; set aside.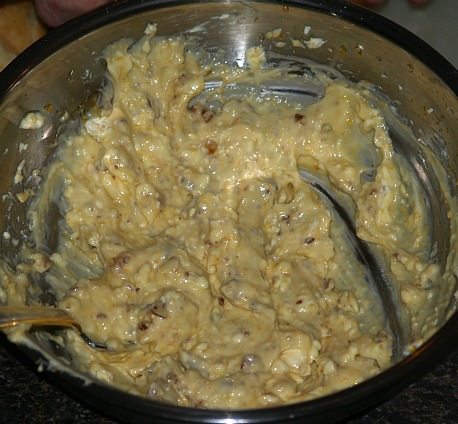 Cream Cheese Mixture for French Toast Stuffing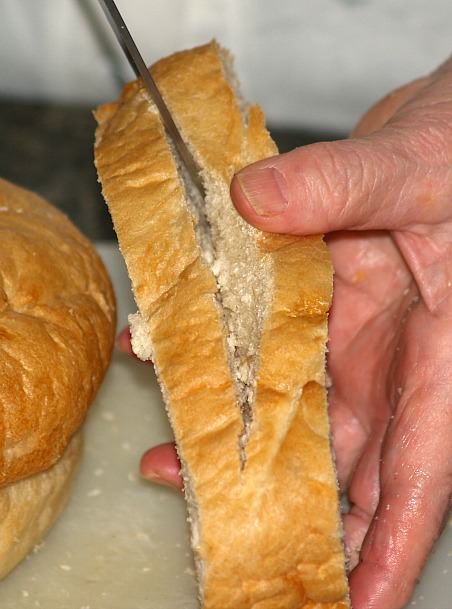 Cutting Bread for French Toast
Trim the ends of the bread loaf with a sharp knife. Cut bread into 1 ½ inch slices. Make a cut in each slice to the center to form a pocket. Stuff each pocket with the filling being careful not to poke holes through the bread.
Combine the eggs, milk and Grand Marnier together in a large bowl. Beat until thoroughly blended.
Heat griddle to medium heat and melt some of the butter. Dip the stuffed bread in the egg mixture on both sides until bread is saturated.
Place French toast on the griddle, browning on each side about 8 to 10 minutes. Serve with cream sauce.
CREAM SAUCE
1 Cup whipping cream
1 Teaspoon vanilla
2 Teaspoon Grand Marnier
¼ Cup sugar
2 Tablespoons sour cream
Combine the whipping cream, Grand Marnier and vanilla in a mixing bowl and mix on medium for a minute to blend. Add sugar and sour cream and beat until soft peaks for. Dollop on French toast to serve.
This French toast recipe can be turned into a blueberry French toast by omitting nuts in the filling and adding a few blueberries. Also change the Cream sauce recipe to a blueberry sauce.
---
STUFFED FRENCH TOAST RECIPE
I learned how to make French toast with this recipe using this recipe with strawberries and cream cheese; sometimes I use blueberries instead of strawberries. 
8 Slices 1 inch thick bread
8 Ounces softened cream cheese
6 Tablespoons strawberry preserves
1 1/3 Cups milk
4 Eggs
2 Teaspoons sugar
2 Teaspoons vanilla
1 Teaspoon cinnamon
4 Cups sliced strawberries
4 Tablespoons powdered sugar
Cut each slice of bread in half crosswise; with a sharp knife cut a slit in each half to form a pocket.
Combine cream cheese and preserves; spread about 1/16 of mixture in each bread pocket and pinch together to hold filling.
Beat together milk, eggs, sugar, vanilla and cinnamon; dip filled bread slices in batter to coat.
Cook on greased griddle or skillet about 6 minutes to brown on both sides.
Top with strawberries (or blueberries) and dust with powdered sugar.
---
HOW TO MAKE FRENCH TOAST RECIPE
I loved learning how to make French toast with this recipe including macadamia nuts and served with warm maple syrup.
4 Lightly beaten eggs
2/3 Cup orange juice
½ Cup milk
¼ Cup sugar
¼ Teaspoon nutmeg
½ Teaspoon vanilla
1 Pound loaf Italian bread cut in 1 inch slices
2/3 Cup melted butter
½ Cup chopped macadamia nuts
Powdered sugar
Assemble the night before; combine eggs, orange juice, milk, sugar, nutmeg and vanilla and mix.
Fit slices of bread in lightly greased 9 X 13 inch pan; pour egg mixture over bread.
Chill overnight; turn over once.
Pour melted butter over 10 X 15 inch jelly roll pan; place bread in single layer in pan.
Bake 10 minutes at 400F degrees; sprinkle with nuts and bake 10 more minutes.
Sprinkle with powdered sugar and serve with syrup.
---
HONEY PECAN TOPPED FRENCH TOAST RECIPE
2 Large eggs
3/4 Cup milk
1 Teaspoon vanilla
¾ Cup pancake mix
6 One inch thick slices bread
2 Tablespoons butter
Pecan nut topping
Combine eggs, milk and vanilla; add pancake mix and blend well.
Pour mixture into a (9 X 13 inch pan; place bread in egg mixture to coat turning once to coat evenly.
Brown on buttered griddle or in skillet on both sidesServe with pecan nut topping.
PECAN NUT TOPPING
½ Cup softened butter
½ Cup honey
1/3 Cup chopped pecans
Combine in small saucepan and heat to warm.
---
ORANGE SAUCE RECIPE
You can learn how to make French toast and top it with this delicious orange sauce. 
½ Cup butter
1/3 Cup sugar
2 Thinly sliced oranges, peel and pith remove
¼ Cup fresh orange juice
¼ Teaspoon cornstarch
In a large skillet, melt butter and then add sugar; cook until mixture is bubbly.
Add orange slices and cook for 5 minutes stirring.
In a small bowl combine orange juice and cornstarch; add to butter mixture.
Cook, stirring constantly until sauce thickens; remove from heat and serve warm.