How to Make Fudge Recipes
Learn how to make fudge like my family does. My sister is known for her recipes. She has been making fudge for years and everyone looks forward to getting their share for testing. This year she started making it in October and passing it out.
My fondest memories go back many years to making the old fashioned peanut butter fudge with help from my mother. As you might remember, I told you we didn't have measuring cups or measuring spoons. We used a regular tea cup and teaspoons from the silverware. Mom would help me to measure the ingredients. I learned to do this when making taffies or brittles as well.
We certainly did not have a candy thermometer. Mom taught me to test the candy by dropping a little bit into a cup of cold water. When the mixture formed a soft ball, it was ready to remove from the heat. Back then if you wanted something sweet you had to make it, so I had to learn Mom's way of measuring and testing for doneness. (By the way, for cakes we didn't have toothpicks. Mom taught me to pull a straw from the broom, wash it to sanitize and dry it; then test the cake.) How times have changed!
Fudge should be smooth, creamy, soft and pliable; never sugary. The fudge syrup is heavy and tends to boil up in the pan. It should be stirred frequently during the last stage of cooking and the heat lowered to prevent scorching. When the cooking is finished the syrup should be poured onto a clean dry pan or a marble slab to cool. Before pouring wipe away any crystals from the edge of the pan. After fudge has cooled to lukewarm beat with a heavy spoon or candy paddle.
NOTE: For most fudge recipes unless otherwise stated. STIR CONSTANTLY over medium heat until mixture begins to boil. This is to dissolve the sugar. After the mixture begins to boil DO NOT STIR because it will make the fudge grainy and sugary.
SAUSAGE FUDGE RECIPE
1 Cup cooked and crumbled sausage
4 Tablespoons butter
2 Teaspoon vanilla
1 Cup evaporated milk
1 Cup peanut butter
2 Cup sugar
2 Cup brown sugar
2 Cup miniature marshmallows
1/8 Teaspoon salt
1 Cup chopped walnuts
Line 9x13 inch baking pan with foil; grease with soft butter.
Combine sugar, butter, milk and salt in heavy saucepan.

Cook over medium heat stirring occasionally to a soft ball stage (236 F degrees).
Stir in marshmallows and peanut butter; remove from heat and cool to room temperature (Do not stir).
Add vanilla, walnuts and sausage; beat until mixture is creamy and thick (Should hold shape when drop from spoon)
Pour into buttered pan; refrigerate until cold and firm.
Lift out with the foil to a cutting board; remove foil and cut in pieces.
Makes about 3 and half pounds.
---
HOW TO MAKE FUDGE like this


OLD FASHIONED PEANUT BUTTER FUDGE RECIPE
1/3 Cup Hersheys cocoa
3 Cups sugar
1/8 Teaspoon salt
1 ½ Cups whole milk
2 Tablespoons real butter
2 Teaspoons vanilla
1 Cup peanut butter
Combine the cocoa, sugar, salt and milk in a heavy saucepan.
Over medium heat bring to a boil  stirring constantly.
Continue cooking until temperature reaches 238F degrees without stirring.
Remove from heat and quickly stir in the butter, vanilla and peanut butter.
Stir briskly to blend and pour onto a buttered platter or a buttered 8 inch square pan.
Let set to cool completely; cut into squares.

---
EASY MARSHMALLOW FUDGE
I learned how to make fudge recipes from the one below. I have substituted white chocolate for the chocolate bits and then add coconut or peanut butter. Try white chocolate and black walnuts. Use your imagination.
4 ½ Cups granulated sugar
2/3 Cup butter
1 Large can evaporated milk
18 Ounces semi sweet chocolate chips
1 Jar (13 ounces) marshmallow cream
1 Cup chopped walnuts nuts
Mix sugar, butter and milk in a heavy saucepan; bring to a full boil.
Cook for eight minutes; set off heat.
Blend in chocolate chips, marshmallow cream and walnuts; mix until blended.
Pour into a buttered 9 x 13 inch pan; cool and cut into squares.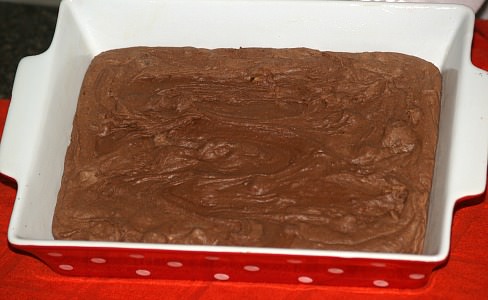 Easy Marshmallow Fudge Cooling
---
PENUCHE RECIPE
When I learned how to make fudge I learned that Penuche is considered the same as fudge recipes. Because they are not chocolate I can't think of them as fudge but just "penuche." Whatever you want to call them, these recipes make very delicious candy.
½ Cup butter
1 Can (5 ounces) evaporated milk
1 Pound light brown sugar
1 Teaspoon vanilla
¾ Cup chopped walnuts
Heat butter and milk in a heavy saucepan over low heat until butter melts.
Add in brown sugar slowly while mixing; turn heat to medium high and stir constantly.
When mixture comes to a boil stir vigorously for 3 to 4 minutes; mixture should display frothy bubbly texture.
Add vanilla and stir for ½ minute; remove from heat and add nuts.
Beat mixture for several seconds; pour into a buttered 8 inch square pan.
Cut into desired pieces and refrigerate.
---
PUMPKIN FUDGE RECIPE
Learn how to make fudge with a delicious pumpkin flavor. Perfect to make for a Fall treat!
2 Cups sugar
2 Tablespoons pumpkin
¼ Teaspoon pumpkin pie spice
¼ Teaspoon cornstarch
½ Cup evaporated milk
½ Teaspoon vanilla
Combine together sugar, pumpkin spice, cornstarch and canned milk in heavy saucepan.
Cook mixture until it forms a soft ball; add vanilla and cool.
Beat until creamy; pour into buttered plate.
---
PISTACHIO FUDGE RECIPE
2 ½ Cups sugar
½ Cup butter
1 Can (5 ounces) evaporated milk
1 Jar (7 ounces) marshmallow crème
8 Ounces vanilla flavor candy coating cut into pieces
¾ Cup chopped pistachios
1 Teaspoon vanilla
Green food coloring
Line 9 inch squares pan with foil extending over the sides; butter foil.
In a large saucepan combine sugar, butter and milk; bring to a boil stirring constantly.
Continue boiling 5 minutes over medium heat stirring constantly; remove from heat.
Add marshmallow crème and candy coating; blend until smooth.
Stir in pistachios, vanilla and food coloring; pour into prepared pan.
Cool to room temperature; refrigerate until firm.
Lift with foil and remove fudge from pan; remove foil and cut into squares.
Makes about 2 ½ pounds.