How to Make Gnocchi
I never learned how to make gnocchi until my "mid" life. I never even heard of gnocchi and certainly did not know how to make them. When I met my husband he had a limited palate; hamburgers, French fries, meatloaf and fried chicken. The only ones of these which he was happy to eat were the hamburgers and French fries. He learned to love meatloaf and fried chicken after we married because I liked them and I made them part of our menu.

Most of my cooking when I was young was with recipes which I grew up eating or my modification to them. Basically, they were typical of German foods like meats, potatoes, gravies and lots of vegetables and desserts. I did expand my cooking to include Italian spaghetti and pizzas plus Mexican tacos. This was only because I was exposed to this cooking and given recipes for them. Back then, we did not have many restaurants and practically no foreign foods. Also, back then, no one ate out but cooked everyday at home.

It was after my husband, children and I moved to Orlando that I learned how to make gnocchi. We all enjoyed the wide range of cultures centered in Orlando and all over Florida. We loved eating at the many different restaurants sampling foods from all the countries. Every time we ate at a new restaurant, I would try to duplicate the food. Needless to say, I had to sample ALL the different foods that my family ordered. I collected many recipes from this experience but also many pounds.

It was still many years after this move to Florida that I learned how to make gnocchi. While eating at a great Italian restaurant, the waitress was explaining to my husband all about gnocchi. She said "potatoes" and that is all it took. The potato is one staple that he loved his entire life and it did not matter how it was prepared. This was the first time I heard of gnocchi. I never even noticed it on the menu before. My husband tried this dish and instantly loved the flavor. This was one John wanted to replicate; not him, but he wanted me to do.

Gnocchi are small dumplings like I was used to making. When I learned how to make gnocchi, I learned making the ones with potatoes. These are the ones I like, making them different from my old recipes. The gnocchi without potatoes are basically like the recipes for dumplings in this country.  Gnocchi recipes with or without potatoes might also include some type of flour, semolina, cornmeal or breadcrumbs. Usually egg is included and maybe cheese or a variety of other herbs and ingredients. The ingredients used and the amount (like flour) varies from region to region in Italy.

Gnocchi can be served very simply with melted butter, salt and pepper or with a great variety of sauces just like we do spaghetti (also, can vary by region).  I learned very quickly how to make gnocchi after tasting. I also learned to make a variety of sauces to serve with them. If you do not want to learn how to make gnocchi at home, you can purchase it in some stores. It may be a little more time consuming making your own but I can tell you it is so much better. At least that which I have tried has had no flavor.

For learning how to make gnocchi with potatoes, the potato variety is important. Most suggest using a floury potato. What is a floury potato? Potatoes are considered to be floury or waxy. Floury potatoes are high in starch and have a dry texture; light and fluffy. They are good for baking, making French fries and for making fluffy mashed potatoes. Some suggested potatoes for floury potatoes are RUSSET or IDAHO potatoes. The waxy potatoes hold their shape when boiling and are good to use in salads and dishes where you want the chunks to hold together. Red and yellow potatoes are included in the waxy group. Because they are lower in starch, I have had doctors recommend them for the better choice in our diet.

NOTE: When learning how to make gnocchi you will find many condiments like garlic butter and different sauces enhance the flavor of basic gnocchi. At the bottom of this page, I have included several recipes for sauces which go well with gnocchi. Use any of these recipes for gnocchi on this page or your favorite. The sauce recipes can be poured over cooked gnocchi or tossed together with the gnocchi.

HOW TO MAKE GNOCCHI
Learn how to make gnocchi with cooked floury potatoes.

2 Pounds floury potatoes
2 Cups flour
1 Teaspoon baking powder
2 Beaten eggs
Salt/ pepper
6 Ounces sliced Provolone cheese
¼ Cup melted butter
3 Tablespoons grated Parmesan cheese
Grated nutmeg

Cook potatoes in boiling water until tender about 30 minutes.
Drain potatoes, peel and press through a ricer into a large bowl.
In another bowl sift together the flour and baking powder.
Add flour mixture to the potatoes mixing well.
Mix in the eggs, salt and pepper; spread on plate and chill 3 hours.
PREHEAT OVEN TO 425F degrees.
Bring a large pot of salted water to a boil; REDUCE TO SIMMER.
Drop potato dough by teaspoon into simmering water.
Cook until dumplings rise to surface about 4 minutes.
Remove dumplings with slotted spoon to platter.
Keep dumplings warm while cooking all dough.
Layer dumplings in an ovenproof casserole dish.
Top with slices of cheese; drizzle melted butter over the top.
Sprinkle top with Parmesan cheese and serve with additional melted butter; bake 5 to 10 minutes browning top.
Sprinkle top with nutmeg; serves 6.

---
HERB POTATO GNOCCHI
Learn how to make gnocchi with pea sauce.
Gnocchi

1 Pound floury potatoes (Baked until very soft)
1 Egg
3 Tablespoons finely chopped fresh parsley
2 Tablespoons finely chopped fresh oregano
1 ¼ Teaspoons salt
¼ Teaspoon black pepper
Pinch nutmeg
1 1/4 Cups flour
Pea Sauce

2 Teaspoons butter
1 Cup thinly sliced onion
2 Cups fresh shelled peas (Or frozen; thawed)
1 Cup chicken broth (Divided)
Salt/ pepper
½ Cup fresh grated Parmesan cheese (Divided)
1 Teaspoon fresh grated lemon rind

FIRST FOR PEA SAUCE melt butter in saucepan over low heat.
Add onion; cook and stir until very soft and lightly browned about 8 minutes.
Add the peas and ½ CUP of the broth; simmer about 5 minutes until tender.
Transfer to food processor and puree until smooth; sieve into saucepan.
Add remaining ½ CUP of broth; season with salt and pepper and set aside.
FOR GNOCCHI cut potatoes in half; scoop out flesh into bowl and cool 10 minutes.
Add egg, parsley, oregano, salt, pepper and nutmeg; mash mixture with a fork.
Stir in flour until soft dough forms (Do not add extra flour).
Turn dough out onto floured surface; divide dough into 4 parts.
Gently roll each part into a 10 inch log; cut into 1 inch pieces.
NOTE: Dip knife in flour to make cutting easier.
Press an indentation with thumb in the center (dip thumb in flour each time).
TO COOK GNOCCHI bring a large pot of lightly salted water to boil over high heat.
Add gnocchi to water; REDUCE HEAT and simmer until gnocchi rises to the top.
NOTE: Gnocchi should feel firm taking about 3 minutes.
TO SERVE reheat pea sauce over low heat; divide sauce among 4 dinner plates.
Arrange cooked gnocchi evenly among the 4 dinner plates.
Sprinkle gnocchi with 2 TABLESPOONS Parmesan each, lemon peel and pepper.
Serve immediately; serves 4.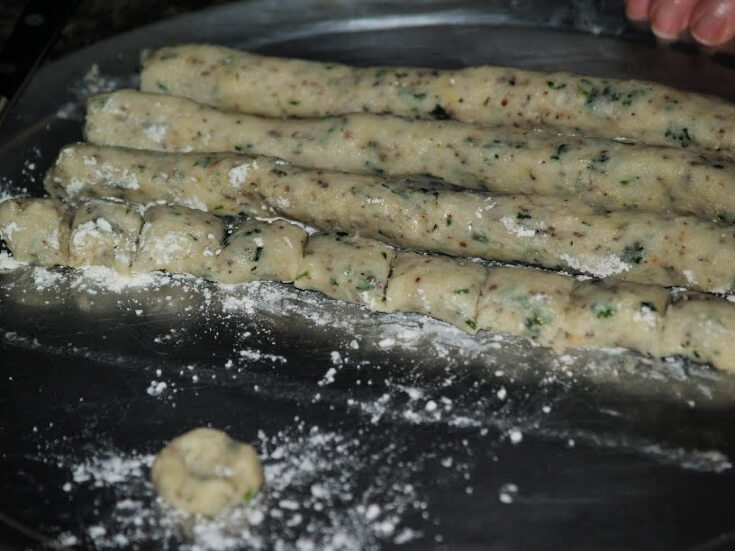 Cut Dough into One Inch Pieces
I Use a Measuring Spoon to Press into Center
---
GNOCCHI RECIPE
Learn how to make gnocchi with a package of cream puff mix.

1 Package (8.5 Ounces) cream puff mix
1 Cup boiling water
4 Eggs
¼ Cup grated Parmesan cheese
1 Teaspoon dry mustard
1 Teaspoon salt
¼ Cup melted butter

Prepare cream puff mix according to package directions using boiling water and eggs.
Stir in the cheese and mustard; spoon into a large pastry bag using a large plain tube.
Fill a 2 quart saucepan with salted water; bring to a boil and REDUCE HEAT TO LOW.
Pipe the cream puff mixture in a stream into the hot water cutting into 1 inch lengths.
NOTE: As the dough drops into the water cut it into 1 inch size pieces.
When gnocchi rises to the top lift out with a slotted spoon onto paper towels; cool.
PREHEAT BROILER.
Place gnocchi in a single layer in a shallow baking pan; pour butter over the top.
Place under broiler about 3 minutes until golden brown; serve immediately.
Serves 6.

---
CHEESE SPINACH GNOCCHI
Learn how to make gnocchi with spinach and cheese.
Dumplings

1 ½ Cups milk
1 Tablespoon butter
¼ Teaspoon salt
Pinch of nutmeg
¼ Cup farina (Not cooked)
½ Cup cooked spinach (Chop and squeeze out water)
1 Beaten egg
1 Tablespoon minced onion
1 ½ Cups shredded Swiss cheese (Divided)

Sauce

2 Beaten eggs
¾ Cup milk
1 Tablespoon flour
1 Teaspoon salt

Preheat oven to 350F degrees.
Generously butter a 9X13 inch baking casserole dish.
FOR DUMPLINGS combine in saucepan milk, butter, salt and nutmeg.
Bring to a boil; add farina stirring over LOW until thickened.
Stir in the spinach, egg, onion and 1 CUP of the shredded cheese.
Mix dumpling mixture well; set off to cool slightly.
Spoon dumpling mixture close together in prepared baking dish.
Sprinkle mounds with remaining ½ CUP of shredded cheese.
FOR SAUCE combine all ingredients; pour over dumpling dough.
Bake 35 to 40 minutes until golden brown; serves 4 to 6.

---
POTATO DUMPLINGS RECIPE
Learn how to make gnocchi with this potato dumpling recipe.

6 Medium potatoes (About 2 pounds)
2 Tablespoons butter
1 Slice dried bread (Cut in ¼ - ½ inch cubes)
1 Tablespoon salt (Divided)
1 Beaten egg
¼ Teaspoon pepper
½ Cup flour (Divided)
¼ Cup cornstarch

Wash, peel and cut potatoes into chunks.
Cover potatoes with fresh water; bring to boil.
REDUCE HEAT to simmer; cook about 30 minutes until soft.
Drain potatoes well; lay on paper towels to dry.
Mash or rice potatoes; set aside to cool completely.
Melt butter in a large heavy skillet over low heat.
Add bread cubes to skillet; toss until all sides are brown.
In large pot bring 2 quarts of water and 2 TEASPOONS salt to boil.
Whip potatoes with egg, 1 TEASPOON salt and pepper.
Combine HALF of flour and cornstarch; blend into potato mixture.
Add enough of REMAINING HALF of flour to make a soft dough.
Shape dough into 1 inch balls; press a bread cube in center of each ball.
Drop balls in boiling salted water without overcrowding.
Cook about 5 minutes until dumplings rise to the top of water.
Remove dumplings from water with a slotted spoon draining off excess water.
Place dumplings in a serving dish; serve with melted butter or sauce.
Serves 4 to 6.

---
HERB BUTTER RECIPE
Learn how to make gnocchi and serve with herb butter.

1 ½ Cups softened butter
1 Teaspoon dried dill weed
½ Teaspoon garlic salt
¼ Teaspoon dried oregano
1 Tablespoon dried parsley flakes
4 Tablespoons grated Parmesan cheese

COMBINE AND MIX altogether; store in tightly sealed container in refrigerator.
Toss herb butter in hot cooked gnocchi; makes about 1 ½ cups.

---
PESTO SAUCE RECIPE (With spinach or basil)
Learn how to make gnocchi and flavor with delicious pesto sauce.

2/3 Cup pine nuts
1/3 Cup pistachio nuts
5 Large cloves garlic
2 Cups firmly packed spinach leaves or basil
4 Ounces Parmesan cheese
2 Teaspoons salt
1 Cup vegetable oil
¼ Cup olive oil

Combine in a food processor the pine nuts and next 5 ingredients.
Process mixture to a fine paste; gradually add oils.
NOTE: Add enough oil to make a consistency of mayonnaise.
Place in a tightly covered canning jar and keep in refrigerator

---
ITALIAN TOMATO SAUCE RECIPE
Learn how to make gnocchi and serve with this delicious tomato sauce.

2 Tablespoons olive oil
1 Medium onion (Chop fine)
2 Stalks celery (Chop fine)
1 Large green bell pepper (Chop fine)
2 Tablespoons oregano
1 Teaspoon rosemary
1 Teaspoon basil
1 Teaspoon cumin
1 Teaspoon marjoram
1 Teaspoon sugar
1 Teaspoon pepper
2 Teaspoons salt
¼ Teaspoon crushed red pepper
1 Can (16 Ounces) tomatoes
2 Cans (10 Ounces each) tomato sauce
1 Can (8 Ounces) tomato paste
1 Cup water

Place olive oil in large Dutch oven; cook onion, celery and pepper until tender.
Add the spices, tomatoes, sauce and tomato paste to the Dutch oven.
Pour water into cans to rinse; add to the Dutch oven and bring to a boil.
REDUCE HEAT to low; cook for 30 minutes and set off.
Serve with gnocchi or pasta.