How to Make Homemade Bread
When I learned how to make homemade bread I loved the smell of it radiating from the oven. This always brings out the feeling of warmth and homeliness like nothing else. Often realtors will suggest when asked by homeowners "how to sell my house', to place a loaf in the oven to bake. The aroma from the baking product will make them feel cozy in what could become their new home.
Many people think that learning how to make homemade bread is too complicated to try. To simplify the matter, learn the different types. They can be divided into two major categories; yeast and quick recipes. These are determined by the leavening agents used whether it is yeast or either baking powder or baking soda.
When learning how to make homemade bread, the  quick ones are so called because of the short time needed to prepare them as compared to learning how to make homemade bread recipes which include yeast. The leavening action of baking powder and baking soda begins as soon as these ingredients come in contact with moisture; this process is hastened by heat and manipulation and is retarded by cold. Therefore in any recipe containing baking powder or baking soda, the combining of liquid with dry ingredients should be left until the last possible moments before baking. The mixture should be stirred, never beaten, only enough to moisten the dry ingredients. If you must keep the batter for a few minutes before baking, it should be put in the baking pan and kept in the refrigerator.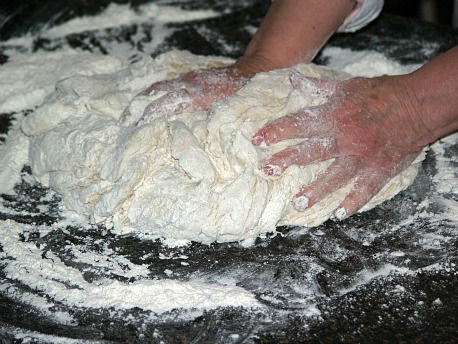 How to Make Homemade Bread - Kneading Dough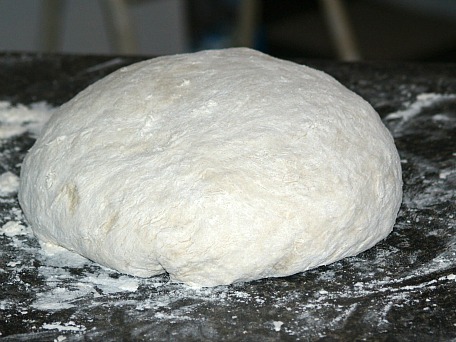 Done Kneading Bread and Ready to Rise
Brush Butter over Dough before Placing in Oven
IMPORTANT NOTES: When learning how to make homemade bread you will find recipes often referring to some instructions over and over ingredients which you may not be familiar with.
NOTE: "LUKEWARM" when referring to liquids such as water and milk for yeast means temperatures of 112F to 115F degree; colder will not allow yeast to rise and too hot will kill the yeast preventing it from rising. Setting bread in a "WARM

PLACE" to rise means a temperature of 80F to 85F degrees; without a proofer, I accomplish this by heating my oven and placing my dough on top of the stove or nearby.

NOTE: You will find recipes saying to bake the bread in clean empty CANS. Years ago, we use to use metal coffee cans but now they are plastic. You can use cans in which other ingredients were purchased. Following is a size list for your convenience: Number 1 can=10 ½ to 12 ounces, No 2 can=20 ounces, No 2 ½ can= 27 to 29 ounces, No 3 can=52 ounces, No 10 can=6 ½ to 7 ½ pounds, No 300 can= 14 to 16 ounces, No 303 can= 16 to 17 ounces.

NOTE: When learning how to make homemade bread, you will run across "dough enhancer" and "wheat gluten". These are ingredients in some yeast recipes using whole grains. DOUGH ENHANCERS will give your bread a higher and lighter texture which is hard to achieve using whole grains. (Can be purchased; King Arthur brand has one). VITAL WHEAT GLUTEN is a natural protein and by adding a little to your recipe will improve the texture and elasticity of the bread. (Can also be purchased; Bob's Red Mill has one) 
 HOW TO MAKE HOMEMADE BREAD


like this WHITE BREAD RECIPE

1 Package active dry yeast

1/4 Cup Warm water

6 cups Flour divided

2 Cups warm milk

1 tablespoon sugar

1 tablespoon shortening

2 teaspoons salt

How to Make Homemade Bread Instructions:
Combine yeast and water in a 1 cup liquid measuring cup; let stand 5 minutes.
Place 3 cups flour in a large mixing bowl. Add yeast mixture, milk, and remaining 3 ingredients; beat at medium speed of an electric mixer until well blended. Gradually stir in enough of remaining 3 cups flour to make a soft dough.
Turn dough out onto a well-floured surface, and knead until smooth and elastic (about 10 minutes). Place in a well-greased bowl, turning to grease top.
Cover and let rise in a warm place (85 degrees), free from drafts, 1 hour or until doubled in bulk.
Punch dough down; cover and let rise in a warm place, free from drafts, 30 minutes or until almost doubled in bulk.
Punch dough down; turn out onto a lightly floured surface, and knead lightly 4 or 5 times. Divid dough in half. Roll 1 portion of dough into a 14 x 7 inch rectangle. Roll up dough, starting at short side, pressing firmly to eliminate air pockets; pinch ends to seal. Place dough, seam side down, in a well greased 9 x 5 x 3 inch loaf pan. Repeat procedure with remaining portion of dough.
Cover and let rise in a warm place, free from draft, 30 minutes or until doubled in bulk.
Bake at 375 degrees for 35 minutes or until loaves sound hollow when tapped. Remove bread from pans immediately; let cool.

NOTE: This makes 2 loaves.
NOTE: I always triple recipe and make more loaves.   

---
BEST WHITE YEAST BREAD
This is my new favorite white bread recipe when you are learning how to make homemade bread. With the addition of oil, it is more moist and stays better longer.
About 20 cups flour (Divided)
3 Tablespoons yeast
5 Cups warm water (Divided) (Should be about 112F degrees when using)
5 Teaspoons salt
¾ Cup sugar
1 Cup vegetable oil
¼ Cup powdered milk
Place about 4 cups of flour in a large bowl; add yeast, sugar and salt.

Stir in 4 cups of warm water; let stand 45 minutes to make a sponge.
Yeast Sponge
Stir into the sponge the vegetable oil, powdered milk and enough flour to make a soft dough.
Turn dough out onto heavily floured surface; knead in enough flour to stop stickiness.
Knead to Stickiness
Place dough in a large greased bowl; cover with plastic wrap and place in a warm place.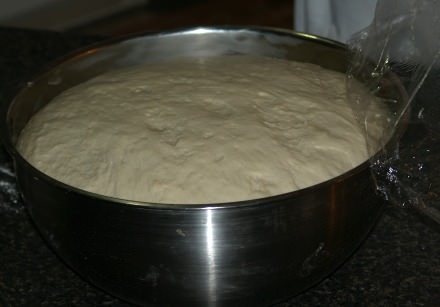 Double in Bulk
Let rise about 45 minutes until double in bulk; grease 4 large loaf pans 5X9 inches.

Punch dough down again; divide and shape into 4 loaves and place in prepared pans.
Place in warm spot to rise until doubled in bulk (Top of dough should be at top of pan.)
Loaf Pans Double in Bulk
PREHEAT OVEN TO 375F degrees.

Bake until golden brown about 25 minutes; remove from pans to cool.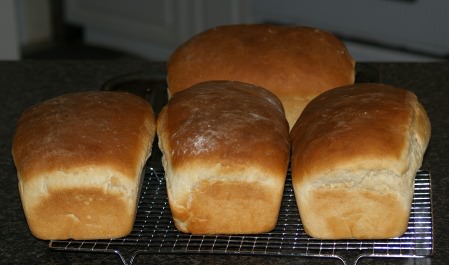 Remove from Pans to Cool
---
HOW TO MAKE HOMEMADE BREADS MORE MOIST
Use vegetable oil instead of butter or solid shortening.
Use cottage cheese, yogurt or buttermilk for the liquid.
Add crushed, shredded or ground fruits and vegetables.
Use potato water in place of water.
Substitute ½ cup of cooked rice or cereal for ½ cup flour.
Use honey in place of sugar.
Add ½ cup mashed potatoes in recipe.
Add peanut or cashew butter to recipe.
Do not over measure flour; too much makes dry heavy bread.
Do not let rise longer than is necessary.
Do not over bake.
Verify oven temperature with thermometer; low temperature requires longer baking resulting in drier bread.
---
All purpose flour is fine for quick recipes unless the recipe instructs you to use something different. Over manipulation of the batter is what you want to avoid. When learning how to make homemade bread, development of the gluten is a process necessary when using yeast but is undesirable when learning how to make homemade bread using baking powder or baking soda as leavening. The quantity of liquid used in proportion to flour determines to a large extent the type of quick recipe. Thin batters (popovers, timbales, cover batters, griddle cakes, waffles) usually contain 1 1/3 to 2 cups of liquid in proportion to 2 cups flour. Stiffer batters like muffin recipes contain about 1 cup liquid to 2 cups flour. Soft dough for doughnut recipes or baking powder biscuit recipes contain about ¾ cup liquid to 2 cups flour. When you learn how to make homemade bread, some other ingredients often found in quick recipes are eggs, sugar, fruits, nuts and spices.
Yeast is a little more time consuming but is very much worth the effort. Yeast, which makes the dough rise, is available in active dry granule form or fresh compressed cakes. Traditional loaves, dinner rolls, sweet rolls and coffee cakes are some products from yeast dough. With yeast dough, kneading takes extra time as does the rising process. Yeast is a living organism. The yeast for the breads must be mixed with a liquid at a critical temperature to start its growth process.
When you are learning how to make homemade bread, you will find these products are made from several basic ingredients. The top ingredient is flour. It forms the structure of the product when gluten combines with the liquid. Fats make the product tender by separating the strands of gluten. Eggs add color and flavor. Also used is some type of fat, liquid and a leavening agent. Salt is important to control the yeast.
Good yeast recipes have rounded tops and smooth evenly browned crusts. The loaves feel light for the size. The crumb is delicate and moist, the texture porous; there should be no dark streaks or doughy spots. Understanding the action of yeast is important for yeast recipes. Yeast is tiny living plants which develop under favorable conditions. The conditions which encourage growth are moisture, lukewarm temperature, oxygen (incorporated by beating and kneading) and food (provided by sugar and starch). When showered with this kind of attention, the yeast becomes active and causes fermentation and rising of the dough. The result is the porous structure and characteristic flavor which we associate with yeast products.
When making yeast recipes, there are different types of yeast to choose from; it is marketed in moist and dry forms. Most compressed yeast is perishable and must be kept in the refrigerator. Even when refrigerated, compressed yeast is only good for one week but is best used within a few days. Dry yeast may be purchased in granular or cake form (I have not seen it available in cake form for years-maybe in other locations). Granular yeast is best stored in a cool place, refrigeration prolongs keeping qualities. NOTE: I found if you refrigerate yeast, bring it to room temperature before using it in recipes. I have had bad results using it cold. Most of the modern recipes today call for quick acting yeast. It dissolves quickly and is the ideal choice when both good keeping and speedy action are desired. You can substitute 1 package of fast granular yeast for each cake of compressed yeast.
When learning how to make homemade bread and you are choosing flour for the yeast recipes, we are mainly concerned with its gluten content. To make a light and porous loaf, yeast dough requires a flour containing a strong elastic gluten which will stretch without breaking forming a network of cells to hold the gas which develops during fermentation when the dough is rising. I use a name brand all purpose flour for most of my baking but it does vary in gluten content. It is sold by different millers and in different parts of the country therefore having different gluten content. The higher the gluten content, the less flour is added to a definite amount of liquid to make a dough of proper consistency. Dough made with hard wheat flour is slower to rise and requires longer kneading. Bakers in the south may need to add more flour, use less kneading and have a shorter fermentation period than fellow bakers in the north. NOTE: Experience will teach you to learn the feel of yeast dough when kneading; it has what I call a snap when it has been kneaded properly. If available bread flour is good to use in your yeast recipes in place of all purpose flour. It contains more gluten than all purpose flour and requires a longer fermentation period.
Milk or water or a combination is usually used as the liquid in yeast breads. Potato water, buttermilk or diluted evaporated milk may be used if desired. Milk adds to the food value of bread as well to the flavor and keeping qualities. Fresh milk or buttermilk should always be scalded and cooled to lukewarm before combining with yeast. This scalding stops the enzyme action in the milk which might cause the softening of the dough. Always follow the directions of your recipe closely as to the temperature of the liquids.
Other ingredients you will find in your recipes will be salt and sugar. Salt helps to control the fermentation of the dough and improves the flavor. Sugar supplies food for the developing yeast and helps to give the product a nicely browned crust. If insufficient sugar is used the dough will be slow to rise and the product may bake without browning. If too much is used it could brown too quickly. Most bread recipes include shortening and eggs for increased flavor and tenderness and make for better browning; they also prolong the keeping qualities. Any good mild flavored shortening may be used. Whole eggs or egg yolks are added to yeast roll recipes to give a delicate texture and a thin crisp crust. When an open texture and a thick crisp crust are desired, as in crusty rolls, egg whites and water are used for the liquid.
Always use the size of pan a recipe call for when baking. Select heavy grade pans and baking sheets.To keep these products fresh, wrap each cooled loaf in foil or plastic wrap or seal or seal in plastic bag. They should be stored in a cool dry place. They can be stored in the refrigerator but they will get stale more quickly.