How to Make Ice Cream
If you are learning how to make ice cream, these recipes are based upon either cream or custard churned during freezing. Plain or Philadelphia ice cream is an uncooked mixture of cream, sugar and flavoring, often with gelatin or some other binder added, but rarely with eggs.
French or Neapolitan ice cream contains eggs and is virtually frozen custard. When you are learning how to make ice cream, all homemade recipes are variations of these two basic types.
Ice cream, America's favorite dessert must be smooth and creamy as well as rich and well flavored. The smooth creamy texture which marks a good ice cream comes from the churning of the dasher, which breaks up the ice crystals as they form on the sides of the can. The air is beaten in by the dasher while the cream freezes.
Creams frozen in an automatic refrigerator have to use other methods to incorporate air in the mixture to prevent it from freezing into a solid block of coarse icy crystals. Special ingredients such as whipped cream, evaporated milk, melted marshmallows, beaten eggs, gelatin, corn syrup, flour or cornstarch which counteract the formation of ice crystals as well as to improve and vary flavor.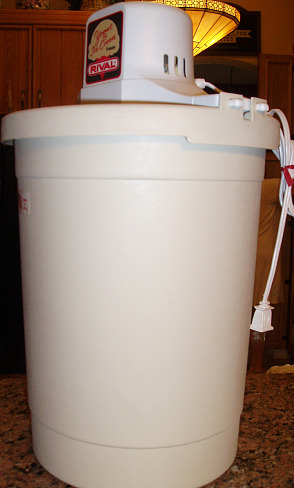 How to make Ice Cream
As you are learning how to make ice cream you will find for homemade recipes that there are a number of products on the market which are designed to achieve the texture that you are looking for. Stirring or beating while freezing and very rapid freezing are also aids to good texture.
If you are learning how to make ice cream many recipes can be prepared from the many ice-cream mixes on the market that are quick and easy to use. Their base is usually starch, gelatin or rennet. Those with a starch base require cooking; the others usually do not. They should be prepared according to package directions.
It is important to understand the ripening process when you are making ice cream. Nearly all ice creams are improved by standing an hour or more packed in ice or in the refrigerator. This process changes the flavor somewhat owing probably to the more complete hardening of the fat and the development of small amounts of acid.
The swelling process is something else you should if you are making ice cream. In the process of freezing ice cream in a freezer, the ice cream mixture swells increasing its bulk by a third to a half. To allow for this never fill the can more than half to two-thirds full.
HOW TO MAKE ICE CREAM like this


VANILLA ICE CREAM RECIPE

Make this ice cream which is a cooked custard recipe.
2 Cups sugar
2 Heaping tablespoons flour
6 Eggs, separated
1 Quart milk
1 Cup whipping cream
1 Cup half and half
1 Large cam evaporated milk
2 Tablespoons vanilla
Cook sugar, flour, beaten egg yolks, and milk until thick; strain and pour into ice cream freezer.
Beat egg whites; add whites, whipping cream, half and half, and vanilla to ice cream freezer.
Freeze ice cream according to the manufacturer's instructions.
---
PEACH RECIPE for making homemade ice cream
4 Eggs
2 ½ Cups sugar
4 Cups half and half
2 Tablespoons vanilla
½ Teaspoon salt
3 to 4 cups milk (to fill to line on freezer)
1 Quart Fresh sweetened peaches, mashed
Beat eggs until light; add sugar and continue beating until mixture thickens.
Add 3 cups of milk and remaining ingredients and mix thoroughly.
Pour into ice cream freezer container; if needed add remaining 1 cup of milk to fill container to line.
Refrigerate for three hours; freeze in ice cream freezer according to manufacturer's directions.