How to Make Mincemeat the Old Fashioned Way
Not many people are asking how to make mincemeat in today's world, especially here in the United States. Most people tell me that they do not like mincemeat, if they even know what it is. Recipes for mincemeat are recorded all the way back to medieval times in England.Today the traditional Christmas mincemeat pie in England does not have any meat in it.

There seems to be a little discrepancy in the writings about mincemeat versus mince or minced recipes. My family always said if it doesn't contain meat in the recipe, it is a mince or minced pie; only when it contains meat is it mincemeat. A lot of the documentation regarding this pie calls both types, with and without meat, a "mincemeat pie".

When I tell people how to make mincemeat with meat in it, they usually wrinkle their nose up. Like I said most people do not even like the kind without meat which can be purchased in any grocery store. My dad set me straight many years ago by saying "That isn't even mincemeat". The real thing must contain meat in the recipe.


Mincemeat originated as a means of preserving meat. Back then it was savory and was used in making hearty meat pies. Superstitions surround the stirring of the recipe while preparing to prevent bad luck from happening.


Mincemeat is made by combining dried fruits and sometimes fresh fruits are added. It usually has various spices and different types of alcohol added like brandy. The original mincemeat contained beef or venison, meat suet and vinegar; it was not sweet like most versions are today. In the early centuries mincemeat was mainly used to make hearty meat pies.


Today we use mincemeat more as a dessert instead of entrees. That is fine with me because I love a good piece of mincemeat pie for dessert. Most people are perfectly satisfied to leave out the meat and simply have mince. This is what most of the pies are made from at holiday time. I have never eaten a piece of mincemeat pie out and received one which contained meat. "Old timers" say "That is not mincemeat" but just mince.

HOW TO MAKE MINCEMEAT with meat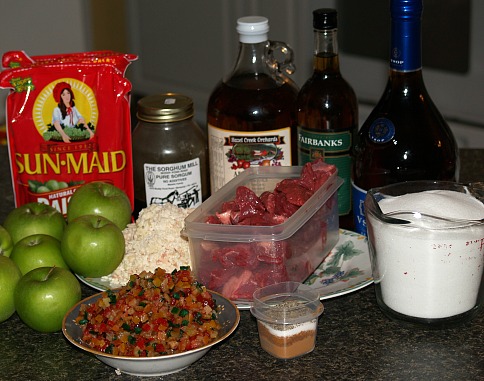 How to Make Mincemeat
1 ½ Pounds lean beef

3 Cups boiling water

1 Pound suet

2 ½ Quarts chopped apples

2 Pounds seedless raisins

1 Pound diced citron

¾ Cup candied orange rind

¾ Cup candied lemon rind

2 Pounds light brown sugar

1 Tablespoon salt

1 Cup molasses

1 Cup beef stock

3 Cups apple cider

1 Teaspoon mace

2 Teaspoons cinnamon

1 Teaspoon cloves

1 Teaspoon all spice

1 Pound broken walnuts or pecans

¼ Cup lemon juice

1 to 2 Cups brandy


Wipe the meat with a cloth and cut in 1 inch cubes.

Cover with boiling water and simmer about 2 hours or until tender.

Remove the meat and measure out 1 cup of the stock.

Put meat and suet through the food processor or grinder.

Combine with the apples, raisins, currants, citron, candied orange rind and lemon rind, sugar, salt, molasses, beef stock, cider, spices and nuts in a large pot; mix well.

Bring the mixture slowly about 1 ½ hours. Add lemon juice and brandy.

Pack at once into hot sterilized jars (about 5) and seal; cool and store in a cool place.


---
HOW TO MAKE MINCEMEAT without meat


GREEN TOMATO MINCE RECIPE
1 Gallon ground green tomatoes

5 Pounds sugar

1 Pint vinegar

1 Tablespoon cinnamon

1 Gallon sliced apples

1 Pound ground suet

2 Pounds raisins

1 Tablespoon nutmeg

1 Teaspoon cloves

In a large pot, boil all ingredients together until apples are done stirring frequently.
Put into hot sterilized jars and seal while hot and store in cool place.

---
MINCEMEAT SQUARES RECIPE
1 Cup brown sugar
1 ¾ Cup rolled oats

1 ½ Cup flour

½ Teaspoon salt

¾ Cup butter

2 Cups mincemeat

Combine brown sugar, rolled oats, flour and salt; mix well.

Cut in the butter until it looks like coarse crumbs.

Spread half of crumb mixture in a shallow 9 X 13 inch baking pan.

Cover crumb mixture with mincemeat.

Spread remaining half of crumb mixture over top of the mincemeat.
Bake at 400F degrees for 20 to 25 minutes; cool and cut into squares.


---
MINCEMEAT COOKIE RECIPE
If you learn how to make mincemeat for your recipes that call for mincemeat the taste will be so much more flavorful!

1 ½ Cups flour

¼ Teaspoon salt

½ Teaspoon baking soda

1/3 Cup softened butter

½ cup sugar

1 Well beaten egg

¾ cup moist mincemeat

¼ Teaspoon vanilla

Sift flour; measure, add salt and soda and sift again.
Cream butter adding sugar gradually; beat until well blended.
Add egg; combine with dry ingredients.
Fold in mincemeat and vanilla.
Drop by teaspoonfuls 2 to 3 inches apart onto a lightly greased cookie baking sheet.
Bake at 375F degrees for 10 to 12 minutes.

---
FILLED ICEBOX COOKIE RECIPE with mince meat
I think is is best to learn how to make mincemeat for these recipes. Homemade mincemeat tastes so delicious!

½ Cup softened butter

¼ Cup sugar

¼ Cup brown sugar

1 Egg

1 ¼ cups plus 2 tablespoons flour

¼ Teaspoon baking soda

½ Teaspoon salt

¼ Cup mince meat

2 Tablespoons chopped nuts

1 Tablespoon chopped maraschino cherries

Combine butter, both sugars and egg; blend thoroughly.

Sift and measure flour; combine flour with soda and salt.

Stir flour mixture into shortening mixture; mix with hands.

Mold dough into a long smooth roll about 1 ½ inches in diameter.

Wrap in wax paper and refrigerator overnight.

Preheat oven to 400F degrees
With sharp knife cut 1/8 inch thick slices from half of dough (leave other half in refrigerator).
Place on ungreased cookie sheet.
To make FILLING mix mince meat, nuts and cherries; blend well.
Spoon ½ teaspoon mincemeat mixture on top of each cookie.
Remove other half of dough from refrigerator and cut the same way.
Place a cookie on top of each cookie on the trays (on top of mincemeat filling).
Place in oven and bake 8 to 10 minutes or until lightly browned.