How to Make Pizza Dough
How to make pizza dough; GOOD pizza dough, that is?  This is an area of cooking that I would like to get better at. The pizza dough is like the foundation of a building; it must hold and blend with what is on the top.
Through my years of eating pizza, I have had all kinds; very thin crust (I mean "paper thin"), thin crust, medium crust, thick crust, deep dish and everything in between. 

For me when I learned how to make pizza dough I realized that there must be a good balance with the pizza dough and the toppings. If I eat a thin crust pizza I only want it lightly topped; maybe only sauce and cheese. It is quite the opposite when I eat a thick crust pizza; I want that one layered with all types of toppings.
You will find when learning how to make pizza dough, most recipes consist of four basic ingredients; yeast, water, salt and flour. Sometimes you will find shortening or oil also added. If I make the dough with shortening, I always use olive oil.
You will find many dough recipes to include a little sugar in it. The sugar works well with the action of the yeast and it also aids in the crust browning.
Other ingredients which might be included in the recipe could be spices. In one of my favorite recipes I add garlic powder and oregano. It is so good that you could bake this dough in bread sticks; add a dipping sauce and this is a delicious snack.
As I study how to make pizza dough, the one thing I have noticed about authentic Italian pizza makers and our American ones is that we include much more yeast in our recipes than they do; sometimes two or three times more.  I do not know the reason for this but I actually prefer the pizza dough with less. I like the crust more chewy and less like bread.
Over the years I found that I like the pizza dough better if I let it set in the refrigerator for a few hours before baking. When I have asked how to make pizza dough, most professional pizza chefs that I know have told me they prep the dough at night and refrigerate it until the next day. Some even say it is better to refrigerate for 24 to 36 hours before using.
Pizza has come a long way since its first arrival in the United States. The first I heard of them was even before my teenage years. The first one I tried was awful tasting. At that time I had no idea of how to make pizza dough or how the pizza SHOULD taste.
Over the years I grew to like them but the taste really improved. Also over the years I started to hear pizza referred to by different names as I am sure you still do today. These terms refer to the region where the pizza comes from. Although theses area recipes include different toppings, it mostly refers to how to make pizza dough; like the thickness and shape.
The term "Sicilian pizza" (pizza from Sicily) is one of the common ones. Sicilian pizza is known for a thick crust or "deep dish" style. Within Sicily there are four regions each known for their "independent" style of pizza.
The Province of Palermo is known for their shaping the pizza dough in a rectangle or round shape. Traditionally the toppings included strong cheese, anchovies, herbs, onion and tomato sauce.
The Province of Siracusa has a traditional round stuffed pizza.
In the city areas of Cantania Province the pizza is made with the dough covered with a local cheese and anchovies. Outside the city the traditional recipe is made by topping a bottom crust with potatoes, sausages, broccoli and tomato sauce. This filling is then topped with a second layer of dough and then brushed with beaten egg before baking.
The Province of Messina is the origination of one of my favorites; the calzone. I love it stuffed with the traditional pizza ingredients. In this province the filling usually includes anchovies along with tomato sauce, cheese and vegetables (I am not fond of anchovies; only when minced in recipes).
When learning how to make pizza dough, another term you might occasionally hear is Napoli Style pizza (pizza from Naples).True pizza from Naples is baked in a 1000 degree wood burning oven. This is impossible for us home pizza makers so a pizza stone is essential to use in our hot oven. The dough is made from four basic ingredients good water, fresh yeast, flour and sea salt. Two basic ingredients are used as topping for this area; locally grown tomatoes and local olive oil.
Roman style pizza is usually thin and crisp made in a rectangular shape and then cooked in a wood fired brick oven. Traditionally they were lightly topped with fresh tomatoes, fresh mozzarella and freshly picked zucchini blossoms. Sometimes lightly salted anchovies and prosciutto were added.
Here in the United States, if you eat pizza out regularly, chances are you will sample a variety of these (terms) and more. Most likely, unless you have a person from that region making the pizza it will not be authentic.  These names are used very loosely and often are nothing like the traditional pizza; mostly the crust.
NOTE: Warm water could be from 110F degrees to 115F degrees for blending the yeast.
MY FAVORITE PIZZA DOUGH
This is how to make pizza dough with less yeast.
2 2/3 Cups warm water (about 115 F degrees)
1 Tablespoon yeast

2 Tablespoons sugar
3 Tablespoons olive oil
2 Teaspoons oregano
1 Teaspoon basil
2 Teaspoons salt
1 Teaspoon garlic powder
About 8 cups flour
Mix yeast, warm water and sugar together in a large bowl; let set for 5 minutes.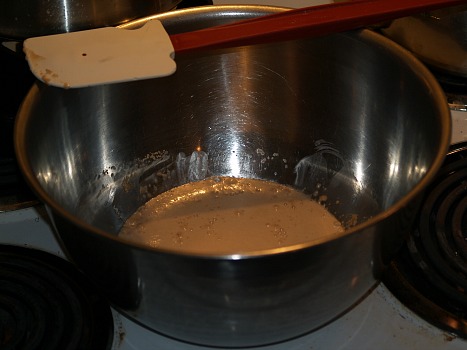 How to Make Pizza Dough Yeast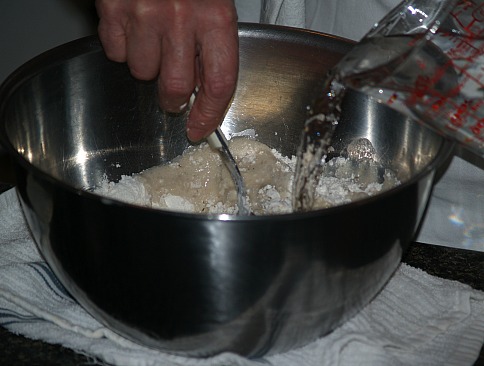 Mix Yeast with Flour
Add olive oil, oregano, salt, garlic powder and about 2 cups of the flour.
Stir in enough flour to make dough ball.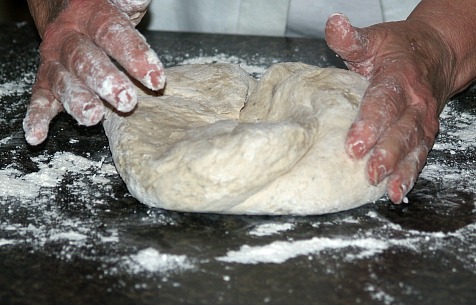 Pizza Dough Ball
Turn out onto floured surface; knead until smooth.
Cover and let rise in warm spot until double in bulk.
Preheat oven 400 F degrees.
Grease 3 pizza sheets with oil and sprinkle with cornmeal.
Divide Dough into 3 parts.
Roll dough out and spread to fit in pans; sprinkle lightly with cornmeal again.
Bake Crust for 5 to 8 minutes.
Add desired toppings and bake until done about 15 to 20 minutes.
NOTE: This recipe can also be used for bread sticks.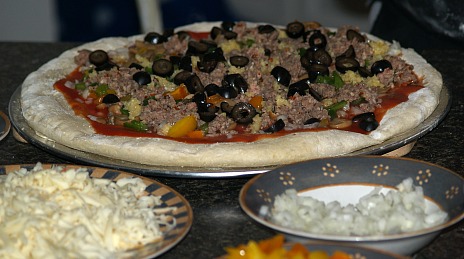 Add Favorite Pizza Toppings
---
HOW TO MAKE PIZZA DOUGH
This is a typical American pizza dough recipe with more yeast.
1 Cup warm water
1 Package active dry yeast
2 Tablespoons solid shortening
¼ Teaspoon salt
4 Cups sifted flour
2 Teaspoons salad oil
Sprinkle yeast over the warm water in a large mixing bowl; stir until dissolved.
Add shortening, salt and half the flour; mix by hand until blended.
Gradually add remaining flour while mixing by hand until dough is stiff and leaves sides of bowl.
Turn dough out on lightly floured surface; cover with towel and let rest 10 minutes.
Knead dough until smooth and elastic.
Place in a greased bowl turning dough to bring up greased side.
Cover with a towel and let rise in a warm place until double in bulk about 1 hour.
Punch down the dough and turn out onto a lightly floured surface.
PREHEAT OVEN TO 450F degrees; spread oil over bottoms of 2 pizza pans.
Knead dough briefly and divide in half.
Roll each half of dough to fit pizza pan; spread with desired toppings.
Bake until crust is golden brown and fillings are bubbling.