How to Roast Beef 
I use to think there was only one way of how to roast beef as a young cook. This way was to sprinkle with salt, pepper and garlic and place in oven until tender. Then as my years progressed many friends would tell me "I make a mean roast beef recipe", "My barbeque pot roast is the best", or "You have never tasted a standing rib roast like mine." I began to wonder what am I missing and I started collecting different recipes from these people. These different recipes include using many different and sometimes unusual ingredients.
STANDING RIB ROAST RECIPE
This recipe turns out a deliciously browned roast on the outside and rare on the inside.
NOTE: If preparing for noon dinner, start process in morning.
Allow roast to stand at room temperature for 1 hour.


Preheat oven to 375F degrees.


Rub roast with a seasoned blend of salt, pepper and garlic powder.


Place meat on a rack in a pan rib side down and fatty side up and roast for 1 hour; turn off oven.


Leave roast in the oven and do not open the door.


Before serving time turn oven back on to 375F degrees and reheat roast 30 to 40 minutes (30 minutes for rare and 40 minutes for medium rare).


Do not remove roast or open oven door during the roasting time.
When finished roasting, remove immediately from oven and allow to set 13 minutes before cutting.
---
30 GARLIC CLOVES ROAST BEEF
1 Beef rump roast (6 to 8 Pounds)
1 Cup vegetable oil
¾ Cup soy sauce
½ Cup lemon juice
¼ Cup Worcestershire sauce
¼ Cup prepared mustard
30 Cloves garlic (Peel and cut in half)
1 Tablespoon freshly ground black pepper
OPTIONAL GARNISHES: Green leaves, cherry tomatoes
Pierce roast at 1 inch intervals with a fork; place in large heavy zip lock bag.
Combine oil and next 5 ingredients in bowl; pour over the meat.
Seal bag tightly and refrigerate 48 hours turning occasionally.
PREHEAT OVEN TO 325F degrees.
Remove roast from the marinade discarding marinade.
Place roast on a lightly greased broiler pan; sprinkle with the pepper.
Bake for 1 hour and 50 minutes or until desired doneness.
NOTE: Meat should register on meat thermometer 145F (medium rare) or 160F (medium).
Let meat stand 5 minutes before slicing; 10 to 12 servings.
---
OVEN ROAST RECIPE
How to roast beef the simple way.
Preheat oven to 350F degrees.


Sprinkle a 3 pound roast beef with salt and pepper. (Not too much salt because mushroom soup usually has a lot of salt also)
Place roast on a large sheet of aluminum foil (Big enough to wrap meat)


Sprinkle roast with 1 Package dry onion soup mix.


Cover with 1 can cream of mushroom soup (Do not dilute with water)
Wrap with the foil and roast for 1 hour and 30 minutes. Serves 6.
---
HOW TO ROAST BEEF WITH YORKSHIRE PUDDING
This recipe comes from Yorkshire, England. This Yorkshire pudding recipe was thought to be a cheap way to fill up dinner guests but the delicious rich flavor derived from the roast beef recipe still makes it very popular today. The batter is a thin batter similar to pancake batter and is made from basically flour, milk and eggs. When this batter is poured into the drippings from the roast beef recipe and baked, a rich delicious flavor develops.
4 Pound rib roast
2 Tablespoons oil
Preheat oven to 450F degrees.
Place on a rack in a pan with fat side up on the beef; coat with oil.
Roast 1 ¼ hours for rare (130 to 140F degrees) or roast 1 ½ hours for medium to well done (150F to 160F degrees)
Baste meat frequently; when done remove to platter, cover with foil and let set.
---
YORKSHIRE PUDDING RECIPE
¾ Cup flour
¾ Cup milk
2 Eggs
½ Teaspoon salt
1 Tablespoon water
NOTE: Start Yorkshire pudding recipe about 45 minutes to 1 hour before roast finishes cooking.
Sift flour and salt into a bowl and make a well in center.
Add milk and water gradually while beating with a spoon.
Beat eggs until light and add to mixture; beat until bubbles rise to the surface and refrigerate for 30 minutes.
When meat is done, beat mixture again and pour into hot meat drippings.
Bake 10 minutes at 450F degrees; reduce heat to 350F degrees and bake another 15 minutes or until golden brown. (Do not open oven door while cooking).
Serve immediately from pan with carved roast.
---
HOW TO ROAST BEEF

(a sirloin roast on stovetop)
Brown sirloin tip roast slowly on all sides in a heavy skillet using no flour and a little butter to coat the skillet.


After browning cover the pan tightly and reduce the heat to low.


Cook meat for 1 hour and then check the moisture in the pan; if there are no drippings add ¼ cup of water to skillet.


Cook only to medium rare (145F to 150F degrees); remove from heat and slice very thinly.


Add 1 or 2 cans of mushroom gravy to drippings in skillet, a little black pepper and mix well to blend.


Return sliced meat to the gravy, cover and simmer 45 minutes.


Serve hot beef and gravy over potatoes, rice, noodles or biscuits.
---
HOW TO ROAST BEEF

(Pot roast recipe with vegetables)
5 Pound pot roast
Salt/pepper
1 Stalk celery sliced
4 Cloves garlic (If large cut in half)
1 Medium onion cut in chunks
1/8 Teaspoon rosemary
1 Bay leaf
2/3 Cup dry red wine
4 Medium potatoes
3 Carrots peeled and cut in half
Preheat oven to 300F degrees.
Put meat in large roaster and add salt, pepper, celery, garlic, onion, rosemary, bay leaf and red wine.
Cover tightly and place roaster in oven and cook for 4 ½ hours; remove bay leaf.
Add potatoes and carrots and cook another 1 ½ hours or until vegetables are tender.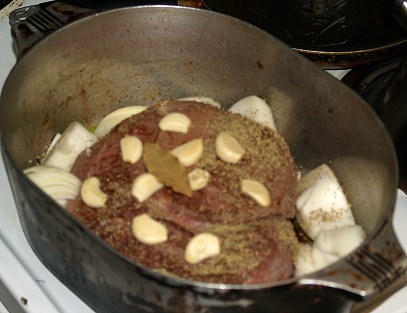 Roast Prepared for Cooking