How to Use Rosemary
How to use rosemary? First, let us look at just what is rosemary. This needle like herb reminds me of the old fashioned pine Christmas trees. Actually, at Christmas, you will see this herb bush trimmed in the shape of a Christmas tree for sale in many stores. Costco and Sam's have them every year. The aroma of this fragrant herb draws me over to these trees every time.

I never learned how to use rosemary until years after I married. I do not remember Mom using this herb when I was at home. It originated in the Mediterranean region so that might account for Mom and Dad not cooking with it. It is used more in Italian cooking. The first time I ate rosemary (that I know of) was in an Italian restaurant.  It was "rosemary chicken" at the Macaroni Grill Restaurant in Orlando. 
This rosemary chicken in Orlando had the best flavor. I could not wait to try making it at home. I really did not know how to use rosemary so I started out in a simple way. I had a whole chicken so I cut it in half. I placed the skin side down in a baking pan. Then I sprinkled it with salt, pepper, garlic powder and rosemary. After baking at 350F degrees for 30 minutes, I turned the halves over and sprinkle the skin side with the same seasonings. After baking about 45 minutes longer, it was very tender and flavorful.
After I first learned how to use rosemary, I found that you can use it with many foods. Most of the time, especially when roasting meats, it can be as simple as sprinkling it over meat before placing it in the oven. I also learned that rosemary also blends well with all vegetables, is great in sauces, breads and crackers. It even adds a wonderful taste to cookies and desserts. Can you imagine that?
Since I first learned how to use rosemary, I learned so much more about rosemary. I have read about so many health benefits for using this herb. The list is so long that I started adding it to more of my cooking. It is known to be antibacterial, anti cancer, anti infectious, anti inflammatory, antioxidant and anti expectorant. It is great for low blood pressure, bronchitis, colds and depression among many other things. 
I keep a lot of dried rosemary in stock so I never run out. It can also be purchased fresh which has a wonderful flavor. Sometimes, during growing season, I am given a lot. I put this is freezer bags and place in my deep freezer (Temperature is 4 degrees). This has kept a great flavor and I have used it for two years. Since I now know how to use rosemary, I love it. I have even purchased it in oil form which is very powerful. You can use this FOOD GRADE OIL in cooking but beware. With this strength, most foods only need a "pin size" drop.
ROSEMARY MUSTARD SAUCE RECIPE
As I told you, before I learned how to use rosemary, I tasted it in a rosemary mustard sauce recipe. The following is good with lamb, beef, pork and chicken. For my chicken or most meats, simply season with salt and pepper, bake in the oven until done and serve with this sauce. Before removing from the over, I like to spoon the sauce over the meat and let it heat.
1 Whole garlic bulb, separated and peeled
6 Shallots
1/3 Cup olive oil divided
½ Teaspoon salt divided
½ Teaspoon black pepper divided
2 Tablespoons soy sauce
1 Tablespoon prepared mustard
1 Teaspoon dried mustard
1 Tablespoon chopped fresh rosemary
1 Teaspoon sherry vinegar
½ Cup white wine
Preheat oven to 400F degrees.

Place shallots and garlic cloves on aluminum foil; drizzle 1 teaspoon olive oil over the top.
Sprinkle shallots and garlic with ¼ teaspoon of salt and pepper; fold foil over and seal.
Bake until vegetables are very tender; place in a food processor.
Add to the processor the soy sauce, prepared mustard, dried mustard, fresh rosemary, vinegar and wine.
Process mixture until smooth; with processor running gradually pour in remaining oil, salt and pepper.
Makes about 1 ½ cups.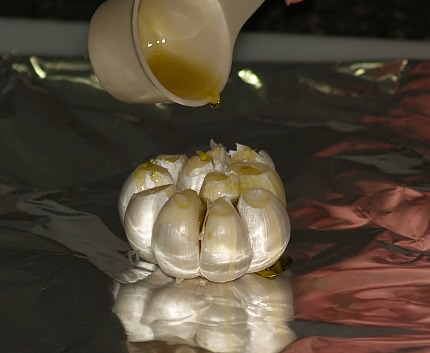 Preparing Garlic Shallot for Oven
Preparing Whole Chicken
Spooning Mustard Sauce Over Chicken
---
ROSEMARY PECAN CHEESE ROUNDS
16 Ounces shredded sharp Cheddar cheese
1 Cup softened butter
¾ Cup finely chopped toasted pecans
3 Cups flour
2 Teaspoons finely chopped fresh rosemary
½ Teaspoon salt
¼ Teaspoon cayenne pepper
In a mixing bowl combine and mix cheese and pecans.

In a small bowl combine flour, rosemary, salt and cayenne.
Gradually add flour mixture to the cheese mixture; mix until just combined.
Wrap dough in plastic wrap and refrigerate for 2 hours.
PREHEAT OVEN TO 350F degrees; line tray with parchment paper.
Roll dough into 1 inch balls; place balls 3 inch apart on lined sheets.
With bottom of a glass flatten each ball to ¼ inch thickness (Dip in flour each time).
Bake about 18 to 20 minutes or until lightly browned.
Cool on pan a couple of minutes; cool completely on rack.
---
HOW TO USE ROSEMARY in a ROASTED POTATOES RECIPE
3 Large baking potatoes not peeled
¼ Teaspoon salt
¼ Teaspoon black pepper
1 ½ Teaspoon dried rosemary
Olive oil
Wash and dry potatoes; cut into ¼ in slices.

Brush baking sheet with olive oil; place potato slices on baking sheet.
Combine rosemary, salt and pepper; sprinkle HALF of mixture over the potato slices.
Drizzle a little olive oil over the top; Bake about 20 minutes; turn potato slices over.
Sprinkle remaining HALF of seasoning over the top; drizzle a little oil over the top.
Bake another 20 minutes. Serves 4.
---
ROSEMARY GAME HENS
4 Cornish hens
1 Cup fresh rosemary leaves
Salt/pepper
Preheat oven to 400F degrees.

With a small sharp knife loosen the skin of the breast and legs of the hens (Do not remove).
Insert ¼ cup of the rosemary leaves under the skin of each hen; spread evenly.
Place birds in a large baking dish and cover tightly with foil.
Bake for 15 minutes; LOWER TEMPERATURE to 325F degrees and bake 1 hour longer.
Remove the foil and sprinkle lightly with salt and pepper on all sides.
Place under broiler for 5 minutes or until golden brown.
Allow hens to set breast side down in warm oven for 10 minutes before serving.
Serves 4.
---
MUSHROOM SQUARES
6 Slices bread (Trim off crusts and cut in quarters)
Butter
4 Slices bacon crisp and crumbled
1 Small can mushrooms chopped and drained
2 Tablespoons grated Swiss cheese
2 Tablespoons mayonnaise
1 Tablespoon parsley flakes
1/8 Teaspoon dried rosemary leaves
Salt
Preheat oven to 400F degrees.

Spread bread with butter and place butter side down on baking sheet.
Top each slice with a little of each of the remaining ingredients.
Bake about 5 minutes or until hot and cheese melts.
---
PESTO SAUCE with rosemary
1 Cup fresh basil leaves
1 Cup fresh parsley
1/2 Cup walnuts
½ Cup olive oil
1/3 Cup Parmesan cheese
2 Tablespoons dill weed
2 Tablespoons chives
2 Tablespoons rosemary
1 Tablespoon lemon juice
1 Clove garlic
¼ Teaspoon black pepper
Combine all ingredients in a food processor; blend until smooth.
Store in refrigerator for up to 2 weeks.
NOTE: This can be stores in ice cube trays in the freezer for convenient use.
---
ROSEMARY HONEY COOKIE RECIPE
½ Cup solid shortening
¼ Cup softened butter
¾ Cup sugar
1 Egg
¼ Cup honey
1 Tablespoon lemon juice
2 Cups flour
2 Teaspoons crushed dried rosemary
1 Teaspoon baking soda
½ Teaspoon salt
½ Teaspoon cinnamon
¼ Teaspoon nutmeg
Combine and beat together in a mixing bowl shortening and butter; beat in honey, egg and lemon juice.
Combine together all dry ingredients; blend into the creamed mixture.
Drop by teaspoonfuls onto greased baking sheets 2 inches apart; bake 12 to 14 minutes until lightly browned.
Makes about 48.
---
ROSEMARY AND GRAPEFRUIT COCKTAIL
¼ Cup crushed ice
1 Tablespoon fresh rosemary
1 Slice (1/4 inch thick) grapefruit
1 ½ Ounces vodka
4 Ounces seltzer water
Garnish: rosemary sprigs and grapefruit pieces
Combine in a shaker ice and rosemary; muddle together.

Add grapefruit slice and muddle again.
Pour vodka and seltzer water over grapefruit mixture; strain in a glass.
Serve with ice and garnish.
---
ROASTED ROSEMARY SWEET POTATOES 
2 Pounds sweet potatoes peeled in 1 ½ inch pieces
3 Cloves chopped garlic
1 Tablespoon fresh chopped rosemary
2 Tablespoons olive oil
½ Cup toasted pine nuts
2 Tablespoons chopped parsley
1 Teaspoon salt
¼ Teaspoon pepper
Preheat oven to 375F degrees.

Combine in a roasting pan the potatoes, garlic, rosemary and oil; toss to blend.
Roast for 50 minutes or until tender; to serve top with pine nuts, parsley, salt and pepper.
---
ROSEMARY ACORN SQUASH
2 Pound squash (halved, seeded, cut in half lengthwise, cut into wedges, not peeled
1 Tablespoon butter
1 Tablespoon olive oil
½ Cup dry white wine
3 Tablespoons dark brown sugar
1 Tablespoon chopped fresh rosemary
1 Tablespoon lemon juice
Heat butter and oil in sauté pan over medium heat; arrange squash in single layer and cook.

Cook and flip over until golden brown on all sides.
Pour the wine over the squash and quickly scatter the brown sugar, rosemary and lemon juice over top.
Cover pan and simmer until squash is almost tender about 10.
Uncover pan and turn squash over; cook 5 minutes longer.
Serves 4.