How to Make Irish Food Recipes
I learned how to make Irish food recipes many years ago mainly for St Patricks Day. Once again it is time to come up with some new delicious recipes. Traditional recipes mostly consist of locally grown ingredients as is so in most countries or even areas. I did find that the traditional Irish recipes do not always match with the ones we here in the United Sates make for St Patricks Day. 


When I learned how to make traditional Irish food recipes, I found that potatoes form the basis for many of these. The potato was introduced into Ireland in the second half of the 16th century. Some of the popular potato recipes are colcannon, champ and boxty. Although there are many variations to these, potatoes are the common ingredient.


WHAT IS COLCANNON? This dish is made with mashed potatoes and includes some type of greens like kale or cabbage.

WHAT IS BOXTY? This recipe is similar to our hash browns or potato cakes; grated cooked potatoes which are fried on the griddle.

WHAT IS CHAMP?  This is also known as poundies and is an Irish recipe using mashed potatoes which are creamed with fresh spring onions, cream, butter, salt and pepper.


CODDLE is another one of the traditional Irish food recipes. As I learned how to make Irish food recipes, I found there to be many variations to the coddle dish. Since it uses up all your leftovers from previous meals, it is often referred to as Dublin coddle. This refers to the capitol of Ireland and it might contain potatoes or it might not.


As in many other countries, in early times, fresh meat was not considered part of the traditional Irish food recipes. It was generally considered a luxury except for the most affluent until the late 19th century.  Chickens were not raised on a large scale until the emergence of town grocers.


WHAT ARE COCKLES? Some of the traditional Irish food recipes are made with cockles as a good source of protein. This is a common Irish name given to small edible saltwater clams. They are plentiful all around the coast of Ireland. They bury themselves in the sand so you must know how to look for them.

Cockles are traditionally cooked in their shells over the fire. Afterwards the shells are twisted apart and a little butter is added. Back on the fire, the clams fry in their shells and are served immediately. We all do not have the availability of cockles but here is a good recipe for clam fritters using canned ones and a great recipe for St. Patrick's Day.

HOW TO MAKE IRISH FOOD RECIPES like this


CLAM FRITTER RECIPE
1 Cup flour

1 ½ Teaspoons baking powder

1 Teaspoon salt

¼ Teaspoon black pepper

¼ Teaspoon onion powder

2 Cans (6 ½ ounces each) minced clams (drain liquid and reserve)

¼ Cup milk

2 Large eggs separated

1 Tablespoon cooking oil

3 Cups cooked and cooled rice

¼ Cup minced green bell pepper

Devil sauce (recipe below)

Vegetable oil

Sift flour, baking powder, salt, pepper and onion powder into a large bowl.
Whisk ½ cup of reserved clam liquid with milk, egg yolks and 1 tablespoon oil together until blended.
Add egg yolk mixture to the flour mixture; beat until smooth.
Stir in clams, rice and green pepper.
Prepare Devil Sauce below.
Heat 3 inches of oil in a large pan over medium high heat until oil is 370F degrees.
Beat egg whites in a small bowl until stiff; fold into rice mixture.
Carefully drop tablespoons full of batter into the hot oil; fry until golden brown about 2 ½ minutes a side.
Drain on paper towels and serve with Devil sauce.


DEVIL SAUCE

1 Can condensed tomato soup

¼ Cup clam juice

2 Teaspoon prepared mustard

Few drops hot pepper sauce to taste

Combine all ingredients in a small saucepan and heat over medium until hot.

---
CHOCOLATE MINT CAKE RECIPE
When making a menu for Irish food recipes, there must be good desserts. Below is my recipe which I made this year. Who doesn't love chocolate? Mint is a popular flavor of the Irish and of course, green is for St. Paddy's Day. This cake is a light textured tube cake. The center is carved out and filled with peppermint whipped cream frosting.

½ Cup unsweetened cocoa powder

¾ Cup boiling water

1 ¾ Cup sugar

1 ½ Cups flour

1 ½ Teaspoon baking soda

1 Teaspoon salt

½ Cup vegetable oil

2 Teaspoons vanilla

7 Egg yolks

1 Cup egg whites (about 8)

½ Teaspoon cream of tartar

Peppermint filling and frosting (below)

Preheat oven to 325F degrees.
Combine and mix cocoa and boiling water; set aside to cool.
Mix sugar, flour, baking soda and salt in a large bowl.
Beat cocoa mixture, oil, vanilla and egg yolks with a spoon until smooth.
Beat the egg whites and cream of tartar in medium bowl on medium speed until stiff peaks form.
Pour egg yolk mixture over the beaten egg whites; fold with rubber spatula just until blended.
Pour batter into an UNGREASED tube cake pan.
Bake about 1 hour and 15 minutes or until top springs back when touched lightly.
Hang pan on a heatproof funnel or a bottle until cake is cold.
Remove cake from pan; place cake upside down on plate.
Slice cake off top 1 inch down; reserve slice.
Make cuts down into the cake 1 inch from outer sides and 1 inch from the edge of the hole.
NOTE: Leave substantial walls on each side.
Remove the cut cake with a spoon or a curved knife being careful to leave the base of the cake.
Prepare peppermint cream.
Spoon half of the cream into the cake cavity pressing firmly.
Replace top slice of cake on top and press gently.
Frost top and sides with remaining peppermint cream.
Refrigerate at least 4 hours before serving; garnish for St. Patrick's Day.

Step by Step Pictures Below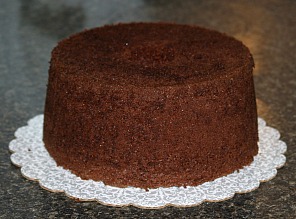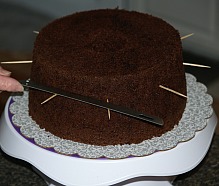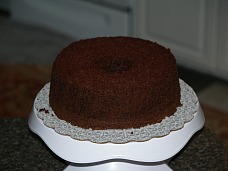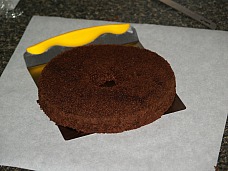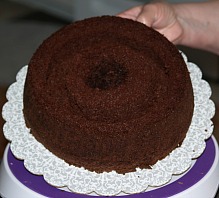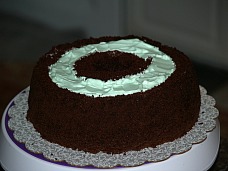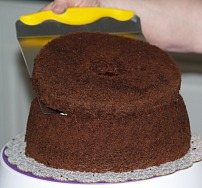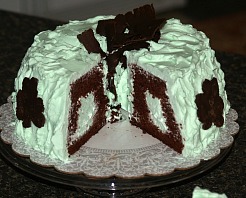 PEPPERMINT CREAM FILLING AND FROSTING

NOTE: You can divide this filling and frosting in half but I find this whole recipe adequate. It is light and tasty.

2 Cups sifted powdered sugar

4 Cups whipping cream

2 Teaspoons peppermint extract

16 Drops green food coloring

Beat all ingredients in a large chilled bowl until stiff.
---
GRASSHOPPER PIE TARTS
I have added this recipe to my Irish food recipes for St. Paddy's Day because it is not only delicious but the individual servings make a nice presentation.

How to Make the Chocolate Shells:
Line 12 medium muffin cups (2 ½ X 1 ¼ inches) with paper baking cups.

Swirl 1 tablespoon chocolate mixture in each cup with back of spoon to coat bottom and sides.

Refrigerate until firm; fill in any thin areas of the chocolate with remaining chocolate and chill.

Carefully remove paper baking liners from the chocolate shells; return shells to muffin tin.

Make filling and divide into chocolate shells; decorate and refrigerate 2 to 3 hours before serving.


How to Make the Filling:

32 Large marshmallows (not the giant ones for roasting)

½ Cup milk

¼ Cup crème de menthe syrup

3 Tablespoons white crème de cacao

1 ½ Cups whipping cream

Few drops green food coloring

Heat marshmallows and milk in a 2 quart saucepan over low heat stirring constantly until melted.
Refrigerate until thickened; stir in crème de menthe syrup and crème de cacao.
Beat whipping cream in a chilled bowl until stiff.
Fold marshmallow mixture into whipped cream mixture; divide evenly into chocolate shells.
Although this is one of the popular Irish food recipes, it is also very popular in other countries like my German background. It is very simple and we have had this many times on our table.

---
BACON AND FRIED CABBAGE RECIPE
Cabbage is an ingredient in many of the Irish food recipes.
1 Medium head of cabbage

4 Slices bacon cut in small pieces

Salt and pepper to taste

Wash and core cabbage; cut into ¼ inch pieces.
Brown bacon in a 5 quart Dutch oven
Add cabbage with bacon and grease; stir constantly about 5 minutes over medium high heat.
Stir in seasonings; serve immediately.
NOTE: Cabbage should be tender and crisp but not wilted.

This recipe was passed on to me so I have included it in this year's Irish food recipes for St. Patrick's Day. The shepherd's pie is very popular in many countries but this one is a little different than all my other recipes which are baked in some type of shell.  It is very good and makes a pretty presentation.

---
IRISH SHEPHERDS PIE RECIPE with lamb
Shepherds Pie is the most famous of the Irish food recipes.
NOTE:  As you put these together, keep them warm until ready to serve.

2 Leeks separated (One for garnish and one for seasoning)

2 Teaspoons fine granulated sugar (Use castor or place granulated in blender a few seconds)

1 ½ Pounds potatoes

2 Tablespoons olive oil

1 Small finely chopped onion

1 Medium finely chopped carrot

2 Crushed cloves of garlic

1 Pound minced lean lamb

1 Small can (6 ounces) tomato paste

Hot milk to whip potatoes

4 Tablespoons butter

4 Teaspoons herb oil

Salt and pepper to taste

Chopped fresh thyme leaves for garnish

Preheat oven to 350F degrees.
TO PREPARE LEEK FOR GARNISH

Cut the leek about 4 inches from bottom keeping bottom root intact.

Cut the leek in half lengthwise; cut again lengthwise making 4 long quarters.

Slice the leek thinly from the top almost to the root.

Arrange the leek on a non stick baking pan fanning out the cuts.

Sprinkle the fine granulated sugar over top of leek fans.

Bake about 5 minutes until lightly golden and caramelized; cool completely.

TO PREPARE POTATOES

Scrub potatoes; cover with lightly salted water.

Bring potatoes to a boil and simmer about 15 to 20 minutes until completely tender.

Drain potatoes, peel and cut into cubes into mixing bowl while hot.

Add butter and slowly enough hot milk to beat into smooth mashed potatoes.

Season to taste; keep warm.

TO PREPARE MEAT FILLING (Prepare while potatoes are cooking)

Heat olive oil in a pan; add onion, carrot, leek and garlic and sauté about 4 minutes.

Stir the minced lamb into the pan and cook 3 to 4 minutes until browned breaking up all lumps.

Stir in the tomato paste and cook another 10 minutes; season to taste and keep warm.

TO SERVE

Pack meat filling into 4 individual serving molds or soufflé cups, turn out onto a plate and carefully remove the mold. Top each with a caramelized leek and pipe mashed potatoes around it. Drizzle top with herb oil and garnish with fresh thyme leaves.

---
BOXTY RECIPE
1 Pound scrubbed potatoes

2 Slices bacon cut in small pieces

2 Finely chopped green onions

1 Egg yolk

¼ Cup flour (more for dusting)

2 ½ Tablespoons olive oil

1 Teaspoon butter (not margarine)

Cover potatoes with lightly salted water; bring to a boil and simmer for 15 to 20 minutes until tender.
Drain potatoes and cool; peel potatoes and grate into a bowl.
Cook the bacon in a skillet until lightly browned.
Stir in the green onion and cook another minute; remove from heat.
Add the potatoes, egg yolk and ¼ cup of flour; season to taste and mix until blended.
Divide mixture and shape into "patties or cakes"; dust with flour and place on a flat tray.
Cover and refrigerate several hours or overnight.
Heat oil in a large heavy pan; add butter and heat until melted.
Add potato cakes and cook about 2 to 3 minutes on each side until golden turning one time.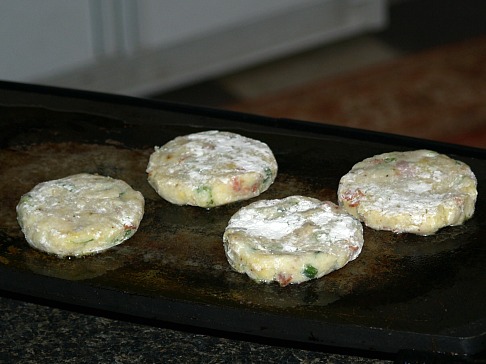 Boxty on the Griddle