How to Make the Best Italian Cookie Recipes 
When I learned how to make my best Italian cookie recipes, I found the technique to differ a little from some of my other cookies. These are also different from those those used to create delicious Italian cakes and other Italian pastries. Even though these cookies are really miniature cakes and pastries.
In Italy as here in the United States and in any other country, to ensure good cookies one must start with good quality ingredients. Good fresh butter, fresh cream and freshly made cheese lends to the taste and texture of these small delicacies. All of these ingredients are so readily available to the cooks in Italy from the widespread agricultural economy.
It is said in Italy that dessert has a function of pure gratification. When I learned how to make my best Italian cookie recipes I found this is also true of these cookies and pastries. A sweet cookie at the end of a meal or with a hot cup of espresso at the end of the day manages to confer moments of intense pleasure. Of all the Italian cooking, the sweets, traditional cakes and cookies continue to predominate. These are the family's plain but good recipes made in the homes by the cooks instead of top chefs of the country. The highly sophisticated technique which cooks use when learning how to make Italian cookie recipes, was imported from France in the nineteenth century; most like what we use here.
I have only found two minor differences between my cookie making and my friends from other countries. My friend who are all good cooks from Italy learn how to make best Italian cookie recipes which must be rolled out. When I roll my dough I always use flour; my friends roll cookie dough with powdered sugar. The second difference is that they will grease and flour the cookie baking sheets; if needed to be greased, I never dust them with flour. Other than these two things we start with the best ingredients, we use the same techniques including the common practice of refrigerating the dough almost always before baking (some do not need refrigeration).
These Italian cookie recipes are good for holidays or any time of the year. The colorful spumoni cookies are an Italian traditional Christmas cookie recipe. These refrigerator cookies are easy to make and good to eat.
HOW TO MAKE THE BEST ITALIAN COOKIE RECIPES like these

ITALIAN SPUMONI BARS

This seems to be a favorite of the Italian cookie recipes; it is so similar to the Venetian cookies, only with a different name.
1 Pound soft butter
1 Cup white sugar
2 Egg yolks
1 Teaspoon lemon juice
5 ½ Cups flour
1 Teaspoon baking powder
1 Ounce melted chocolate
½ Cup chopped Maraschino cherries
½ Cup chopped nuts
5 Drops green food coloring
5 Drops red food coloring
Preheat oven to 350F degrees.

Line a 9x13 inch pan with wax paper.
Cream butter and sugar with beaten yolks; add lemon juice.
Combine and add baking powder and flour; blend well. NOTE: After adding flour mixture batter is dry so I mix it with my hands.
Separate dough into three equal parts.
To part 1 add melted chocolate.
To part 2 add nuts and green food coloring.
To part 3 add cherries and red food coloring.
Layer in lined pan with first the chocolate mixture; then the green mixture; the pink mixture on top. NOTE: I rolled layers 2 and 3 to 9 x 13 rectangle between 2 sheets of parchment paper. Remove top sheet and flip dough over into pan. I find this much easier then trying to spread the dough over the other layers.
Place in refrigerator overnight.
Turn out on a cutting board and remove wax paper.
Cut dough into thirds. Then slice ¼ inch thick. Lay on cookie sheets and bake 12-15 minutes.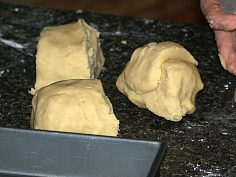 Divided in Three Parts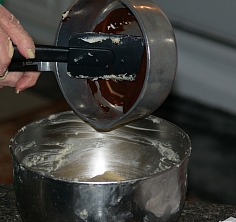 Add Chocolate to First Part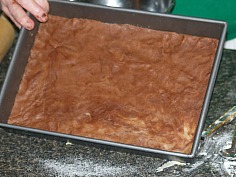 First Layer Chocolate in the Pan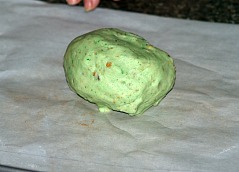 Second Layer Nut Dough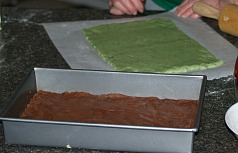 Nut Dough Rolled to Pan Size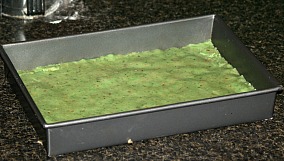 Second Layer Nut Dough in Pan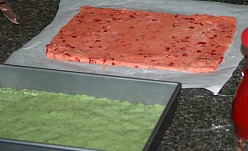 Third Layer Dough Rolled to Pan Size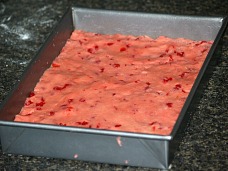 Third Layer Cherry Dough in Pan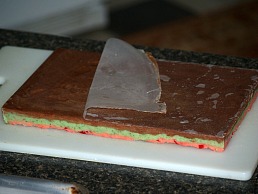 Turn Out on Cutting Board and Remove Parchment Paper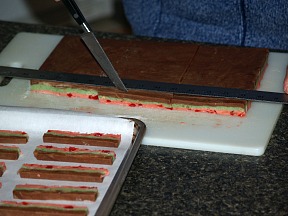 Cutting Dough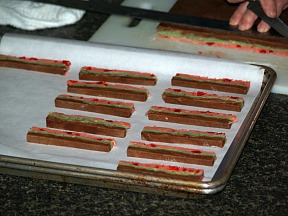 Place on Baking Sheet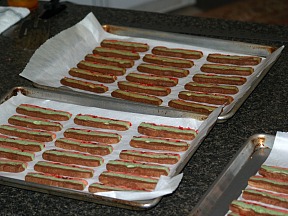 Baked Fresh from Oven
---
ITALIAN BOW KNOT COOKIES
Italian knot cookies are part of the traditional Italian cookie recipes. They are often referred to as love knots or just plain knots. They are traditionally flavored with lemon but you can use your favorite. These are usually made as one of the Christmas or Valentines Day cookie recipes.
4 Cups flour
4 Teaspoons baking powder
½ Teaspoon salt
6 Eggs, beaten
1 Cup sugar
½ Cup oil
2 Teaspoons lemon extract
Preheat oven to 400F degrees.

Combine the flour, sugar, baking powder and salt in a bowl. Blend eggs into dry ingredients, then adding the oil and lemon. Knead until smooth. With hands shape pieces into rolls the size of pencils. Tie rolls into bows. Bake on greased cookie sheets about 15 minutes. Spread icing below on cookies.
Makes about 70 cookies.
Lemon icing:
¼ Cup soft butter
1 Pound powdered sugar
Lemon juice
Cream butter and sugar, adding enough lemon juice to make spreading consistency.
---
RICOTTA CHEESE COOKIES
This is one of the Italian cookie recipes which is made with basic ingredients but turn out a "better than basic" flavored cookie.
Cookies:

2 Cups sugar
2 Cups softened butter
3 Eggs
15 Ounces ricotta cheese
2 Teaspoons vanilla
1 Teaspoon salt
4 Cups flour
1 Teaspoon baking soda
Frosting:
2 Tablespoons softened butter
4 to 6 Tablespoons cream
2 Cups sifted powdered sugar
1 Teaspoon lemon extract
Prepare cookies by combining sugar and butter in mixing bowl; beat until light and fluffy.

Combine eggs, ricotta cheese, vanilla and salt in another bowl; beat until blended.
Add egg cheese mixture to creamed butter sugar mixture; beat well.
Sift flour and baking soda together; gradually add into creamed mixture while beating.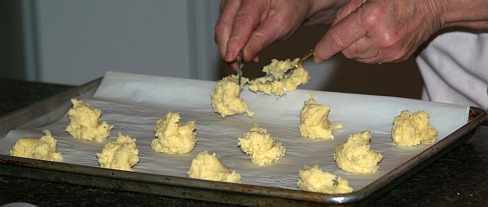 Preparing Ricotta Cheese Cookies for the Oven
Drop dough by teaspoon full (pictured above) on ungreased baking sheet. (I use parchment paper on the baking sheet.)
Bake in preheated oven at 350F degrees for about 10 minutes or until set (not brown).
Cool cookies on wire rack.
Prepare frosting by combining butter, powder sugar and lemon; add enough cream and beat until smooth.
Spread on cold cookies. Makes about 6 dozen cookies.
---
PISTACHIO COOKIE RECIPE
Many Italian cookie recipes use the pistachios and flavor with cardamom; the cardamom giving a lemon like flavor.
1 ¼ Cups flour
3 Tablespoons sugar
¼ Teaspoon cardamom
½ Cup butter
¼ Cup chopped pistachio nuts
½ Cup semi sweet chocolate pieces
1 Teaspoon shortening
Combine flour, sugar and cardamom in a medium bowl; cut in butter until resembles fine crumbs.

Stir in nuts; gather together in ball and knead to blend.
Roll or pat a 6 X 10 inch rectangle on a lightly floured tray.
Bake in preheated oven at 325F degrees for 25 to 30 minutes or until edges are lightly browned.
Cut into 1 X 3 inch sticks; transfer to wire rack to cool.
Melt chocolate and shortening together over low heat stirring until smooth.
Drizzle chocolate over cookies.
---
ANISE CUT OUT COOKIES
Anise is a favorite flavor when making Italian cookie recipes
2 Cups shortening
1 Cup sugar
2 Eggs
2 Teaspoons aniseed
6 cups flour
1 Tablespoon baking powder
1 Teaspoon salt
¼ cup apple juice
½ Cup sugar
1 Teaspoon ground cinnamon
Cream shortening and 1 cup sugar in mixing bowl until fluffy; beat in eggs and aniseed.
Combine flour, baking powder and salt; add to creamed mixture.
Add apple juice and mix well; knead on floured surface until well blended.
Roll dough to ½ inch thickness; cut into 2 inch shapes and place on greased baking sheets.
Bake in preheated oven at 375F degrees for 12 to 15 minutes or until lightly browned.
Combine ½ cup sugar and cinnamon; roll warm cookies in cinnamon sugar mixture.
---
LACE COOKIE RECIPE
This lace cookie can be used in many of the Italian cookie recipes; it can be formed in many shapes like these fan cookies and even stuffed with a creamy filling.
¾ Cup ground almonds or hazelnuts
½ Cup sugar
½ Cup butter
1 Tablespoon whipping cream
1 Tablespoon flour
Melted chocolate
Combine nuts, sugar, butter, whipping cream and flour in saucepan.
Cook and stir over medium heat until butter is melted and mixture is well blended.
Drop batter from teaspoon about 5 inches apart onto greased foil lined cookie sheet (bake only 2 -3 at a time).
Bake in preheated oven at 350F degrees for 5 to 6 minutes or until lightly browned.
Remove from oven and let stand 1 to 2 minutes on cookie sheet until edges are firm.
Use knife or spatula to cut cookies in half; lift each half with metal spatula.
Gently crimp the straight edge of cookie to form a fan shape and transfer to wire rack.
If cookies become too cool to shape return to oven for 1 to 2 minutes to soften.
Repeat with remaining dough; replace foil if necessary.
Brush edge of baked cookies with melted chocolate.
---
MOCHA COOKIES with hazelnuts
1 ½ Cups flour
½ Cup unsweetened cocoa powder
1 Teaspoon instant coffee granules
1 Teaspoon vanilla
1 Cup butter
2/3 Cup sugar
60 Blanched almonds (About 2 cups)
6 Ounces white candy coating
1 Tablespoon shortening
Stir together flour and cocoa powder; dissolve coffee in vanilla.

In small mixing bowl beat butter and sugar until fluffy; add coffee mixture and mix well.
Stir in flour mixture until well blended.
Drop by teaspoon size shaped balls 2 inches apart onto ungreased cookie sheet.
Press hazelnut in the center of each ball; bake in preheated oven at 325F degrees for 15 minutes.
Cool 1 minute and move to rack to cool completely.
Melt white coating and shortening in small saucepan over low heat; drizzle over balls.
---
AMARETTI RECIPE
This Amaretti cookie is also an Italian cookie recipe; you might know them as macaroons.
1 Cup almond paste
1 Cup granulated sugar
2 Egg whites
½ Cup coarsely chopped toasted almonds
Preheat oven to 325F degrees.
Cut almond paste into small pieces; add sugar and egg whites and work to form smooth paste.
Roll into 1 inch balls and placed on greased cookie sheet spacing evenly.
---
COTTAGE CHEESE COOKIES with candied fruit
½ Cup softened butter
1 ½ Cups flour
2/3 Cup sugar
½ Cup creamed cottage cheese
1 Egg
2 Tablespoons milk
½ Teaspoon baking powder
½ Teaspoon vanilla
¼ Teaspoon baking soda
1/3 Cup diced mixed candied fruits and peels
½ Cup chopped candied pineapple
½ Cup chopped walnuts
Beat butter in mixing bowl until creamy; add ½ of the flour and beat well.

Add sugar, cottage cheese, egg, milk, baking powder, vanilla and baking soda; beat until blended.
Stir in remaining flour, fruits and nuts.
Drop by rounded teaspoons 2 inches apart on ungreased baking sheet.
If desired press pecan halves of candied cherry slices in tops.
Bake in preheated oven at 375F degrees for 9 to 11 minutes or until tops spring back when touched.
Remove to wire rack to cool.
---
LADY FINGER RECIPE
These lady fingers are easy to make and can be used in a variety of different ways. They are "plain good" to eat as a snack like other cookies and they are great to serve with ice cream or other desserts. Lady fingers are so handy to have on hand to make some of the best Italian desserts like tiramisu.
3 Eggs separated
1/3 Cup sugar
1 Teaspoon almond extract
1/3 Cup flour
Pinch of salt
½ Cup powdered sugar
Grease and lightly flour 2 baking sheets; set aside.
Preheat oven to 350F degrees.
In mixing bowl beat egg yolks on high about 3 minutes.
Gradually add sugar and extract beating until light in color and thickened.
Gradually add flour and salt beating until thick.
In another bowl beat egg whites until soft peaks form; fold into yolk mixture.
Cut a ½ inch hole in the corner of a heavy plastic freezer bag or use pastry bag with tip #808.
Fill with the batter; form 4 inch long finger shapes with the batter on prepared baking sheet 1 inch apart.
Dust with powdered sugar; bake for 12 to 15 minutes or until golden brown.
Cool on wire rack.
---
ITALIAN CINNAMON STICKS
¾ Cup sugar
½ cup ground walnuts
1 Teaspoon cinnamon
1 Cup softened butter
1 Package (8 Ounces) softened cream cheese
2 ½ Cups flour
1 Beaten egg
Combine first 3 ingredients; set aside.

Beat butter and cream cheese until creamy on medium speed of mixer.
Gradually add the flour mixing until well blended.
Shape dough into a ball; wrap in plastic wrap and chill 30 minutes.
PREHEAT OVEN TO 350F degrees.
Divide dough in half; place 1 portion between 2 sheets of floured wax paper.
Roll into 10 inch square about ½ inch thick; brush with egg.
Sprinkle with half of the sugar mixture; cut into 5 inch strips.
Twist strips and place on ungreased baking sheet; repeat with remaining dough.
Bake 10 to 12 minutes until golden; cool on wire rack.
Makes 6 ½ dozen.