How to Make Italian Easter Recipes 
When I learned how to make Italian Easter recipes, I found that they will change from one region to another. Like many countries, the cuisines or traditional foods are different depending on the local products which are grown or produced. I have friends from Italy who will bake a large pan of lasagna for Easter, some who have a traditional leg of lamb or other lamb recipes, some will serve ham or veal scallopini and others will serve some recipes of chicken. This all reflects on the region of Italy from where their families came.

I learned how to make Italian Easter recipes starting with a good antipasto salad. Although antipasto means "before the pasta" or "before the main meal "some recipes do include some pasta in the recipe. Most recipes I make do not have pasta in them but they are known to include a wide variety of ingredients.  You can add all kinds of cured meats, a wide selection of different olives, and a variety of vegetables like tomatoes. This can all be tossed together with herbs and oil in a salad bowl or placed on a platter. Platters might be served with cheeses, boiled eggs and breads.


Learning how to make Italian bread is a crucial part of the cuisine. Most families learn how to make Italian Easter recipes including a variety of breads and rolls; these are staples of the diet. An Italian Easter bread which is very famous is the Colomba bread recipe also called "dove bread" because it is shaped like doves. It is enhanced with fruits and citrus and the dove shapes make a pretty presentation for this special day.


Italian Easter recipes from the cattle raising areas of the country might have for the entrée dishes like veal scallopini. This meat of young cattle is truly a delicacy suited for special holidays. If purchasing, the price per pound will be much higher than when buying older beef. The flavor and tenderness of this meat makes delicious scallopini.


Like many countries, including the United States, potatoes play an important part in the Italian cuisine. The "early potatoes" or what I call "new potatoes" are a great addition to the Italian Easter recipes. Over ninety percent of the ones grown in Italy are in the southern region. These are smaller and have such a wonderful flavor; so delicious if only boiled and buttered. They also make great "canning potatoes"; so good right out of the jar. For special occasions, adding a little seasoning or cheese makes them a special dish.

HOW TO MAKE ITALIAN EASTER RECIPES like this

ANTIPASTO SALAD RECIPE
12 Ounces cooked rotelle pasta

6 Cups chopped prosciutto

2 Large diced celery stalks

2 Stalks raw broccoli, peeled and cubed

5 Ounces sliced black olives

3 Ounces green olives

6 Diced Roma tomatoes

Combine all ingredients; add following cheesy Italian dressing and allow to marinate overnight.
Cheezy Italian Dressing
1 Cup red wine vinegar

1/3 Cup water

1/3 Cup olive oil

1 Tablespoon garlic salt

½ Teaspoon minced garlic

1 Tablespoon oregano

1 Teaspoon dried parsley

1 Teaspoon dried basil

½ Teaspoon black pepper

2 Tablespoons grated Romano cheese

2 Tablespoons grated Parmesan cheese
Combine all ingredients in jar with lid; shake well.
Refrigerate for several hours before pouring over salad to marinate.

---
RECIPE FOR VEAL SCALLOPINI 
2 Pounds veal scallopini

½ Cup butter

2 Tablespoons olive oil

¾ Cup dry Marsala wine

2 Tablespoons capers

½ Cup flour

Seasoned salt and pepper

Place veal on chopping board; sprinkle lightly with flour and seasonings.
Pound meat until very thin pounding in the flour and seasonings.
Melt butter in large heavy skillet; add meat and cook until slightly brown on both sides.
Remove meat from pan to platter.
Add wine to skillet and deglaze skillet by stirring to detach meat particles from skillet.
Cook and reduce sauce by half and stir in capers; return meat to skillet and mix with sauce.
Place veal back on platter and spoon sauce over top; serve immediately.

---
RECIPE FOR NEW POTATOES

3 Cans whole new potatoes

6 Tablespoons olive oil

6 Tablespoons water

Salt and pepper to taste

2 Teaspoons dried oregano

½ Cup shredded Parmesan cheese

Place drained potatoes in baking dish; cover with oil and water.
Sprinkle with salt, pepper and oregano; stir to coat.
Bake at 375F degrees until lightly browned.
Top with fresh shredded parmesan cheese and bake 5 minutes longer.

---
ITALIAN EASTER BREAD RECIPE
Add this bread recipe to your Italian Easter recipes; shape it like doves for the holiday.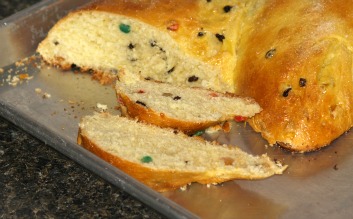 Italian Easter Bread Sliced
¼ Cup warm water (110F to 115F degrees)

1 Package dry yeast

½ Cup milk

¾ Cup sugar

½ Cup butter cut into small pieces

4 Eggs at room temperature

1 Teaspoon vanilla

1 Teaspoon grated lemon peel

1 Teaspoon grated orange peel

3 ½ to 4 Cups flour

½ Cup chopped candied fruit

½ Cup raisins

1 Beaten egg yolk

2 Tablespoons milk

Sugar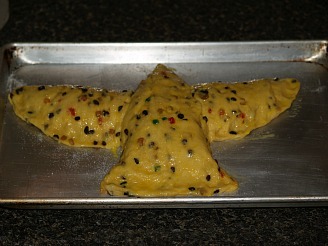 Italian Easter Bread Before Baking
Stir warm water and yeast in small bowl until dissolved.
Heat milk in heavy saucepan; add sugar butter.
Stir until butter melts; set aside and cool completely.
Beat eggs in a large bowl until light in color; blend in vanilla, lemon and orange rind.
Stir in yeast mixture, cooled milk and 1 ½ cups flour; mix in enough flour to make soft dough.
Turn dough out onto a lightly floured surface; kneads in remaining flour a little at a time.
Continue kneading until dough is smooth about 10 minutes.
Grease large bowl; combine fruit and raisins in reserving 2 raisins for the doves' eyes.
Sprinkle a little flour over the fruit mixture; knead fruit into dough and form into ball.
Transfer dough to greased ball turning to coat all sides; cover with dry cloth.
Let dough rise until doubled in bulk about 1 ½ to 2 hours.
Punch dough down; to shape doves divide dough in half and set one half aside.
Divide remaining half in 2 pieces; shape one piece into body of dove.
It should have pointed head, rounded body and slightly fanned tail; place on lightly greased baking sheet.
Divide remaining piece in half and shape the wings; attach to sides of body.
For second dove repeat process with reserved half of dough.
Cover doves and let rise in warm place until doubled about 1 hour.
Preheat oven to 350F degrees; Beat together the egg yolk and 2 tablespoons milk for glaze.
Brush doves with glaze and sprinkle each with sugar; insert raisin in each for the eye.
Bake loaves for 10 minutes; cover with foil.
Continue baking until pick inserted in center comes out clean; about 15 minutes.
Cool completely and break into pieces to serve.