Italian Food Menu 
The Italian food menu is somewhat determined by each area of the country and the local products. There are some ingredients like garlic and onion that you can always count on in Italian cooking. A lot of herbs and spices are also used which contributes to the delicious Italian foods. Bay leaf, Bay leaf, basil, oregano, rosemary, sage, thyme, fennel, salt and pepper are almost always used in various quantities when cooking entrees. To a slightly lesser extent, I use marjoram and saffron (Very expensive!). Especially when making desserts and other sweets, plan to use lots of cinnamon, nutmeg and vanilla.

Although dried herbs can be used fresh ones are the chosen type. Italian flat leaf parsley is the most common of all for most. When chopped it can easily be added to most recipes for added flavor and color. In sprigs and the pretty leaves are often used for a beautiful presentation. Not just fresh herbs but the Italian food menu would not be the same without the local fresh vegetables. It is common to find in their recipes fresh tomatoes, bell peppers, eggplant, squash, beans, potatoes and other fresh vegetables. Let us not overlook the many different olives raised in the region. These might be added when fresh or after processing. 
The Italian food menu is certainly to include a variety of fresh cheeses. This country has been making cheese for thousands of years. Each part of the country has its own unique taste. Cheese from the Alp region is very different than what is produced in the valley or the far south. You will find many of these cheeses in entrees, salads, desserts and breads. You are probably familiar with mozzarella, ricotta, parmesan and provolone. Some others to look for and try are Asiago, Bel Paease, gorgonzola, fontina and mascarpone (delicious in deserts).
Entrees of the Italian food menu will include a wide range of meats and seafood depending on region. Italy is known for the many different types of pasta produced in the country. These pastas are used to make very different dishes, even some desserts. You will find the menu to include these pastas with meat, just sauce or simply served with fresh vegetables. All are deliciously seasoned with herbs, spices and perhaps some of their famous olive oil. All menus must include their famous homemade bread and some type of their famous sweets.
PLAN YOUR ITALIAN FOOD MENU
ANTIPASTO PLATTER
An antipasto platter is appreciated for any appetizer table or served with a meal. This one comes from Venice but most regions have their own varying some from region to region.
4 Ounces smoked red salmon (Sliced thinly)
1 Can (3 ½ Ounces) tuna
1 Can (3 ½ Ounces) sardines in oil
6 Pickled artichoke hearts (OR) 6 small ribs celery
Pitted olives
3 Hard cooked eggs (Cut in wedges)
½ Can (15 Ounce can) garbanzo beans (Drain)
1 ½ Cups shrimp (Shelled and cooked)
2 Tablespoons olive oil
2 Tablespoons fresh snipped parsley
1 Lemon (Cut in wedges)
Lettuce leaves (For tray)
Tomato for garnish
Chill fish; line platter with washed dried lettuce leaves.

Arrange on lettuce the chunks of tuna, sardines and artichokes or celery.
Arrange the olives, egg wedges and garbanzo beans.
Toss together in a bowl the shrimp, oil, salt and pepper; arrange on platter.
Garnish with tomato.
Sprinkle all with snipped parsley; squeeze lemon over the top.
Makes 6 appetizer servings.
---
ITALIAN LASAGNA RECIPE
The Italian food menu for various holidays includes lasagna by most people I know from Italy.
1 Pound ground beef
½ Pound ground lean pork
1 Cup chopped onion
1 Cup chopped bell pepper
1 Can (28 Ounces) whole tomatoes
1 Can (12 Ounces) tomato paste
2 Teaspoons garlic salt
1 ½ Teaspoons dried oregano
1 Teaspoon dried basil
2 Cups ricotta cheese
½ Cup grated Parmesan cheese
¾ Pound mozzarella cheese (Shredded)
12 Ounces lasagna noodles (Cook and drain well)
½ Cup grated Parmesan cheese (For topping)
Combine beef and pork in large Dutch oven; add onion and pepper.
Cook and stir over medium heat until meat is browned.

Drain fat off meats; stir in tomato paste; garlic salt, oregano and basil.
Heat to boiling stirring occasionally; REDUCE HEAT simmer uncovered 20 minutes.
PREHEAT OVEN TO 350F degrees; use 9X13 inch UNgreased baking pan.
Stir together ricotta and Parmesan cheese.
Set aside 1 CUP of the meat sauce and ½ CUP of the mozzarella cheese.
In pan layer 1/3 of the noodles; top noodles with 1/3 of the remaining meat sauce.
Top meat sauce with 1/3 of the mozzarella and then 1/3 of the ricotta mixtures.
Repeat layers using 1/3 noodles, meat, mozzarella, and ricotta for 2 more layers.
Finish by spreading RESERVED meat sauce on top; sprinkle ½ cup Parmesan cheese.
Sprinkle RESERVED mozzarella cheese over the top; bake 45 minutes.
Let stand 15 minutes before cutting; cut in 3 inch servings.
NOTE: If you desire a less browned cheese crust, sprinkle cheese over the top during the last 15 minutes of baking so it melts. 
Serves 8.
---
ITALIAN CHEESE BREAD
Many bread recipes are an important part of the Italian food menu.
Dough
2 Tablespoons sesame seed
4 ½ to 5 ½ Cups flour (Divided)
¼ cup sugar
1 ½ Teaspoons salt
2 Packages dry yeast
1 Cup water
1 Cup milk
½ cup butter
2 Eggs
Filling
1 cup shredded mozzarella cheese
½ Teaspoon Italian seasoning
¼ Teaspoon garlic powder
¼ Cup softened butter
Generously grease 12 cup Bundt pan or 10 inch Bundt pan; sprinkle with seeds.

Combine 2 ½ CUPS of flour, sugar, salt and yeast in large bowl; blend and set aside.
In small saucepan heat water, milk and ½ cup butter to about 120F degrees.
Add liquid and eggs to flour mixture; beat with mixer until well blended.
By hand stir in enough remaining flour to form stiff batter; set aside.
In small bowl combine all filling ingredients mixing well.
Spoon a layer of batter into prepared pan.
Spoon about a third of filling evenly over the batter.
Spoon another layer of batter over the filling; another third of the filling.
Spoon another layer of batter; remaining third of filling.
Spoon remaining batter over the filling; cover, let rise until doubled about 30 minutes.
PREHEAT OVEN TO 350F degrees.
Bake 30 to 40 minutes until golden brown and bread sounds hollow when tapped.
Remove from pan immediately.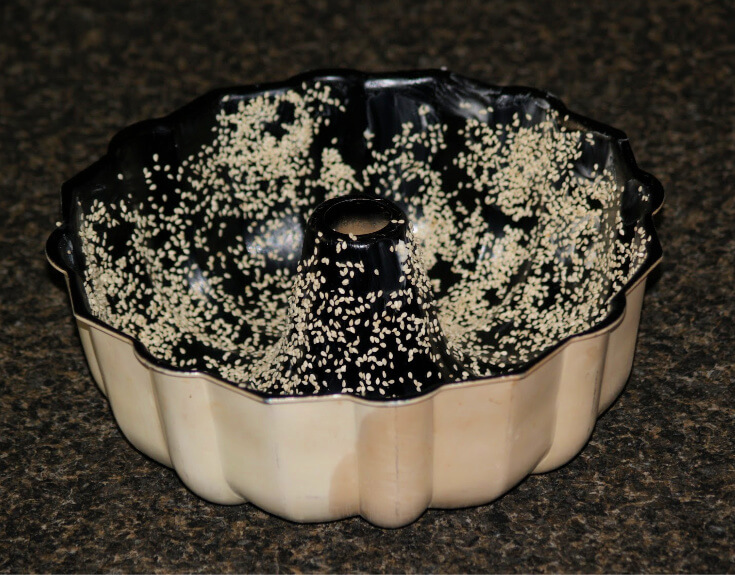 Prepared Italian Cheese Bread Bundt Pan
---
TIRAMISU RECIPE
This is probably the most popular dessert on the Italian food menu.
8 Ounces mascarpone cheese (Softened)
1/3 Cup sugar
1/3 Cup coffee liqueur
1 Cup heavy cream
2 Packages (3 Ounces each) ladyfingers (24)
2/3 Cup strong coffee
¼ Cup cocoa powder
4 Ounces bittersweet chocolate (Shaved)
¼ Cup sliced almonds (Toasted)
In large bowl beat together mascarpone and sugar until smooth.

Add coffee liqueur and beat together.
In small bowl beat cream until stiff; fold into mascarpone mixture.
Arrange 12 ladyfingers in bottom of 8 inch square pan.
Brush ladyfingers with half of the coffee.
Spread half of mascarpone mixture over top.
Sift half of the cocoa powder over top.
Sprinkle with half of the shaved chocolate; repeat layers.
Cover and refrigerate about 6 hours or overnight.
To serve garnish with toasted almonds; serves 8. 
---
BRUSCHETTA RECIPE
I think everyone should include bruschetta on their Italian food menu. I love this simple appetizer.
6 Slices large coarse Italian bread (Cut about 3/8 inch thick)
3-4 Cloves garlic
6 Tablespoons extra virgin olive oil
Freshly ground black pepper
Chopped fresh basil
Chopped fresh Roma tomatoes
Fresh mozzarella cheese slices OPTIONAL
Preheat oven to 375F degrees.

Mince garlic very fine; stir in the oil.
Brush mixture on both sides of the bread.
Place bread on baking tray; top with lots of black pepper.
Bake about 20 to 25 minutes until well toasted on both sides.
Combine basil and tomatoes in bowl.
Serve hot out of oven with tomato basil mixture and cheese.
---
FISH PIE RECIPE
Beautiful crusted fish recipes are common on the Italian food menu around the coastal regions.
Pastry
3 cups flour
12 Tablespoons butter
2 Tablespoons sugar
½ Teaspoon grated lemon peel
3 Egg yolks
Fish Filling
¾ Pound white fish steaks (Cubed)
1 Large stalk celery (Chopped)
¾ Cup pitted green olives (Sliced)
1 Large onion (Slice thinly)
3 Tablespoons olive oil
1 Tablespoon capers (Drain)
2 Tablespoons tomato paste
½ Cup water
Salt/ pepper
To Cook Zucchini
3 Zucchini (Cut in fingers)
1 Egg (Beaten)
3 Tablespoons flour
Salt/ pepper
Oil for deep frying
Preparation
TO MAKE PASTRY place flour in bowl; cut in butter until crumbly.
Add sugar and lemon peel; mix in yolks making a dough and set aside.
TO MAKE FILLING Heat oil; add onion and fry until golden.
Add celery, olives, capers, tomato paste, fish, water and seasoning.
Bring mixture to a simmer and cook 15 minutes.
PREHEAT OVEN TO 350F degrees.
GREASE and FLOUR 8 inch spring form pan; set aside.
TO PREPARE ZUCCHINI season flour with salt and pepper.
Dip zucchini into egg then into seasoned flour.
Deep fry in hot oil until golden; drain on paper towels.
TO ASSEMBLE divide dough into 3 equal parts.
Roll 1 part large enough to line prepared pan; bottom and sides.
Roll out remaining 2 parts into two 8 inch rounds.
Place fish mixture on top of crust; top with 1 dough round.
Layer zucchini on top of dough; place remaining round on top.
Seal top dough with the dough lining the pan; bush with egg yolk.
Bake 50 minutes and serve hot; serves 8.
---
VEAL PICCATA RECIPE
The Italian food menu of Northern Italy often includes locally raised veal.
3 Pounds veal (Cut into medallions allowing 8 ounces per serving. Pound very thinly about 1/8 inch thickness.)
½ Cup butter
½ Cup lemon juice
Garlic powder
Paprika
Parmesan cheese (Grated)
Lemon slices (Thinly sliced)
Melt butter in a large skillet; add lemon juice.

Sauté veal just until slightly whitened.
Place medallions on broiler rack.
Sprinkle lightly with garlic powder and paprika.
Cover generously with grated Parmesan cheese.
Top each piece with a lemon slice.
Spoon lemon butter sauce over each scallopini.
Broil until cheese begins to melt (5 to 6 minutes).
Serve immediately; serves 6.
---
FETTUCCINE WITH SHRIMP AND TOMATOES
Around the coastal areas the Italian food menu will include local seafood.
1 ½ Pounds fresh shrimp (Peel and devein)
8 Ounces uncooked fettuccine
2 Cans (14.5 Ounces each) diced tomatoes (Not drained)
1 Teaspoon dried basil
3 Cloves minced garlic
2 Tablespoons minced shallot
1/3 Teaspoon fresh ground pepper
¼ Teaspoon salt
¼ Cup olive oil
Romano cheese (Freshly grated)
Cook pasta according to package directions; drain and keep warm.

Drain diced tomatoes reserving ¼ cup of the juice.
Combine reserved liquid, shrimp, tomato and basil in a large skillet.
Add garlic, shallot, pepper, salt and oil.
Cook and stir until shrimp is pink about 5-7 minutes.
Spoon mixture over cooked pasta; sprinkle with grated cheese.
Serves 4.
---
CHICKEN BACCI BACCI
This great Italian food menu idea comes from the Palm Tree Restaurant in Mt. Dora, Florida.
Stuffing
10 Ounces Mozzarella cheese (Shredded)
2 Ounces prosciutto (Chopped)
4 Ounces fresh broccoli (Chopped)
½ Teaspoon black pepper
Chicken Prep
2 Full chicken breasts (Skinless, boneless, split)
1 Cup flour
4 Beaten eggs
2 Cups seasoned bread crumbs
3 Cups frying oil
Sauce
2 Tablespoons butter
½ Cup chopped onion
1 Cup Marsala wine
1 Pound button mushrooms
2 Cups beef stock
½ Cup heavy cream
Preheat oven to 375F degrees.

PREPARE stuffing by mixing in bowl the mozzarella, prosciutto, broccoli and pepper.
BUTTEFLY 4 chicken breast halves; pound to make even fillets.
Place ¼ of the stuffing mixture on each chicken fillet.
Fold fillet over meeting seams; dip in flour not opening seams.
Dip chicken in the eggs and then in seasoned bread crumbs.
Place chicken in an oven proof shallow pan; set aside.
FOR SAUCE sauté onions in melted butter medium saucepan.
Add the Marsala, mushrooms and beef stock.
Bring to low boil and simmer until reduced by half.
Add heavy cream and cook 5 minutes longer; pour over chicken.
Bake in oven for 20 to 30 minutes; spoon sauce over top to serve.
Serves 4.
---
TORTELLINI and FRESH BASIL SALAD
Many side dishes on the Italian food menu will include pasta salads.
2 Packages (9 Ounces each) cheese filled tortellini (Not cooked)
1 Pound ripe tomatoes (Seed and chop)
3 Cloves minced garlic
1/3 Cup chopped fresh basil
¼ Cup chopped fresh parsley
¼ Cup olive oil
3 Tablespoons balsamic vinegar
½ Teaspoon salt
½ Teaspoon pepper
Cook pasta according to package directions; drain, rinse with cold water and drain again.

Combine in large bowl the tomato and remaining seven ingredients; add pasta and toss well.
Cover bowl and chill thoroughly; serves 8.
---
ITALIAN WINE CUSTARD RECIPE
Often wine custard is served on the Italian food menu along with crunchy biscotti cookies.
4 Egg yolks
3 Tablespoons superfine sugar
½ Cup Marsala wine
Over high heat bring water to a boil in the bottom of a double boiler.

REDUCE HEAT to barely simmering; combine yolks and sugar in the top part.
Place top over the water but not touching the water.
Using a whisk or hand electric mixer beat until mixture is slightly thickened.
Add the Marsala wine and continue beating until mixture doubles in volume.
NOTE: Mixture should be very smooth and fluffy.
Serve immediately; serves 4 to 6.