Italian Food Menu with Recipes
The Kid's Italian food menu at Portobello Restaurant, one of Disney World restaurants, is what I want to focus for a minute. Most restaurants will offer hamburgers and hot dogs. When my four children were young and I took them out to eat, they always wanted something special, so I took a second look at this menu. Not only are there hamburgers and hot dogs, but meals such as filet mignon, fresh fish and grilled chicken. The price range of the children's meals from the Italian food menu is from $4.95 to $12.95. Try making these kid's favorite Italian Recipes at home Italian Pizza or a Stromboli.
The following recipe on their menu is another Italian appetizer (pictured below) from the Italian food menu at the Portobello restaurant. It is very delicious and one that I will have to order again.
PORTOBELLO MUSHROOM APPETIZER
a wonderful item to include on your Italian Food Menu
(SERVING FOR 4)
4 Portobello mushroom caps
2 Ounces olive oil
2 Teaspoons fresh chopped rosemary
2 Cups Creamy polenta
4 Ounces rosemary sauce
4 Ounces crumbled gorgonzola cheese
For the polenta on the italian food menu:
½ Cup yellow corn polenta
2 Cups whole milk
1 Ounce cream
1 Ounce butter
2 Tablespoons grated parmesan cheese
Salt/ white pepper to taste
Heat milk to a simmer in a heavy sauce pan on low to medium heat. Slowly add polenta while stirring and continue to stir until mixture thickens. Stir in cheese, butter and cream to finish. Season with salt and pepper. Hold in a warm place.
For the rosemary sauce:
2 Cups white wine
2 Cups chicken stock
1 Ounce chopped shallot
2 Sprigs fresh rosemary
2 Ounces butter
Salt/ pepper to taste
Place wine, stock, rosemary and shallot in a heavy saucepan and reduce over low heat by about 75%. (Down to 1 cup or less). Strain to remove rosemary and shallot. Wisk in butter over low heat and season with salt and pepper. Hold warm.
To finish the dish:
Clean mushrooms by removing the stems and scraping the black gills out from under the mushroom cap, using a spoon. Marinate the mushroom caps with olive oil and rosemary. Cook on a charcoal or gas grill until done (5-7 minutes). (If a grill is not available, try a couple minutes under the broiler as I am going to do) Put ½ cup of creamy polenta on each of 4 warm plates. Slice mushroom caps into 7-8 pieces (on a bias). Fan the slices over and around the polenta. Sauce each plate with 1 ounce of sauce. Add 1 ounce of gorgonzola cheese to each plate. Serve immediately.
This is truly a delicious favorite of mine from Portobello's Italian food menu. It would be worth the effort of making. Since I am pretty close, I will let them prepare it for me using their specially selected ingredients.
---
HOMEMADE RAVIOLI RECIPE (For Portobelo's Ravioli Gigante)
The following is a good recipe to double and make ahead of time if you are cooking for a crowd using an italian food menu.
For the pasta dough:
2.2 Pounds flour
36 Ounces egg yolk
Place the flour in the work bowl of a stand mixer. Begin to add the yolks to the mixer. Using the dough hook on low to medium speed, work the mixture while adding the yolk and continue to work the dough until smooth (3-4 minutes).The result will be a soft mass which is pliable and yields to the tough. Wrap the dough in plastic wrap and refrigerate to rest for 1 hour.
For the filling:
1 Pound ricotta cheese
½ Cup spinach, cooked, drained and chopped
1 Egg
½ Cup grated Parmesan cheese
White pepper/ salt to taste

Combine ricotta, spinach, egg and Parmesan in a mixing bowl. Make sure the spinach is well drained and chopped very fine. Season with salt and pepper.

Prepare the ravioli:

Cut dough into pieces the size of tennis balls. Roll the dough using a pasta machine into 4 inch wide sheets. Gradually make the sheets thinner and thinner starting on the thickest setting for the machine. The dough should be about 1/16 inch thick. Place 1 sheet on a flat clean work surface which has been dusted with flour. Using a 1 ounce scoop, place the filling in the center of the sheet at 4 inch intervals. Moisten the pasta around the filling with egg wash and place a second sheet of pasta over the top. Press the filling to flatten and distribute. Seal each piece by pressing with your fingers making sure to eliminate air from inside the ravioli. Cut the ravioli with a pastry wheel, trimming the edges. The result will be 4 inch square ravioli.
Prepare the dish
(for each serving or double for each additional serving)
1 Tablespoon extra virgin olive oil
1 Tablespoon thinly sliced garlic
6 Ounces crushed plum tomato
3 Each ravioli squares
5 Each whole basil leaves
Salt/ pepper to taste
Bring a pot of water to a boil and add salt (1 TBS per gallon). Heat a large sauté' pan and add oil. When oil is hot, add garlic and cook until golden brown over medium heat. Add plum tomatoes and cook to reduce slightly (2-3 minutes). Season to taste with salt and pepper. Add the whole basil leaves right at the end. While the sauce is cooking poach the ravioli in the salted water until tender (3-4 minutes). Remove the ravioli from the water, drain and add to the sauce. Cook for another minute or two.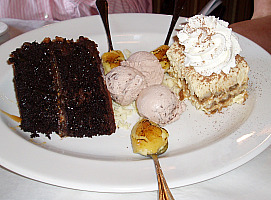 The Italian food menu at Portobello also has pizza baked in their wood burning oven, steaks, fish and chops. A large selection of wines from around the world is offered by the glass or bottle for your dining experience. For those who prefer beer, wonderful choices of domestic and imported ones are available. You may wish to have one of their specialty beverages such as the "Tiramisu martini". I not normally drink alcoholic beverages, but this sounds good enough to eat. I could be tempted!
Saving the best for the last and my weakness! (One of them). The desserts on the Italian food menu are fabulous! We all tried the "white chocolate custard", the "chocolate paradise cake", the "tiramisu", and "authentic Italian almond gelato". We all agreed that all were simply wonderful. I know you are wondering where the dessert recipes are. The staff here was so accommodating in giving me recipes that I didn't want to push my luck. I know I will be returning soon so I will hit them up next time. I hope to see you there!
The food being served at Portobello puts them right up at the top of my list find other Portobello recipes. If you have not been there, you are truly missing out they have the best italian food menu! I do thank Manager Dana, our waitress Dana, Chef Steve and the entire staff at Portobello for the delicious food and their wonderful warm southern hospitality. You all made our day!
Painless Cooking

›
International Foods
› Italian Menu