How to Make the Best Italian Recipes for New Years
Learn how to make the best Italian recipes for New Years. They are loved and are some of the favorites of people all over the world; especially here in the United States.
Italy is not only identified by its pastas and pizzas but other national specialties like sausages and prosciutto. Very popular also are the different types of cheeses like Parmesan, ricotta and Gorgonzola.

Two basic styles of cooking are identified in Italy, basically broken up by Northern Italy and Southern Italy. The many different types of pasta are prevalent in the Southern cooking. These pastas can be solid, tubular or many different shapes; they can be made with eggs or without eggs. These pastas are served with a variety of tomato sauces or sauces made with olive oil and always seasoned with fresh garlic.

In the North the dishes are much more mild but still flavorful. Sauces are made with fresh creams and cheeses. The pasta is usually made with eggs but quite often in place of serving pasta, rice or polenta is served. All over Italy, both north and South, the kitchens are stocked with many cheeses and fresh herbs like parsley, oregano, basil, rosemary and mint.
People everywhere want to know how to make traditional Italian recipes for various holidays. Traditional New Years food, like many other countries, must include pork recipes. The fat pig symbolizes the richness of life coming in the next year. Lentil recipes are as equally important symbolizing good luck and prosperity resembling small coins. Italians celebrate La Fiesta di San Silvestro on New Years Eve with family and friends enjoying lots of good New Years Eve food.
Learn how to make Italian recipes of equally importance; those for traditional Christmas food and traditional Easter food. Special breakfast foods are served for these holidays like frittatas, all types of breads and rolls, often being filled with cheese. Special traditional holiday cakes and cookies can be found in every home during these times. Of course large meals are prepared with special entrees like leg of lamb. All holidays are a time for celebrating with family and friends and food as a focal point.
HOW TO MAKE ITALIAN RECIPES

like


SAUSAGE AND LENTILS
The following is one of many sausage recipes combined with lentils of the Italian recipes.
3 Strips diced bacon
1 Large chopped onion
3 Medium carrots cut ¼ inch slices
2 ½ Cups water
1 Bay leaf
1 ½ Pounds mild Italian sausages
6 Ounces dry lentils, sort, rinse and drain
2 Cups packed finely chopped Swiss chard
2 Tablespoons minced parsley
Salt/pepper to taste
In a large kettle over medium heat cook the bacon, onion and carrots about 10 minutes.

Add the water, bay leaf and sausages; bring to a boil, reduce heat, cover and simmer for 10 minutes.
Add lentils and simmer for 30 minutes.
Remove sausages and keep warm.
Add the Swiss chard to the lentils; cook uncovered about 10 minutes or until chard and lentils are soft.
Salt and pepper as desired.
Remove Bay Leaf and discard. 
Pour lentil and chard mixture into a serving dish.
Cut warm sausages in chunks and arrange on the top; garnish with fresh parsley.
---
EGGPLANT PARMESAN RECIPE

a popular Italian recipe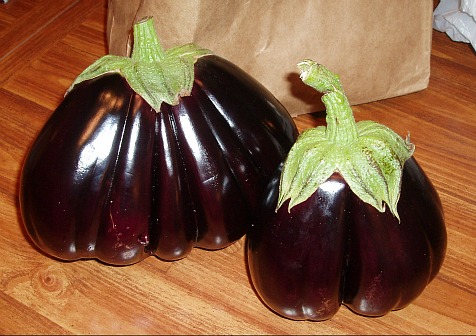 This is one of my favorite Italian recipes; I do not peel the eggplant and I slice it ahead of time. I place it in lightly salted water and soak overnight. Many do peel the eggplant and most do not soak it; that is up to you.
1 Tablespoon olive oil
½ Cup chopped onion
3 Cloves minced fresh garlic
1 Can (16 ounces) diced tomatoes
1/3 Cup tomato paste
3 Tablespoon minced parsley
2 Teaspoons dried basil
½ Teaspoon dried thyme
2 Medium eggplants cut into ½ inch thick slices crosswise
Oil for cooking
½ Cup grates Parmesan cheese
6 Ounces sliced mozzarella cheese
Preheat oven to 400F degrees.

Cook onion and garlic in butter until onion is tender but not brown.
Stir in tomatoes, tomato paste, parsley, basil, thyme, ¼ teaspoon of salt and ½ teaspoon pepper.
Bring to a boil, reduce heat and simmer uncovered for 15 minutes stirring occasionally.
Rinse eggplant and pat dry with paper towels; fry in hot oil in large skillet until golden brown.
Spread about ½ cup tomato sauce in bottom of 12 by 7 ½ inch casserole baking dish.
Arrange layer of eggplant on top of tomato sauce cutting slices to fit.
Top eggplant with half of remaining sauce and half of the mozzarella cheese and Parmesan cheese.
Repeat layers and bake uncovered for 20 minutes or until thoroughly heated.
---
FRIED RAVIOLI RECIPE
The following Italian recipe is one of the typical Italian appetizer recipes among their New Years recipes.
9 Ounces (refrigerated Contadina) cooked cheese ravioli, drained
½ Cup (Contadina) Italian seasoned bread crumbs
½ Cup grated Parmesan cheese
¼ Cup flour
1 Teaspoon dried basil
½ Teaspoon garlic powder
3 Beaten eggs
2 Tablespoons butter
2 Tablespoons olive oil
1 ½ Cups (refrigerated Contadina) marinara sauce, warmed
1 Cup (refrigerated Contadina) Red Bell Pepper cream sauce, warmed
Combine bread crumbs, cheese, flour, basil and garlic powder in a bowl.

Dip ravioli in eggs and then in bread crumbs to coat; set on tray as you dip.
Heat 1 tablespoon butter and 1 tablespoon oil in a medium skillet over high; quickly brown on each side.
Continue until all have been browned; add more butter and oil as needed.
Serve with warm sauces. Makes about 40 servings.
---
JAM TART RECIPE
This jam tart recipe is one of the best Italian recipes for tarts.
5 Cups flour

¼ Cup cornmeal

1 Cup extra fine sugar (Can put granulated sugar in blender for few seconds)

2 Tablespoons vanilla sugar (I use 1 teaspoon vanilla extract)

½ Teaspoon salt

1 Cup softened butter

1 Tablespoon olive oil

3 Egg yolks

½ Teaspoon grated lemon peel

3 Cups jam (your favorite)

Mix flour and cornmeal together in bowl; add sugar and salt.
Make a well in center; put butter, vanilla, oil, egg yolks and lemon peel in well.
With hands work together until sticks together in a ball of dough.
Cover with a cloth and let it rest for about 1 hour.
Divide dough in half; roll out each in a large circle and line 2 buttered tart pans. (10 inches).
Divide jam equally and fill tart shells.
With leftover trimmings of dough make a lattice for the tops.
Bake in a preheated oven at 350F degrees for about 35 minutes or until crust is golden brown.
Allow tarts to cool completely before removing from pans.

NOTE: What is Vanilla Sugar? Vanilla sugar can be made by splitting a vanilla bean and placing in an airtight container of sugar. After about a week the sugar will be flavored with the vanilla. The sugar is good in any sweet recipes when you want a vanilla flavor.