How to Make a Ketchup Recipe
When I learned how to make a ketchup recipe, I found that it is so much better than what you buy in the supermarkets. Not only is the flavor superior but you do not get all the additives. Although I had collected recipes from different family members and friends who have been making catsup over the years, I never made it myself.

This past year when I went to buy it at the grocery store I noticed that all of it had so many chemical preservatives in it. That really turns me off!

With so many tomatoes on hand, I decided to make my own. It tastes so much better than the commercial type, but unlike canning peppers and other foods, it took a long time. I never dreamed it would take me so long to make it.
This was not like other canning recipes. After I learned how to make a ketchup recipe, I learned that the type of tomato used has a great deal with the amount of time it takes to cook the ketchup. Almost any recipe you choose for a homemade ketchup will instruct you to cook the puree slowly in a heavy pot over low heat until thickened while stirring often. If you choose a juicy tomato like I did, the time is very much longer than if you used a paste tomato. Believe me, I found my experience required a lot patience.
Brother Jake warned me when he learned how to make a ketchup recipe, that it is easy to scorch when cooking on the stove top. The first recipe below is the recipe I used. I started it out in the oven; then after 4 hours I decided to split it up into 2 kettles and cook it on the stove top a while. When it started to thicken I decided to place it back in the oven. Well it took me a little over 8 hours to finish cooking.
Was it worth it? Yes, it is very delicious but it is a good thing I didn't plan to go anywhere that day. I wrote the recipe the way I will make homemade catsup the next time. After making this homemade ketchup recipe, I discussed it with other canners. Here is how to make ketchup like they do.
A few told me they bring the mixture to a boil on the stove top and cook it at boiling until the liquid starts to disappear. Then they pour the mixture into their slow cooker with the setting on high. The slow cooker is left uncovered so the liquid will evaporate and the mixture thickens.
Another canner friend says she slowly cooks quartered tomatoes by themselves without stirring. When the liquid separates from the tomatoes, she removes the liquid and saves it for other cooking like soups. She then puts the tomatoes in a food processor or blender and run until pureed. Then she adds the other ingredients for the recipe and then cooks until thickened.
HOW TO MAKE A HOMEMADE KETCHUP RECIPE #1
42 Large tomatoes
2 Large finely chopped onions
2 Cups apple cider vinegar
2 Large finely chopped green bell peppers
4 Cloves sliced fresh garlic
3 Cups packed light brown sugar
1 Tablespoon salt
½ Teaspoon red pepper
¾ Box pickling spice
Next time I will make only ½ of ketchup recipe at a time or divide the mixture in half.
Combine all ingredients and bring to a boil; cook until thick or about 1 ½ hours.
If it still is not at saucy stage, cook longer stirring frequently to keep from sticking and scorching.
NOTE: If the ketchup recipe scorches, it will ruin it.

When it is thick enough, run it through a sieve; return to kettle and make sure mixture is at boiling point to pack.

Spoon into hot sterilized jars; place lids and rings on jars.
Process in hot boiling water 5 minutes to seal jars.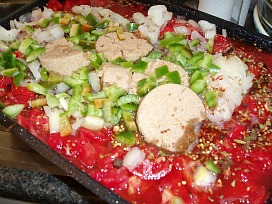 Making Homemade Ketchup
---
HOMEMADE KETCHUP RECIPE #2
8 Quarts chopped paste tomatoes
1 Red bell pepper, seeded and chopped
2 Cups chopped onion
½ Teaspoon cayenne pepper
1 Tablespoon celery salt
1 Tablespoon ground cinnamon
1 Tablespoon whole mustard seed
1 Tablespoon black peppercorns
1 Tablespoon dried basil
1 Tablespoon whole allspice berries
1 Tablespoon whole cloves
1 Large bay leaf
1 Cup brown sugar
1 Tablespoon paprika
1 Cup white vinegar
Combine tomatoes, chopped pepper and onion; blend a portion at a time in a blender on medium until all is smooth. Pour into a large kettle and boil for 45 minutes, stirring frequently.
Add the brown sugar, paprika, cayenne pepper, celery salt and cinnamon to the tomato mixture and stir to blend in.
Place the cloves, allspice, basil, peppercorns, bay leaf and mustard seeds in a cheesecloth spice bag; add to the tomato mixture. Simmer mixture on low heat for 1 ½ to 2 hours or until thick. Add the vinegar at the last 15 minutes of cooking time. When the mixture is cooked down to desired thickness. Remove and discard spice bag.
Ladle into hot sterilized jars and add lids and rings. Place jars on a rack in a canning kettle. Cover with boiling water and simmer for 30 minutes. Remove from canner and let cool.
---
HOMEMADE KETCHUP RECIPE #3 (nice and spicy)
8 Quarts red ripe tomatoes, washed and chopped
1 Head garlic, peeled and chopped
¼ Tablespoon black pepper
¼ Teaspoon red pepper or hot pepper sauce
½ Ounce whole cloves
¾ Cup salt
1 Cup cider vinegar
Sugar, to taste
Stew tomatoes until very soft. Press them through a sieve to remove seeds and skin. Add the vinegar, salt, pepper and sugar. Make a spice bag for the garlic pieces, red pepper and cloves (tie in cheesecloth). Boil all ingredients 3 to 4 hours, stirring frequently until quantity is reduced by half. When thick, remove the spice bag and ladle into hot sterilized bottles or jars and seal.
---
GREEN TOMATO KETCHUP RECIPE
You have heard of fried green tomatoes, how about green tomato ketchup? When looking for a homemade catsup recipe, although different from the norm, this will not disappoint you.

8 Pounds green tomatoes, coarsely ground
4 Pounds sugar
1 Quart vinegar
1 Ounce ground mace
1 Ounce ground cinnamon
1 Ounce ground cloves
Combine tomatoes, vinegar and sugar in a heavy pan; bring to a boil and cook for 3 hours.
Blend in mace, cinnamon and cloves; boil 15 minutes longer.
Pour into hot sterilized jars and seal immediately.