How to Make Leftover Recipes for Turkey
Many leftover recipes can be made from a large cooked turkey. Sometimes one might have several pounds of meat left after the turkey dinner is over.. What do you do with it?

As soon as you finish eating, start the clean up by removing all the meat from the bones. Cooked poultry should stand at room temperature no longer than 1 ½ hours after the cooking is finished. Divide the remaining meat into small quantities like one pound containers. I usually save a plate of meat to store in refrigerator for immediate use; to be eaten within two days.


I will store the other small packages of meat in the freezer for making leftover recipes. I make sure the turkey meat has cooled completely and then I wrap the one pound amounts tightly in plastic wrap then I wrap them again in freezer paper or foil. This prevents any freezer burns and keeps it very good for at least 2 months. If I place the packages in my deep freezer (much colder) I have had it to stay good much longer.

I also freeze my turkey dressing and turkey gravy; most of it is frozen separately for leftover recipes. I say most because I usually fix one pan with stuffing on the bottom, then a layer of turkey topped with turkey gravy. I also wrap this quite well before freezing; this one I plan to reheat in the oven for a meal the following week. After Thanksgiving when all the Christmas preparations get underway this convenient meal is very much appreciated.

The remaining turkey dressing and gravy can be frozen for later recipes. These should be eaten within one month. They make a great side dish with the hot gravy spooned over the hot dressing or they can be used in other recipes. However you prefer to serve the leftover recipes, this not only is economical to use it up but it can provide some great meals. 

When serving leftover recipes made from your turkey dinner, often the family may not even recognize them as leftovers. Turkey is a great alternative to chicken and it can be used as a substitute in many of the great chicken recipes. Your family may not even recognize it as turkey.
RECIPE FOR DUMPLINGS WITH TURKEY
Turkey and Dumplings
Sauté in a large pan until vegetables are tender.
2 Tablespoons butter
1 Stalk finely chopped celery
1 Small finely chopped onion
Add:
2 quarts water
1 Pound cut up turkey
Enough chicken flavor or soup base to give rich flavor
Heat to rolling boil and add dumplings
Mix together dumplings, roll out on floured board and cut into 1 inch squares. Add to boiling liquid. Season with salt and pepper to taste.

2 Cups flour
1 Tablespoon shortening
1 Teaspoon salt
3 beaten eggs
½ Cup milk
There are many more chicken recipes to use your turkey in.

---
TURKEY VEGETABLE SOUP 
One of my favorite leftover recipes is turkey vegetable soup. After eating so much good food for Thanksgiving dinner, I like a light soup for the day after. There is no specific recipe and every year it is different. I start with all the TURKEY BROTH saved from the roasted turkey and from boiling the giblets. I add remaining GRAVY and leftover VEGETABLES; carrots, green beans, corn, etc. If no vegetables are left, add canned veggies. I always add CANNED TOMATOES, CHOPPED ONIONS, GARLIC and lots of SPICES; bay leaves (be sure to remove), basil, oregano, etc. I always add chopped CABBAGE if I have it. I leave out all starches like potatoes, rice or pasta but that's optional for you. Cook all this until vegetables are quite tender. I like a lot of largely chopped COOKED TURKEY because it makes the soup filling without a lot of carbs. If you have too much soup, divide it up in small containers, label them and freeze. This makes a quick snack or light meal.

---
TURKEY PICADILLO RECIPE 
This leftover recipe provide a whole meal; one which is not recognizable as leftovers.
2 Tablespoons cooking oil

½ Cup chopped onion

½ Cup chopped green bell pepper

¼ Cup chopped red bell pepper

1/8 Teaspoon garlic powder

2 Cans (14.5 ounces each) stewed tomatoes

1 Granny Smith apple peeled cored and chopped

¼ Cup raisins

½ Teaspoon ground cinnamon

½ Teaspoon ground cumin

1/8 Teaspoon ground cloves

½ Pound ground cooked turkey (or finely chopped)

4 Cups hot cooked rice

Combine oil, onion, peppers and garlic powder in a large skillet until onion is tender.
Stir in tomatoes, apple, raisins, cinnamon, cumin and cloves; blend well.
Add cooked turkey and bring to a boil; simmer for 20 minutes.
Serve immediately over hot rice.

---
TURKEY CHOW MEIN RECIPE
This leftover recipe has an Asian flair; easy to make and so flavorful.
2 Cups celery sliced diagonally

1 Medium sliced onion

1 Can (10 ½ ounces) condensed chicken broth

3 Tablespoons cornstarch

¼ Cup soy sauce

3 Cups cut up cooked turkey

2 Cans (3 ounces each) sliced mushrooms (not drained)

1 Can (16 ounces) bean sprouts rinsed and drained

1 Jar diced pimentos drained

2 Cups hot cooked rice

Heat celery, onion and broth to boiling in Dutch oven; reduce heat.
Simmer uncovered about 5 minutes; mix cornstarch and soy sauce until smooth and stir in celery mix.
Cook stirring constantly until mixture thickens and boils; boil and stir 1 minute.
Stir in turkey, mushrooms, bean sprouts and pimentos; stir and heat through.
Serve over hot rice.

---
TURKEY LASAGNA RECIPE
2 Beaten eggs
1 Cup whipping cream
8 Ounces plain yogurt
1 Cup shredded Monterey Jack cheese
1 Tablespoon dried Italian seasoning
8 Ounces uncooked lasagna noodles
1 ½ Cup picante sauce
1 Pound chopped cooked turkey
¼ cup grated Parmesan cheese
Preheat oven to 350F degrees.
Combine eggs, cream, yogurt, Monterey Jack cheese and Italian seasoning.
Layer half of uncooked noodles in a 9X13 inch baking dish.
Top noodles with picante sauce and turkey; repeat with a second layer of each.
Top with yogurt mixture and Parmesan cheese.
Bake covered for 25 minutes; uncover and bake 15 minutes longer.
Let stand 10 minutes before serving.
---
TURKEY POT PIE RECIPE
Pastry for 9 inch pie plate double crust.
1 ½ Pounds cooked turkey cut in small pieces
2 Cups turkey broth or chicken broth
1 Small diced onion
2 Diced carrots
1 Stalk diced celery
6 Tablespoons butter 
5 Tablespoons flour
½ Cup milk or cream
½ Cup frozen peas
Salt/pepper
Preheat oven to 350F degrees; line pie plate with pastry (Reserve pastry for top)
Melt butter in a large skillet; sauté onion, celery and carrots until tender.
Add flour to skillet and milk; stir over medium low until smooth.
Stir in chicken broth and bring to a boil stirring constantly; reduce heat.
Stir in milk, turkey and peas; add seasoning to taste.
Pour mixture into prepared pie plate; roll out remaining pastry and fit on top.
Trim excess pastry from pie and crimp edges; cut steam vents in top.
Bake about 40 minutes; 4 to 6 servings.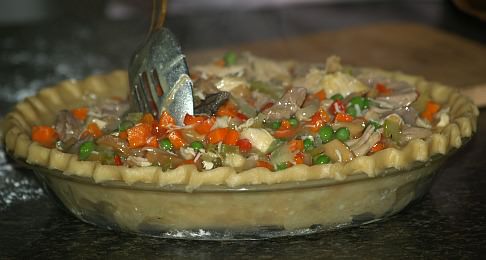 Putting the Filling in the Pie Crust for Turkey Pot Pie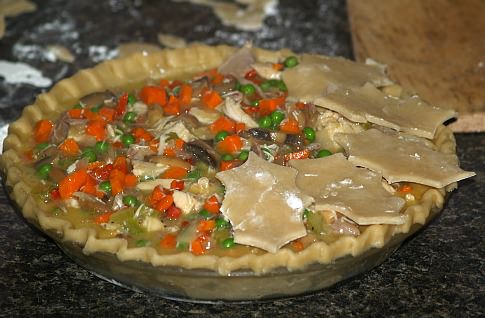 Adding the Top Crust to the Turkey Pot Pie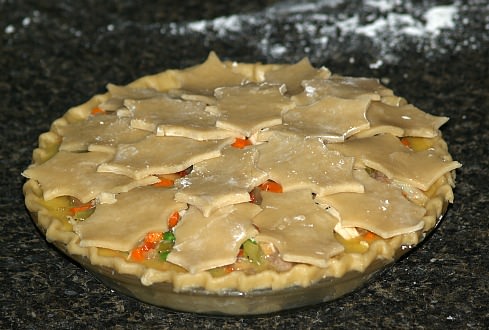 Turkey Pot Pie Ready for the Oven
---
TURKEY CASSEROLE RECIPE
1 ¼ Cups spaghetti (Cook and drain)
1 ½ Cups cooked turkey chopped
¼ Cup green bell pepper chopped
½ Cup chopped onion
¼ cup diced pimiento
1 Can mushroom soup (Not diluted)
½ Cup chicken broth
¼ Teaspoon garlic powder
1 Teaspoon salt
¼ Teaspoon black pepper
1 ¾ Cup grated Cheddar cheese
Preheat oven to 350F degrees.
Combine and mix turkey, pepper, onion, pimiento, soup and broth; add garlic, salt and pepper.
Add 1 ¼ Cup of cheese; combine mixture with spaghetti and blend thoroughly.
Pour into greased casserole dish; top with remaining cheese.
Bake about 45 minutes; serves 6 to 8.