Meatball Appetizers:Cranberry,Turkey,Sweet Sour and Lamb
How to Make Meatball Appetizer Recipes 
There are hundreds of good meatball appetizer recipes. When you learn how to make meatballs some of the most popular are Italian, Swedish or Lebanese.
These recipes are among my standard make ahead appetizer recipes because they can be make several days in advance. 
To make good meatball recipes you need to start with good quality meat. This might be a lean ground beef, lean ground pork, ground lamb, or ground poultry. By combining two or more of these meats also makes a great flavor. Spices and other ingredients also enhance the flavor. Remember for appetizers you want them to be in bite size for easy eating; about 1 inch balls.
When I have a party I always serve different varieties of appetizers so there is something for everyone' s pallet. Meatballs can be served with a variety of sauce which change the entire taste. 
As i have learned how to cook I have found cranberries a great addition to many recipes. The recipe below is really delicious cranberry meatball.
CRANBERRY MEATBALL RECIPE
2 Pounds ground beef
1 Cup cornflake crumbs
1/3 Cup dried parsley flakes
2 Eggs
2 Tablespoons soy sauce
¼ Teaspoon pepper
½ Teaspoon garlic powder
¼ Cup catsup
2 Tablespoons finely chopped onion
Preheat oven to 400F degrees.
In a large bowl mix the ground beef, crumbs, parsley, eggs, soy sauce, pepper, garlic powder, catsup and onion; blend well and shape into small balls.
Place in a flat shallow baking pan and brown in oven for about 15 minutes; remove from oven and pour off any grease

Reduce oven temperature to 300F degrees.
NOTE: While this meatball appetizer recipe is baking make the cranberry sauce.
Pictured Below Meatballs and Cranberry Sauce
a perfect meatball appetizer recipe
CRANBERRY MEATBALL SAUCE
1 Can (16 ounces) jellied cranberry sauce
1 (12 ounces) bottle chili sauce
2 Tablespoons brown sugar
1 Tablespoon lemon juice
Combine the can of cranberry sauce, chili sauce, brown sugar and lemon juice.
Cover drained meatballs with sauce and bake uncovered for 15 minutes.
---
BISQUICK RECIPE FOR SAUSAGE BALLS

these are delicious meatball appetizer recipes
These sausage balls have become very popular of the meatball appetizer recipes
3 Cups Bisquick
1 Pound of spicy hot sausage
1 Pound grated sharp Cheddar cheese
1 Teaspoon Worcestershire sauce
Preheat oven to 350F degrees.
Combine all ingredients and mix well.
Shape into Tablespoon size balls
Lay in a shallow baking pan and bake about 15 to 20 minutes or until the meat is done.
---
HOW TO COOK SAUERKRAUT BALLS
1 Pound ground chuck, browned
2 ½ Cups drained sauerkraut
1 Medium onion
4 ½ Tablespoons flour
2 Beaten eggs
1 Cup instant potatoes
¼ Teaspoon salt
¼ Teaspoon pepper
¼ Teaspoon garlic powder
1 Beef bouillon cube dissolved in ¼ cup hot water
Cracker crumbs
Drain sauerkraut well.
Place sauerkraut and onion in food processor (I grind fine in a food grinder); process until kraut and onion are chopped fine.
Place chopped kraut mixture in a bowl; add browned meat, flour, eggs, instant potatoes, seasonings and beef bouillon mixture.

Mix well and roll into 1 inch balls; roll balls in cracker crumbs.
Deep fry until brown; drain on paper towels.
---
SWEET AND SOUR MEATBALLS
Many social gatherings will include the following recipe with their meatball appetizer recipes.
Meatball recipe:
2 Beaten eggs
1 Small onion diced fine
¾ Cup breadcrumbs
½ Teaspoon salt
½ Teaspoon pepper
2 Pounds hamburger
Preheat oven to 400F degrees.
Combine and mix all ingredients and shape into golf ball size balls.
Place in a flat shallow pan and bake about 15 minutes.
Transfer meatballs to a large skillet or pan; cover with sauce.
Sweet and sour sauce recipe:
3 Tablespoons cornstarch
¾ Cup white vinegar
1 Cup brown sugar
2 Medium diced bell peppers
1 Cup ketchup
1 Teaspoon soy sauce
1 Large can pineapple chunks with juice
In a medium saucepan combine the cornstarch, and vinegar.
Add sugar, ketchup and soy sauce; add green peppers and pineapple with juice.
Stirring constantly cook until thickened.

Pour sauce over the meatballs, cover with a lid and simmer for 20 minutes.
---
TURKEY MEATBALL RECIPE
The good thing about meatball appetizer recipes is that you can substitute different ground meats in your recipes to meet your needs. The following turkey meatballs are made with turkey and egg substitute to cut down on fat but still has great flavor.
1 Pound turkey sausage
¼ Cup egg substitute
½ Cup seasoned bread crumbs
Sauce:

¾ Cup chili sauce
¼ Teaspoon garlic powder
6 Tablespoons brown sugar
2 Tablespoons vinegar
2 Tablespoons soy sauce
1 Tablespoon butter
Preheat oven to 400F degrees.
In a large combine the turkey sausage, egg substitute and bread crumbs; mix well.
Shape into 1 to 1 ½ inch balls and place on a broiler pan.

Put pan in the oven and bake for 4 minutes.
Turn oven to broil (500F degrees) and broil meatballs for 2 to 4 minutes.

Remove from oven and drain meatballs on paper towels; mix sauce.
Sauce instructions:
Combine the chili sauce, garlic powder, brown sugar, vinegar, soy sauce and butter; simmer 5 minutes.

Add the turkey meatballs to the sauce and simmer for 15 minutes.
---
Pictured Below Lamb Meatballs with Mint Sauce
LAMB MEATBALLS with mint
LAMB MEATBALLS
This lamb meatball recipe is one of the best meatball appetizer recipes for parties. They are flavored with mint and spices; the yogurt sauce is a delicious accompaniment.

1 Medium onion finely chopped

¼ Cup olive oil

2 Pounds finely chopped lamb

1 Cup fresh bread crumbs

1/3 Cup pine nuts

2 Large eggs

3 Tablespoons finely chopped parsley

1 Tablespoon finely chopped mint

2 Teaspoons salt

1 ½ Teaspoons crumbled dried oregano leaves

½ Teaspoon cinnamon

¼ Teaspoon ground black pepper

Flour


Yogurt Sauce

2 Cups plain yogurt

2 Tablespoons chopped fresh parsley

½ Teaspoon dried mint leaves crumbled

½ Teaspoon salt

1/8 Teaspoon garlic powder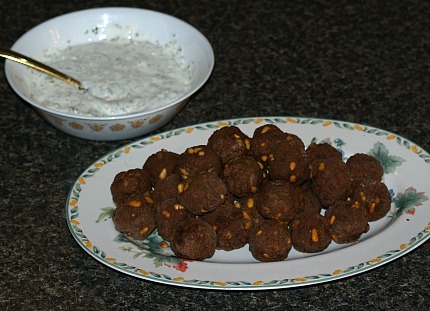 Lamb Meatball with Mint Sauce
Prepare yogurt sauce by combining all ingredients and mix well; refrigerate until use.
Sauté onion in olive oil over medium heat until tender about 5 minutes; set off heat.
Combine lamb, crumbs, pine nuts, eggs, parsley, mint, salt, oregano, cinnamon and pepper in a bowl.
Add onion oil mixture; mix well with hands and shape into ¼ cup balls.
Coat meatballs with flour; cook through in hot oil about 10 to 15 minutes.

NOTE: You can cook the meatballs in a large skillet or deep fry. I deep fry mine because they retain a more round shape.
Serve meatballs on plate of lettuce leaves with tomatoes as garnish. The sauce can be spooned over the top or serve along the side. Makes 24 to 30 meatballs.