How to Make Mexican Bean Soup Mix Recipe 
Learn how to make the following Mexican bean soup mix recipe which is easy to mix together.  It will stay good on your shelf for months in an air tight container. Besides two of the favorite beans, this recipe includes hominy which is another favorite of many.
Dried beans will last indefinitely if stored properly in a cool dry place. They are very high in many essential nutrients. Being high in fiber, starch and proteins, when you learn how to make this Mexican bean soup mix recipe it will provide you with a very filling dish. By combining the beans with the other soup ingredients produced a very flavorful soup and it is so simple to put a pot on to cook.


I prefer to get the pot of soup ready at night like I do all my dried beans, cover with water and let it soak overnight. If you know how to cook beans, you know that this is the best way to cook them. I learned how to cook this Mexican bean soup mix recipe by setting it on the stove early in the morning and cook slowly until everything is tender; it turns into the most delicious bean soup. 
Hominy is dried maize kernels which have been treated through a process with an alkali. One of the earliest places which did this process was what is now Southern Mexico. In this process the corn is soaked in lye which kills the seed's germ. Then the corn cannot sprout in storage. Besides preserving the grain for food, it offers extra nutritional value over the untreated corn.
Hominy is now used in many soups, stews and casseroles. Many people love the flavor of canned hominy when fried alone in bacon fat or butter. It is ground coarsely to make hominy grits or fine into a corn flour.
HOW TO MAKE MEXICAN BEAN SOUP MIX

RECIPE
½ Cup chopped dried onion
1 Teaspoon dried minced garlic
1 Cup chopped dried tomatoes
1 Cup dried pinto beans
½ Cup dried kidney beans
½ Cup chopped dried green chilies
3 Tablespoons dried taco seasoning
1 Tablespoon brown sugar
4 Teaspoon cayenne pepper
1 Cup dried hominy
½ Cup chopped dried celery
Combine all the ingredients and store in a tightly sealed container. To use, combine half of the mixture with 2 quarts of water. Bring to a boil then lower the heat and simmer for 3 hours or until the beans are tender. NOTE: Toward the end you might want to add some cooked beef, chicken or pork.
After cooking the above Mexican bean soup mix recipe, it can be made into more delicious recipes like baked beans. Do you know how to make baked beans? This is all there is to it. Measure out the amount of the cooked bean soup as you like. Strain off the excess liquid. Add to suit your taste some diced fresh onion, a little prepared mustard, ketchup (I add enough to turn the mixture red) and some brown sugar; I like them sweet so taste to please yourself. Put in baking pan or roaster. Lay strip of bacon across the top of the beans and place in oven. Bake at 375F degrees until hot and bubbly and bacon becomes crisp.

RICE AND BEANS RECIPE
Another dish that can be made after cooking the Mexican bean soup mix recipe is this rice and beans recipe. This is also very flavorful and it provides a whole meal in one dish.
6 Slices bacon cut in 1 inch pieces

3 Cups cooked Mexican bean soup mix recipe, drain excess liquid

2 Cups cooked rice

1 Package (16 ounces) frozen broccoli cuts thawed

1 Cup shredded Cheddar cheese

Cook bacon in large skillet or pan until crisp over medium high heat.
Drain off excess drippings; add cooked beans, cooked rice and broccoli to bacon in skillet.
Stir mixture over heat until hot; pour into casserole baking dish.
Top with shredded cheese and place in preheated oven at 350F degrees until cheese is melted.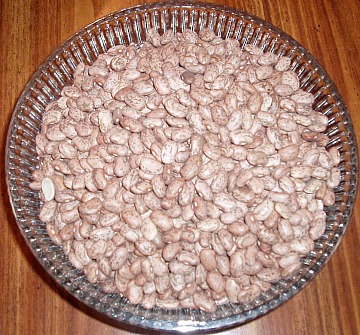 Mexican Bean Soup Mix Recipe
---
EASY BEAN SOUP RECIPE
This is not made with the Mexican bean soup mix recipe but is a very easy recipe to put together by using canned ingredients.
3 Cans (15 ½ ounces each) Great Northern beans

1 Can (15 ½ ounces) hominy

1 Can (14 ½ ounces) no salt stewed tomatoes

1 Can (11 ½ ounces) bean with bacon soup

1 Can (10 ounces) diced tomatoes and green chilies

1 Can (11 ounces) whole kernel corn

2 Cups water

2 Bay leaves

1 Tablespoon dried cilantro

1 Teaspoon ground cumin

1 Cup shredded sharp Cheddar cheese
NOTE: Do not drain or dilute any of the canned ingredients.
Combine all ingredients in a large heavy pot; bring to a boil.
Cover, reduce heat and simmer about 30 minutes.
Remove from heat and discard the bay leaves; sprinkle each serving with shredded cheese.