How to Make Mexican Egg Recipes 
I learned how to make Mexican egg recipes which could be used for entrees, snacks and desserts as well as breakfast recipes. Eggs have been consumed for centuries all over the world. In many civilizations, they have served as the main source of protein and other nutritions. They are often called the "perfect food" or referred to as "the incredible egg".
I learned how to make one of the traditional Mexican egg recipes which is called in Spanish "huevos rancheros recipe".  It is traditionally served on farms as a mid morning meal as we call a brunch. With eggs as the basic ingredient, other ingredients could include tortillas, rice, salsa, refried beans, avocado or guacamole. With the rise of popularity of this dish many other versions have taken hold which might include numerous other ingredients. Below you will find one of these versions.

As you travel around Mexico, you will see that eggs are used in all kinds of dishes. You might order a beef or pork sandwich and find it topped with a fried egg. It is not uncommon to get some type of eggs in anything on the menu. Sometimes hotels will set up a buffet style breakfast or brunch and visible are eggs cooked in every style topping the buffet dishes. They even learn how to make Mexican egg recipes for salads as you see in the recipe below. (I often include them in my salads for a great source of protein).

With the popularity of Mexican egg recipes, I am sure you can imagine how this wonderful ingredient is used to make delicious desserts. The first one that comes to my mind is the flan recipe. This is so popular all over Central and South America. Many years ago, at a country club where I was working, flan was requested by our southern guests for every meal. The dessert never gets boring because it can be made in different flavors and is always delicious.

MEXICAN BREAKFAST BURRITOS
Mexican egg recipes are always great for breakfast.
½ Cup butter (Divided)
¾ Cup chopped onion
½ Cup chopped green bell pepper
1 Can green chilies (4.5 Ounces/ Drained)
1 Pound bulk sausage
12 Egg (Lightly beaten)
12 Flour tortillas (7 Inch size)
1 cup grated Cheddar cheese
Sour cream, Salsa, Sliced fresh jalapeno 
Melt ¼ CUP butter in a large skillet over medium high heat.

Add onion, bell pepper and drained chilies.
Cook and stir vegetables until onions are tender crisp.
Remove vegetables from skillet and set aside.
Add sausage to skillet; stir until crumbly and browned; drain.
Wipe skillet clean with paper towels; melt ¼ CUP butter over medium heat.
Add the onion mixture, sausage and eggs to skillet.
Without stirring let eggs cook until mixture starts to set on bottom.
Run spatula across bottom of skillet to form large curds.
Continue cooking until eggs are firm but still moist; set aside.
NOTE: Do not stir constantly.
Spoon about ½ cup of egg mixture down center of tortilla.
Add a little grated cheese on top of each; roll up and then roll each in foil.
Place rolled tortillas on tray; heat about 10 to 15 minutes.
Serve immediately with salsa, sour cream and jalapeno slices.
Makes 12; allow 1 to 2 per serving.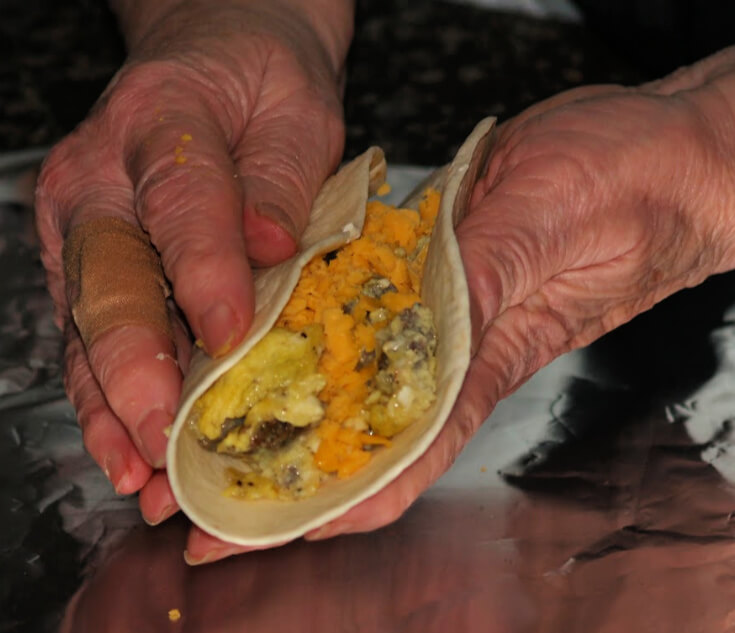 Place Ingredients in Tortilla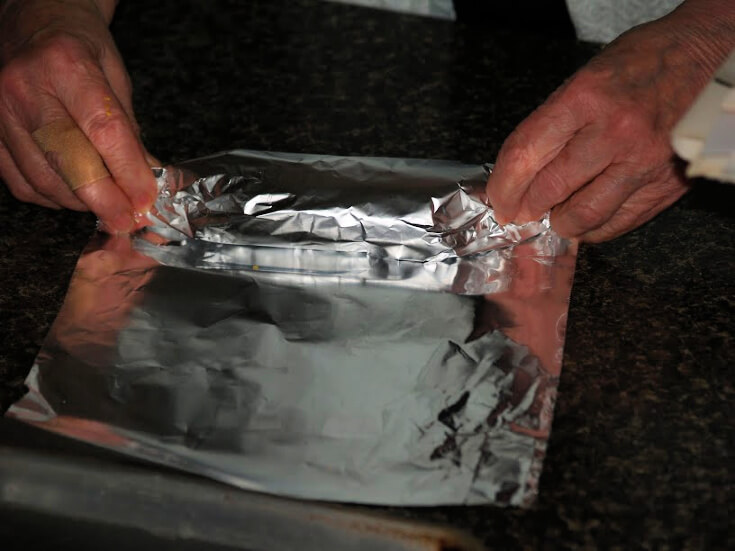 Roll Up in Foil
---
HOW TO MAKE MEXICAN EGG RECIPES like this


CHILI CON QUESO RECIPE
2 Cans (4 ounces each) mild whole green chilies, drained
2 Cups chopped tomatoes
2 Cups shredded Cheddar cheese
1 Cup Bisquick baking mix
½ Cup sour cream
1/2Cup milk
4 Eggs
Heat oven to 375F degrees.
Grease a square baking dish.

Remove seeds from chilies and arrange in a single layer in the baking dish. Sprinkle the top with the tomatoes and cheese. Beat the eggs, milk, sour cream and baking mix with a wire whisk or beater until blended and smooth; pour mixture over top of the tomatoes and cheese.
Bake uncovered until a sharp knife inserted in the center comes out clean; 30 to 40 minutes.
---
MEXICAN CASSEROLE RECIPE
8 Eggs
1 Cup sour cream
¼ Teaspoon salt
2 Drops red pepper sauce
2 Cups shredded Monterey Jack cheese
2 Cups shredded Cheddar cheese
2 Cans chopped green chilies not drained
Heat oven to 350F degrees.
Grease a 9x13 inch baking pan.
Beat the eggs, sour cream, salt and pepper sauce in a large bowl. Stir in the cheeses and chilies. Pour into the baking dish. Bake uncovered for about 45 minutes or until golden brown and set firm in the center.
Serve with salsas.
CILANTRO SALSA
1 Cup salsa
2 Tablespoons chopped fresh cilantro
Mix cilantro with salsa.
BLACK BEAN AND CORN SALSA
1 Cup salsa
½ Cup canned black beans, rinsed and drained
½ Cup thawed frozen corn (or) canned whole kernel corn, drained
Mix all ingredients together.
---
HUEVOS RANCHEROS RECIPE 
2 Tortillas (8 inches)

Softened butter

1 Teaspoon dried basil

1 Teaspoon garlic powder

2 Teaspoons ground cumin

1 Can refried beans (16 ounces)

1 Can Mexican stewed tomatoes (14 ½ ounces)

1 Sliced green onion (white and green part)

Dash hot pepper sauce

4 Large eggs

¼ to ½ Cup salsa

¼ to ½ Cup sour cream

Fresh cilantro for garnish

Spread tortillas with butter; cut into wedges.
Combine and mix in plastic bag the basil, garlic powder and cumin.
Add tortilla wedges to bag and shake to coat; place wedges on baking sheet.
Bake at 400F degrees until crisp about 5 minutes; remove from baking sheet to cool.
Combine beans, tomatoes, green onions and hot sauce in saucepan.
Cook while stirring over medium heat for 10 minutes; remove from heat but keep warm.
Place 2 inches of water in a large saucepan and bring to a boil; reduce heat but keep at a simmer.
Carefully break eggs one at a time into simmering water.
Cook 7 to 9 minutes and remove with slotted spoon.
Place crisp wedges on edge of 4 plates; divide bean mixture evenly among the 4 plates in center.
Top bean mixture on each plate with an egg.
Top egg with salsa and dollop of sour cream; sprinkle with fresh chopped cilantro.

---
EGG SALAD TACOS RECIPE
4 Chopped hard cooked eggs

¼ Cup shredded sharp Cheddar cheese

1 Chopped green onion

2 Tablespoon mayonnaise

¼ Cup salsa

2 Tablespoons sour cream

½ Teaspoon salt

¼ Teaspoon pepper

Lettuce leaves

4 Taco shells
Shredded cheese and sliced avocado for garnish

Combine first 8 ingredients; line taco shells with lettuce and spoon mixture over lettuce.
Top with salsa and sour cream.

---
PUMPKIN FLAN RECIPE
Many Mexican egg recipes are in delicious desserts.
1 Cup sugar divided

1 Can (15 ounces) pumpkin

1 Teaspoon pumpkin pie spice

1 Teaspoon vanilla extract

1 Can (12 ounces) evaporated milk

½ Cup milk

¼ Cup orange juice

4 Large eggs

Cinnamon sticks, orange rind curls for garnish

Preheat oven to 350F degrees.
Sprinkle ½ cup sugar in a saucepan and place over medium heat.
Cook while stirring constantly until sugar melts and turns light brown.
Pour into a 10 inch pie plate (Sugar may crack as it cools).
Whish together remaining ½ cup sugar, pumpkin, pie spice, vanilla, can milk, milk, orange juice and eggs.
Pour mixture into pie plate and place in a larger shallow pan; add hot water to large pan 1 inch deep.
Bake for about 1 hour or until sharp knife inserted in center comes out clean.
Remove pie plate from water and set to cool; chill at least 4 hours.
Loosen sides with knife and invert of plate to serve; garnish with cinnamon sticks and orange rind curls.

---
MEXICAN CAKE RECIPE CALLED TORTE DEL CIELO

a favorite Mexican egg recipe



Many Mexican egg recipes are in their wonderful cake recipes. This Mexican cake recipe or torta del cielo is made for special occasions like weddings and other parties.
8 Ounces blanched almonds ground

½ Cup cake flour

1 Teaspoon baking powder

10 Eggs separated

1 ¼ Cup sugar

1 Teaspoon vanilla extract

1/8 Teaspoon salt

Preheat oven to 375F degrees; line 10 inch spring form pan with wax paper.
Oil paper lightly but DO NOT OIL SIDES OF PAN.
Sift flour with baking powder into a bowl; add ground nuts and mix well.
In mixing bowl beat egg yolks; add sugar gradually and beat until light and thick.
Stir vanilla extract into egg yolk mixture; blend   the flour and nut mixture into the yolk mixture.
Beat egg whites and salt until stiff peaks form; lightly fold the beaten whites into the batter.
Pour mixture into prepared pan and bake about 50 minutes or until pick comes out clean.
Invert on wire rack and cool thoroughly about 2 hours.
Remove from pan and peel off wax paper.

---
HAMBURGER WITH EGGS
Mexican egg recipes always include eggs served on top of hamburgers. All over Central and South America this is a very popular dish for breakfast or any time of day.
2 Onions (Peeled)
½ Pound ground beef (Ground fine)
Salt/ pepper
2 Teaspoons oil
2 Tomatoes
¼ Cup butter
2 Eggs
Cayenne pepper
Watercress
Finely chop HALF of 1 onion; cut other HALF and 1 onion in rings.
Mix the chopped onion with the ground beef.
Divide beef in half and shape into 2 burgers.
Heat oil in skillet; fry burgers about 5 minutes.
Turn burgers over; add tomatoes and fry 5 minutes longer.
Melt 2 TABLESPOONS butter in another skillet.
Fry onion rings until crisp; remove from skillet and keep hot.
Add REMAINING butter to skillet and melt; add eggs and fry until set.
Place each burger on warm serving plate; top with an egg.
Top with onions and tomatoes; sprinkle with cayenne pepper.
Keep plates hot while preparing watercress. 
Melt a little butter in a pan; add watercress and fry quickly.
Use to garnish burgers; serves 2.