How to Make Mexican Lasagna Recipe 
If you are learning how to make a Mexican lasagna recipe this is simply a term for layering a casserole. Typically it is one made by layering tortillas (flour or corn), meat cheese and sauce. Traditionally Mexican, the delicious sauce for the casserole is seasoned with lots of spices; oregano, cumin, garlic, cilantro, chili powder, etc.

The thing that I loved about learning how to make a Mexican lasagna recipe is the excellent flavor from the combination of all the ingredients. As I said the savory sauce is well seasoned with all the spices and tasty tomatoes. It usually has the flavor from some sort of meat. This can be ground beef, chopped chicken or pork like the spicy chorizo sausage.


If you are learning how to make a Mexican lasagna recipe, by adding cheese and letting it bake until melted and creamy it makes this a truly delicious meal. Many recipes will use various types of cheese like Cheddar, Jack, Parmesan, Romano or others. For me Mexican means Cheddar cheese and lots of it; I usually add more than what the recipes calls for. I love the creamy taste of hot Cheddar cheese in Mexican recipes.


There are a lot of Mexican lasagna recipes made with lasagna noodles. However delicious these might be (and they are), to me these are "copycats" from the Italian recipes. They usually only change the spices from Italian to Mexican; my second recipe is an example of that.


HOW TO MAKE FLOUR TORTILLAS? Combine in a bowl 4 ½ cups all purpose flour with 2 teaspoons salt. Cut in with pastry cutter ½ cup solid shortening. Add 1 cup lukewarm water (110F degrees) and stir to a dough. Divide dough into 10 or 12 parts and roll thinly. Place on griddle over medium heat about 1 minute; turn tortilla over and cook 30 seconds. As they cook, place between layers of foil to keep warm.

HOW TO MAKE MEXICAN LASAGNA RECIPE
Crust
Brush tops (not bottom) of tortillas with cooking oil.
Cut the tortillas in strips about ½ inch wide. 
Arrange the strips (oiled sides away from paper liner) in the bottom and up the sides (slightly above rim) of paper lined giant muffin tins.
Make sure all spots are covered with tortilla strips. Set aside and prepare filling.
Filling

1 Pound hamburger
½ Cup chopped onion
4 Cloves fresh garlic, sliced
1 Small jalapeño pepper. Finely chopped – OPTIONAL
2 Tablespoons chili powder
1 Can chili beans
1 Can (8 ounces) tomato sauce
1 Tablespoon flour
2 Cup shredded Cheddar cheese
Salt/pepper
Brown hamburger, onion, garlic and jalapeño; drain excess grease.
Stir in beans, tomato sauce and chili powder; season with salt and pepper.
Stir in flour and cook to thicken.
Place a spoonful of mixture over tortilla lined muffin cup.
Place grated cheese on top of mixture.
Place a layer of tortilla strips.
Scoop more hamburger mixture over tortilla strips, filling until rounded top
Top each muffin with cheese and bake until cheese melts and sets.
Remove from oven and cool slightly before removing muffins from cups.
---
MEXICAN LASAGNA

RECIPE

 
1 Pound hamburger
½ Cup chopped onion
½ Teaspoon garlic powder
1 Envelope taco seasoning
1 Can (8 ounces) tomato sauce
1 Can (4 ounces) chopped green chilies
1 Can (15 ounces) Mexi-beans (Old El Paso) or chili beans
6 Flour tortillas (8 inches)
2 cups Shredded cheese
Preheat oven to 350F degrees.
Lightly oil or grease 12x8 inch baking pan.
Brown the beef and onions; drain off fat.
Add the taco seasoning and garlic and stir to blend.
Mix in the tomato sauce, Mexi beans, green chilies and (hot pepper if desired).
Layer 3 of the tortillas on the bottom of the pan.

Spread half of the meat mixture over the tortillas.
Top meat mixture with half of the cheese.

Next layer the remaining 3 tortillas; then the remaining meat mixture and top with the remaining cheese.
Bake for 30 minutes; Remove from oven and let set 10 minutes before serving.
---
MEXICAN LASAGNA RECIPE
2 Pounds ground beef
½ Cup chopped onion
1 Can (28 ounces) diced tomatoes, not drained
1 Can (8 ounces) tomato sauce
1 ½ Teaspoon salt
1 Tablespoon fresh chopped cilantro
1 Teaspoon chili powder
1 Can (32 ounces) red kidney beans, drained
1 Box (16 ounces) Lasagna noodles, cooked and drained
4 Cups shredded Monterey Jack cheese
Mexican Lasagna
Preheat oven to 350F degrees.
Lightly oil a shallow 13x9 (or equal) baking dish.
Cook ground beef and onion until meat is brown and onion is tender. Drain the fat.
Stir in the tomatoes, tomato sauce, salt, cilantro and chili powder.

Simmer uncovered for 25 minutes, stirring occasionally. Stir in the beans.
Arrange ¼ of the cooked noodles over the bottom of the baking dish, spread ¼ of the meat mixture and 1 cup of cheese.

Repeat the layers until all is used. Top with cheese.
Cover and bake for 15 minutes; then uncover and bake 15 minutes longer.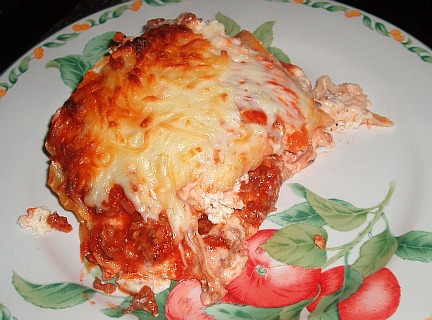 Mexican Lasagna Recipe