How to Make No Bake Dessert Recipes 
When you learn how to make no bake dessert recipes, you will find that most are simple and sometimes a matter of putting products together. Ice cream, cookies, cakes, whipped topping, chocolate, peanut butter, marshmallows or cream, candy bars, pudding mixes, canned fruit and many other ingredients make it possible to produce luscious tasting quick no bake desserts.
When you are learning how to make no bake dessert recipes, many will include chocolate. You can create your own and produce a hit to any party by adding some form of this ingredient. You might add to your dessert chocolate sauce, melted chocolate, chocolate chips or you might grate a candy bar over the top. 
If you want to learn how to make no bake dessert recipes, start with the following recipe of mine. It is one of the most delicious and you may have already heard of it called dirt cake or you may have heard it called dirt dessert.  It truly is delicious and chocoholics will go wild over it. This is my version; I call the chocolate pudding mud, the cream cheese mixture is the wet sand, the English toffee bits are the rocks and the crushed cookies are the dirt. It is put together in a flower pot 8 ½ inches deep. Add a flower and a little garden shovel and you have a beautiful interesting presentation for any occasion.
HOW TO MAKE A NO BAKE DESSERT RECIPE like this


DIRT CAKE RECIPE

2 Large boxes instant chocolate pudding
4 Cups whole milk
2 Packages (8 ounces each) cream cheese
½ Cup softened butter
2 Cups powdered sugar
2 Teaspoons vanilla extract
16 Ounces Cool Whip
1 Package Oreo cookies (20 ounces)
1 Package Heath English toffee bits
I Clean flower pot (8 ½ inches deep) or container resembling pot
1 Small garden shovel washed and dried
1 Silk flower
Reserve Oreo cookies to cover bottom of pot; crush remaining cookies.
Mix together chocolate pudding mix with milk; set aside.
Beat together sugar, cream cheese, vanilla and butter until smooth and creamy; beat in Cool Whip.
In flower pot, layer cookies on bottom, then cream cheese mixture, toffee bits, chocolate pudding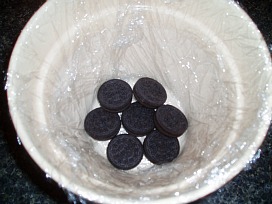 Layer 2: crushed cookies, cream cheese mixture, toffee bits, chocolate pudding
Layer 3: crushed cookies, cream cheese mixture, toffee bits, chocolate pudding, crushed cookies.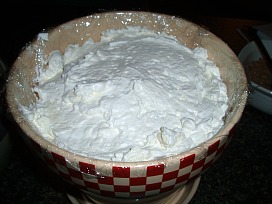 Insert a silk flower in center and the garden shovel.
NOTE: Make sure everything has been washed and dried.
---
FROZEN CHOCOLATE DESSERT
1 ½ Cups chocolate cookie crumbs
1/3 Cup melted butter
½ Gallon vanilla ice cream, softened
2 Squares semi sweet chocolate
1 Tablespoon butter
½ Cup sugar
2/3 Cup evaporated milk
Mix cookie crumbs and melted butter together; set aside 1/3 Cup of mixture.
Pat remainder of crumb mixture in the bottom of a (9x12 inch pan).
Spoon soft ice cream over the crumb crust; spread lightly without disturbing the crust.
Place ice cream in the freezer.
In a heavy saucepan, put the chocolate, butter, sugar and milk; cook until thick.
While mixture is still hot, pour over the ice cream.
Sprinkle 1/3 cup of crumb mixture over the top.
Place back in the freezer until frozen.
---
CHOCOLATE PEANUT BUTTER DESSERT RECIPE
1 Package peanut butter cookies

1 Cup roasted unsalted peanuts

1/3 Cup creamy peanut butter

1 Package cream cheese (8ounces)

1 Cup powdered sugar

3 Cups Cool Whip

1 Small box instant vanilla pudding

1 Small box instant chocolate pudding

3 Cups cold milk

1 Large Hershey's chocolate bar, chopped
Crumble the cookies over the bottom of a 9x12 inch pan.
Sprinkle 2/3 cup of peanuts over cookies.
Cream the peanut butter, cream cheese and sugar; fold in 2 cups Cool Whip and spread over the cookies and peanuts.
Mix together the two pudding mixes with the milk until thickened; Spread over the peanut butter mixture.
Spread 1 cup Cool Whip over pudding; sprinkle with the 1/3 cup peanuts and chopped chocolate bar.
Refrigerate for several hours before serving.
---
ICE CREAM DESSERT
The following chocolate mint dessert recipe is an ice cream dessert, one of the no bake dessert recipes that is elegant enough to serve at any special occasion. Although you can drizzle it with a chocolate sauce before serving, it is very delicious and makes a pretty presentation drizzled with raspberry sauce.
2 Quarts creamy softened chocolate ice cream (divided 1/3 & 2/3)
2 Egg whites
¼ Cup superfine sugar (or Castor sugar)
1 Cup heavy whipping cream
½ Teaspoon green food coloring
½ Teaspoon peppermint extract
Chocolate or raspberry sauce
Line a 2 quart stainless steel bowl with 2/3 of the ice cream; place in freezer until frozen.
Beat egg whites until stiff peaks form; set aside.
Beat whipping cream slowly adding sugar as it begins to peak.
Fold whipped cream into beaten egg whites; slowly fold in coloring and extract.
Remove bowl with frozen ice cream from freezer; fill center of bowl with the whipped cream/ whipped egg white mixture and return to freezer until frozen.
Again remove bowl from freezer and add remaining ice cream on the top; return to freezer until frozen solid.
When ready to serve turn chocolate mint dessert recipe upside down on plate and remove from bowl (you may need to lay hot wet towel on bottom of bowl to loosen for removal)
This is one of the no bake dessert recipes which can be drizzled with a chocolate sauce or raspberry sauce.