How to Make Orange Slice Cake Recipe
I loved learning how to make an orange slice cake recipe. Mom would never have believed that I make this recipe on a regular basis. When I was a kid, Mom would occasionally buy a few of these orange slice candies. They were one of Mom's favorite candies and I never could understand why. I always remember them because she would let us know if they were not fresh. They had to be soft and fresh! It is funny how we remember these little things! I never dreamed I would be making cakes out of those same candy pieces and telling you how delicious they make the cakes.

The orange slice candy was made with the same ingredients as in the jelly gumdrops but shaped like orange slices. They are a pretty orange color and now I can say they have a great orange flavor. I do not know this to be a fact but I would say the Brach's Company was the first maker of this candy; anyway that is the brand that Mom used to buy. They are really perfect when learning how to make the orange slice cake recipes, cookies and even in some fudge like the white chocolate.

Since I learned how to make the orange slice cake recipe it has always been on my list of Christmas cake recipes and it is always a hit. Many family members and close friends have asked me to bake this cake for them to give as a Christmas gift. Not only do the pieces of orange candy make a great taste in the cake but by soaking the cake in the orange topping brings out the candy flavor and makes a very good orange flavor. This orange slice cake recipe is delicious!


The second recipe combines the orange with another great flavor; Swiss chocolate. This one is especially easy to make using a box cake mix and mixing the cake in the pan. By adding a chocolate pudding, a delicious chocolate flavor is achieved. It is then topped with chocolate chips giving a richer chocolate flavor and nuts for a crunch. What a combination!
NOTE: When using chopped candies like the orange slice candies, it is a good idea to toss them with a bit of flour before adding them to a recipe. This keeps them from sticking together.

HOW TO MAKE ORANGE SLICE CAKE RECIPE
1 Cup butter softened
1 Cup sugar

4 Eggs
1 Teaspoon baking soda
1 Pound chopped dates
1 Pound orange candy slices, chopped
½ Cup buttermilk
3 ½ Cups flour
2 Cups chopped pecans
1 Can flaked coconut
Preheat oven to 250F degrees.
Grease and flour a tube pan.
Cream together the butter and sugar; add eggs one at a time.
Mix the soda in the buttermilk; add it to the butter and sugar mixture.
In another bowl combine the flour, dates, candy and pecans; toss to coat with the flour.
Add flour mixture to the creamed mixture; add coconut and stir well to blend. NOTE: Batter is dry; I use my hands to mix it well.

Spoon batter into the prepared pan; bake 2 ½ to 3 Hours or until pick comes out clean. (Will be brown and sides will begin to leave sides of the pan) Remove from the oven and add topping.
TOPPING:

1 Cup orange juice
2 Cups powdered sugar
Gradually add the orange juice to the sugar while stirring.
While cake is still hot, pour mixture slowly over cake letting it soak in.
Let cake set in pan overnight before removing from pan.
NOTE:  If desired top with a little powdered sugar frosting for presentation; not necessary for taste.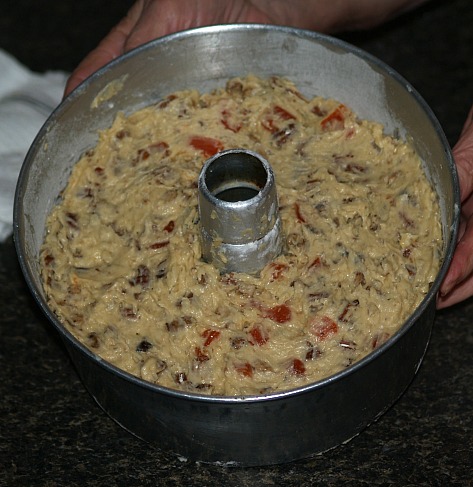 ---
SWISS CHOCOLATE CAKE RECIPE
The following orange slice cake recipe is quick and easy using a box of cake mix. The flavor of orange with the Swiss chocolate is absolutely delicious.
¼ Cup cooking oil
1 Box Swiss chocolate cake mix
2 Eggs
1 ¼ Cups water
1 Small package instant chocolate pudding
1 Small package chocolate chips
1 Cup small chopped orange slice candy
½ Cup chopped pecans
Preheat oven to 350F degrees.
Pour oil into 9 X 13 inch baking pan; tilt pan until all the bottom is covered with oil.
Pour into cake pan the cake mix, eggs, water and pudding mix; add orange candy pieces and stir with a fork until blended.
Scrape sides and spread batter evenly in pan; sprinkle top with chocolate chips and nuts.
Bake 35 to 40 minutes or until pick comes out clean. Serve directly from pan.
---
CRANBERRY ORANGE SLICE CAKE RECIPE

more like a coffee cake
1 Can (14 Ounces) whole berry cranberry sauce
1 Tablespoon fresh lemon juice
½ Cup orange slice candy (Dice small)
1 Cup softened butter
2 Cups PLUS 3 teaspoons sugar (Divided 3 times)
3 Eggs
2 ½ cups self rising flour
1 Cup sour cream
1 Teaspoon vanilla
¼ Teaspoon cinnamon
Preheat oven to 325F degrees; grease 9X13 inch baking pan.

Combine cranberry sauce and lemon juice in food processor; process until smooth.
In large mixing bowl beat butter and 2 CUPS sugar on medium speed until fluffy.
Add eggs one at a time beating well after each addition.
On low speed of mixer gradually add flour alternately with sour cream.
Beat mixture until well blended; add vanilla a mix just to combine.
Spread batter into prepared pan and level top.
Stir diced candy into cranberry mixture; drop tablespoons of mixture on batter.
Use tip of a knife and swirl mixture a little into the batter.
Combine 2 TEASPOONS sugar with cinnamon; sprinkle evenly over the top.
Bake about 40 to 45 minutes until pick comes out clean; cool 30 minutes.
Sprinkle with remaining 1 TEASPOON sugar; serves 10 to 12.
---
ORANGE SLICE COOKIES RECIPE
Although these are often called orange slice cake or cookies, to me they are more like candy.
1 Pound orange slice candy (Chop)
1 to 2 Cups coconut
2 Cans Eagle Brand milk
2 Cups pecans (Chop)
Preheat oven to 350F degrees.

Combine and mix all ingredients; pour into a flat baking pan. 
Bake for 30 to 40 minutes.
While mixture is still warm dip out of pan.
Roll mixture into 1 inch balls; roll in powdered sugar.
---
ORANGE SLICE COOKIES
Orange slice cake recipes also are made in small cookie cakes.
1 Cup softened butter
1 ½ cups powdered sugar
1 Tablespoon freshly grated orange peel
2 Teaspoon vanilla
1 Teaspoon baking powder
1 Egg
2 ½ Cups flour
Orange slice candies
Icing
1 Tablespoon freshly grated orange peel
3 Tablespoons orange juice
2 Cups (About) powdered sugar
Preheat oven to 350F degrees.

FOR COOKIES beat butter, sugar, orange peel and vanilla in large mixing bowl.
Beat in baking powder and egg until fluffy; turn mixer speed on LOW.
Gradually add flour beating just until blended.
Shape dough into 1 inch balls; place balls on parchment paper lined trays.
Press 1 orange candy slice on each of the balls.
Bake about 12 minutes until set and edges start to brown.
Cool completely on rack.
FOR ICING combine orange juice and grated peel.
Gradually beat in enough sugar for desired consistency.
Spoon icing in pastry bag with medium round tips.
Squeeze out on cookies in lines or designs; makes about 6 dozen.
---
GLAZED FRUITCAKE BARS
You might say that orange slice cake recipes are actually fruitcakes. This fruitcake bar recipe is made with orange slice candies.
Bar
2 Cups powdered sugar
½ Cup softened butter
¼ Cup brandy
2 Eggs
2 Cups flour
1 Tablespoon baking powder
1 Teaspoon salt
2 Cups chopped orange slice candies
1 Cup coarsely chopped walnuts
Glaze
1 Cup powdered sugar
1 Tablespoon softened butter
1 to 2 Tablespoons brandy
NOTE: I like alcohol when it is cooked out only. I substitute ½ TEASPOON brandy extract with a tiny bit of water for the icing. If you want to substitute the brandy in the bars use ¼ CUP of orange juice. You can also add with the juice 1 teaspoon of brandy extract or vanilla if desired.
Preheat oven to 375F degrees; lightly grease baking pan 15X10X1 inches.
FOR BARS combine powdered sugar and butter in large mixing bowl.
Add the brandy and eggs and mix well; set aside.
In another bowl combine flour, baking powder, salt, orange candy and nuts.
By hand stir flour mixture into the cream mixture; press into prepared pan.
Bake 20 to 25 minutes until light golden brown; set on rack to cool.
TO MAKE GLAZE combine and mix all glaze ingredients.
NOTE: Add enough liquid to make desired drizzling consistency.
Beat until smooth; drizzle over cooled bars and let set; cut into 48 bars.
---
DATE FRUITCAKE AND NUT RECIPE
Orange slice cake recipes are easy when starting with a mix.
1 Package date bread mix
½ Cup water
1 Egg
½ Cup chopped Brazil nuts
½ Cup chopped pecans
½ Cup semi sweet chocolate chips
1 Cup chopped orange slice candies
1 Can (8 Ounces) crushed pineapple (Do not drain)
Preheat oven to 375F degrees; grease and flour BOTTOM of loaf pan (9X5).

In large bowl whisk together water and egg; add remaining ingredients.
Stir together by hand until all ingredients are moistened and well combined.
Pour batter into prepared pan; bake 55 to 65 minutes until set.
Cool 20 minutes; remove from pan and cool completely.