How to Make Panatone
Learn how to make Panatone (or can be spelled Panettone recipe) which is sweet bread made for holidays in Italy. It is especially popular for Christmas and New Years but sometimes at Easter celebrations as well.
This specialty bread, part of traditional Italian foods, may be found in a variety of shapes; from a dome, octagon to cupola or what I call an inflated tower. When I learned how to make panettone, I found that the name comes from the Italian word "panetto" which means a small loaf of bread. The "one" added to it means a large bread. I suppose this means it could be either a small loaf or a large loaf; or it could mean that it starts out with a small base but after rising it grows to a large loaf of bread. The typical panettone bread that I see here in the United States is small; I would guess about 1 pound in size and enclosed in about and 8 inch square box.
As you learn how to make panatone or panettone recipe, you will probably find it also in other countries like France, Switzerland and some Latin American ones. Although they make this in those countries, the origination is traced back to the city of Milan where it is the symbol of the city. Efforts are underway to give this bread "protected destination of origin"; this means others cannot market under the same name. This is often done for wines like Champagne and cheeses where the originators want to solely claim the product. The traditional sweet bread contains candied fruit, citron, and flavorings; the original proofing process takes days giving the cake its fluffy characteristics. Many other recipes are take offs from the original such as plain ones and chocolate chip recipe. One big factor in the modern versions is that they do not take near as long to make; some are very simple.
History of Italian food tell us the origination of this bread takes us back to Ancient Rome; probably starting with the Romans sweetening their leavened bread with honey. Although panatone or the panettone recipe has a long history in Milan, it has become more popular in Central and Southern Italy today. As Italians immigrated to the United States and other countries they took their recipes with them making this sweet fruit bread popular all over the world even to serve for a simple Italian breakfast food. Like so many other Italian products, large commercial companies saw a change to pick up these recipes and mass produce them. This is one reason we no longer see the ones which take days to make.
HOW TO MAKE PANATONE
2 Packages dry yeast
1/3 Cup warm water
3 Tablespoons sweet Marsala
1 ½ Cups raisins
1/3 Cup melted butter
4 Eggs
1/3 Cup sugar
2 Teaspoons vanilla
3 ¼ Cups flour
½ Cup slivered almonds
¼ Cup candied orange peel
In a large bowl sprinkle yeast over the warm water; let set for 5 minutes. Pour Marsala over raisins and set aside. Reserve 1 egg white for glaze; beat remaining eggs. Add eggs, butter, sugar, salt, vanilla and 2 cups of flour to the yeast mixture. Mix to blend. With a heavy duty mixer or heavy wooden spoon beat until smooth and elastic.
Stir in the raisins and the liquid and about ¾ cup more of the flour to make soft dough. Turn the dough out on a floured board with a little of the remaining flour and knead until smooth and elastic about 10 minutes). Place the dough in a greased bowl, turning to grease top. Cover and let rise until double in size ( 1 ½ hours).
Punch down and knead in the orange peel and almonds. Shape dough in a round ball. Place on a greased baking sheet, cover with inverted bowl and let rise for another hour or until double in size. Brush with glaze below. Bake in a preheated oven at 350 F degrees for 50 to 60 minutes until the loaf is well browned or until pick comes out clean. Cool before cutting.
GLAZE
Beat with a whisk the reserved egg white, ½ teaspoon powder sugar and ½ teaspoon water. Brush loaf of bread before baking.
---
PANATONE (OR PANETTONE RECIPE)
½ Cup softened butter
¼ Cup plus 1 teaspoon sugar
3 Eggs
1 Teaspoon salt
1 Tablespoon grated lemon peel
1 Package active dry yeast
1/3 Cup warm milk (about 110F degrees)
3 Cups flour
¾ Cup raisins
½ Cup chopped mixed candied fruit
1 Egg yolk beaten with 1 tablespoon milk (to use as glaze)
Beat butter and ¼ sugar until fluffy in large bowl; beat in 3 eggs one at a time beating after each.

Beat in salt and lemon peel until well blended.
Dissolve yeast and remaining sugar in the warm milk in a small bowl; let stand until foamy.
Blend well the yeast mixture into the egg mixture; blend in 2 cups of the flour, raisins and mixed fruit.
Stir in enough of the remaining flour to form soft dough where it comes away from the sides of bowl.
On a floured surface knead in enough flour to make stiff dough; knead until smooth and elastic.
Clean and grease bowl; place dough into bowl turning to grease all sides of dough.
Cover with slightly damp clean cloth and let rise in a warm place about 1 ½ hours or until double.
Grease 8 inch spring form pan; punch down dough and shape into rounded loaf tucking sides under.
Place dough, seam side down, in greased pan; cover with dry towel and let rise until double.
Preheat oven to 400F degrees; brush top with egg yolk glaze.
Bake for 10 minutes at 400F degrees; reduce oven temperature to 350F degrees and bake 30 to 35 minutes longer.
When bread is golden brown and loaf sounds hollow when tapped remove from oven.
Remove from pan and cool.
---
PANETTONE RECIPE (or panatone)
This cake like bread, a specialty of Milan can be leavened with yeast or like this recipe baking powder is the leavening.
1 Egg
2 Egg yolks
¾ Cup sugar
½ Cup melted butter
1 Teaspoon grated lemon peel
1 Teaspoon of each anise seeds and anise extract
¼ Cup of each pine nuts, raisins and chopped mixed candied fruit
3 Cups flour
2 Teaspoons baking powder
½ Teaspoon salt
1 Cup milk
SIMPLE PANETTONE RECIPE MOLD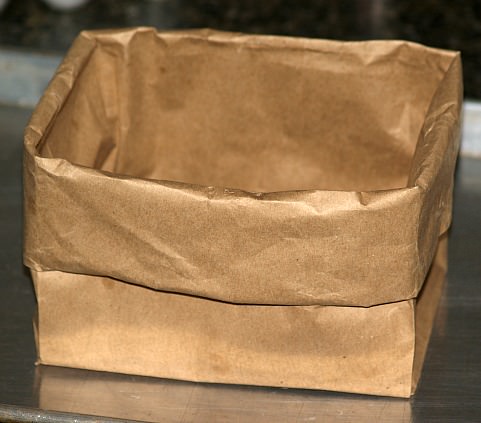 Bag Mold for Panettone
Preheat oven to 325 F degrees; place oven rack 6 to 7 inches from bottom of oven.
Fold down lunch size (measuring 3 ½ by 6 inches on bottom) paper bag to form a cuff; bag should stand about 4 inches high.
Cut a piece of parchment paper to fit in the bottom of the bag.
Butter inside of bag generously and place bag on a baking sheet.
Beat egg, egg yolks and sugar in a large bowl until thick and pale yellow.
Beat in melted butter; add lemon peel, anise seed, anise extract, pine nuts, raisins and candied fruit.
In another bowl, mix flour, baking powder and salt; blend half of flour mixture into batter.
Stir in half of the milk; add other half of flour mixture and mix well.
Add remaining milk and blend thoroughly.
Pour batter into prepared paper bag or a greased and floured panettone mold for baking. (6 inches diameter by 4 inches deep)
Bake in preheated oven at 325F degrees for 1 ¾ to 2 hours or until pick comes out clean.
NOTE: The only bag I had was measured on the bottom 7 inches by 4 1/2 inches. I still folded it down to be 4 inch tall.  Because it was larger I used 1 1/2 recipes of the batter.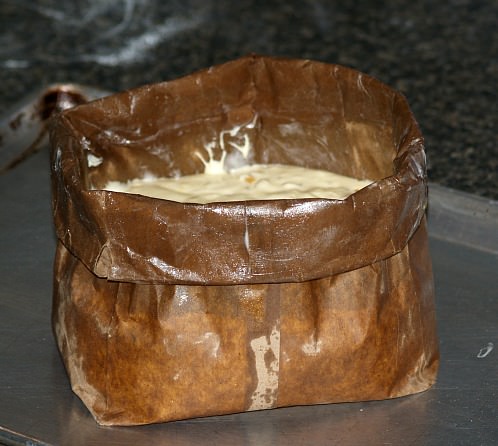 Batter in Bag Mold for Panettone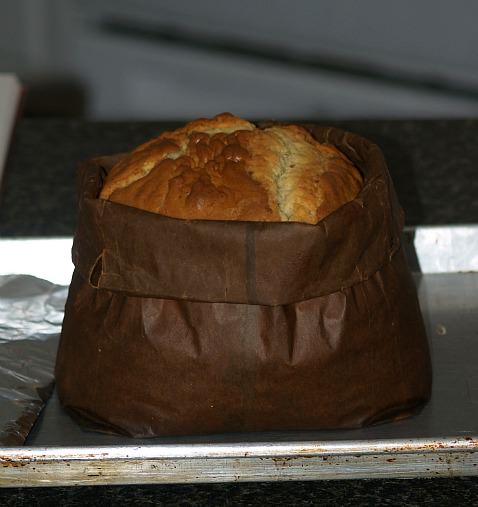 Baked Panettone in Bag Mold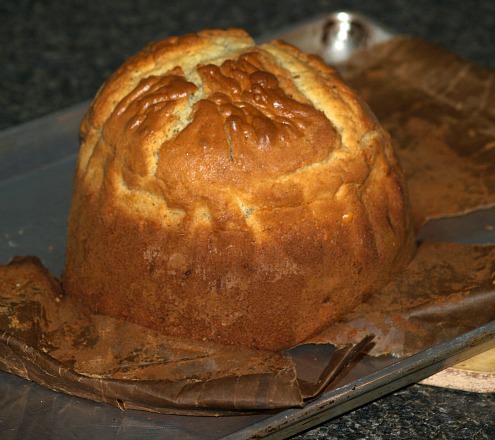 Baked Panettone in Bag Mold
---
In Milan, panatone is often stuffed with gelato (or ice cream)
1 Pound loaf panatone
4 Egg yolks
½ Cup sugar
½ Orange grated rind
2 Cups cream
¼ Cup Grand Marnier
1 Egg white
Beat egg yolk, sugar and orange rind in top of double boiler until thick and creamy color.
Cook over simmering water until thickened stirring constantly.
Remove from heat and add Grand Marnier; beat egg white until stiff and fold into custard.
Transfer to ice cream maker and churn until frozen.
Cut cap off panettone and scoop out center; fill with ice cream, put cap back on and serve immediately.
---
PANETTONE RECIPE
Learn how to make panatone seasoned with anise.
2/3 Cup warm milk (About 112F degrees)
2 Packages dry yeast
½ Cup sugar
6 Egg yolks (Beat and set until room temperature)
½ Cup melted butter (Cool)
1 Teaspoon salt
2 Teaspoons grated lemon peel
1 to 2 Teaspoons aniseed (Crush)
About 3 ½ cups flour
¾ Cup raisins
½ Cup chopped mixed candied fruit
1/3 Cup chopped toasted almonds
1 Egg for egg wash (Beat with 1 Tablespoon WATER)
In a large bowl sprinkle yeast and 1 TEASPOON of the sugar over warm milk.

Stir milk mixture to dissolve; let stand until foamy (5 to 10 minutes).
With spoon beat in until blended yolks, butter. Remaining sugar, salt, lemon peel and aniseed.
Stir in 2 cups of the flour, raisins, fruit and almonds; stir in enough flour to make soft dough.
Place dough on lightly floured surface until smooth and elastic kneading in flour as needed.
Place dough in a greased bowl turning to coat all sides.
Cover and let rise in warm place about 1 ½ hours until doubled.
Line sides of two (One quart size) soufflé dishes with parchment paper extending 2 inches above rims.
Grease both dishes and parchment paper.
Punch dough down and divide in half; shape each half in a flattened ball.
Place in prepared soufflé dishes; cover and let rise until doubled.
PREHEAT OVEN TO 375F degrees; brush tops of loaves with egg wash.
Bake 30 to 40 minutes until tester comes out clean.
Remove from dishes and cool on rack; makes 2 Panettone.
Painless Cooking

›
International Foods
› Italian Panatone