How to Make Party Cake Ideas
I love learning how to make party cake ideas! Most of the time it is simply the matter of getting a theme in mind and putting your imagination to work. I like to put the plan down on paper in the actual size which I am making; this gives me a "pattern" to go by. Quite often I use bowls, pans and other objects from my kitchen to add to my creations.
Years ago I was thinking about how to make party cake ideas for one of my son's high school graduation. I decided to pattern it after their high school. It was new with a "state of the arts" design which kind of became a tourist attraction if Florida. The property also had a pond on it so I decided to actually include a real water pond on the cake. The cake turned out great but there was a problem!  The kids liked the design so much they refused to cut and eat it.
The cake I have designed on this page is for two special young ladies. They are twins who are celebrating their birthday. They love soft ball and wanted a cake to refect this theme. They are sharing their birthday cake with their team members so I made it large enough for all to enjoy.
As you will see when you learn how to make party cake ideas for a crowd, it takes a lot of ingredients for the cakes and LOTS of butter cream frosting. Good planning is essential for a good result!  If you have room in your freezer, it is easier if you bake in stages; beside that frozen cakes frost easier.
KIDS PARTY IDEA: Push animal shaped cookie cutters lightly into icing on cakes. Fill depressed outlines with colored icing or decorating confections.
SOFTBALL CAKE

How to make party cake ideas
Needed:
1 Cake for base 12 X 18 cake pan
1 Eight inch round cake for glove
1 Ball shape cake (I have a ball pan but you could use 2 round bowls)
1 Bat shape cake (I made bat shape by fitting heavy duty foil around a ball bat)
1 Square cake (I use the crumbs from this with icing to form fingers of glove)
OPTIONAL: White chocolate cut for bases and bubble gum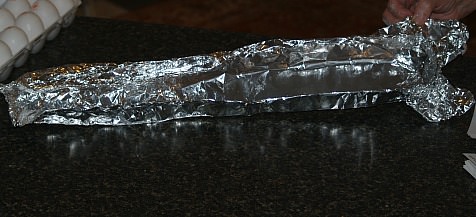 I Made a Bat Shaped Mold
Cake Baked in the Bat Mold
CHOCOLATE WALNUT CAKE RECIPE for 12X18 inch base
6 Cups sifted flour
2 Tablespoons baking powder
2 Teaspoons baking soda
½ Cup cocoa powder
1 Teaspoon salt
2 Cups softened butter
2 Cups sugar
6 Eggs
2 Cups sour cream
Filling (Recipe below)
Preheat oven to 350F degrees; 
Grease 12X18 inch pan; line with parchment paper, grease again and flour.
Sift together sifted flour, soda, baking powder, cocoa powder and salt.
Cream butter and sugar; add eggs while beating well.
Add dry ingredients to creamed mixture alternating with sour cream.
Spoon half of batter into prepared pan; top with filling.
Spoon remaining batter over top of filling and level batter.
Bake about 60 minutes or until pick comes out clean.
FILLING for large cake
24 Ounces semisweet chocolate chips
1 Cup firmly packed brown sugar
1 Cup chopped walnuts
Combine filling ingredients and blend well.
CHOCOLATE MARBLE CAKE (Round cake for glove)
1 ¼ Cups flour
1 Cup MINUS 2 tablespoons sugar
¼ Teaspoon salt
1Teaspoon baking powder
½ Teaspoon baking soda
5 Tablespoons solid white shortening
5 Tablespoons softened butter
2 Eggs
¾ Cup PLUS 1 tablespoon buttermilk
1 Teaspoon vanilla
5 Tablespoons cocoa powder
5 Tablespoons sugar
1/8 Teaspoon baking soda
2 Tablespoons water
Preheat oven to 375F degrees.
Grease 8 inch round cake pan; line with parchment paper, grease again and flour.
Combine flour, 1 cup minus 2 tablespoons sugar, ½ teaspoon baking soda, baking powder and salt in large bowl.
Add shortening, butter, buttermilk and vanilla; beat on medium speed about 3-4 minutes.
In a small bowl combine cocoa powder, 5 tablespoons sugar and 1/8 teaspoon baking soda.
Blend into cocoa mixture the water and 1/3 cup of the vanilla cake batter.
Pour vanilla batter in prepared cake pan; spoon cocoa batter on top and swirl with a knife to marble.
Bake about 30 minutes or until pick comes out clean.
Cool 10 minutes; remove from pan and cool completely.
SILVER WHITE CAKE RECIPE (softball, bat and extra pan for crumbs)
This party cake idea required lots of extra crumbs!
¾ Cup solid white shortening
¾ Cup softened butter
3 Cups sugar
6 Cups sifted flour
1 ½ Tablespoons baking powder
1 Tablespoon clear vanilla
1 ½ Cups milk
9 Egg whites
Preheat oven to 350F degrees.
Grease and flour pans, molds or bowls.
Sift together 3 times sifted flour and baking powder; set aside.
Beat egg whites until stiff peaks form; set aside.
Cream butter and shortening; beat in sugar and vanilla until light and fluffy.
Add flour mixture to the creamed mixture slowly alternating with the milk.
Beat batter until well blended; fold in beaten egg whites until blended.
Spoon batter into a ball shaped pan or 2 rounded bowls and into a bat shaped mold.
NOTE: I had a ball shape pan to use; I shaped a bat mold using heavy duty aluminum foil.
Bake until pick comes out clean.
Cool 10 minutes and remove from pans; cool completely.
BUTTERCREAM FROSTING RECIPE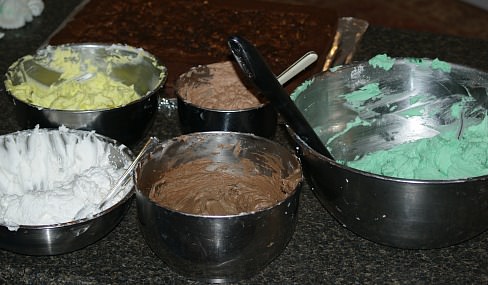 Making Buttercream Icing
For most party cake ideas butter cream frosting works very well and taste good. You will need solid shortening, powdered meringue, vanilla, water and lots of powdered sugar. Also, depending on what you have designed, you might need various food coloring, pastry bags and tips and maybe candy or cookies for decorating.
NOTE: High humidity plays a role when working on a large party cake idea project like this. Even though I had the air conditioning running, the humidity this day was difficult for the frosting to set up; it was sticky to smooth well.
BASIC BUTTERCREAM FROSTING RECIPE
1 Pound powdered sugar sifted
1 Cup solid white shortening (I use Crisco)
1 Teaspoon vanilla
1 Tablespoon powdered meringue
6-7 Tablespoon water (Whatever it needs for spreading consistency)
Combine and beat to a smooth spreading consistency.
TO DO THIS PROJECT I USED THE FOLLOWING:
1 Batch WHITE to mix with crumbs to form glove fingers and to cover bat (I used a silver food coloring spray to color bat.
1 batch YELLOW to put layers of ball together and to cover ball (I used star to cover ball)
1 batch BROWN (I divided this batch and made a dark brown for ball diamond and a lighter brown to cover the glove)
2 batches GREEN (I made a lighter green to cover the base and a darker green to decorate like grass)
I used a little red icing to make stitching on ball and a little black icing for outlining.