How to Make Peppermint Candy Recipes 
I learned how to make peppermint candy recipes when I first became interested in candy making. Holidays and special occasions would not be the same without peppermint. Can you imagine Christmas without peppermint candy canes. Although peppermint originated from the Mediterranean area, it is now also cultivated here in the United States. This herb has been cultivated since ancient times; often used for culinary, aromatic and medicinal reasons.
I would guess that learning how to make peppermint candy recipes is a favorite for most since they are the top selling candy flavor. It has been popularized by Lifesaver mints and Brach's Star Brites. I have had many people tell me and many I know personally who always keep peppermint candies in the pantry or cabinet. They are convinced that this is the best remedy for an upset stomach or indigestion.
Research has shown that there is the ability of peppermint to relieve some symptoms and have healing abilities. Apparently this herb has the ability to relax the muscles causing the reductions in spasms. You can see why this would help with digestion. Mint has been a part of the American tradition since the early American Indians; often used in hot brewed teas.
I learned how to make peppermint candy recipes like the cream cheese mints below. It was my first peppermint recipe because they are so easy to make and nice for any occasions. By using different shaped molds, they will fit into any celebration. These are especially great for weddings; add a little food coloring to suit the event.
HOW TO MAKE PEPPERMINT CANDY RECIPES like

CREAM CHEESE MINTS

3 Ounces soft cream cheese
3 ½ Cups powdered sugar
¼ Teaspoon peppermint flavoring
Food coloring
Mix cream cheese with the sugar. Add flavoring and food coloring. Mix well and roll into small balls. Roll balls into granulated sugar and press into rubber candy molds. Unmold immediately.
NOTE: You can also shape in different shaped patties and cover with melted chocolate chips.

---
PEPPERMINT HARD CANDY RECIPE
1 Cup water
1 ½ Cups corn syrup
3 ¾ Cups sugar
1 Teaspoon peppermint oil flavoring
Red food color
Combine water, corn syrup and sugar in a heavy saucepan.

Cook over medium heat stirring constantly until sugar dissolves.
Boil without stirring until candy thermometer reaches hard crack stage 300 to 310F degrees.
Quickly blend in oil flavoring and food coloring.
Pour onto greased cookie sheets.
When candy cools slightly turn out on board and break into pieces.
---
TAFFY
PEPPERMINT
CANDY RECIPE
1 Cup sugar
½ Cup corn syrup
½ Cup honey
1/8 Teaspoon cream of tartar
1 Teaspoon vinegar
2 Tablespoons butter
1 Teaspoon peppermint extract
Food Coloring (OPTIONAL)
Combine sugar, corn syrup and honey in a heavy saucepan.
Over medium heat stir until sugar is dissolved and begins to boil.

Stir in cream of tartar; without stirring cook until temperature reaches 254 F degrees. 
Stir in vinegar, butter and peppermint; allow to boil up again.
Pour into a buttered onto a buttered cookie sheet; fold corners up to center to allow even cooling.
When cool enough to handle pull and stretch; cut into small pieces.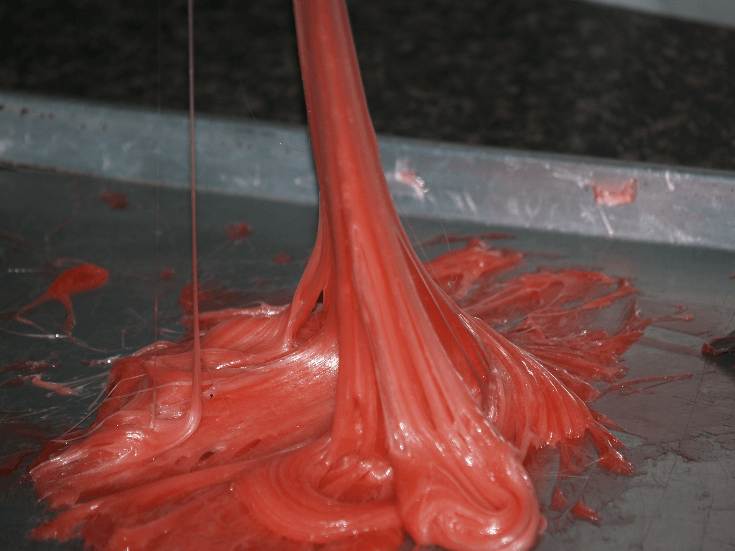 Stretching Peppermint Taffy
---
WHITE BARK CANDY

with peppermint flavor
1 Package white bark chunks
1 Large peppermint candy stick
Melt white bark in double boiler.
Crush peppermint stick in crumbs; add to melted chocolate.
Spread out on wax paper; cut as soon as it begins to set.
---
PEPPERMINT POTATO CANDY RECIPE
1 Medium freshly boiled potato

½ Cup softened butter

2 Pounds powdered sugar

Peppermint flavoring

Red or Green food color

Place warm potato in a small mixing bowl; beat on medium speed.Add butter and beat until light; turn speed to low and gradually add powdered sugar until mixture is stiff enough to handle.Blend in peppermint flavor and desired color; make desired shapes with forms.Let mints harden overnight.
---
LAYERED CHOCOLATE MINT CANDY
1 Package (12 ounces) semi sweet chocolate chips
1 Can (14 ounces) SWEETENED condensed milk
2 Teaspoons vanilla
6 Ounces white confectioners coating
1 Tablespoon peppermint extract
Few drops food coloring (Red or green)
Line a 9 inch square pan with wax paper.

Combine 1 CUP milk with chocolate chips in saucepan; heat and stir over low heat until chocolate melts.
Add vanilla and stir in; spread half of mixture in lined pan.
Refrigerate for 10 minutes to firm up; KEEP remaining chocolate at room temperature.
Over low heat melt white coating with the remaining milk; stir in peppermint and coloring.
Spread over the chilled chocolate in pan; chill 10 minutes or until firm.
Spread remaining melted chocolate over the mint layer; chill 2 hours or until firm.
Turn candy out onto a cutting board and remove wax paper; cut into squares.
Store loosely covered at room temperature.