Pie Apples 
I am in search of good pie apples! I have made many apple recipes over the years for everything imaginable. All have been very good. The only problem I have is with my pies. I have made many apple pie recipes. Although very good, I have not been happy with the apples. Most have cooked up way too much for me. I do not like "mushy" apples in anything, especially my pies. The Bob Evans Restaurant has been having apple pie (actually called apple dumpling pie) in the fall of the year over the last few years. It is delicious! It has large halves of apples along with small diced apples. I must tell you, it is among the best that I have ever eaten. Someone told me they are made with Macintosh apples.
APPLE PIE WITH FUJI PIE APPLES ABOVE

APPLE PIE WITH ROME BEAUTY APPLES BELOW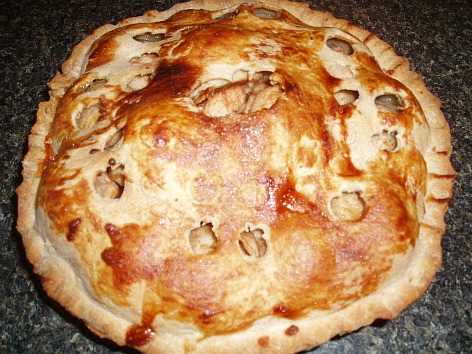 I am sure you have heard the saying "As American as apple pie". The first colonists brought apple seeds with them from Europe to New England. From there, apples spread across the land to the west coast. Many question whether our first colonies could have survived and move on westward without these apples. They were eaten fresh and dried for the harsh winter months. From these dried apples, they were stewed, baked, fried in many dishes and served as pie apples. Dried apples were easy to pack for the journey westward. They were even used medicinally.
As an Ohioan, we learned at an early age the story of Johnny Apple Seed. Johnny Apple Seed is credited with spreading seeds randomly everywhere he went. He didn't plant a tree but nurseries in many states including much of Ohio. From these first apples, many varieties have been developed. Quite a few are considered excellent for pie apples; Braeburn, Cortland, Gala, Grevenstein, Golden Grimes, Jonathan, Rome Beauty, Transparent, Winesap and the most popular being the Granny Smith. My problem is that I have tried some of these and was terribly disappointed; most cooked too "mushy".
I wanted to try the Macintosh for pie apples as I was told the Bob Evans Restaurant uses and they are rated good as apples, but they were not available. I decided I would try two others and see which did the best job. I already had (Fuji) Fugi apples so I thought I would try them; they are my favorite when it comes to eating them raw. I bought some Rome Beauty from the local produce stand to also try since they were rated excellent as pie apples.
I used basically the same recipe; one exception was the flour. The Rome Beauty, a baking apple, I used 3 tablespoons flour in the apples. The Fugi being a very crisp juicy apple, I used ½ cup of flour in the apples to thicken the juice more. I used ten apples in each; half I sliced thinly and half I cut in halves or quarters. After tossing in sugar, flour, cinnamon and nutmeg, I arranged the slices on the bottom and the larger pieces on the top. I baked them at the same temperature, both on the bottom shelf of my oven and both for the same amount of time. Both came out very tasty pies, but different.
Even though I added a lot more flour to the recipe, the Fugi apple pie had a lot more juice. Even though I coated the bottom crust with corn syrup, this juice made the bottom crust more soggy. It was flavorful but not as good as the Rome Beauty apple pie. Also the Fugi apples were much tougher than the Rome Beauty apples. Now, for the Rome Beauty pie apples; if I had not made it with larger pieces of apples on the top of the slices and used all sliced apples instead, it would have cooked up too much for my taste. The apples did cook up but the large pieces kept the pie nice and full.
PIE APPLE RECIPE
10 Apples (Peeled, cored, sliced and cut)
2/3 Cup white sugar
¼ Cup packed brown sugar
3 Tablespoons flour (Juicy apples need more)
1 Teaspoon cinnamon
½ Teaspoon nutmeg
Pinch salt
1 Tablespoon butter
2 Tablespoons corn syrup
1 Lightly beaten egg white
Preheat oven to 400F degrees; line bottom shelf of oven with aluminum foil to catch juice drippings.
Grease deep dish pie plate or pan; roll pie dough and press in pan.
Brush bottom of dough with corn syrup to help prevent soggy crust from juice.
Combine sliced apples and larger pieces of apples in a large bowl; add sugars, flour, cinnamon, salt and nutmeg.
Stir apples mixture to coat well with all ingredients; place sliced apples in bottom of crust and then place larger pieces over the top.
Roll top crust out and place over the apples; make slits or holes somehow to let the steam escape.
Cut excess pie dough away and crimp pie crust edges together to seal; brush with lightly beaten egg white and sprinkle with a little sugar.
Bake pie for 1 hour; cool before cutting.
FUJI APPLE PIE BEFORE BAKED ABOVE
ROME BEAUTY APPLE PIE BEFORE BAKED BELOW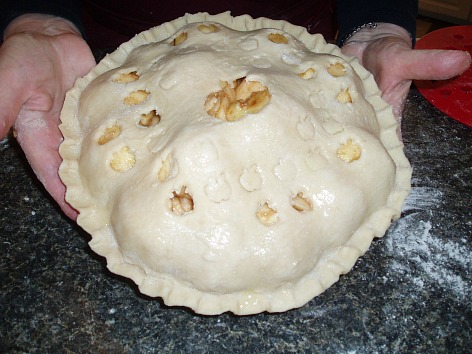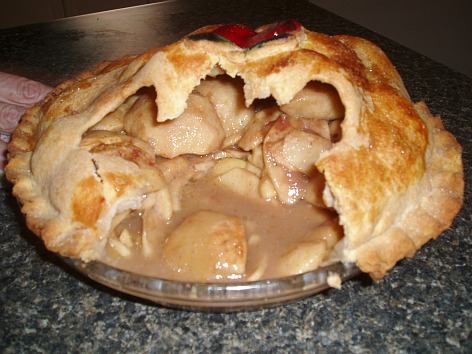 FUJI APPLE PIE SHOWN CUT ABOVE AND BELOW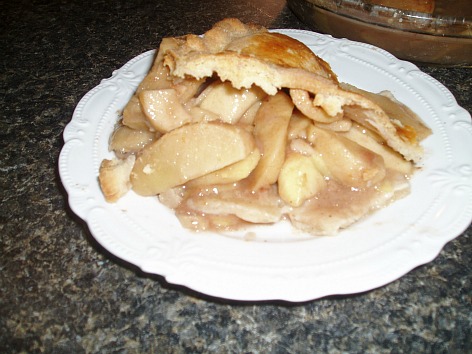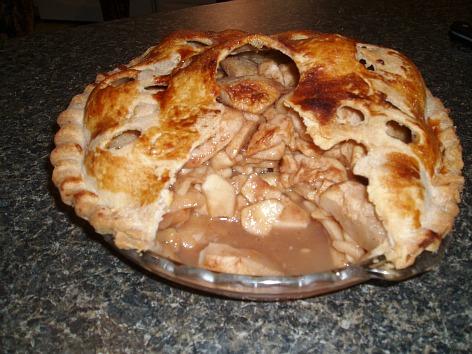 ROME APPLE PIE SHOWN CUT ABOVE AND BELOW
Painless Cooking

›
Fruit
› Pie Apples