Plank Cooking with Recipes
I was asked about plank cooking in France a few years ago. I never really thought about this form of cooking until then. My husband was so allergic to many of the "woods" that I would never have considered this type of cooking for him. I still think it is important to avoid some types of wood like pine and ones with a lot of sap. Since that early question arose, I have been trying to find out more. Actually I cannot find anyone in France or anywhere in Europe who knows about it.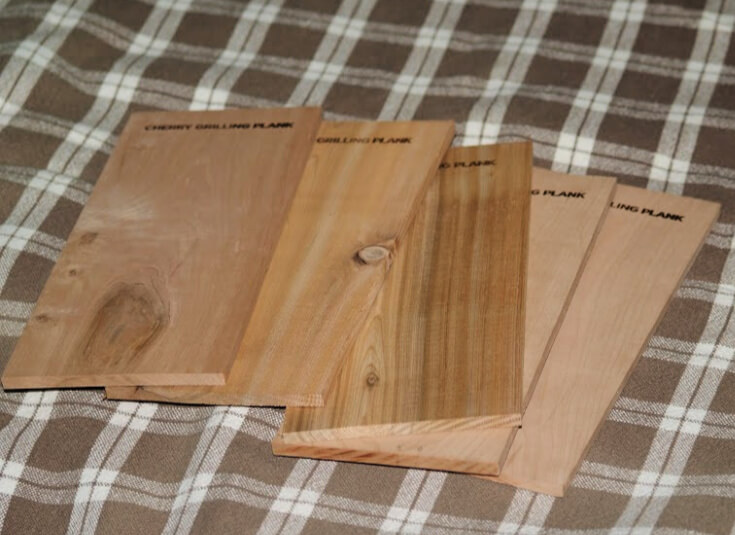 Plank Cooking
It seems plank cooking originated in our US Pacific Northwest going back to our Native Americans. This type of cooking which is done in any other place in this country or in other countries can all be traced back to this origination. It was common for the fishermen in that northwest region to place fish on a board and cook over open fire. This makes perfect sense to me. If you have ever tried to grill fish, you know how flaky it gets when cooked allowing it to fall into the fire.
Besides the convenience of plank cooking, cooking on different wood planks create great flavors. The earliest recorded recipe I could trace was in 1911, supposedly by Fannie Farmer. Today, I have collected quite a few plank cooking recipes. They are not only for fish and seafood but also for steak and chicken. By soaking the wood in juices and other liquids before grilling great flavors can be achieved.
Special planks can be purchased in many different sizes and made of different types of wood. There are small wood planks for a single fish or other small foods to larger ones for whole meals.  Some of my recipes are for the entire meal prepared and served on one large plank. Some of my recipes instruct you to prepare and serve individual dinners on medium size planks. Some of these meals are prepped in other dishes and pans then heated or browned on the plank. These may not add much of the wood flavor but do make a nice presentation.
NOTE: FOR PLANK COOKING to season a hardwood plank brush the wood with oil. Place in preheated oven at 300F degrees for one hour.
NOTE: I purchased my planks through Amazon called GRILLING PLANK VARIETY PACK. Some great recipes are included in the packaging but I was really interested in their "tips and tricks" which will be useful for any plank cooking.
*Cover the entire plank with food.
*If it is not on fire at some point you are probably doing it wrong.
*Do not lift the grill lid.
*Do not reuse the plank.
*Keep a spray bottle of water handy to douse flare-ups.
I want to also add to soak the planks in hot water before using to prevent those fire flare-ups. I totally agree with discarding the planks after using because wood is known for gathering bacteria even after generally washing. I also recommend when cooking in the oven to place the planks on a baking tray to prevent dripping.
PLANK COOKING for a BEEF RIB DINNER
(Need 4 cooking planks)
Plank cooking a meal of beef in barbeque sauce, mashed potatoes, stuffed tomato half and corn makes a delicious and great presentation for guests.
NOTE: Steps 1 through 5 of this plank cooking recipe can be prepared a day ahead. Simply wrap and refrigerated until the next day.

STEP 1 Cooking beef for plank cooking
2 ½ Pound beef short ribs
2 Cups water
1 Teaspoon salt
¾ Teaspoon pepper
¼ Teaspoon dried thyme
2 Bay leaves
Combine short ribs with remaining ingredients in a large saucepan.
Bring to a boil; REDUCE HEAT, cover and simmer until tender about 45 minutes.
Drain meat and cool.
Trim fat and meat from bones; cut meat into 20-24 cubes and set aside.
STEP 2 Prepare mushrooms for plank cooking:
Wipe 8 large mushrooms with a clean damp towel to clean. 
Remove the stems and chop into a small saucepan for the sauce. 
Toss the caps in 5 TABLESPOONS lemon juice to coat. 
Cut thin groves in the tops of the caps to resemble flowers using a small knife. 
Set aside until preparation.
STEP 3 Make spicy barbeque sauce for plank cooking:
Chopped mushroom stems
1 Tablespoon lemon juice 
½ Cup apple cider vinegar
2 Tablespoons brown sugar
¼ Cup Worcestershire sauce
½ Cup catsup
¼ Cup chili sauce
½ Teaspoon dried mustard
Toss the chopped mushrooms with the 1 tablespoon lemon juice.
Add remaining sauce ingredients to the chopped stems in saucepan.
Stir mixture to blend and bring to a boil; REDUCE HEAT and simmer uncovered.
NOTE: Simmer about 45 minutes; sauce should be thickened to coat meat.
Pour sauce over meat cubes; toss to coat meat and set aside.
STEP 4 Herbed tomato halves for plank cooking:
2 Large tomatoes (Wash and dry with paper towels)
½ Cup dried bread crumbs
2-4 Tablespoons melted butter
2 Teaspoons dried oregano
2 Teaspoons salt
½ Teaspoon black pepper
1 Tablespoon chopped parsley
Cut tomatoes evenly in half crosswise; with knife make crisscross cuts in center.
Gently squeeze out seeds; set aside.
In small bowl combine bread crumbs and remaining ingredients.
With fork toss well; spoon about 2 tablespoons on each half.
Press crumb mixture into each half; set aside.
STEP 5 Prepare seasoned corn for plank cooking:
2 Cans (12 Ounces each) whole kernel corn (Drain)
2 Tablespoons butter
½ Teaspoon salt
¼ Teaspoon pepper
Combine drained corn with butter, salt and pepper in small pan.
Heat until butter is melted; set aside.
STEP 6 Mashed potatoes for plank cooking:
4 Servings instant mashed potatoes
2 Teaspoons salt
¼ Teaspoon pepper
½ Teaspoon nutmeg
2 Tablespoon butter
Prepare potatoes using the liquid suggested on the potato package.
Add the salt, pepper, nutmeg and butter; fill pastry bag with decorative tip.
PREHEAT OVEN BROILER; soak planks in hot water 15 minutes.
 Pat planks dry; place on baking trays.
STEP 6  Assemble meal on plank:
Place a FOURTH of the meat chunks on each plank.
Place one half of the herb tomatoes on each plank.
Place 2 mushroom caps on each plank.
Use potato filled pastry bag to arrange potatoes on planks.
Spoon corn onto planks filling bare spots.
Place under broiler 5 to 10 minutes.
NOTE: Potatoes and mushrooms should be golden brown and meat sizzling.
Place planks on plates to serve; serves 4.
---
EASY PLANKED SHAD OR WHITEFISH
Plank cooking is popular in the Great Lakes region for whitefish.
Preheat oven to 400F degrees.
Clean and split a three pound shad or white fish.
NOTE: I cut it in fillets for individual planks.
Use a large one-inch thick oak plank; a little longer and wider than fish.
Place fish skin side down on planks; sprinkle with salt and pepper.
Brush over fish with melted butter; place planks on a baking tray.
Bake 25 minutes or until fish flakes.
Remove from oven, spread with butter.
Garnish with capers and lemon; serve on the plank (or planks).
---
PLANKED EGGS
Plank cooking can also include foods like eggs and potatoes.
1 Cup finely chopped cooked ham
1 Cup bread crumbs
Cream
4 Cups mashed potatoes
6 Poached eggs
Tomato slices for garnish
Green pepper strips
Preheat oven to 425F degrees.

Combine ham and crumbs together; add enough cream to make pasty.
Spread the mixture over a heated plank large enough to hold 6 eggs and potatoes.
Make a narrow border on mashed potatoes around the edge of the plank.
Inside the border make 6 nests of mashed potatoes.
Carefully slip a poached egg into each of the potato nest.
Bake in oven until potatoes are golden brown.
Garnish with tomato slices and green pepper strips.
---
PLANK LAMB CHOPS
Plank cooking lamb chops will feed six.
6 Loin lamb chops (1 ½ inches thick)
Salt/ pepper to taste
6 Slices bacon
Brussels sprouts (Cooked)
Mashed potatoes
Preheat broiler in oven; remove bones from meat.

Roll each chop by wrapping tail of chop around the eye of meat.
Wrap each rolled lamb chop with a slice of bacon.
Place chops 3 to 4 inches below the broiler; brown chops on both sides.
Place chops on individual planks with Brussels sprouts.
Make a border of mashed potatoes with pastry bag around each.
Place under broiler until potatoes are browned on top; serve immediately.
---
PLANKED HALIBUT DINNER
Plank cooking a delicious halibut dinner.
4 Halibut steaks (About 2 pounds)
¼ Cup melted butter
2 Tablespoons olive oil
1 Tablespoon wine vinegar
2 Teaspoons lemon juice
1 Clove minced garlic
¼ Teaspoon dry mustard
¼ Teaspoon marjoram
¼ Teaspoon salt
1/8 Teaspoon black pepper
2 Large zucchini
1 Package (10 Ounces) green peas
1 Can (8.5 Ounces) tiny carrots
Au Gratin Potato Puffs
1 ½ Pounds potatoes (Peel, boil to tender, drain)
2 Tablespoons butter
1/3 Cup milk
2 Egg yolks (Slightly beat)
½ Cup shredded Cheddar cheese
1 Teaspoon salt
Pinch black pepper
Butter
Parsley
Preheat oven to 450F degrees.
Place the HALIBUT steaks in a greased in an oil baking pan.
Combine melted butter and next 8 ingredients.
Stir mixture and drizzle over halibut.
Bake 10 to 12 minutes until almost done.
Cut ZUCCHINI in half lengthwise; scoop out center.
Cook in boiling water just until tender.
Cook PEAS according to package directions; heat CARROTS.
FOR AU GRATIN POTATOES mashed cooked potatoes in saucepan.
Add 2 tablespoons butter and milk; whip until fluffy.
Add egg yolks, cheese, salt and pepper; whip.
Fill pastry bag using a large star tip with the potatoes.
PREHEAT OVEN BROILER.
Arrange halibut steaks on a large wooden plank.
Border the halibut with zucchini halves; fill with peas and carrots.
Form 4 mounds of potatoes on the wood plank.
Dot peas and carrots with extra butter.
Place under broiler a few minutes to brown potatoes puffs.
Sprinkle peas and carrots with chopped parsley.
Garnish with sprigs plank with sprigs parsley and lemon wedges.
Serves 4.
---
PLANKED FISH DINNER for two
Plank cooking dinner of fish, potatoes, mushrooms and tomato halves.
1 Large fresh fish fillet (About 10 ounces white fish, sole, flounder, haddock, lake trout)
1 Tablespoon melted butter
Salt/ pepper
Seasoned instant mashed potatoes
2 Broiled tomato halves
4 Broiled mushroom caps
Lemon slices
Fresh parsley
Preheat oven to 350F degrees.

Brush seasoned plank with melted butter.
Place fish fillet on plank; brush with remaining melted butter.
Sprinkle fish lightly with salt and pepper.
Bake for 20 minutes just until fish flakes easily.
Remove from oven.
INCREASE OVEN TEMPERATURE TO 450F degrees.
Pipe a border of hot mashed potatoes along sides of fish.
Return to the oven for 10 minutes until potatoes brown lightly.
Place tomatoes halves and mushroom caps on the plank.
Garnish with lemon slices and parsley; serve immediately.
Serves 2.
---
PLANKED BEEF PATTIES 
Plank cooking with cheeseburgers and potatoes.
2 Pounds ground chuck
2 Teaspoons salt
¼ Teaspoon pepper
¼ Cup catsup
¼ Cup shredded Cheddar cheese
2 Tablespoons chopped green pepper
2 Cups seasoned mashed potatoes
2 Tablespoons melted butter
Preheat oven broiler.
Combine the beef with salt and pepper; shape into 6 or 8 patties.
Place patties on broiler rack; place under broiler about 3 inches from the heat.
Broil 8-10 minutes on one side; turn over and broil 5 to 10 minutes longer until done.
Remove patties from the oven; top each with catsup, peppers and cheese.
Transfer patties to an oiled wooden plank; spoon mashed potatoes around the patties.
Drizzle melted butter over potatoes; return to broiler about 3 minutes.
NOTE: Potatoes should be lightly browned and cheese melted.
Serves 6 to 8.