How to Make Popular Candies
Have you learned how to make your favorite popular candies. Throughout my life there have been many popular recipes for candies like peanut brittle, salt water taffy and butter toffee. One of these that I remember is the Mamie Eisenhower fudge known as the "Million Dollar Fudge" or White House Fudge". Mrs. Eisenhower was the wife of Dwight D. Eisenhower, the 34th president of the United States. Serving as America's first lady from 1953 to 1961, she was known as having a gracious outgoing personality and being a wonderful hostess. One of her gifts left to the American people is this delicious recipe for her fudge, which still remains very popular among people who love making fudge.
HOW TO MAKE POPULAR CANDIES like


MAMIE EISENHOWER FUDGE RECIPE 

4 Squares cooking chocolate
4 Tablespoons butter
1 Egg
1 Teaspoon vanilla
2 Tablespoons cream
1 Pound powdered sugar
1 Cup chopped nuts
Melt chocolate and butter together over hot water.
Combine egg, vanilla, cream and sugar; add to chocolate mixture.
Knead in the nuts; turn onto a buttered platter and chill at least several hours in refrigerator before cutting.
---
SCOTTISH CANDY RECIPE
At one time this Scottish Candy recipe was very popular among my friends. Although it is called Scottish Taiblet candy most only called it creamy fudge.
4 Cups sugar
1 Tablespoon light corn syrup

2 Cups half and half
1 Cup chopped nuts
1 Tablespoons vanilla flavoring
Combine and mix sugar, half and half and corn syrup in a large heavy pan.

Over medium heat bring mixture to a boil stirring constantly.
Without stirring cook mixture to 237F degrees on thermometer.
Set pan off of heat and cool to lukewarm. 
Add vanilla and nuts; beat rapidly with a wooden spoon until thickened. 
When candy gets quite thick but before it stiffens; spread out in a buttered 8 inch square pan.
Refrigerate until cold; cut into squares.
---
CANDIED FRUIT PEEL RECIPE
I consider this to be one of the most popular of my popular candies because I use candied fruit peels in so many of my recipes. The homemade is so much better than what you buy. When making grapefruit, do not cook it with other fruits. Sometimes if I make orange and lemon peel, I will cook them together after precooking with boiling water.
3 Grapefruit, 5 Oranges OR 8 Lemons 
2 ¾ Cups sugar (Divided)
1 Cup water (PLUS more for precooking)
1 ½ Teaspoons ginger
NOTE: First I always squeeze the juice from the fruit so it is not wasted.
Cut fruit in half crosswise; scrape out and discard pulp and membranes.
NOTE: Leave white pith attached to peel.
Cut peel into long strips ¼  to ½ inch wide; place in saucepan.
Cover strips with boiling water; simmer 5 minutes and drain.
REPEAT this process 4 more times draining well between each boiling.
NOTE: This is important to remove the bitter oils.
Combine 2 CUPS of the sugar, 1 CUP of water and ginger in saucepan.
Simmer mixture until the sugar dissolves; add the strips of peel.
Cover the pan halfway and cook slowly for 45 minutes.
NOTE: The strips should be soft and should have absorbed the syrup.
Line a tray with parchment paper; separate strips and spread out on tray.
Cool strips and then sprinkle with remaining ¾ cup sugar.
Cover peels with another piece of parchment paper and let dry overnight.
Store peels in an airtight container.
---
ALMOND JOY RECIPE
When you learn how to make these popular candies, you will find this one much like the Almond Joy candy bar. Although this is a copy it has much of the same delicious flavor.
1 Can sweetened condensed milk
1 Cup chopped almonds
1 Package (14 ounces) coconut
2 Cups powdered sugar
1 Package (12 ounces) chocolate chips
Combine milk, almonds, coconut and powdered sugar; blend and refrigerate.

Shape mixture into 1 inch balls; refrigerate again until firm,
Melt chocolate chips in a double boiler; dip balls in chocolate and place on wax paper to harden.
Makes About 45.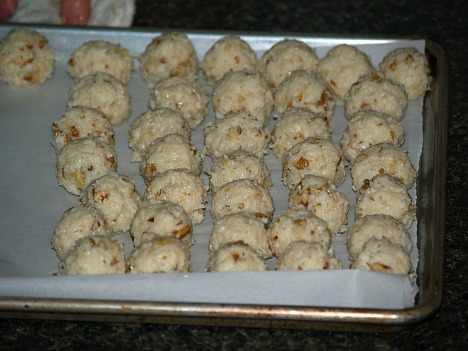 Almond Joy Balls Ready to Dip In Chocolate
---
CHOW MEIN NOODLE CANDY
You might know this Chow Mein Noodle Candy as Haystack Candy Recipe. At one time I remember all the no cook candy recipes becoming so popular. I believe it was the time when the house wife was known to do all the cooking in the home; she then left the home for jobs outside. When you learn how to make popular candies, you will find many of them to be no cook recipes. These were well received and remain popular today because of the ease in making them. 
1 Package (6 ounces) chocolate chips
1 Can (3 ounces) Chow Mein noodles
2 Cups miniature marshmallows
1 Package (6 ounces) butterscotch chips
Melt chips over hot water; add noodles and marshmallows.Blend mixture well and drop by spoonfuls onto wax paper.Refrigerate until set; keep refrigerated.
---
OATMEAL CANDY RECIPE
½ Cup softened butter
2 Cups sugar
½ Cup milk
1 Tablespoon cocoa powder
1 Teaspoon vanilla
½ Cup peanut butter
2 Cups quick cooking oatmeal
Combine butter, sugar, milk and cocoa powder; bring to a boil and boil 2 ½ minutes.
Add vanilla, peanut butter and oatmeal; put in a lightly buttered 9 inch pan.
Cool in refrigerator for a couple of hours before cutting in squares.
---
CORN FLAKE CANDY RECIPE
This corn flake candy recipe makes cute little holiday wreaths being one of the popular recipes for Christmas. They are so quick and easy to make.
3 Cups miniature marshmallows
2 Teaspoons green food coloring
½ Cup butter
1 Teaspoon vanilla
3 ½ Cups corn flakes
Combine all ingredients except for the cornflakes in a saucepan.

Cook and stir mixture over low heat until butter and marshmallows are melted.
Gradually stir in cornflakes; drop by teaspoonfuls (or tablespoon) onto waxed paper.
Butter hands and shape into wreaths; decorate with cinnamon drop candies. (Might know as red hots)
---
HOW TO MAKE PRALINES
Pralines have always been popular candies as long as I can remember; not just for holidays but anytime of the year. Look for these at any parties that you attend; you might see small dishes setting around in different places where guests can snack on them.
1 Cup milk
2 Cups sugar
Dash salt
1 Teaspoon vanilla extract
1 ½ Cup broken pecans
Bring sugar and milk to a foaming boil stirring constantly; boil for 10 minutes over medium heat.

Remove from heat and beat slightly; add salt, vanilla and nuts; let cool until chalky appears on sides of pan.
Drop by teaspoonfuls onto waxed paper.