Pork Loin Roast Recipes
There are many easy pork loin roast recipes because most are simply roasted in the oven. It is the various spices and sauces which give the pork great flavors. There are some recipes which require a little more time like butter flying the meat and stuffing. This is still easy to do but the results are worth it.  The elegant presentations are well worth the effort. Easy for many cooks are the recipes for pork loin recipes which can be cooked in the microwave oven and slow cookers. You will find some of these recipes also for those who do not have a lot of time for cooking.
Pork loin roast recipes are made with the large chunk of meat cut from the pigs back. It is referred to as a roast because chunk of meat weighs from two to four and one half pounds. Because of its size it is makes a great roast and makes a pretty presentation when presented for dinner. Although most of the pork loin roast comes boneless, it can be purchased with the attached ribs intact. I like the bones included because I like the flavor of the meat when cooked on the bones. The boneless is good too and is very nice to slice in servings.
SEE VIDEO TO BUTTERFLY ROLLED ROAST
PORK LOIN ROAST stuffed with spinach
Some easy pork loin roast recipes are stuffed simply by cutting the meat in half.
1 Package (10 Ounces) frozen chopped spinach (Thaw and squeeze dry)
½ Cup finely chopped onion
1 Clove minced garlic
3 Tablespoons butter
1 Cup soft bread crumbs
½ Teaspoon salt
1 Boneless pork loin (About 3 ½ Pounds) 
1/4 Cup orange juice
2 Tablespoons soy sauce
1 Tablespoon ketchup
1 Cup sour cream
2 Tablespoons prepared horseradish
1 Teaspoon Dijon mustard
½ Teaspoon seasoned salt
¼ Teaspoon dill weed
Preheat oven to 350F degrees.

Set aside ½ cup of spinach for the sauce.
In a skillet sauté onion, garlic and remaining spinach in butter until tender.
Remove from the heat and stir in the breadcrumbs and salt.
Cut the roast in half lengthwise; spoon spinach mixture onto bottom half.
Top the mixture with the other half of meat; tie together with kitchen string.
Place meat in a shallow roasting pan.
Combine orange juice, soy and ketchup; pour half over the roast.
Bake uncovered for 1 hour basting with remaining orange sauce.
Cover and bake 1 hour longer until temperature reaches 160F to 170F degrees.
Let stand 10 minutes before slicing.
In a saucepan combine sour cream, horseradish, mustard and seasoned salt.
Stir in the dill and reserved spinach; heat over medium JUST to heat through.
Serve warm with the pork slices; serves 10 to 12.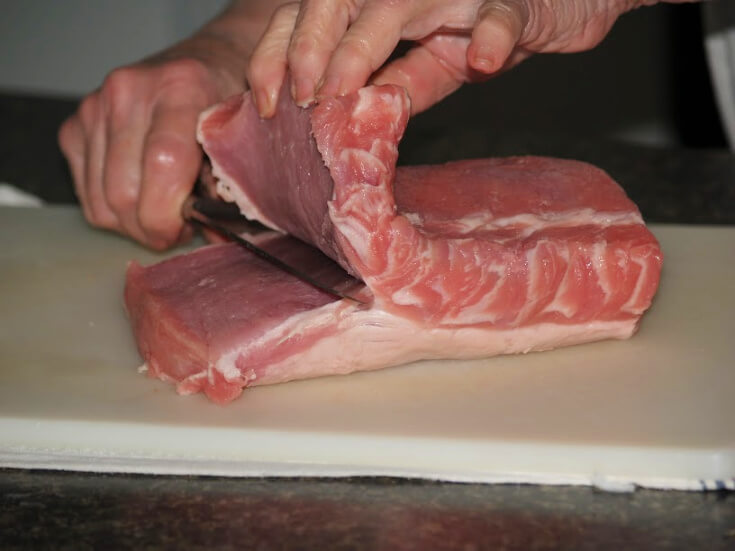 Prepping Pork Loin Roast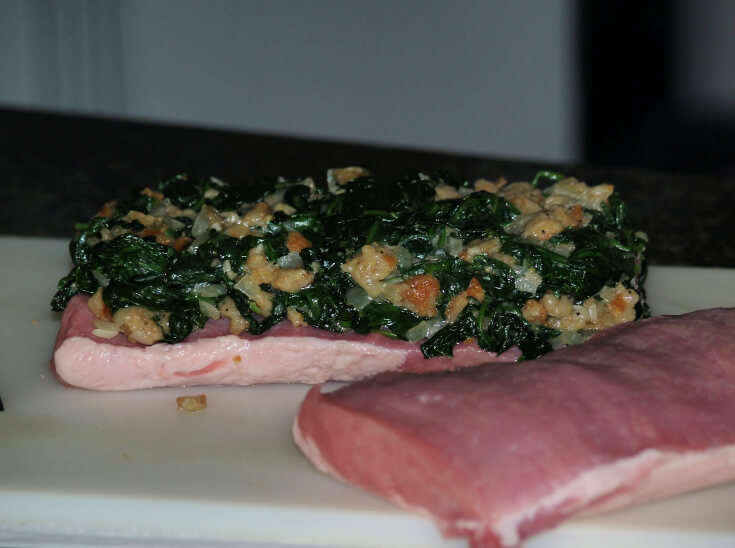 Stuffing Pork Loin Roast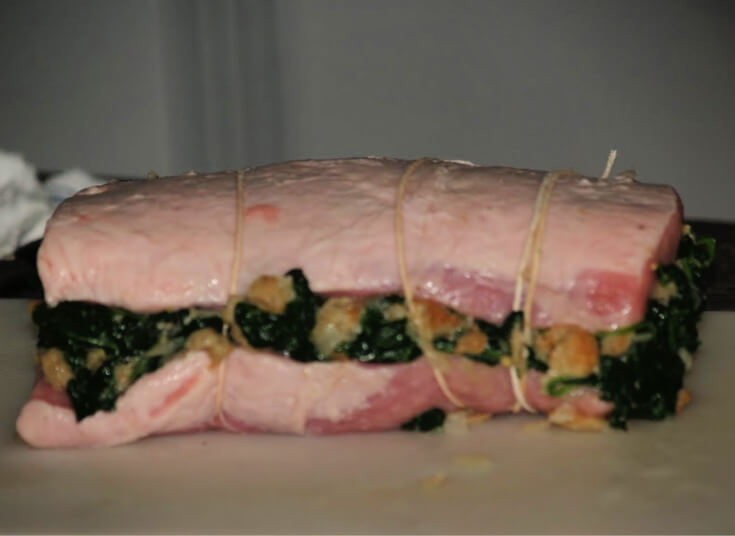 Tying the Pork Loin Roast
---
CROCK POT PORK LOIN AND SAUERKRAUT with mashed potatoes
Sauerkraut and caraway seasoning is common in German pork loin roast recipes.
Pork loin roast (3 ½ to 4 pounds boneless)
32 Ounces sauerkraut (NOT drained)
1 Teaspoon caraway seeds
Mashed Potatoes:
4 Large potatoes
Light cream 
Butter
Salt/ pepper
Place sauerkraut, pork loin and caraway seeds in crock pot.

Cook on LOW about 9 hours.
When pork is almost ready peel potatoes, cut and place in medium saucepan.
Cover with fresh water, add ½ teaspoon salt and bring to a boil.
REDUCE heat to medium low, cover and simmer until tender about 20 minutes.
Drain well; add butter and start beating with electric mixer.
Gradually beat in a little cream until desired consistency; season with salt and pepper.
Serve with slices of pork loin and sauerkraut; serves 4 to 6.
---
BARBEQUE BEEF STUFFED PORK 
Barbeque pork is always good even pork loin roast recipes.
Barbeque Sauce
1 Bottle (14 Ounces) ketchup
½ Cup chili sauce
1/3 Cup red wine vinegar
½ Cup brown sugar
2 Tablespoons lemon juice
2 Tablespoons Worcestershire sauce
2 Tablespoons prepared mustard
2 Tablespoons vegetable oil
2 Tablespoons steak sauce
1 Teaspoon dry mustard
¼ Teaspoon salt
¼ Teaspoon pepper
1 Clove minced garlic
Pork Roast
Boneless pork loin roast (About 3 pounds)
½ Pound ground beef
¼ Cup finely chopped onion
1 Clove minced garlic
Dash pepper
1 Can (6 Ounces) sliced mushrooms (Drain)
½ Cup fine dry breadcrumbs
½ Cup grated Parmesan cheese
FIRST MAKE BARBEQUE SAUCE by combining all sauce ingredients in pan.
Heat to a simmer and cook for 30 minutes; set aside.
PREHEAT OVEN to 325F degrees.
TO PREPARE ROAST Butterfly loin by cutting lengthwise almost all the way to opposite side.
NOTE: You want the meat about 1 inch thick. If part is still too thick slice again keeping the meat all in one piece.
Press meat out flat; pound meat to a rectangle about 10X15 inches (¾ inch thickness).
Brush the top with ¼ CUP of the barbeque sauce.
Combine in a bowl the beef, onion, garlic, salt and pepper.
Blend in ¼ CUP of barbeque sauce into beef mixture.
Spread beef mixture evenly over the pork; top with mushrooms.
Spread crumbs and Parmesan cheese over the mushrooms.
Starting at the short end, roll up like a jelly roll.
Wrap with meat string and tie; place on rack in shallow roasting pan.
Roast uncovered for 2 ½ hours; last 20 minutes baste with more bbq sauce.
Serves 6 to 8.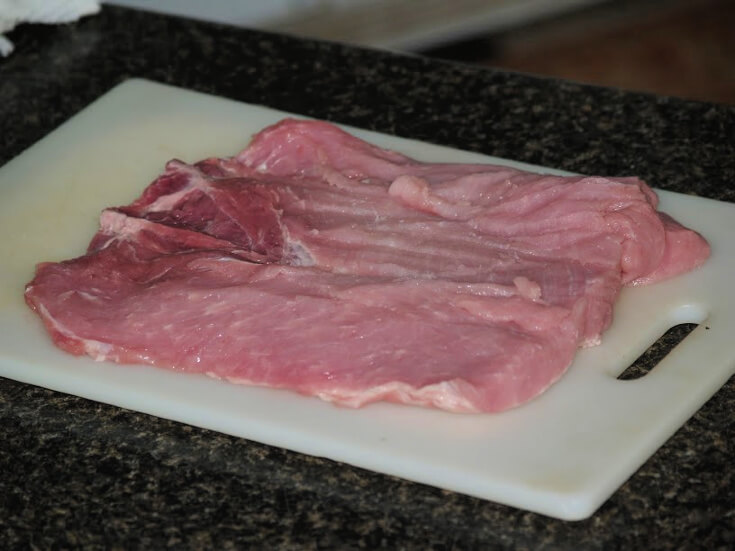 Cut Roast and Pound Out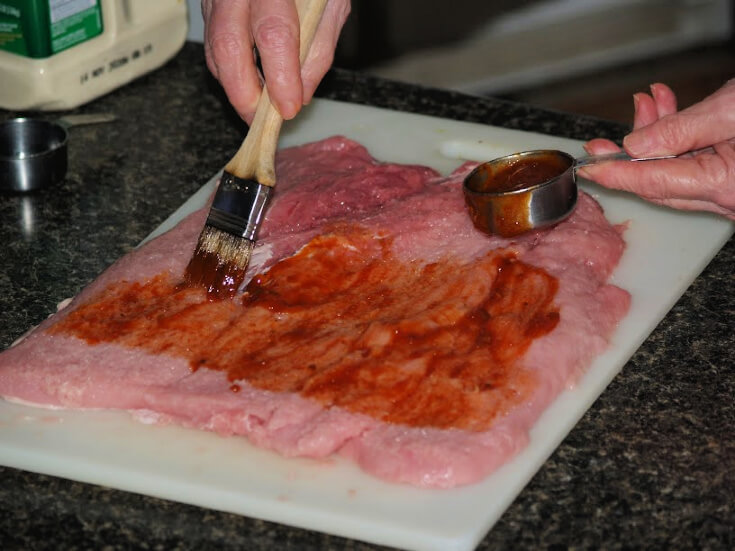 Brush with Barbeque Sauce
Spread Beef Mixture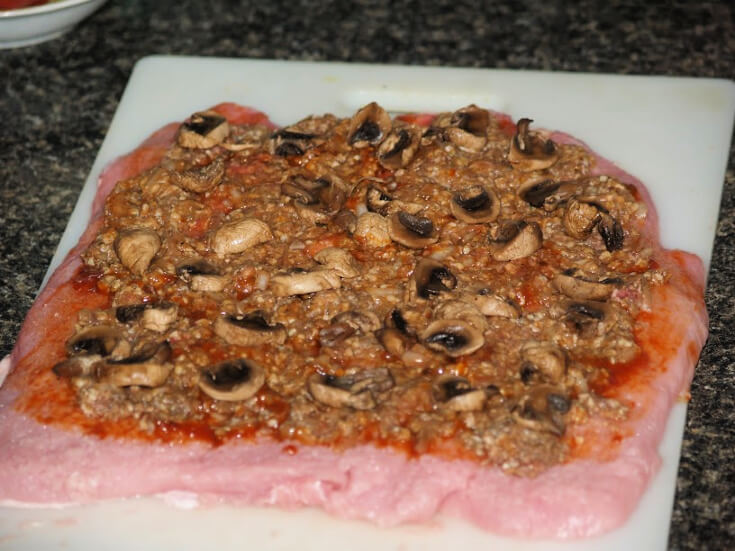 Top with Mushrooms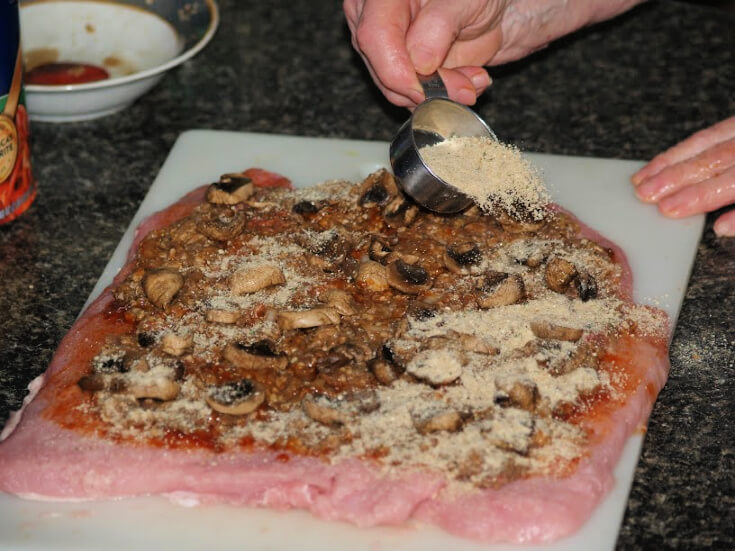 Sprinkle Breadcrumbs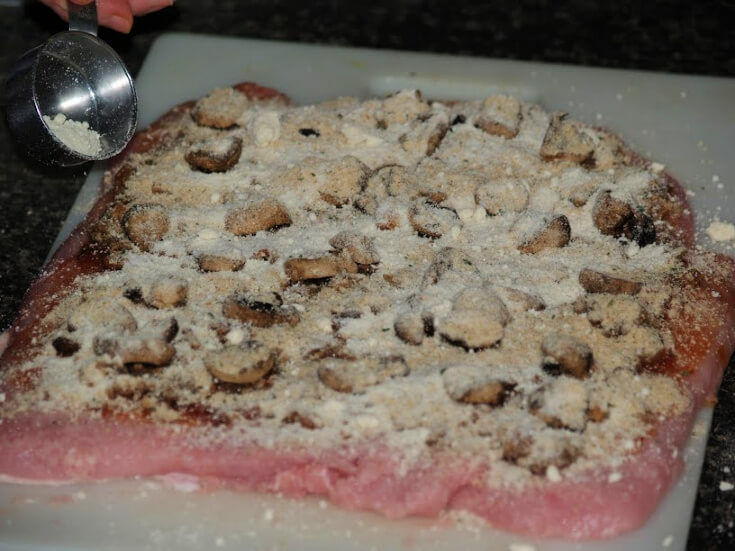 Sprinkle Parmesan Cheese
Roll in Jelly Roll
Tie with Meat String
---
MICROWAVE PORK LOIN ROAST RECIPE
Pineapple and spices are often used when cooking pork loin roast recipes.
1 Jar (12 Ounces) pineapple preserves
2 Tablespoons honey
2 Tablespoons red wine vinegar
1 Teaspoon prepared mustard
1 Teaspoon paprika
¼ Teaspoon cinnamon
¼ Teaspoon cloves
4 Pounds boneless loin roast
1 Can (8 Ounces) sliced pineapple
Make a pineapple glaze by placing the preserves in microwave safe bowl.

Add the honey and next 5 ingredients to the bowl; blend well.
Microwave on HIGH about 3 minutes or until hot stirring once; set aside.
Place the roast fat side up on microwave meat rack; cover with wax paper.
Microwave on MEDIUM 26 minutes: rotate dish toward end of cooking.
Turn the roast over; cover with wax paper.
Microwave on MEDIUM 22 to 26 minutes rotating dish one time.
NOTE: BRUSH with pineapple glaze during last 10 minutes of cooking. Internal temperature should be 160F degrees.
Remove from microwave; wrap with foil and let stand 15 minutes
NOTE: Internal temperature should rise about 10 degrees while standing. Slice near center to check for doneness without thermometer. If meat and juices are still pink, cover with wax paper and microwave on MEDIUM 4 minutes longer.
Slice roast, sprinkle lightly with salt and garnish with pineapple slices.
Heat remaining glaze and serve with roast; serves 12 to 16.
---
TURNIPS AND ROAST PORK
Pork loin roast recipes are commonly cooked with vegetables.
2 ½ Pounds pork loin roast
1 Clove garlic
¼ Cup butter
Salt and pepper
2 Pounds white turnips
2 Teaspoon sugar
2 Cups light broth
1 Tablespoon flour
1 Tablespoon chopped parsley
Preheat oven to 425F degrees.
Peel the garlic clove, cut in half and rub over the pork roast.
Place the roast in roasting pan; spread butter over meat.
Sprinkle with salt and pepper; roast for 20 minutes.
REDUCE OVEN TEMPERATURE to 375F degrees; cook 40 minutes longer.
Peel turnips and cut in halves or quarters depending on size.
Place in saucepan and cover with cold salted water.
Bring to a boil and drain; dry turnips on paper towels.
Arrange turnips around the pork; sprinkle with the sugar.
Add the broth; cover with foil and roast 30 minutes.
Remove the foil, turn turnips over and roast 15 minutes longer.
Test pork for doneness; if necessary cook a little longer.
Place the pork on a warm platter; cut into thick slices.
Arrange turnips around the meat; keep hot.
Pour liquid from the pan and reserve.
Sprinkle flour in pan; cook and stir for 1 minute.
Gradually stir in the reserved liquid; bring to a boil stirring constantly.
Adjust seasoning; sprinkle parsley over turnips and serve.
Serves 6.
---
GERMAN PORK ROAST WITH BEER
Pork loin roast recipes are traditional German entrée; need to MARINATE 1 to 2 DAYS.
1 Boneless pork loin roast (About 3 ½ pounds)
2 to 3 Cups beer (Divided)
1 Cup chopped onion
2 Teaspoons grated lemon peel
2 Teaspoons sugar
1 Teaspoon tarragon
1 Teaspoon salt
¼ Teaspoon pepper
¼ Teaspoon cloves
¼ Teaspoon ginger
¼ Teaspoon nutmeg
3 Bay leaves
1 Diced carrot
1 Stalk celery (Diced)
¼ Cup flour
Place roast in a deep dish (Just large enough to hold it).

Combine 1 ½ CUPS of beer, onion, lemon and seasonings; pour over meat.
NOTE: Add a little more beer if needed just to cover meat.
Marinate in refrigerator for 1 to 2 days turning occasionally.
PREHEAT OVEN TO 350F degrees.
Strain marinade reserving solids and liquid.
Place solids, carrot and celery in bottom of roasting pan.
Place the meat on top; add a little of the liquid and roast for 1 hour.
Pour ONE FOURTH of remaining liquid over the meat.
Roast another 1 to 1 ½ hours basting occasionally with drippings.
NOTE: Meat thermometer should register 170F degrees.
Place roast on a warm platter and keep warm.
Mix flour with 1/3 cup of marinade or beer to a smooth paste; set aside.
Skim fat from the liquid in roaster; strain liquid into saucepan.
NOTE: Press the solids through the strainer.
Combine flour mixture, ½ CUP of beer and water to measure 2 cups.
Add flour mixture to saucepan; cook and stir until thickened.
Serve gravy over meat slices; serves 8
---
ROAST PORK WITH POTATOES AND ONIONS
Potatoes and onions are common vegetables cooked with pork loin roast recipes.
1 Pork loin roast (About 4 pounds)
Salt/ pepper
Ground nutmeg
1 ½ Cups thinly sliced onions
8 Small potatoes (Peel and slice thin)
2 to 4 Cups chicken broth
2 Tablespoons chopped fresh parsley
Preheat oven to 375F degrees.
Season meat with salt, pepper and nutmeg.
Place roast in a large roasting pan.
Cook uncovered 45 to 55 minutes or until browned.
Remove roast from pan; pour off fat.
NOTE: Reserve a few slices of onions for top.
Layer potatoes and onion in the roasting pan.
Season with salt, pepper and a little nutmeg.
Add enough broth to almost cover the potatoes.
Place the roast on top of potatoes and onion.
Top roast with reserved onion slices.
REDUCE OVEN TEMPERATURE to 325F degrees.
Cover and roast for another 1 ½ to 2 hours.
NOTE: Meat thermometer should register 170F degrees. Check occasionally to make sure it does not dry; if so add more broth.
Sprinkle with chopped parsley just before serving; serves 8.
---
ROLLED PORK, HERB DRESSING & wine thyme sauce
Pork loin roast recipes are delicious when stuffed.
Stuffing
2 Cups water
½ Cup raw rice
2 Tablespoons butter
2 Tablespoons minced shallots
3 Cloves minced garlic
½ Pound mushrooms (Chop coarsely)
4 Cups packed parsley (Leaves only)
1 Teaspoon summer savory
½ Teaspoon thyme
1 Egg yolk
Sesame seeds
1 Beaten egg
Salt/ pepper to taste
Roast
1 boneless pork loin roast (4-5 Pounds)
1 Egg white
Wine Thyme Sauce
2 Tablespoons pan drippings
4 Tablespoons butter (DIVIDED)
2 Cloves minced garlic
1 Tablespoon minced shallot
1 Tablespoon flour
¾ Cup dry red wine
½ Teaspoon thyme
2 Teaspoons tomato paste
½ Cup chicken stock
Salt/ pepper to taste
FOR STUFFING bring 2 cups water to boil; add rice.

Uncovered boil rice 5 minutes; strain rice and set aside.
Heat butter in large skillet over medium heat.
Sauté shallots and garlic 1 to 2 minutes stirring occasionally.
Stir mushrooms into skillet mixture; place parsley into the skillet.
Turn parsley occasionally with tongs until parsley wilts and shrinks.
NOTE: Cook parsley about 8 minutes; it will shrink in volume about 2/3.
Put mixture in processor; puree until only small lumps remain.
Transfer mixture to a bowl; mix in savory, thyme and egg yolk.
Stir in the cooked rice, salt and pepper to taste.
PREHEAT OVEN TO 400F degrees.
TO PREPARE ROAST butterfly roast until meat lies flat on cutting board.
Brush meat with the egg white; spread rice mixture over the surface of meat.
NOTE: Leave a ½ inch border clear.
Starting at the short end roll up jelly roll style; tie with kitchen string.
Place roll on rack in a shallow roasting pan; roast for 30 minutes.
REDUCE HEAT TO 325F degrees; roast 50 to 60 minutes.
NOTE: Internal temperature should reach 160F degrees on thermometer.
Remove from oven; INCREASE OVEN TEMPERATURE TO 500F degrees.
Paint surface of roll with beaten egg; press sesame seeds over roll.
Bake for 10 to 12 minutes until seeds turn golden brown.
Place roast on serving platter, slice on diagonal, cover and keep warm.
NOTE: Save drippings for sauce.
FOR SAUCE put 2 tablespoons pan drippings and 2 TABLESPOONS butter in a skillet.
Heat over medium until butter melts; add garlic and shallots and sauté 1 minute.
Stir in the flour; cook 1 minutes stirring constantly keeping mixture bubbling.
Gradually add the wine and thyme; bring to a boil for 5 minutes.
Strain mixture and return sauce to the skillet; blend in the tomato paste.
Add chicken stock, salt and pepper; return mixture to a boil while stirring.
Set off heat; top with remaining 2 TABLESPOONS butter and swirl until melted.
Serve with roast loin; makes about 2 ½ cups.