How to Make Recipes for Christmas Cakes 
Learn how to make recipes for Christmas cakes that can be very simple but made to look elegant, playful or whatever image you want to bring out for the holiday. This can be done in a very easy manner by a few decorations or by cutting and reassembling to make a desired decorative shape. This can also be produced by using packaged cake mixes making it quicker if you are limited on time.


When you learn how to make recipes for Christmas cakes you will find they can be made with your basic favorite cake recipes. Apply a small bunch of artificial poinsettias for the holiday and you have made a masterpiece. I have found so many uses for the red fruit rollups (those snacks that kids like so well). They make great ribbons and bows on cakes, scarves for snowmen and many other things. This is a great decorative product to keep on hand.


The decorated evergreen tree has become a popular symbol of Christmas across this world. The tradition of the Christmas tree can be traced back to the sixteenth century. History tells us that it has be lit or illuminated with candles or some form of lighting throughout the years. It is decorated with many types of ornaments both big and small. Most recipes for Christmas cakes shaped like trees will be topped with a special ornament; a star, bow, angel or whatever.


By learning how to make recipes for Christmas cakes you can make them in the shape of Christmas trees which have become very popular over the years. They are simple to assemble even without purchasing special molds. The "stand up" model of a tree makes a beautiful centerpiece. Even the one which lays flat, the gelatin poke cake recipe makes a great presentation on the dinner table or buffet table.

HOW TO MAKE CHERRY BREAD RECIPE
Recipes for Christmas cakes can be baked in any kind or size of cake pans. There is always a way to decorate it. This loaf of bread can easily be turned into a Christmas gift.
2 Cups flour

2/3 Cup sugar

2 Teaspoons baking powder

½ Teaspoon salt

¾ Cup milk

½ Cup melted butter

1 Teaspoon almond extract

2 Eggs

½ Cup slivered almonds

1 Jar (10 ounces) maraschino cherries, drained and chopped

Preheat oven to 350F degrees; grease bottom only loaf pan.
Combine flour, sugar, baking powder and salt in a large bowl; mix well.
In small bowl combine milk, butter, almond extract and eggs; blend well.
Add egg mixture to flour mixture; stir until moistened; stir in almonds and cherries.
Pour mixture into greased pan; bake for 65 to 75 minutes or until pick comes out clean.
Cool 10 minutes and then remove from pan; cool completely.
Frost and decorate.

---
CHRISTMAS TREE CAKE
Some recipes for Christmas cakes can act as a centerpiece or focal point of a Christmas buffet. This one is beautiful because it stands like an actual Christmas tree. The cake needs to be of a heavier texture to stand; that is why a pound cake is used.
2 Boxes (16 to 17 ounce box each) pound cake mix

1 Cup sugar

2 Tablespoons light corn syrup

¼ Teaspoon salt

¼ Cup water

3 Large egg whites

1 Teaspoon vanilla extract

Green food color paste

Plastic straws

Flaked coconut

Small candies to decorate tree

Grease 9 X 13 inch cake baking pan.
Prepare 1 cake mix at a time as package directs; pour into prepared pan.
NOTE: Pour first prepared cake in pan; mix 2nd and pour it over the first one.
Bake in preheated oven at 350F degrees for 1 hour or until pick comes out clean.
Cook cake in pan 15 minutes; remove from pan and cool completely.
When cake is cold trim sides to straighten.
Starting at corners of short ends cut across to the center of the cake FORMING 3 TRIANGLES.

Prepare Frosting:

Heat sugar, corn syrup, salt and water in heavy saucepan over medium heat to boiling; stir occasionally.
Continue cooking without stirring until candy thermometer reaches 260F degrees or hard ball stage.
Remove saucepan from heat.
Before syrup is ready have egg whites ready in small bowl.
Beat whites until soft peaks form.
With mixer on medium speed gradually pour in thin stream of hot syrup into whites.
Add vanilla and beat until stiff peaks form about 5 minutes.
Add enough green color paste to make deep green icing.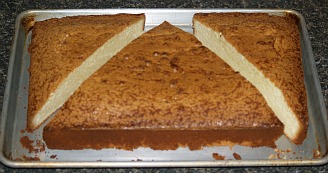 To Assemble Recipe for Christmas Cake:

Place largest of triangles upright on cake plate; place 2 smaller one at right angles on either sides.

For extra strength insert plastic straws (I cut each in half) into cakes to hold pieces together.

Trim top of cake to make point; spread cake with frosting and decorate.
---
CREAM CHEESE POUND CAKE RECIPE

 (above) 

one of my favorite recipes for Christmas cakes

 (I use this recipe for the above Christmas tree)


This is one of my favorite recipes for Christmas cakes. Instead of using box mixes, I made 2 of this recipe. After filling my 9 X 13 inch cake pan I had enough batter left to make 5 small Bundt cakes. (About 2/3 cup to each) THIS IS DELICIOUS!

1 ½ Cups softened butter (double 3 cups)

1 Package (8 ounces) softened cream cheese (double 16 ounces)

3 Cups sugar (double 6 cups)

6 Large eggs (double 12 eggs)

1 ½ Teaspoons vanilla (double 3 teaspoons)

3 Cups sifted flour (double 6 cups)

1/8 Teaspoon salt (double ¼ teaspoon)

Beat butter and cream cheese until smooth on medium speed.
Gradually beat in sugar and eggs; beat in vanilla.

NOTE: At this point when making a double recipe I turned the batter into a huge bowl and used my hand mixer to blend in the flour and salt. As I said, after filling the pan I had enough batter for 5 small Bundt cakes.

Gradually beat in flour and salt; spread into greased and flour 9 X 13 inch baking pan.

---
CHRISTMAS TREE POKE CAKE RECIPE
Some recipes for Christmas cakes are made like this poke cake recipe with Jell-o.
2 Packages (2 layer size) white cake mix

1 Small package strawberry Jell-o gelatin

1 Small package lime Jell-o gelatin

2 Cups boiling water

5 ¾ Cups whipped topping thawed

2 2/3 Cups coconut tinted green

Optional: assorted gumdrops, peppermint candies etc.

Prepare 1 cake mix; pour batter in greased and floured 9 inch square pan.
Bake in preheated oven at 325F degrees for 50 to 55 minutes or until pick comes out clean.
Cool 10 minutes; remove from pan and cool completely.
Repeat same process with cake mix 2.
Place both cakes top side up in clean cake pans; pierce both cakes with fork at ½ inch intervals.
Dissolve each box of gelatin (individually) in 1 cup boiling water; stir until gelatin dissolves.
Carefully spoon lime flavor gelatin over 1 cake and strawberry gelatin over cake 2.
Refrigerate both cakes about 3 hours for gelatin to set.
Toast 1/3 cup coconut for tree trunk; tint remaining coconut green coloring.
Unmold both cakes by dipping bottoms in warm water for 10 seconds.
NOTE: This is a layer cake; both cakes will be cut the same. I layer the two cakes together first with whipped cream between the layers then I cut the cake and rearrange to form tree.
Frost entire cake with whipped topping and decorate; chill until ready to serve.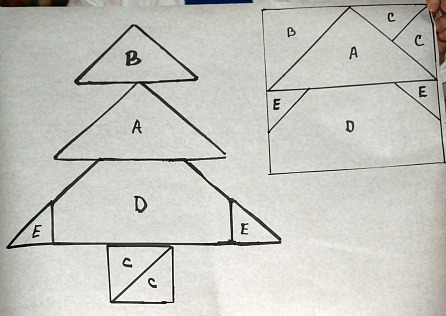 Diagram for Christmas Tree
TO MAKE PATTERN FOR ABOVE RECIPES FOR CHRISTMAS CAKE:

Cut a 9 inch square on paper.

Fold square in half, fold again in quarters; UNFOLD.

Draw line across square on fold dividing square in half.

On top half from bottom 2 corners draw lines up to the top middle (the fold will be the middle).

Mark triangle in middle "A"; Mark upper left corner "B".

Divide upper right corner equally in half from corner to middle of slanted line; mark each with "C".

On bottom half: measure each upper corner 2 ¼ inches down from corner and 2 ¼ inches over toward middle and mark with a dot; draw an angled line connecting each dot. Mark each corner "E".

The center of the bottom mark "D".

TO ASSEMBLE THE TREE for Recipe for Christmas cake:

Put 2 "C" together to form trunk of tree.
"D" Sits on top of the trunk; place 1 "E" on each side of "D" to extend the branches.
"A" Sits on top of "D"; "B" sits on top of "A" to form peak of tree.
---
SOUR CREAM CAKE RECIPE (a layer cake recipe)
When making recipes for Christmas cakes I often replace the box cake with a homemade recipe. For the above poke cake Christmas tree cake I used a sour cream cake recipe.

6 Large egg whites (room temperature)

2 ½ Cups sifted cake flour

1 ½ Teaspoons baking powder

1 Teaspoon baking soda

½ Teaspoon salt

1 ½ Cups sugar

½ Cup softened butter

1 Cup sour cream

1 Teaspoon vanilla extract

Preheat oven to 350F degrees; divide between 2 nine inch prepared baking pans.
Bake as directed for tree cake above. (Test cakes for doneness)
Sift flour with baking powder soda and salt.
Beat egg whites until foamy gradually beating in ½ cup sugar; beat until soft peaks form.
In another mixing bowl cream butter and remaining sugar until light and fluffy.
Beat in on low speed the flour mixture alternating with the sour cream.
Blend in vanilla and beaten whites until mixture is smooth.
Divide mixture evenly between 2 prepared 9 inch pans; bake until pick comes out clean.
Cool completely, cut and assemble cake as directed above.