How to Make Recipes for Fresh Tomatoes
I have been searching to learn how to make recipes for fresh tomatoes. Although the tomato is classified as a fruit, I treat it more like a vegetable in my cooking and eating. I love summertime when all the vegetables start maturing and the harvesting begins. When I was a kid, all summer we had a basket of tomatoes setting on the back porch. Whenever we were hungry or just wanted a snack, we would grab a tomato, wash it at the hose bib and eat it fresh. How delicious that was and there is a high nutritional value of vegetables.

During the wintertime I never saw how to cook recipes for fresh tomatoes from Mom because then we used everything which was canned during the summer. Since Dad started growing a garden he always said, "We eat what we grow! " We couldn't buy vegetables from the grocery; we ate what was preserved from the harvest. This means we did not have tomatoes in the winter even for salads so in the summer I have always enjoyed all the tomatoes I want. I love tomatoes!


I still use a lot of canned tomatoes; I really did not realize all the recipes for fresh tomatoes that I have collected over the years. I thought corn recipes were the favorite but now I think tomato dishes are more popular than the corn dishes. If you grow your tomatoes, you will be using all sizes and shapes. Many might have spots which you need to cut around. These are fine to use; if you throw them away you will be wasting a lot of good vegetable.


It is another story if you purchase this vegetable for your recipes for fresh tomatoes, bean recipes or any recipes. Get the most for your money by selecting the best. Plump firm tomatoes that are uniform in size and shape with a glossy unspotted skin and bright in color are best. They should feel heavy for their size. If you do not plan to use them immediately then select ones which are a little under ripe.


Vine ripened tomatoes are more juicy and have a better flavor than those which are picked green and artificially ripened; the season for vine ripened is quite short. If you do choose to pick under ripe tomatoes, wrap individually in paper and store in a cool dark place. Ripen as needed in a light warm place for your recipes for fresh tomatoes.


If you are learning how to cook recipes for fresh tomatoes, there are many recipes for fresh tomatoes that require roasting tomatoes first. This process enhances the very delicious flavor of this vegetable (or fruit). If you like recipes with them roasted, you can prepare a bunch ahead of time and store them in your refrigerator for up to three weeks.

HOW TO MAKE RECIPES FOR FRESH TOMATOES


ROASTING TOMATOES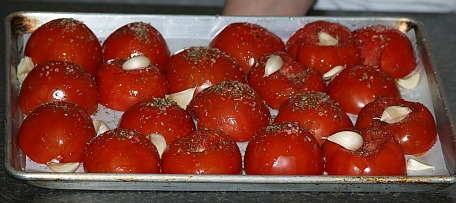 Roasting tomatoes can be done slowly in your oven. This is one of those fresh tomato recipes that will produce an aroma that will drive you wild; they are delicious by themselves, in salads and other dishes. As the tomatoes roast keep draining the juice off to prevent them from stewing; keep them as dry as possible. This juice that you drain off is great in sauces and soups.
NOTE: The easiest way I found to drain tomatoes is to tilt a corner of the pan slightly over a saucepan allowing the liquid to run to one corner then suck up the liquid with a baster and empty juice in saucepan.

20 Ripe tomatoes, wash, dry, stem and cut in half crosswise (You will have a top and a bottom)

2 Large heads of garlic; separate into unpeeled cloves

8 Large fresh thyme sprigs (I could not buy thyme sprigs so I used thyme flakes)

½ Cup extra virgin olive oil

Coarse sea salt

Freshly ground black pepper

Preheat oven to 350F degrees; line 2 rimed sheets with parchment paper.
Put tomato halves on baking sheets with cut sides down.
Roast in the oven for 20 minutes or until skins begin to wrinkle.

Peeling the Skins Off
Remove baking sheets from oven and pull off the skins and discard skins.
Drain liquid from the pans; drizzle olive oil over the tops rubbing it over the tomatoes.
Scatter garlic and thyme sprigs over the tops; season with salt and pepper.
Return pans to oven and bake 2 ½ hours longer; drain juice from pans about every 20 minutes.
Allow tomato halves to cool completely on pans; discard thyme.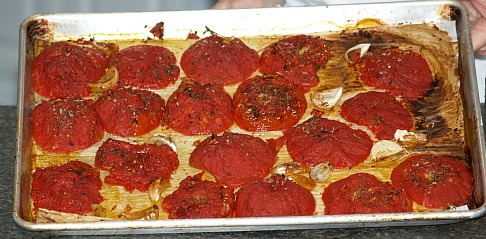 Cooling Tomatoes
Pack tomatoes and garlic in glass jars to store in refrigerator for up to 3 weeks.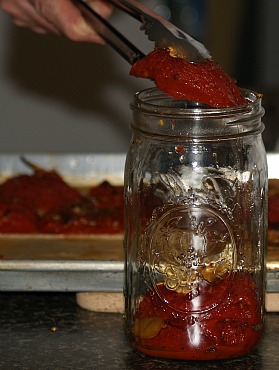 Packing in Jars
---
TABBOULAH RECIPE
As I said, I have so many recipes for fresh tomatoes that I do not know where to start. There are recipes for many delicious salads like one of my favorites, a cucumber tomato salad recipe. Also another favorite are the spicy tomato salsa recipes. Using fresh tomatoes and making a recipe for tomato soup often can provide a whole lunch or a great side dish. I also have cherry tomato recipes and some even for the plum variety. I have decided to break all of these down a little so today I am just giving a few of the general recipes for fresh tomatoes.

10 Plum tomatoes seeded and chopped

1 Can (14 ½ ounces) chicken broth

¼ Cup fresh lemon juice

1 ½ Cups uncooked couscous

1 Cup diced green onions

1 Cup minced fresh Italian parsley

1 Cup minced fresh mint

½ Cup frozen whole kernel corn thawed

2 Cloves minced garlic

1 Tablespoon grated lemon rind

1/3 Cup olive oil

¼ Cup fresh lemon juice

1 Teaspoon salt

Garnish with Italian parsley

Bring chicken broth and ¼ cup lemon juice to a boil in large saucepan; stir in couscous.
Cover pan, remove from heat and let stand 5 minutes; stir with a fork and set to cool.
Stir in chopped tomato, onion, minced parsley, mint, corn, garlic, lemon rind, olive oil, ¼ cup lemon juice and salt.
Blend well and garnish.

---
RECIPE FOR TOMATO RASAM

one of the

 

favorite recipes for fresh tomatoes
This soup is a very flavorful recipe for fresh tomatoes; it is from South India. Some of the ingredients were not available locally so I substituted ingredients which I had. I also could not find the hing and I did not know what I could substitute it with. I didn't think I needed it with all the garlic. I really like spicy foods and this has a great flavor but even for me and people who like hot spicy foods (My pepper was very hot) there is no need for additional seasoning like the rasam powder. Serve the powder on the side for each to adjust their own bowl.
6 Large ripe tomatoes

3 Teaspoons jeera (I substituted with cumin)

6 Cloves minced garlic

2 Teaspoons curry powder

1 Teaspoon jiggery (I substituted with sugar)

1 Teaspoon coriander

Salt to taste

1 Tablespoons vegetable oil

1 Chopped hot pepper (I used a very hot fresh jalapeno)

1/8 Teaspoon hing OPTIONAL

Basam powder OPTIONAL (Recipe below) I serve this powder as an extra accompaniment for each to add as individual taste desires. My recipe for tomato rasam is already flavorful and spicy.

Drop fresh tomatoes into boiling water for about 5 seconds.
Remove from hot water and immediately run cold water over them to loosen the skins.
Peel skins off tomatoes, cut in pieces and place in blender; blend into a pulp.
Heat oil in a heavy soup pan; stir in garlic and hot pepper until toasted.
Add tomato pulp, cumin, curry, sugar, coriander; bring to a simmer.
Salt to taste; add rasam powder for extra flavor.

RASAM POWDER RECIPE
This recipe is not just for using in a recipe for tomato rasam but in all kinds of rasam recipes and curry recipes; I love the flavor of these two Indian recipes. 

¾ Cup dry yellow pigeon peas (I substituted black eye peas)

¾ Cup coriander seeds

6 Tablespoons cumin seeds

1 ½ Tablespoons black peppercorn

1 Teaspoon garlic powder

1 ½ Teaspoons seeds from fenugreek

1 ½ Teaspoons ground turmeric

1 ½ Tablespoons dry chili peppers

I ground all ingredients fine in a mill (Use different one than for grinding flour- you could also use a separate cheap one for grinding coffee)