How to Make a Rice a Roni Recipe
I never learned how to make a Rice a Roni Recipe until I became a mother. My first introduction to this product came about in a jingle; "Rice a Roni the San Francisco treat". This jingle played over and over on the television and on the radio; you couldn't escape it. Like me, all the housewives were doing their housework and singing along with this "jingle". We did not even think about what we were singing.

I have heard people talk about "brainwashing"; I can tell you it works. Before long all the homemakers were planning to purchase a box of this stuff just to see why we were singing about it. I was lucky one day because it was on sale at the grocery store; I am thinking it was on sale. I know I only paid 5 or 10 cents but maybe that was the regular price. Can you imagine even a sale price like that today?


When I first learned how to make a Rice a Roni recipe, I found it to be simple, flavorful and interesting. It was interesting in the fact that it was a blend of rice and pasta; something I would not have thought of putting together. All my life, my pasta consisted of noodles and on occasion macaroni and cheese. The first time I can remember having a meal of rice was after I got married and my niece, Diane made Spanish rice. It was delicious but before that our rice was always in Mom's creamy rice pudding with cinnamon and raisins. No one complained!

How to Make a Rice a Roni Recipe
Well, now we know what we have been singing about; the "jingle" had more meaning now. Unfortunately, I never learned how to make a Rice a Roni recipe after this first time. It quickly came to an end simply because I never found it at this low price again. It seems that all of a sudden the price jumped more than I was willing to pay and I have never purchased prepackaged foods like this. The jump in price was probably due to the sudden widespread popularity for homemakers.
This simple Rice a Roni recipe, basically pasta, rice and dry chicken soup, comes from a very simple and humble beginning. The creator, an Italian immigrant couple settled in California and then set up a small pasta business in San Francisco (Thus the jingle words "San Francisco treat"). The business was designed similar to the wife's family pasta business in Salerno Italy.


This was the beginning of this quick prepackaged San Francisco food. It quickly soared to becoming a staple product in many home pantries. Soon other ingredients were being added to the basic Rice a Roni recipe creating a whole line of products containing different flavors. From these small boxes, you can add your own ingredients making every meal different.


For me, it only seemed logical to combine my own ingredients to make this simple recipe. One box would not be enough to feed my family so mixing my own is more economical. I do not use dried chicken soup in the mix because it will settle in the bottom and is not blended with each serving. I make a broth and add the mixture to it after browning it in butter.

HOW TO MAKE A RICE A RONI RECIPE
Try this homemade Rice a Roni recipe; it is very good. Easy meals can be made by adding ingredients like green peas, kidney beans, lentils, chick peas, black eyed peas, white beans, peanuts or Lima beans. Choose from a variety of different meats and vegetables to make a whole meat meal in one recipe. 

Variations to the following recipe:

Add tomato and chopped basil

Add chopped green onion

Add Parmesan cheese

Add Cheddar cheese

Replace chicken broth with beef broth

Add mixed vegetables

Add frozen peas

Add can of black beans, kidney beans or others

Add chunks of cooked chicken and ½ cup sour cream

Add 1 pound cooked ground beef, chopped ham, cooked chicken or
sliced link sausages

---
HOMEMADE RICE A RONI RECIPE
3 Pounds small pasta (The original has vermicelli; I use spaghetti. Break into small pieces.)

8 Cups white rice

¾ Cup dried parsley

1 Cup dried minced onion

1/3 Cup dried minced garlic

Combine, blend and store in an air tight container.


To Make:

2 ½ Cups rice/pasta mixture

¼ Cup butter

5 Cups chicken broth (or beef broth)

Salt/pepper to taste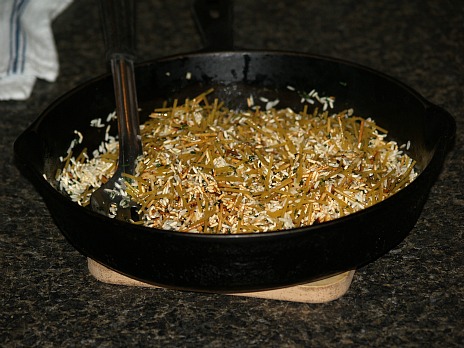 Stir and brown pasta/rice mixture in melted butter in a skillet.
Bring chicken broth to a boil; add browned mixture.
Reduce heat, cover and simmer about 20 minutes
Season with salt and pepper as needed; serve hot (TASTE FIRST, SOME BROTH IS HIGHLY SALTED)