Roast Chicken Cooking Time with Trussing 
The roast chicken cooking time will be determined by weight once you have selected your chicken. A 4-5 pound bird will serve six. Stuff and truss chicken. (See below) Weigh the stuffed bird since cooking time should be calculated from the weight. For the first part of the cooking period place the breast side down on a rack in a greased shallow roasting pan. The thighs will cook more thoroughly without the risk of overcooking the breast meat if the back of the bird is on the top during most of the cooking period. Baste frequently during the roasting period.
Roast in a preheated oven at 350F degrees. The roast chicken cooking time should be 30 minutes per pound for birds of less than 4 pounds; 22 to 25 minutes for birds 4 pounds and over. (Check note below for younger chickens not roasters) If a meat thermometer is used insert the bulb in the thickest part of the thigh muscle and roast to 185F degrees.
Turn the chicken breast side up for the latter part of the cooking. If a fork is used for this purpose the skin is often broken. A better method is to lift the bird at the head and foot with hand protected with cleans folded towels. If a tender rather than crisp skin is preferred, cover the pan for the last half hour of roast chicken cooking time.
To see whether the chicken is done insert a steel skewer or two tined fork into the thickest part of the breast or the thickest part of the thigh. The key to roast chicken cooking time is when the meat is done the skewer or fork will pierce it easily and the juice which runs out will show no trace of red.
TRUSSING- Place the bird breast side down. Tie the center of a cooking cord to the tail. Pull the legs close to the tail and tie legs and tail firmly together. Insert skewers to hold the legs and wings close to the body. Lace the cord across the back, through the leg and wing skewers and tie.
NOTE: Today many people, including myself will roast a whole young chicken instead of an older roaster. Young roast chicken cooking time does not take as long to cook because they are more tender. Unstuffed they can be cooked in an hour or a little more. With these I place the chicken with the breast side up and roast the entire time. Check for doneness the same way as with the roaster.
---
ROASTED CHICKEN RECIPE
Follow the roast chicken cooking time and temperature as directed in this recipe.
Lettuce leaves

¼ Cup butter

3 Tablespoons dry onion soup mix

3 Tablespoons Worcestershire sauce

1 Teaspoon dried tarragon

Salt/pepper to taste

1 (4 to 5 pound) roasting chicken

Preheat oven to 300F degrees.
Rinse and pat chicken dry with paper towels.
In saucepan melt butter; stir in onion soup mix and Worcestershire sauce.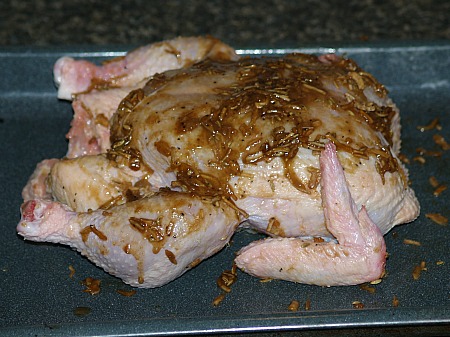 Rub mixture all over chicken and rub some in the cavities.
Place lettuce leaves in bottom of roaster under chicken to prevent it from sticking to pan.
Place chicken on lettuce in roaster pan; pour remaining mixture over chicken.
Cover roasting pan tightly with cover or foil; bake 2 hour and 15 minutes until done.
Remove cover last 15 minutes to brown bird.
---
POLISH CHICKEN RECIPE
1 Medium chopped onion

1 Clove minced garlic

1 Teaspoon caraway seeds

1 Can (27 ounces) sauerkraut undrained

¾ Pound smoked Polish sausage cut in 1 inch pieces

1 Fryer chicken (2 to 3 pounds) cut up

½ Teaspoon salt

¼ Teaspoon pepper

½ Teaspoon dried thyme

Preheat oven to 350F degrees.
Combine onion, garlic, caraway seeds and sauerkraut in mixing bowl.
Place mixture on bottom of 9 X 13 inch lightly greased baking pan.
Top with the sausage and chicken; sprinkle with salt, pepper and thyme.
Roast for 60 minutes or until chicken is tender; baste occasionally with pan juices.
Serve with potatoes or noodles.
---
CHICKEN AND STUFFING RECIPE (Mushroom stuffing)
The roast chicken cooking time is different for a roasted chicken recipe with stuffing. It takes longer for the chicken and stuffing to thoroughly cook so follow recipe directions.
2 Fryers (2 ½ pounds each)

½ Cup melted butter

1 Tablespoon finely chopped onions

1 ½ Cups coarsely chopped mushrooms

3 Cups day old white bread crumbs

2 Tablespoons finely snipped parsley

2 Tablespoons finely snipped fresh marjoram (or 2 teaspoons dried)

2 Tablespoons finely snipped fresh chives

½ Teaspoon salt

¼ Teaspoon pepper

1/8 Teaspoon nutmeg

Rinse chickens with cold water inside and out; dry well with paper towels.
Preheat oven to 325F degrees.
Sauté onion and mushrooms in hot ¼ cup melted butter about 5 minutes.
In large bowl toss bread crumbs with hot sautéed vegetables.
Add remaining ingredients except for remaining ¼ cup melted butter; mix well.
Loosely fill neck and body cavities of both chickens with stuffing mixture.
Truss each chicken; fold skin over neck cavity and close with skewers.
Bend wings under body and tie legs together at ends.
Place chickens breast side up in shallow roasting pan; brush with some of the melted butter.
Cover loosely with foil; roast for 2 to 2 ½ hours; remove foil at end to allow nice browning.
Remove chickens to warm platter; keep warm while preparing gravy. (Recipe below)

CHICKEN GRAVY RECIPE

3 Tablespoons flour

1 ½ Cups canned chicken broth undiluted

1 Teaspoon coarsely chopped fresh marjoram leaves (or ¼ teaspoon dried)

½ Teaspoon salt

1/8 Teaspoon pepper

To make gravy remove all drippings from pan except 3 tablespoons.
Add flour and stir to a smooth paste; gradually stir in chicken broth.
Add rest of gravy ingredients; bring to a boil while stirring.
Mixture will become thick and smooth; stir and cook 1 minute longer.