How to Make 6 or Seven Layer Mexican Dip Recipe
When I learned how to make a seven layer Mexican dip recipe, I found that it is not truly Mexican but more of the Tex Mex versions of recipes. There are quite a few different recipes for the layered dip combining the Mexican flavor with American ingredients. Most have originated from the makers of the products used in the recipes; Philadelphia cream cheese, Pace products, Old El Paso, etc.

After I learned how to make a 7 layer Mexican dip recipe, I made up a huge list of ingredients which can be used. You could pick and choose from this list to make up your own favorite recipe for this dip. There are also recipes for hot dips and for cold dips. Whichever I choose to make for the seven layer Mexican dip recipe, I prefer it to be hot. The ones that I like best all have cheese; nothing is better with chips than hot melted cheese.


If you are learning how to make a seven layer Mexican dip recipe, you might choose to use only a few of these instead of seven. You might even choose to make more than 7 layers. When I look at some of my recipes, I wonder how they are counting the ingredients as layers because most of them contain more than seven ingredients. Any dip created with these ingredients will surely be a hit at your next party no matter what the occasion. This layered dip makes a great super bowl recipe, New Years Eve recipe or just for a casual gathering.

Ingredient List for Seven Layer Mexican Dip Recipe:
Cooked ground beef, pork or chicken

Cheese; Monterey Jack, cream cheese, Cheddar, any favorite

Beans; refried, canned kidney, black beans, bean dip or favorites

Avocados; mashed, sliced or diced or guacamole

Onions: white, green, red, scallions

Black olives

Chopped tomatoes

Seasonings; taco, garlic, onion, hot pepper, chili powder, cumin,cilantro, lemon juice or favorites

Sour cream, mayonnaise

Chopped jalapenos

Salsa; either purchased or homemade salsa recipe, picante sauce

Garnishes applied after baking (if baked); shredded lettuce, shredded cheese, sliced green onions, sour cream diced tomatoes

Serve with tortilla chips, pita chips, crackers or small roast

7 LAYER MEXICAN DIP RECIPE
1 Can refried beans
2 Mashed avocados
8 Ounces sour cream
½ Package taco seasoning
Shredded cheddar cheese
Green onions
Black olives
Chopped tomatoes
Tortilla chips
In a glass bowl, first layer the refried beans. Cover the beans with a layer of the mashed avocados. Mix the seasoning in with the sour cream and then layer it on top of the avocados. Next layer the Cheddar cheese. Sprinkle the cheese with a thin layer of chopped green onion, then a thin layer of sliced black olives and top with a few chopped tomatoes. Serve cold with tortilla chips.
---
7 LAYER MEXICAN DIP (hot)
1 Can (16 ounces) refried beans with jalapeno peppers
½ Package taco seasoning mix
1 Carton (6 ounces) avocado dip
1 Carton (8 ounces) sour cream
1 Can (4 ½ ounces) chopped ripe olives, well drained
2 Large diced tomatoes
Chopped green onions
1 Can (4 ounces) chopped green chilies
8 Ounces shredded Monterey Jack and Cheddar cheese mixed
Doritos chips
Combine the beans and the seasoning; spread evenly in an 8x12 inch baking dish. Next layer the avocado dip, then layer the sour cream. Next spread a layer with the olives, then a layer with the chopped tomatoes. Green onions and the green chilies. Finally top with the cheese. Heat in the oven at 350F degrees until heated thoroughly and the cheese is melted. Serve with Doritos.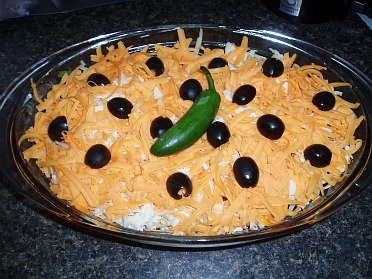 Hot Seven Layer Mexican Dip
---
6 LAYER DIP RECIPE
You can use this as the basic recipe and make the seven layer Mexican dip recipe by selecting another ingredient from the list.
2 Ripe avocados, mashed and sprinkled with lemon juice

1 Cup sour cream

1 Cups diced tomatoes

1 Can (4 ounces) Picante sauce

½ Cup chopped black olives drained

1 Cup grated Cheddar cheese

Tostitos

Layer all ingredients in the order; serve with Tostitos.