Large Shrimp Recipes 
Many large shrimp recipes are just simple appetizer recipes. This is one item that it pays you to shop for specials. Although more expensive, I love serving shrimp when large quantity recipes are needed. Shrimp is so easy and quick to cook, can be purchased already cooked or cooked in advance and is always a hit at a party.

I usually make a large ice bowl, put crushed ice in it and fill the rest with cooked shrimp. Alongside I serve a bowl of homemade cocktail sauce. One problem I always have is keeping the bowl refilled with shrimp. You cannot plan for 6 to 10 shrimp per serving; rather 15 to 20. I know some eat more than 20, but I love it when I serve something that my guests really love to eat.
Many people do not buy shrimp because all their family may not eat seafood or it might be too expensive for their budget. This is the reason it is so popular when entertaining and making your meals for a crowd. If you want to serve a large shrimp recipe but do not want the expense of a lot of shrimp then add it in a couple of dishes. It does not take too many for large for shrimp casseroles and dishes with other ingredients like a shrimp and rice recipe. Just having shrimp in the recipe will be a special treat for the guests who never get to eat it.

Another dinner idea that you might like to try for large shrimp recipes is to add cooked shrimp to a tossed salad. You can also garnish your large salad bowl with cooked shrimp. Try leaving the tails on the shrimp and hang them around the edge of a beautiful large bowl of mixed salad greens.

A great dinner idea for a large shrimp recipe you might consider is serving shrimp with a sauce over pasta. Serve pasta for a crowd to balance out the higher cost of shrimp. A few cooked shrimp with a delicious thick Alfredo sauce recipe or a flavorful marinara sauce recipe goes a long way when served over a large bowl of pasta and everyone love pasta.

ARTICHOKE PASTA SALAD
makes a wonderful shrimp recipe
Shrimp recipes can combine with other ingredients (and other recipes) resulting in delicious flavorful large quantity shrimp recipes. When cooking for a crowd, the combination of a shrimp pasta salad and an artichoke pasta salad makes one of my favorites. It will serve about 30.
4 Pounds fresh green and white fettuccini
5 Quarts boiling water
1 ¼ Cups olive oil
5 Pounds peeled medium to large shrimp
5 Tablespoons red pepper flakes
1 ¼ Cups white wine
5 Teaspoons thyme
10 Jars marinated artichokes hearts, drained
5 Medium red onions finely chopped
2 Cups freshly chopped parsley
3 Teaspoons salt
1 Teaspoon white pepper
2 ½ Cup Vinaigrette dressing (recipe below)
Boil fresh pasta in water with olive oil until tender; drain, rinse and cool under cold water.
Add red pepper, white wine and thyme to water and bring to a boil.
Drop shrimp in water and cook about 2 minutes or until shrimp turn white and appear done.
Drain shrimp and cool under cold running water.
Toss shrimp with pasta, artichokes hearts, onions and parsley.
Season with salt and pepper; toss with vinaigrette.
Cover and chill until cold and ready to serve.
Vinaigrette Recipe
This recipe can also be used with other shrimp recipes.
1 Cup cider vinegar
½ Teaspoon salt
2 Teaspoons white pepper
2 Teaspoons dry mustard
3 Cups salad oil
2 Eggs
Whisk all ingredients together in a mixing bowl by hand with a wire whip.
---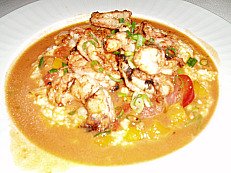 SHRIMP AND RICE
5 Pounds peeled and drained shrimp
1 Pound polish sausage
1 Pound bacon
1 Large chopped onion
4 Cups rice
Salt/pepper to taste
Kitchen bouquet for color
Cut bacon and sausage into bite size pieces. Brown bacon first; remove from grease and drain on paper towel. Brown onion and drain. Brown sausage and drain. Put shrimp into grease and cook for 4 to 5 minutes.
Coat a large pot with oil. Add the shrimp, grease from pan, sausage, bacon, onion, rice, salt, pepper and Kitchen Bouquet. Stir all together and barely cover with water. Heat to a boil and stir well. Reduce heat to low and simmer for 1 hour or until rice is very tender. This recipe makes a lot!
---
SHRIMP CASSEROLE
2 Cups cooked rice
4 Cans condensed mushroom soup
8 Teaspoons grated onion
4 Cups shredded cheddar cheese
4 Teaspoons lemon juice
4 Teaspoons melted butter
2 Teaspoons pepper
1 Teaspoon salt
4 Pounds boiled shrimp
1 Can drained water chestnuts
Add Creole seasoning to taste
Preheat oven to 350F degrees
Combine all ingredients except cheese and stir to blend. Pour into a large greased baking pan or dish. Top with cheese. Bake for 20 to 30 minutes or until the mixture is bubbly.
---
THAI SOUP RECIPE WITH SHRIMP (makes 15 to 20 cups)
1 ½ Pounds unpeeled medium size fresh shrimp

4 Tablespoons minced fresh ginger

1 Teaspoon dried crushed red pepper

¼ Cup peanut oil

4 Cups chicken broth

2 Tablespoons lime rind strips cut into 1 inch pieces

2/3 Cup uncooked long grain rice

12 Large sliced mushrooms

2 Cans (13.5 ounces each) coconut milk

1 Cup finely chopped onion

¼ Cup fresh lime juice

Garnish with chopped green onions

Peel shrimp and devein; set aside.
Cook ginger and pepper in oil in a large Dutch oven over medium high heat for 1 minute stirring constantly.
Add broth and lime strips; bring to a boil and stir in rice.
Cover. Reduce heat and simmer for 20 minutes.
Add reserved shrimp, mushrooms, coconut milk and onions to pan.
Cook uncovered about 5 minutes or until shrimp turns pink.
Remove from heat and add lime juice; stir well to blend.
Garnish each cup with chopped green onions.

---
RECIPE FOR SHRIMP CREOLE (serves 15)
1 Cup grated carrots

1 Cup diced carrots

1 Cup diced onion

3 Cloves garlic finely diced

¼ Cup plus 2 Tablespoons butter

½ Cup flour

5 Cups fresh diced tomatoes

4 Bouillon cubes dissolved in 3 cups boiling water

1 Bay leaf

½ Teaspoon oregano

½ Teaspoon thyme

½ Teaspoon ground black pepper

1 Tablespoon sugar

1 Tablespoon salt or to taste

1 Cup chopped onion

1 Cup chopped green pepper

1 Cup white wine

4 Pounds medium size shrimp

Cook and clean shrimp.
Cook 1 cup carrots, 1 cup celery, 1 cup diced onion and garlic in butter until onions are golden.
Blend in flour, tomatoes, bouillon in water, bay leaf, oregano, thyme, black pepper, sugar and salt.
Bring to a boil and simmer for 1 hour until sauce thickens stirring frequently.
Add green peppers, 1 Cup chopped onions and wine; simmer for30 minutes stirring frequently.
REMOVE BAY LEAF
Add shrimp and cook 10 to 15 minutes longer; serve over hot cooked rice.