Small Towns in Tennessee Recipes
I love visiting the small towns in Tennessee. Since I have a good friend who lives in Kingsport, it gives me an opportunity to visit many small towns in her area. Recently, I spent a few days at Bonnie's home and traveled to many of the neighboring areas. This entire area is picturesque with beautiful mountains and lush landscape.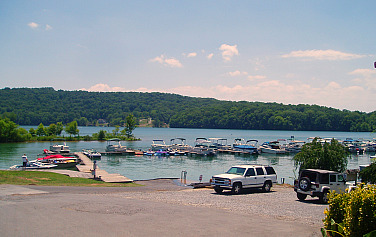 Before I go any farther, let me tell you a little about my friend. Bonnie is very interesting; never boring. She is very hospitable, great sense of humor and a great cook. She rides a Harley and spent many years working on Bike Week at Daytona Beach. After much research for the best and cheapest place to live, she found Kingsport, Tennessee. Now she is active in the community and writes for the local newspaper (under Lee Miller). Can you see why I enjoy visiting with Bonnie?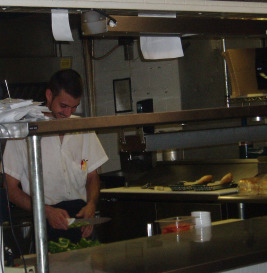 It was quite late in the evening when I arrived in Kingsport. I was anxious to see Bonnie and her grandson, BJ. He works at a local restaurant in the summer and goes to the university in the winter. To my surprise, the economy does not seem to be affecting the restaurant business or other businesses in this area of small towns in Tennessee like it has here in Florida. Because of this, BJ worked most of the time while I was up there. We visited his restaurant several times so we could see him, but I must add the food was great and the surrounding beauty of the lake and mountains was magnificent. At night the place began to rock with the karaoke music blasting and the dance floor filled with people.
CHILES RELLENOS
I must tell you that we ate our way through the small towns in Tennessee trying locally owned eating establishments. I just had to try the local Mexican restaurant. When eating in a Mexican style, my favorite is always the chiles rellenos and this visit was no exception.
8 Fresh Anaheim or poblano chile peppers, roasted
8 Ounces Monterey Jack cheese
2 Large eggs
½ Cup milk
¾ Cup flour
¾ Cup yellow cornmeal
½ Teaspoon salt
Vegetable oil
Cut cheese into eight strips, place inside cut chiles and secure with wooden picks. Combine the eggs and milk. Combine the flour, cornmeal and salt. Dredge the chiles in the flour mixture; dip in the egg mixture and then dredge in the flour mixture again.
Pour oil two inches deep in large heavy pan and heat to 375F degrees. Fry chiles with the cut side up until golden brown. Drain on paper towels and serve immediately with picante sauce.

---
BEEF STROGANOFF RECIPE
As I told you, Bonnie is a great cook. She cooks like I use to before I started the website; with no recipes. Now, I make sure everything is written down so I can pass them on to you. Anyway, Bonnie can whip up some great dishes in no time without using a recipe. Knowing how my friend cooks, I intended to write everything down as she cooked, but we talked and laughed so much that she was finished before I began to write. She made us her delicious beef stroganoff one evening. We agreed that we cook much the same. Since I did not write her recipe down, I am sharing mine with you.
1 Cup chopped onion
2 Cloves chopped garlic
2 Cups fresh mushrooms, sliced
3 Tablespoons butter
1 Pound beef tenderloin
1 Package dry onion soup mix
2 Cans cream of mushroom soup
1 Pint sour cream
1 Package noodles, cooked, drained and buttered
Brown onion, garlic and mushrooms in two tablespoons of butter. Remove vegetables from pan. Add one tablespoon of butter to the pan. Cut tenderloin in strips and brown in butter, seasoning to taste; remove meat from pan. Mix the onion soup mix in the pan with a little water. Mix in the mushroom soup and add the onion and fresh mushroom mixture. Simmer for about 20 minutes. Add the beef tenderloin and simmer ten minutes longer. Add the sour cream just before serving. Serve over cooked noodles.
After I spent one day visiting some of the small towns in Tennessee, I returned to Bonnie's and she whipped up a batch of her delicious peanut butter candy. She makes this in only a few minutes and uses only a few ingredients. It is so creamy that it melts in your mouth. This brings me to a story about Bonnie's fudge recipes; she makes several flavors. At Christmas, my friend made me about five pounds or more of a variety of flavors. She shipped it to my post office address. When I arrived to pick it up, the whole staff was waiting for me so I would open it up and share it with them. The aroma coming from the wrapped box was unbelievable! Of course, I shared a few pieces with them. I will review this candy recipe with Bonnie on my next trip to small towns in Tennessee and pass it to you later. I also promise to visit more good local restaurants and get some of their recipes for you.
---
TORTILLITAS a Mexican appetizer recipe
Many restaurants in the small towns in Tennessee offer delicious Mexican appetizers; here is one of my favorites.
1 Package (8 ounces) softened cream cheese

1 Cup sour cream

8 Green chopped onions

1 Can (4 ounces) chopped green chilies

1 to 2 Teaspoons garlic salt

6 to 7 Tortillas (12 inches)

Picante sauce

Combine and blend until smooth all ingredients except tortillas and picante sauce.
Cover 1 tortilla with about 3 to 4 tablespoons of the mixture spreading to the edges.
Place another tortilla on top of this; spread with mixture.
Continue layering until tortillas and mixture is all used; end with tortilla on top.
Chill thoroughly and cut into about 35 squares; spear with decorative toothpicks.
Serve with picante sauce.
NOTE: These can be made a day ahead.

---
SOUR CREAM BANANA BREAD RECIPE

very popular in small towns in Tennessee
Banana bread is very popular throughout the small towns in Tennessee as well as all over the United States and also in South America.
1 Cup ripe mashed bananas

¾ Cup packed brown sugar

½ Cup softened butter

1 Egg

½ Cup sour cream

1 Teaspoon vanilla

2 ¼ Cups flour

1 Teaspoon baking soda

½ Teaspoon salt

½ Teaspoon cinnamon

1 Cup chopped walnuts

Beat butter and sugar until light and fluffy; beat in egg.
Add bananas, sour cream and vanilla; beat until well blended.
Stir in walnuts; pour into greased and floured loaf pan.
Bake in preheated oven at 350F degrees 65 to 70 minutes or until pick comes out clean.
Top with powdered sugar glaze or dust with powdered sugar.