How to Make Split Pea Soup Recipe
When I learned how to make a split pea soup recipe I found it is much like making dried bean soups. For me the best seasoning for all of these are various types of pork depending on what taste you are after. Although vegetarians do not use meat for seasoning, they also season split peas and beans with the same types of herbs and spices.

The peas for split pea soup come in yellow or green varieties. The peas are round when harvested but the process allows the peas to separate in their natural split. They are great source of nutrients supplying high amounts of protein and fiber with very low fat.

If you are learning how to make a split pea soup recipe the biggest difference in cooking compared to dried beans is that the split peas do not need to be soaked before cooking. I always soak dried beans overnight before cooking. The split peas will cook up and disintegrated making a very thick delicious soup. They will soak up the water so keep watch that they do not get dry and burn.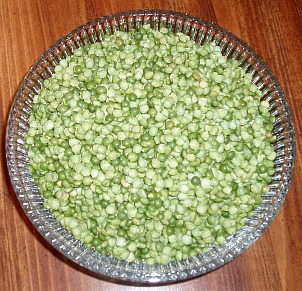 How to Make Split Pea Soup Recipe
When you learn how to make a split pea soup recipe you will find it can be as simple as covering split peas with water, bringing them to a boil and simmer until tender or cooking in a crock pot. Season with butter, salt and pepper and they are good to eat. Many countries enjoy the split peas and have their own traditional seasonings. From my heritage, Germans use sausage as the traditional means of seasoning. In Sweden and Finland, this soup is served on Thursdays dating way back as a preparation for fasting. (Reminds me when I was young, dried bean soup was served on Mondays when all the women did the wash; it took longer then using a wringer type washer.)
HOW TO MAKE SPLIT PEA SOUP RECIPE
2 Cups dried split peas
8 Cups water
2 Pounds cooked ham in small chunks or (ham bone for seasoning)
1 Large chopped onion
2 Carrots peeled and diced
¼ Teaspoon black pepper
Salt to taste (ham may add a lot of salt)
Add all ingredients into a large heavy pan. Bring to a boil; reduce heat to low, cover and cook for 1 hour or until peas are tender and soup has thickened.
---
SPLIT PEA SOUP

 
1 Tablespoon butter
1 Diced carrot
1 Small sliced onion
1 Cup cubed ham
1 Ham bone
1 Quart water
1 Cup split peas rinsed and drained
1 Bay leaf
½ Teaspoon salt
½ Teaspoon pepper
¼ Teaspoon thyme
¼ Teaspoon butter
In a large pot melt 1 tablespoon butter and add onions and ham; stir and cook until light brown.
Add bone, water, peas, bay leaf, salt, pepper, thyme and ¼ teaspoon butter.
Bring to boil, cover and cook until peas disintegrate about 45 minutes, stir occasionally.
Note:Should be thick but watch that they don't get too dry, may need to add a little water.
---
GERMAN SOUP RECIPE (Crock pot split pea soup recipe)
1 Pound split peas

4 Cups chicken broth

1 Teaspoon salt

1 Cup chopped onion

1 Teaspoon minced garlic

2 Bay leaves

2 Cups dry red wine

1/8 Teaspoon dried thyme leaves

1 ½ Pound Kielbasa sausage

2 Slices bacon cut each into 6 pieces

3 Tablespoons chopped fresh parsley

Place all ingredients in a Crock Pot; cook for 8 hours.
Remove sausage and cut into small pieces and stir back into soup mixture.
Serve hot bowls.

---
VEGETARIAN PEA SOUP RECIPE
Vegetarians season split pea soup recipes with herbs and spices.
2 Tablespoons butter

1 Large finely chopped onion

2 Large finely chopped carrots

3 Cloves minced garlic

1 Pound dried yellow split peas

6 ½ Cups water

1 Teaspoon dried tarragon

½ Teaspoon dried thyme

½ Cup white wine

1 Teaspoon salt

¼ Teaspoon black pepper

Melt butter in large saucepan over medium heat.
Add onions and carrots; cook and stir for 10 minutes or until onions are tender and they brown slightly.
Add garlic and cook another 2 minutes; add split peas, water, tarragon and thyme.
Cover and simmer over low heat for 50 minutes stirring occasionally.
Add wine and continue to cook soup uncovered for 10 more minutes.
Add salt and pepper; serve hot in bowls.
NOTE: Soup will thicken; watch that it does not burn.

---
LENTIL SOUP RECIPE OR SPLIT PEA SOUP RECIPE
This is a versatile split pea soup recipe large enough to feed a crowd. It is hearty and very filling even for the very hungry. This recipe makes about 65 to 70 servings and is great for a church supper or any carry in.
12 Carrots cut in slices

2 ½ Bunches celery cleaned and cut in chunks

5 Large onions peeled and cut in chunks

1 Large rutabaga peeled and cut in chunks

1 ½ Pounds butter

½ Pound salt pork cut in cubes

5 Pounds 4 ounces dried split peas or dried lentils

16 Quarts water

4 Bay leaves tied in cheesecloth

1 Teaspoon thyme

3 Tablespoons salt

3 Pounds Polish sausage peeled and thinly slices

Flour OPTIONAL
Melt ¾ pound butter in large stock pot.
Cover and sauté carrots, celery, onion and rutabaga about 20 minutes.
Remove vegetables from pot and set aside to cool; puree in processor or blender.
Fry salt pork in remaining butter; wash lentils or split peas and add to pot.
Add water and pureed vegetables to pot; add bay leaves and thyme.
Bring mixture to a boil, reduce heat and simmer 2 ½ hours stirring frequently.
Add salt while cooking and last 30 minutes add the sausage.
If soup needs to be thickened mix flour with cold water and stir into hot soup.