How to Cook St Patricks Day Food 
When most people learn how to cook St Patricks Day food, they usually start with Irish appetizers, cookies and lamb stew. For me the first dish that comes to my mind is a beef brisket and cabbage recipe.
Although we relate this recipe to the Irish culture, I am happy to have this delicious recipe in my culture. It is hard for me to believe that anyone could not like this dish but I am told by some that this is true. Many do not like the saltiness when using corned beef, but the fresh brisket does not have that salty taste. Other people have told me that they don't like paying the high price generally charged for corned beef so this is another reason for using fresh brisket. I have found that in some areas it is impossible to find corned beef in the grocery stores. For these reasons I have made up the following alternative corn beef and cabbage recipe which is made with a fresh beef brisket.
HOW TO COOK ST PATRICKS DAY FOOD like this


BEEF BRISKET AND CABBAGE RECIPE 
4 to 5 Pound beef brisket
1 Teaspoon salt
¼ Teaspoon peppercorns
¼ Teaspoon whole cloves
1 Tablespoon pickle spice
1 Bay leaf
¼ Teaspoon nutmeg
¼ Teaspoon allspice
1 Tablespoon sugar
2 Cloves garlic
Water
¼ Cup vinegar
2 Medium heads cabbage
Place beef brisket in a large heavy pan. Add the salt, peppercorns, whole cloves, nutmeg, allspice, sugar, bay leaf and pickle spice. Cover with water and add vinegar. Bring mixture to a boil. Cover with lid, reduce heat to low and simmer until tender; about 2 ½ hours. (Keep watch so as not to get dry). Remove bay leaf from mixture. Cut up cabbage and add to the pan, making sure there still is liquid to boil. Bring to a boil, reduce heat and cook until cabbage is tender. (Taste-You may want to add more salt)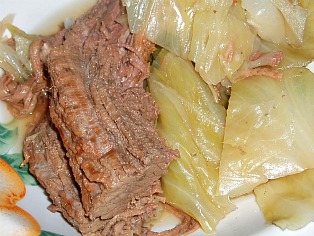 ---
The Irish are also known for delicious bacon and sausage made from the large amount of pork which they produce. Locally grown poultry and geese as well as the availability of fresh fish have been common in the Irish diet. When I learned how to cook St Patricks Day food, I found that any Irish feast might include any of these foods.
Personally, I love the flavor of corned beef; it adds to many recipes. The flavor blends well also with sauerkraut as in the Reuben Casserole recipe and The Reuben salad recipe. Below are two recipes which I learned how to cook for a St Patricks Day food menu.
REUBEN CASSEROLE RECIPE
1 Cup sour cream
1 Small chopped onion
10 Slices rye bread
½ Cup Thousand Island dressing
1 Small can drained sauerkraut
½ Pound corned beef
12 Ounces shredded mozzarella cheese
8 Ounces shredded Swiss cheese

1 ¼ Cups melted butter
Preheat oven to 350F degrees.
Butter a casserole baking dish.
Combine the sour cream and the onion. Layer 5 slices of bread on the bottom of casserole baking dish. Spread the bread with the sour cream onion mixture. Drizzle over the onion mixture the Thousand Island dressing. Next layer the sauerkraut, then corned beef and then the cheese. Top with the remaining 5 slices of rye bread. Drizzle the melted butter over the top of the rye bread. Bake uncovered for 30 minutes.
---
The next recipe makes for great St Patricks Day food for a lunch menu. All the special ingredients combine to make for a great flavor.
REUBEN SALAD
Dressing
1 Cup sour cream
¼ Cup chili sauce
1 Tablespoon sugar
½ Teaspoon salt
½ Teaspoon dill weed
Salad
6 Cups broken Romaine lettuce
1 Can (16 ounces) drained sauerkraut
1 Pound corned beef, cut in strips
1/3 Cup chopped dill pickle
¼ Cup sliced green onions
1 ½ Cups Swiss cheese, cut in strips
3 Slices rye bread, butter, toast and cut into cubes
Combine all the sauce ingredients and set aside.
Prepare and toast the rye bread; cut into croutons and set aside.Layer half of the lettuce (preferably in a trifle bowl).

Layer on top of the lettuce the kraut, then the corned beef, dill pickle, onion and cheese. Top with remaining half of lettuce. Cover and chill until ready to serve. Just before serving spoon the dressing over the top. Add the croutons and toss.
---
BEEF BRISKET RECIPE
This beef brisket is made with Guinness beer; perfect for your St Patricks Day food menu.
3 to 4 Pound beef brisket
Salt/pepper to taste
1 Slice onion
¼ Cup chili sauce
2 Tablespoons brown sugar
1 Clove minced garlic
1 Can (12 ounces) Guinness Beer
2 Tablespoons flour
Season brisket with salt and pepper; Place brisket in 9 X 13 inch baking pan.
Place sliced onion on top of brisket; combine chili sauce, sugar, garlic, beer and pour over brisket.
Cover with foil and bake at 350F degrees for 3 ½ hours; remove foil and bake additional 30 minutes basting with juices.
Place brisket on platter and keep warm.
Skim excess fat from drippings; add enough water to drippings to measure 1 cup; pour in saucepan.
Blend flour with ½ cup water; add to liquid in saucepan and cook until thickened while stirring.
Slice brisket across grain and serve with gravy. Serves 8 to 10.
---
ST. PATRICK'S DAY PINWHEEL COOKIES
1 ¼ Cups sugar
1 Cup butter flavored Crisco
2 Eggs
¼ Cup light corn syrup
1 Tablespoon vanilla
3 Cups flour PLUS 2 tablespoons (Divided)
¾ Teaspoon baking powder
½ Teaspoon baking soda
½ Teaspoon salt
½ Teaspoon peppermint extract
Green food coloring
Place sugar and shortening in a large bowl; beat on medium speed until well blended.

Add eggs, syrup and vanilla beating until fluffy and blended.
Combine 3 cups of flour, baking powder, soda and salt in another bowl.
Add flour mixture gradually to shortening mixture beating on low speed until blended.
Place HALF of the dough in medium bowl; stir in the peppermint and food coloring for desired shade.
Shape each parts of the dough into a disk; wrap with plastic wrap and refrigerate several hours.
Sprinkle large piece of wax paper (Over 14X9 inches) with 1 tablespoon flour.
Place peppermint dough on wax paper; flatten dough slightly with hands.
Turn dough over, cover with another piece of wax paper.
Roll dough to 14X9 inch rectangle; set aside and REPEAT with plain dough.
Remove top sheets of wax paper from each color of dough ; invert plain dough onto peppermint dough.
NOTE: Align sides of dough carefully; trim dough edges if needed to form rectangle.
Remove wax paper from plain dough; Roll layers together tightly in jelly roll fashion.
NOTE: Start rolling at long side and use bottom sheet of wax paper as a guide removing paper as you roll.
Wrap roll in wax paper and freeze at least 30 minutes or until firm.
PREHEAT OVEN TO 375F degrees.
Cut roll in 3/8 inch slices and place on ungreased cookie sheet 2 inches apart.
Bake 7 to 9 minutes until edges are slightly brown (Do not over bake).
Cool 2 minutes on sheets; remove to rack and cool completely.
Makes 36 cookies.