Know Steak Cuts for Cooking
Do you know about the different steak cuts from a beef? This is important if you are to select the right cut for the right occasion.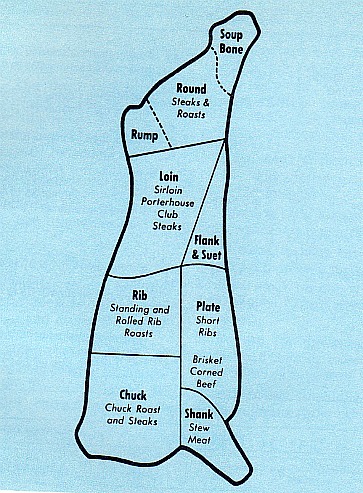 Cuts of Steak
STEAK CUTS
You must know what is a porterhouse steak to know how to cook a porterhouse steak. Today we have easy access to all the different steak cuts which we did not have years ago. When you see these different steaks in the supermarket you need to know how you are going to cook it.
The most tender cut of the beef is called a FILET, BEEF TENDERLOIN or FILET MIGNON STEAK. This can be purchased as filets or the whole tenderloin. It is delicious, needs very little cooking and is the most expensive. This cut is featured at very good restaurants and is used in dishes requiring high quality beef.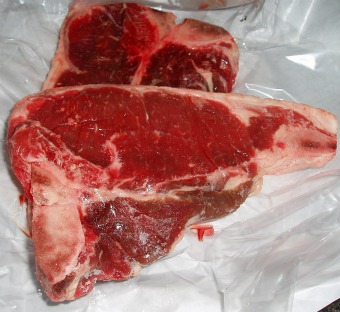 T Bone
The T BONE STEAK consist of a T shaped bone with meat on both sides; the larger side is the strip steak meat and the smaller side contains the tenderloin. T bone steaks are considered one of the highest quality steaks and are expensive at steakhouses.

PORTERHOUSE STEAK is considered even more highly valued than the T bone steak. Like the T bone the porterhouse has a T bone in it. To be classified as a porter house steak the tenderloin must be 32mm thick; there are very few porterhouse steaks in each beef.

A RIB STEAK also called DELMONICO, CLUB and BONELESS RIB comes from rib section of the beef. A rib steak is usually called the rib eye and may or may not contain the rib bone. This is one of the most flavorful cuts of the beef.

The CLUB STEAK also called DELMONICO is from the small end of the short loin next to the rib end; the smallest steak in this section. It is triangular in shape and has little or no tenderloin. When cut properly it is a very good and tender steak.

The DELMONICO STEAK is a boneless club steak or a ribeye steak. The name Delmonico was made famous by Delmonico's Restaurant in New York City on their style of cooking.

SHELL or SIRLOIN also known as BONELESS SIRLOIN, NEW YORK or KANSAS CITY is a partially or completely boned steak. It is from the short loin with the tenderloin removed.

The SIRLOIN also called the HIP, SIRLOIN or BUTT is from the large end of the full beef loin and varies in size and shape. This cut is large making it suitable for families or company. It can be cut from 1 inch thick to 3 inches and has a delicious flavor.(PICTURED BELOW)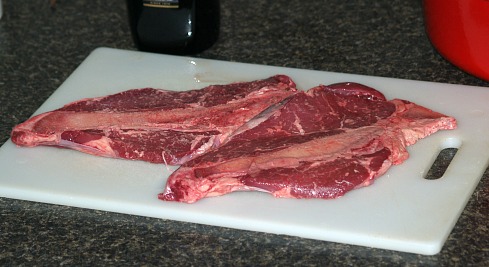 Sirloin Steak Cut
The SIRLOIN BUTT is a restaurant term for a steak cut from the bone less section of the top portion of the sirloin.
SIRLOIN TIP also called SHORT SIRLOIN and TOP SIRLOIN is a boneless steak ½ inch thick from the sirloin tip roast, which comes from the beef round.

The FLANK STEAK also called LONDON BROIL is a lean flat muscle with no bone, from the beef flank. It is from the abdominal muscle of the cow and is best prepared when cut across the grain. It is used frequently in Oriental dishes.
BUTTERFLY is a style of cutting; the steak is split not quite all the way through and then opened resembling a butterfly.

SEARED RIB EYE STEAKS 
Learn to use special steak cuts to make seared rib eye steaks with spinach and romesco sauce.
2 Boneless rib eye steaks (Each 1 pound; each cut into 3 and pounded to scant ½ inch thickness).
Salt/ pepper
5 Tablespoons olive oil
1/3 cup coarse fresh white breadcrumbs
1/3 Cup slivered almonds
½ Teaspoon crushed red pepper flakes
1 Cup chopped roasted red bell peppers
3 Cloves thinly sliced garlic
1 Small chopped tomato
1 Tablespoon red wine vinegar
2 Tablespoons warm water
2 Thinly sliced shallots
1 ¾ Pounds fresh spinach (stemmed and roughly chopped)
1 Tablespoon fresh lemon juice
1 Tablespoon fresh orange juice
Cooking Steaks

Season steak cutlets on both sides with salt and pepper. 
Heat 1 tablespoon of oil in a large heavy skillet over medium high heat until hot.
Without crowding place cutlets in skillet and sear until golden on both sides turning over one time. (Add oil as needed)
Transfer to a large warm platter and keep warm; REDUCE HEAT under skillet to low.
To Make Romesco Sauce:
Add breadcrumbs, almonds and pepper flakes to the skillet.
Cook mixture stirring constantly scraping up bits until mixture is toasted about 2 minutes.
Add to mixture the peppers, garlic, tomato, ½ teaspoon salt and ½ teaspoon pepper.
Cook stirring often until softened and juicy and flavors have melded about 4 minutes.
Transfer the mixture to food processor; add vinegar and water and puree until smooth.
While blending drizzle in 2 tablespoons oil; transfer sauce to bowl, season to taste and keep warm.
Wilting Spinach
Heat 1 tablespoon oil in skillet over medium heat; add shallots and cook about 3 minutes until softened.
Add spinach, cover and cook for 1 minute; uncover and continue to cook tossing until wilted about 2 minutes.
Remove from heat and toss in olives, juices, ¾ teaspoon salt and ¼ teaspoon pepper.
TO SERVE spoon Romesco sauce onto plates, top with cutlet and then the wilted spinach. Serves 6
---
SEMUR RECIPE
This Indonesian stew is made with one of the tougher steak cuts. The round steak requires longer cooking time but has a wonderful flavor so is perfect for this recipe.
1 Pound round steak (½ inch thick)
1 Tablespoons vegetable oil
1 Large sliced onion
2 Cloves minced garlic
½ Cup water
2 Tablespoons soy sauce
½ Teaspoon salt
1/8 Teaspoon black pepper
Cut meat into ½ inch squares; sauté in heavy skillet in hot oil until brown and set aside.

Add onion and garlic to skillet and cook until onion is golden brown.
Return meat to the skillet; add water and soy sauce.
Cover skillet and simmer for 1 hour; serve with hot cooked rice. Serves 4