How to Make Strawberry Recipes
I try to learn how to make fresh strawberry recipes in new ways every spring. This is the time of the year when those beautiful red berries appear on the plants. I can barely wait until they ripen and we can enjoy the sweet flavor of these berries. When I was little, Dad had a strawberry "patch" as we called it. It was about two acres along side of a railroad track in which Dad grew all strawberries. I loved it when I was included with many of my other siblings to go pick berries.  I remember eating most of what I picked. It was great! When Dad sold this land I felt the loss.

Back when I was young everyone knew how to make fresh strawberry recipes. Almost every family grew some strawberries. They are pretty easy to grow and come up year after year. After Dad sold our berry patch I would look forward to our visits to my Uncle Bert's. He grew strawberries also. I remember his strawberry patch being across the road from their home. I think the road was dirt but I wasn't allowed to cross the road. Uncle Bert would walk over to the patch and pick me a handful of his strawberries. They were so good! It is funny how these childhood memories stay with you forever!
When I was young and started to cook, my only thought was how to make fresh strawberry recipes. Recipes for cooking strawberries were never a consideration because we always ate them fresh.  We had always eaten fresh strawberries either plain or sometimes with sugar over biscuits or cake. Then we started adding them to ice cream like milk shakes and sundaes and even with different cheeses.
TO MAKE STRAWBERRY BANANA MILKSHAKE place ¼ cup of milk, 1 Cup ice cream, 1 sliced medium firm banana and 4 large strawberries in a blender. Process until smooth and pour into 2 glasses for TWO SERVINGS. Many strawberry recipes are this easy to make.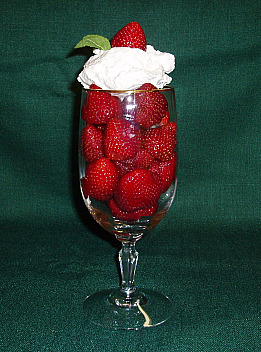 Fresh Strawberries and Cream
When I first tasted Frisch's fresh strawberry pie, I was overwhelmed with the flavor. It is still my favorite of the strawberry recipes. (Recipe below). I love the appearance of using big whole berries but it is difficult to cut a nice piece. You can slice the berries (Maybe top with a few whole ones) and be able to cut a better piece. You still get the same great taste. I love this pie!
I am amazed today how many recipes I have for cooking strawberries. Perhaps because I learned how to make fresh strawberry recipes first I still prefer uncooked berries. I do love many of the recipes for cooking strawberries but the taste is different as well as the texture. I must admit, there is nothing more delicious than homemade strawberry jam on hot buttered biscuits during the cold winter months,
After such a rough winter, even here in Florida, I am happy to see warmer weather and spring recipes. We are now coming to the end of our strawberry season, but in other states they are beginning to ripen. A few weeks ago Kelly and I drove down to one of the many strawberry festivals held here in the US. It is held every year at Plant City, the area where most of our strawberries are grown. Many other states also have strawberry festivals. Up home in Ohio one is held in Troy in June.  love these events to look for new strawberry recipes.
After I learned how to make fresh strawberry recipes, I learned that this is the time to fill up on the berries. When they are in season they are cheaper. Many growers will let you come in and pick your own so it saves you more money. Sometimes growers will let people pick the remaining berries for free after they have harvested their fields. If you freeze them, often they can be enjoyed later on in many of the fresh strawberry recipes.
By freezing strawberries, they can be enjoyed many ways later and it is so easy to do. Simply clean the berries and lay them on a tray. Place the tray in the freezer until they are frozen. Then dump the berries into a freezer bag and return to the freezer. You can always add sugar later if you want. You can also enjoy the berries later on by canning pie filling, jam and jelly recipes.
FRESH STRAWBERRY PIE RECIPE
Learn how to make strawberry recipes using my Frisch's strawberry pie recipe.
1 Baked pie shell
1 Quart strawberries
1 Cup sugar
3 Tablespoons cornstarch
Pinch salt
1 Cup boiling water
2 Tablespoons strawberry gelatin
2 Teaspoons butter
Clean strawberries, drain and place on towel to dry; set aside.

Combine sugar, cornstarch and salt in saucepan; stir in boiling water.
Place over medium heat and stir mixture until it comes to a boil.
Cook and stir 2 minutes longer until thickened; cool to lukewarm.
Place berries in a large bowl; pour over gelatin mixture and toss lightly to coat the berries.
Arrange the berries in the baked pie shell; refrigerate pie until gelatin sets to hold berries together.
To serve top with dollops of stiffly whipped cream.
---
STRAWBERRY BANANA CREPE RECIPE
Learn how to make strawberry recipes by making crepes.
Crepes
1 Cup flour
1 Tablespoon sugar
½ Teaspoon cinnamon
1 ½ Cups milk
2 Eggs
1 to 2 Tablespoons butter
Filling
8 Ounces softened cream cheese
1 Carton (8 ounces) frozen whipped topping
½ Cup powdered sugar
Topping
2 Cups sliced fresh strawberries
2 Medium firm bananas sliced
¼ Cup sugar
TO MAKE CREPES combine in a bowl the flour, sugar and cinnamon.
Combine eggs and milk; beat milk mixture into dry ingredients until smooth.
Cover and refrigerate 1 hour.
Melt a teaspoon of the butter in 8 inch crepe pan over medium low heat.
NOTE: I melt about a teaspoon of butter for the first crepe, then I use only about ¼ teaspoon for the remaining.
Stir batter; add about 3 tablespoons of the batter to pan; lift and tilt pan to coat bottom.
NOTE: Do not let the pan get too hot before adding batter. I find it best to add batter all at once. I estimate 3 tablespoons of batter in a one-fourth measuring cup to pour in skillet.
Cook until top appears dry. 
NOTE: I do not turn crepe over. I let them slowly cook until they are dry and I see a (ONE) bubble appear.
Turn out onto wax paper; repeat cooking remaining batter.
NOTE: I cut about 16 sheets of wax paper. Place several on counter top. Turn skillet over onto wax paper tapping lightly to release crepe. Sometimes you may need to straighten out the crepe. Let cool while cooking a couple and then stack. If not using immediately wrap in plastic wrap and store in refrigerator.
Stack crepes with wax paper in between each crepe.
TO MAKE FILLING combine and blend cream cheese, whipped and powdered sugar.
Spread 2 rounded tablespoons on each crepe; roll up.
FOR TOPPING combine bananas, strawberries and sugar in a bowl; toss lightly.
To serve place 3 crepes on a plate and top with strawberry mixture.
Serves 5 to 6.
---
STRAWBERRY NUT BREAD RECIPE
Learn how to make strawberry recipes like this delicious bread and strawberry butter glaze recipe.
3 Cups flour
2 Cups sugar
1 Teaspoon baking soda
1 Teaspoon salt
1 Teaspoon cinnamon
4 Beaten eggs
¼ Cup vegetable oil
2 Packages (10 ounces each) frozen strawberries (Thaw reserving juice)
1 Cup chopped nuts
½ Cup softened butter
¼ Cup powdered sugar
½ Cup reserved strawberry juice
Preheat oven to 350F degrees; grease two 9X5 inch loaf pans.

Combine flour, sugar, baking soda, salt and cinnamon in large mixing bowl.
Make a well in center; add to well the eggs, oil and strawberries.
Blend mixture thoroughly; stir in nuts.
Spread batter evenly into prepared pans; bake about 1 hour until pick comes out clean.
Cool loaves in pans for 10 minutes; turn out onto rack to cool completely.
TO MAKE STRAWBERRY BUTTER combine butter and powdered sugar; blend in strawberry juice.
Blend mixture (Either with mixer or in blender) until smooth; spread over top).
Makes 2 loaves.
---
EASY FROZEN STRAWBERRY DESSERT RECIPE
Some strawberry recipes are really easy to make like this.
1 Can (14 ounces)

SWEETENED

condensed milk (

NOT EVAPORATED

)

1 Container (8 ounces) Cool Whip

1 Can (20 ounces) crushed pineapple (Drain)

¼ Cup chopped pecans

2 Cups miniature marshmallows

1 Package (16 ounces) frozen strawberries with juice (Thaw)
TO MAKE DESSERT place ingredients in order in a 9X13 inch dish or pan.

Place in freezer and freeze overnight; cut in squares to serve.
---
STRAWBERRY WAFFLE RECIPE
Learn how to make strawberry recipes with this famous Utah Strawberry Days recipe (It is suppose to be so.)
Sourdough starter
½ Package dry yeast
1 ½ Teaspoon warm water (112F degrees)
2 Cups buttermilk (Warm to 110F degrees)
1 Cup flour
Waffles
¾ Cup sourdough starter
2 Cups flour
1 ½ Cups warm water (112F degrees)
4 Tablespoons sugar (Divided)
¾ Teaspoon baking soda
¾ Teaspoon salt
2 Egg whites
2 Egg yolks (Beaten)
¼ Cup vegetable oil
1 Cup heavy whipping cream
2 Cups fresh sliced strawberries
TO MAKE STARTER dissolve the yeast in the warm water; blend in buttermilk and flour.

Let stand at room temperature overnight; next day refrigerate for up to 3 weeks.
Place starter in a large bowl; gradually blend in flour
Thoroughly blend in warm water; cover and place at about 90F degrees overnight.
TO MAKE WAFFLES the next day combine 2 tablespoons sugar, soda and salt; set aside.
Beat egg whites until stiff peaks form; set aside.
Combine egg YOLKS and oil; blend into the ¾ cup of sourdough starter.
Stir in the sugar-soda mixture; fold in beaten whites.
Bake in hot waffle iron until golden brown about 4 to 5 minutes.
While baking beat the heavy whipping cream and remaining 2 tablespoons of sugar until stiff.
TO SERVE place a scoop of the whipped cream on waffle; top with strawberries.
Makes 4 waffles.
---
HOW TO MAKE STRAWBERRY JAM RECIPE
Most strawberry recipes for making jam and preserves are very easy and similar to each other; the biggest difference is using mashed berries vs. whole or sliced. The following recipe is very easy and does not require much to make. You will need three or four half pint jars and a candy thermometer. Wash and thoroughly rinse the jars. Put jars, lids and rings into a large pan. Cover with water and bring to a boil. Reduce heat and simmer until ready to use.

Wash and crush four pints of strawberries. Put these into a large heavy cooking pot. Add 2 Cups of sugar. Stir over low heat until mixture makes liquid. Raise temperature of heat and bring to a rolling boil. Cook until thermometer registers 220F degrees.
Remove the jam from the heat, stir and skim the top. Ladle into the hot sterile jars, cover with lids and seal tightly. Set in a draft free place to cool.
---
STRAWBERRY SHORTCAKE

favorite strawberry recipe
The favorite of the strawberry recipes at our Florida festival was the old traditional strawberry shortcake. There was a place where the people were waiting in line to make their own just like they liked them.
1 Quart strawberries
1 Pint whipping cream
1 Teaspoon sugar
1/2 Teaspoon vanilla
Clean and slightly crush berries and sprinkle with ½ Cup sugar; Set aside.
Whip cream, adding sugar and vanilla. Beat until stiff.
Shortcake recipes:

2 Cups flour
½ Cup soft butter
4 Teaspoons baking powder
½ Cup sugar
1/8 Teaspoon salt
1 Cup milk
Preheat oven to 450F degrees.

Butter and lightly flour an 8 inch baking pan.
Combine the dry ingredients and stir to blend. Cut in the butter. Add the milk and blend but do not over mix. Bake about 18 minutes or until a pick comes out clean. Cut into wedges while warm and then split wedge in half. Top half with berries, then other half of cake, more berries and whipped cream.
---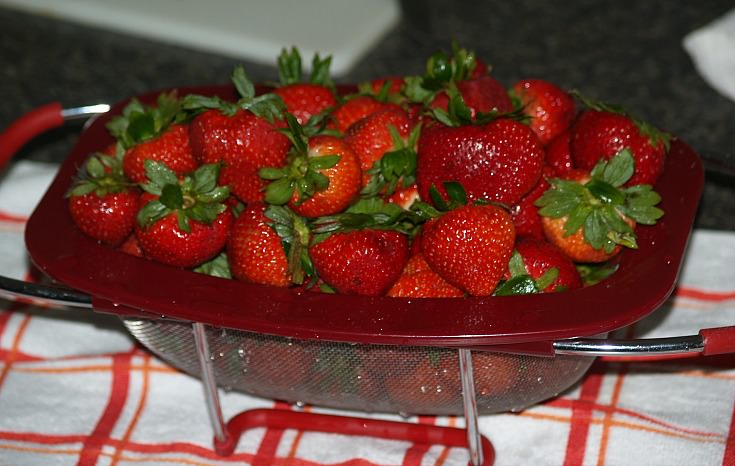 Fresh Washed Strawberries
Strawberry recipes for canning strawberries for the most part are for strawberry preserves or strawberry jam. Canned strawberries tend to lose some of the flavor and bright color. They hold up more of their fresh qualities by freezing.
I have collected probably 50 strawberry preserves recipes over the years. They are almost identical to each other with the exception of the sugar free and whether to add an acid like lemon juice or vinegar. They all suggest using only 1 quart of berries at a time which is what I do.
STRAWBERRY PRESERVES
1 Quart strawberries stemmed, firm red ripe berries
4 Cups sugar
OPTIONAL 2 Teaspoons lemon juice or 2 teaspoons vinegar
Wash berries and drain well on a cloth; do not use berries with hollow cores.
Combine berries, sugar (and lemon or vinegar if desired); let stand 3 to 4 hours.
Bring slowly to a boil, stirring occasionally until sugar dissolves; boil for 20 minutes.
Pack in hot pint jars, adjust lids and process in boiling bath for 15 minutes
---
SUGAR FREE FREEZER STRAWBERRY PRESERVES
Some people love preserves but cannot have sugar in their strawberry recipes. This recipe is sweetened with Equal for those people.

1 Cup water
1 Envelope unflavored gelatin
2 Cups coarsely chopped strawberries
9 Packets of Equal
1 Teaspoon lemon juice
Pour water in saucepan and sprinkle gelatin over it; let stand 5 minutes.

Add berries and lemon juice to gelatin mixture; heat to just to boiling point while stirring.
Remove from heat and add Equal and blend well.
Pour mixture into hot sterilized freezer containers.
Cool in refrigerator for several hours before freezing.