How to Make a Stuffed Leg of Lamb Recipe
I learned how to make a stuffed leg of lamb recipe which is included in the holiday recipes of many people around the world. Although lamb is popular here in the United States for Christmas and Easter, in many other countries it is the primary source of red meat year round. Since Biblical times the lamb has been an important reference in Christianity; this is very evident for Easter recipes.


When I learned how to make a stuffed leg of lamb recipe, I found it to be a favorite to Americans; along with the rack of lamb and the lamb shanks. We have begun to enjoy these recipes for Easter as well as for Thanksgiving recipes and Christmas recipes. People of the other countries especially those of the Middle East enjoy eating every part of the lamb. In those countries lamb has been on their menus much longer that it has been here and the cooks have learned to season it with all their wonderful available spices.

The meat of lamb is taken from the animal between the ages of one month to one year old. The meat is very tender and usually is reserved for special occasions. Lamb is sorted into three kinds of meat; forequarter, loin and hindquarter. The forequarter includes the neck, shoulders, front legs and the ribs to the shoulder blades. The hindquarter includes the rear legs and hip. The loin includes the ribs between the two quarter areas.

The following recipe uses the leg of lamb, which is the whole leg. It doesn't matter if it is from the forequarter or the hind quarter but it needs to be boned when learning how to make a stuffed leg of lamb recipe.

HOW TO MAKE A STUFFED LEG OF LAMB RECIPE
5 slices bacon
1 Small onion, chopped
3/4 Cup soft breadcrumbs
1/2 Cup milk
1 Teaspoon grated lemon rind
4 Tablespoons lemon juice
1 Teaspoon chopped fresh parsley
1 Teaspoon dried whole thyme or rosemary
1/2 Teaspoon salt
1/4 Teaspoon pepper
1 Leg of lamb, 6 pound boned
Black pepper
½ Cup chicken broth
½ Cup dry red wine
Onion sauce
Preheat the oven to 350F degrees.
Cook the bacon in a large skillet until crisp; remove bacon and reserve 2 tablespoons of the drippings. Crumble the bacon.

Combine the bacon with the onion, breadcrumbs, milk, lemon rind, lemon juice, parsley, thyme, pepper and salt; mix until well blended.
Stuff the mixture in the cavity of the leg of lamb. tie securely with a heavy string every two to three inches. Sprinkle with additional black pepper.
Pour reserved bacon drippings into a shallow pan and place the leg of lamb in the pan. Insert a meat thermometer, making sure it does not touch fat or stuffing, bake for 1 1/2 hours or until the thermometer reaches 160F degrees. Let stand for 20 minutes before carving.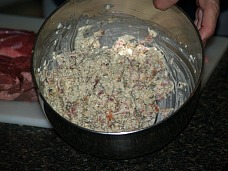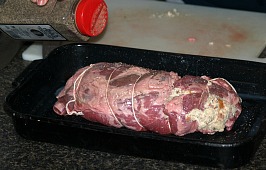 WINE SAUCE: Below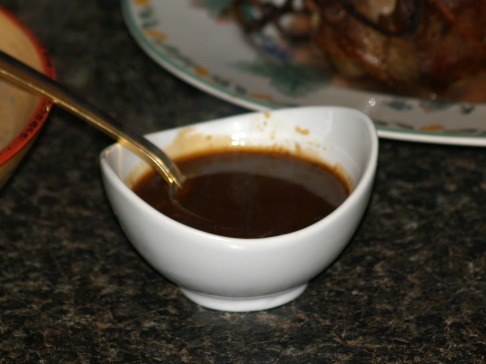 Wine Sauce for Stuffed Leg of Lamb
Pour excess fat into a small saucepan. Add the chicken broth and wine. Bring to a boil, reduce heat and simmer until liquid has reduced by half. Serve wine sauce and onion sauce with the lamb. Serves 8 to 10.
ONION SAUCE FOR THE STUFFED LEG OF LAMB RECIPES: Below

2 Large thinly sliced onions
2 Tablespoons melted butter
1 Tablespoon flour
1 Cup milk
¼ Teaspoon salt
1/8 Teaspoon pepper
1/8 Teaspoon ground nutmeg
½ Cup whipping cream
Sauté the onion in the butter until tender. Add the flour, stirring until smooth. Cook 1 minute stirring constantly. Gradually add the milk. Cook over medium heat stirring constantly until mixture has thickened and bubbly. Stir in the salt, pepper, nutmeg and cream.
---
STUFFED LEG OF LAMB RECIPE with fruited rice stuffing recipe
Stuffing:
2 Tablespoons butter

1 Finely chopped onion

2 Finely chopped stalks celery

4 Slices bacon crisply cooked

½ Cup cooked rice

¼ Teaspoon allspice

Salt/pepper

1 Cup canned apricot halves

1 Cup canned prunes

1 Egg yolk

1 Boneless lamb leg roast (about 4 ½ pounds)

1 Tablespoon melted butter

Sauce:

½ Cup dry white wine

½ Cup beef broth

1 ½ Tablespoons cornstarch

Steamed zucchini slices for garnish

Fresh rosemary sprigs for garnish

Preheat oven to 350F degrees.
To make stuffing melt butter in large skillet over medium heat.
Add onions and celery and sauté until browned; put mixture in large bowl.
Add bacon, rice and allspice to bowl; season with salt and pepper.
Drain apricots and reserve ¼ cup of the juice; drain prunes.
Chop 4 apricots and 4 prunes; set aside remaining fruit.
Add chopped fruit to stuffing mixture; stir well.
Add egg yolk; stir until mixture binds together.
Fill bone cavity of the leg with the stuffing mixture; truss leg together with fine string.
Brush surface of meat with melted butter; sprinkle with salt.
Place on rack in roasting pan; roast for 2 ¼ to 3 hours or to desired doneness.
Baste with pan drippings during baking.
Remove string from meat and place on serving tray.
Deglaze pan with wine; add broth.
In small bowl combine cornstarch with reserved apricot juice; stir into roasting pan.
Bring mixture in roasting pan to a simmer; simmer 2 to 3 minutes or until slightly thickened.
Season sauce with salt/pepper; remove any fat from surface and serve in gravy bowl.
Arrange remaining apricots and prunes, zucchini and herbs around roast.

---
STUFFED LEG OF LAMB RECIPE with pineapple stuffing recipe
1 Leg of lamb (5 to 7 pounds)

1 Package (6 ounces) seasoned stuffing mix

1 ½ Tablespoons melted butter

½ Teaspoon celery seeds

¼ Teaspoon black pepper

1 Can (8 ounces) crushed pineapple drained

2 Cloves sliced garlic

1 Tablespoon softened butter

¼ Teaspoon ground ginger

1 Tablespoon lemon juice

¼ Cup red currant jelly

Preheat oven to 325F degrees; place lamb in roasting pan with fat side up.
Combine stuffing mix, melted butter, celery seeds, pepper and pineapple in large bowl.
Pack mixture into pocket of leg; fasten with fine string or skewers.
Make several slits on outside of lamb and insert slices of garlic.
Rub lamb with softened butter and sprinkle with ginger and lemon juice.
Bake for 1 hour and 30 minutes.
Brush lamb with currant jelly; bake an additional 15 minutes or until thermometer registers 160F degrees.
Let stand 10 minutes before carving.