How to Make Surprise Cupcakes 
Have you ever learned how to make surprise cupcakes? The name means it must give you some kind of amazement when you bite into it! In order to be a amazed you can't be able to see it; this is the reason I place something in the middle were it cannot be seen. It can be placed in before baking or after the baking depending on your recipe.
Caramel Cupcakes
The first recipe is cupcakes made from a caramel cake recipe. It is actually a yellow cake recipe which I bake in the cupcakes tins and frost with brown sugar icing. I place miniature Snickers bars in the center before baking; they go well with the yellow cake. You can also bake these plain and when cold cut some from center and insert decorative candy like Easter egg, Christmas candy or Halloween candy. Then you would replace the cut out part of the cupcake and frost over top. You will love learning how to make surprise cupcakes.
½ Cup butter
1 Cup milk
2 Cups sifted flour
2 Teaspoons baking powder
4 Lightly beaten eggs
2 Cups sugar
1 Teaspoon vanilla
Mini Snickers Bars 24 to 26
Preheat oven to 350F degrees.
Grease and flour regular size cupcake tin or use paper liners. NOTE: Snickers stick some to paper liners
Melt butter in the milk and set aside.
Sift flour and baking powder together.
Combine In a mixing bowl the beaten eggs and sugar; add the flour mixture alternate with milk mixture to egg mixture.

Add vanilla and make sure all mixture is blended well.
Place scant 1/4 cup batter in each cupcake; place mini Snickers bar in each cupcake and spoon batter on top to 2/3 full. NOTE: Batter is thin.

Bake for about 15 minutes or until done; test for doneness with pick outside of candy area. Makes 24 to 26 cupcakes.

NOTE: If you choose to insert surprise after baking let the cakes cool completely. Cut a section out of the cakes and insert candy; replace the cutout part and frost over the top.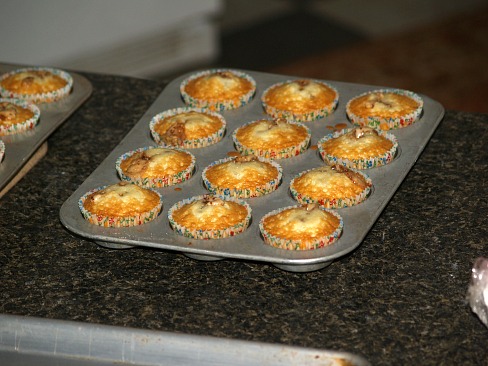 Caramel Cupcakes after Baking
BROWN SUGAR ICING for surprise cupcakes
1 Pound box powder sugar
2/3 Cup canned evaporated milk
½ Cup packed brown sugar
½ Teaspoon salt
½ Cup butter
1 Teaspoon vanilla
Sift powder sugar and set aside.
Combine milk, brown sugar, salt and butter; bring to a full boil for 5 minutes stirring constantly.
Cool slightly and add vanilla.
Set pan in kitchen sink with ice and start beating while adding the powder sugar; add a little more milk if necessary to get spreading consistency.
---
CHOCOLATE CUPCAKES cherry surprise cupcakes
1 Box chocolate cake mix
1 Can (13 ounces) cherry pie filling
8 Ounces softened cream cheese
1 Egg
3 Tablespoons sugar
1 Teaspoon vanilla
Melted semi sweet chocolate
Preheat oven to 375F degrees.
Prepare giant cupcake tin with grease and flour or line with paper liners.
Prepare cake mix as directed.
In a small bowl blend together the cream cheese, egg, sugar and vanilla until smooth.
Place a tablespoon full of batter in the bottom of the cupcake tin.
Add a teaspoonful cherry pie filling on top; then add a teaspoonful of cream cheese mixture on top of the pie filling.
Add more chocolate cake batter to fill cupcake tin to 2/3 full.
Bake about 15 minutes or until done; set out to cool.
Melt unsweetened chocolate and drizzle over the top.
---
EASY CHOCOLATE CUPCAKE RECIPE with Rolo candy filling
1 Box Devil's food cake mix (15.25 ounces)
1 Teaspoon vanilla
24 Chocolate covered caramel candies (Rolo candy)
Brown butter icing (recipe below)
1 Cup finely chopped toasted pecans
Preheat oven to 350F degrees; line 24 muffin cups with paper liners.
Prepare cake mix according to box directions; beat in vanilla.
Divide batter among muffin cups; press 1 candy into the batter of each allowing batter to cover.
Bake about 15 to 20 minutes until pick comes out clean; let cool in pans 10 minutes.
Remove from pans and let cool on rack; refrigerate 30 minutes.
Frost with following brown butter icing; sprinkle with pecans.
BROWN BUTTER FROSTING
1 Cup softened butter divided
6 Cups powdered sugar
Melt ½ cup butter in saucepan over medium heat; cook until butter turns medium brown.
Remove butter from heat and cool; refrigerate 30 minutes.
Combine brown butter and remaining butter in a large mixing bowl; beat on high speed until creamy.
Gradually add the sugar while beating on medium speed; beat until combined and spreadable.