How to Make a Taco Salad Recipe
If you learn how to make a taco salad recipes you will find it is very flavorful. The degree of spiciness can be adjusted by adding a few red pepper flakes if you like it hotter. This salad is just a sample of the influence that the flavors of Mexican food has had in the United States.
Mexican food is one of the most popular cuisines in this country. Many of the foods which we eat here thinking they are Mexican cuisine are actually Tex Mex recipes. These originated in our border states like Texas. The flavors and ingredients of Mexico are fused in recipes using some of our popular ingredients. These flavorful delicious recipes are referred to as "Tex Mex". When you learn how to make the taco salad recipe, you will find it is one of these great combinations.

Our very popular taco salad recipe can be made in a variety of ways. I should say "assembled" in a variety of ways. Basically, most recipes for this salad contain the same ingredients. The following is a list of many of these; lettuce, onions, celery, carrots, chopped tomato, peppers, usually chicken or beef, cheese, sour cream, guacamole, salsa, picante sauce or taco sauce.
By layering your taco salad recipe, you can create one making a beautiful presentation. I love one when all ingredients are mixed in a large bowl. The flavors are all blended together when stirred together. I also love the one assembled in a fried tortilla bowl. This is really my favorite because I love the flavor of the fried tortilla shell. Break pieces off and eat it with the salad mix. The flavor cannot be beat! 
HOW TO MAKE TACO SALAD RECIPE
1 Pound ground hamburger
1 Small jar taco sauce
Red pepper flakes, optional
1 Head lettuce
1 Medium chopped onion
½ Green bell pepper, thinly sliced
½ Chopped cucumber
¼ Cup shredded carrots
4 Diced tomatoes
1 ½ Cups drained beans ( chili, kidney or your favorite)
4 Cups grated Cheddar cheese
1 Cup French salad dressing
1 Bag taco chips, crushed
Brown hamburger until done; drain off excess grease. Add the taco sauce, red pepper if desired and keep warm.
While hamburger is cooking wash and drain the vegetables very well. Combine in a large bowl the lettuce, onion, green pepper, cucumber, carrots and tomatoes to make a toss salad. Add the cheese and beans; toss to mix. Just before serving, add the taco chips, warm hamburger mixture and the French dressing. Toss and MUST BE SERVED IMMEDIATELY.
---
FRENCH DRESSING
If you would like to make a homemade French dressing recipe for this salad recipe, an easy recipe is below.
½ Cup cooking oil
4 Tablespoons catsup
½ Teaspoon salt
½ Teaspoon black pepper
¾ Cup sugar
2 Teaspoons paprika
½ Cup vinegar
4 Tablespoons water
½ Teaspoon celery seed
2 Tablespoons minced onion
Put all ingredients in a blender or mixer to mix thoroughly.
---
TURKEY SALAD RECIPE
Learn how to make this taco salad recipe as a main dish it is served in a taco shell.
3 Cups shredded lettuce
2 Cups cooked turkey strips
¼ Cup green onion slices
½ Cup Pace picante sauce
2 Tablespoons vegetable oil
1 Tablespoon lime juice
½ Teaspoon ground cumin
¼ Teaspoon salt
6 Taco shells. Heated according to package
1 Large seeded and chopped tomato
1 ½ Cups shredded Cheddar cheese
6 Tablespoons sour cream
Combine lettuce, turkey and onion.

Combine dressing; picante sauce, oil, lime juice, cumin and salt in small bowl and mix well.
Pour mixture over lettuce mixture and toss to coat.
To serve spoon 1/3 cup of lettuce mixture into each taco shell; sprinkle with 2 tablespoons cheese and 2 tablespoons tomatoes.
Drizzle with additional picante sauce and top with sour cream.
---
LAYERED TACO SALAD RECIPE
This taco salad recipe is layered on individual serving plates.
6 Corn tortillas (8 inch)
1 Small chopped onion
2 Cans (16 ounces each) kidney beans rinsed and drained
2 Jalapeno peppers seeded and chopped
¼ Cup water
1 Small ripe avocado, peeled and coarsely chopped
1 Small tomato, seeded and chopped
2 Tablespoons lime juice
¼ Teaspoon salt
3 Cups shredded romaine lettuce
¼ Cup shredded Cheddar cheese
Salsa vinaigrette
Bake tortillas on oiled baking sheet at 350F degrees for 6 minutes on each side or until crisp; cool.

Reserve 2 tablespoons onion; sauté remaining onion in oiled pan until tender.
Stir in kidney beans, jalapeno and water with sautéed onion.
Reduce heat and cook mashing kidney beans with a fork or pastry cutter, stirring often until mixture becomes thick paste.
Process avocado in blender until smooth; transfer to bowl and add reserved onion, tomato, lime juice and salt.
Place 1 tortilla on each serving plate; top evenly each with lettuce, then bean mixture, then avocado mixture.
Top each with shredded Cheddar cheese and serve with following salsa vinaigrette recipe.
SALSA VINAIGRETTE RECIPE
½ Cup salsa
2 Tablespoons minced fresh cilantro
3 Tablespoons lime juice
1 Tablespoon wine vinegar
¼ Teaspoon chili powder
Combine all ingredients and mix well; best if chilled for a couple of hours before serving.

---
TACO SALAD RECIPE

in a fried taco shell
TO MAKE SHELL drop a large tortilla in deep hot oil. Press down in center with ladle and fold up sides with tongs as it fries. Continue frying until brown and crisp and it holds shape as a bowl. Drain on paper towels. Fry 4.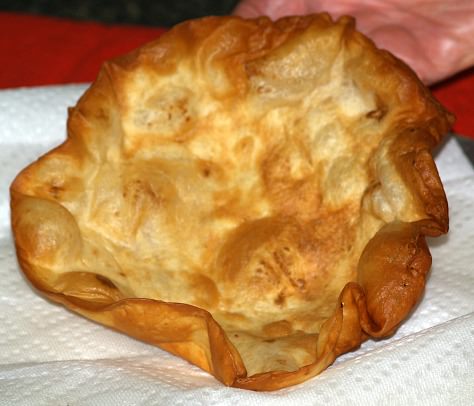 Fried Taco Bowl
COOK 1 POUND MEAT diced chicken or ground beef in a large skillet with 1 tablespoon oil for 5 minutes.

ADD 1 medium chopped onion and ½ to 1 jalapeno pepper chopped; cook until meat is thoroughly done.
ADD 2 cups of salsa, pecante sauce or taco sauce; stir and cook 3 minutes and set off heat.
TO MAKE SALAD in a large bowl combine shredded lettuce, shredded carrot, thinly sliced cucumber and chopped tomato.
TO ASSEMBLE TACO SALAD place about 1 ½ cups of salad mix in each taco shell bowl.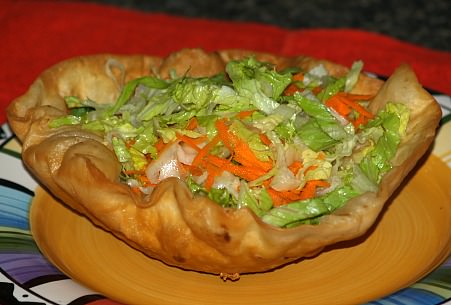 Fill with Salad Mixture
Spoon ¼ of meat mixture (and sauce) on top of lettuce in each bowl.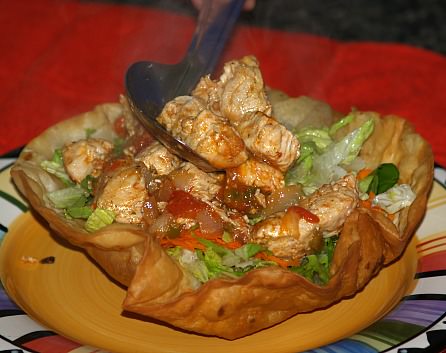 Layer with Meat Mixture
Top meat mixture in each bowl with about ¼ cup of shredded cheese.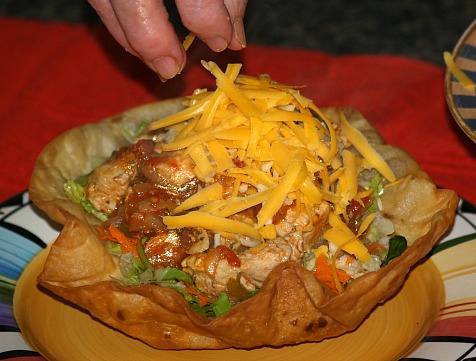 Top with Shredded Cheese
Top each salad with a dollop of sour cream; serve immediately.