The Joy of Cooking 
I truly experienced the joy of cooking on Thanksgiving Day with my two living sisters in the same kitchen.To the readers in the US, I hope you all had a good Thanksgiving. To those readers in other countries, if you do not celebrate Thanksgiving, I hope you had a good week. Kelly and I traveled home to Ohio to celebrate the holiday with family. It was a good time. You probably will remember that I was the youngest and the fifteenth child in our family. Holidays were always a happy time in my memories. I only have two brothers and two sisters left so it was wonderful to see them, plus all the extended family.
We were all so blessed to have such wonderful parents. I think we all feel blessed to have each other as siblings also. Our family was unique in size, but also each of us was pretty unique personally. The thing that we did have in common was being born with cooking basics and we loved the joy of cooking which developed us into very good cooks.
Probably we would all agree that the most unique (or eccentric) was my sister Gloria. I could write books about her and never tell the whole story. She was lively, friendly, argumentative, fast moving, bossy, kind hearted and loyal to the family. There was never a dull moment around her. Once you met her, you couldn't forget her.
(Pictured below, my sister, Gloria when she visited me in Florida in 1990)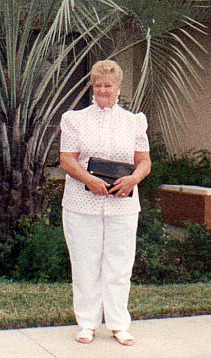 My sister was neat as a pin. When I was young she and her husband owned a small grocery store. She always wore those neat very white uniform dresses. I remember that she always wore a pretty bight colored cloth flower on her dress. She always looked so pretty. And how good she smelled!! Gloria always wore light fragrances perfumes and whenever you saw her, she smelled so good.
Speaking of perfume, Gloria bought many extra bottles of perfume to give away. She stored them behind her sofas, chairs and every piece of furniture. One time I took my daughter-in-laws to visit her. Immediately she knew which perfume would smell the best on each of my three daughter-in-laws. Finding the perfume was the trick! It took a while, but she finally did find them. This was my sister!
Gloria was certainly one who did enjoy the joy of cooking. As far back as I can remember she was cooking. She was a master of the German cuisine but quickly learned delicious Hungarian recipes from her mother-in-law.
Gloria was born in 1928. Years ago, we didn't need a birth certificate. When my brother, Larry needed one to join the Navy, Dad decided to get copies for all of us. When these arrived in the mail, we found many of us were celebrating our birthdays on the wrong day. Gloria's changed from February 14th to the 15th. Of course she said she remembered being born on February 14th so she wasn't changing and she didn't.
Gloria never had any children and because of our age difference, she kind of babied me like a mother would their child. In the summers, I would spend a lot of time at her house and we shared the joy of cooking together. As many of my sisters did, she took me shopping quite often. She was always excited to buy me a special dress for a party or dance.
Like every one of my siblings, Gloria was born a good cook and truly enjoyed the joy of cooking. My first memories of going to her small home after she married were sitting on her sofa and looking into her kitchen. She had baked all these cupcakes and they all had different colored icings on them. I will never forget that picture; how beautiful, I thought. I loved going to her house because she always had such good food. Dad would say "if we don't grow it, we don't eat it". That meant we always had leaf lettuce and I use to love Gloria's head lettuce salads for dinner. (Today I would give anything for some of Dad's fresh leaf lettuce salad.)
Gloria started baking cookies every year right after Thanksgiving. It was great going to her house this time of the year. She probably baked hundreds of cookies, maybe even a thousand. Every roaster, pot, pan, bowl, basket and everything else was filled with cookies, dough or something pertaining to baking. She covered everything with these very bright and pretty tea towels. The wonderful aroma of the fresh cookies welcomed us at the door.
In the end when Gloria became very sick she called me to come up to her house. She wanted me to have some of her things. The only things I really wanted were her recipes. I now have them along with the picture in my head of how she had the joy of cooking. Those are my good memories!
Below are a few holiday recipes from Gloria's collection. I hope you have the joy of cooking as she did! Gloria still lives on through her great recipes.
HUNGARIAN RECIPES FOR NUT HORNS
4 Cups flour
½ Pound sweet butter
3 Egg yolks
3 Tablespoons sour cream
¼ Teaspoon salt
1 Tablespoon sugar
Blend egg yolks with sugar, add butter. Sift flour with salt, add to mixture, add sour cream, and make soft dough. Rollout thin on a lightly floured board, cut with a large round cookie cutter.
Filling:
2 Cups water
5 Tablespoons sugar
2 Cups crushed walnuts
¼ Teaspoon cinnamon
Grated rind of 1 lemon
3 Egg yolks
1 Whole egg
Cook sugar with water until it thickens, add walnuts, lemon rind and cinnamon; mix well. Add egg yolks, mix and cool. Spread over cut dough about ½ teaspoon on each cookie and roll into a horn shape. Place on a greased cookie pan. Brush tops with beaten egg and sprinkle with crushed walnuts. Bake in a preheated oven at 350F degrees for 25 minutes or until golden brown. When cool sprinkle with powdered sugar.
---
POPPY SEED CAKE RECIPE
My sister had the joy of cooking when making recipes like this poppy seed cake recipe. Poppy seeds are very common in Hungarian cooking.
¼ Cup poppy seeds

1 Cup buttermilk

1 Cup butter

1 ½ Cups sugar

4 Eggs

1 Teaspoon vanilla

2 ½ Cups flour

½ Teaspoon salt

1 Teaspoon baking soda

½ Cup sugar

1 ½ Teaspoon cinnamon

Preheat oven to 350F degrees; grease and flour 10 inch Bundt cake pan.
In a small bowl, soak poppy seeds overnight in buttermilk in the refrigerator.
Cream butter and 1 ½ cups sugar; add eggs and vanilla and blend well.
Sift flour, salt and soda together.
Add flour mixture to creamed mixture alternately with the buttermilk mixture; blend well.
In a small bowl combine ½ cup sugar with cinnamon.
Spoon 1/3 of batter into prepared cake pan; sprinkle ½ of cinnamon and sugar mixture on top.
Spoon another 1/3 of batter on top of cinnamon mixture; sprinkle remaining cinnamon mixture on top.
Spoon in remaining batter mixture; bake for 50 minutes or until cake tests done.
Cool 15 minutes and invert cake on plate; cool completely.

---
BUTTERSCOTCH OATMEAL COOKIES
My sister experienced the joy of cooking with this old "stand-by" recipe; a favorite for many years for everyday eating.
1 ½ Cups sifted flour

1 Teaspoon baking soda

1 Cup shortening

¾ Cup packed brown sugar

¾ Cup sugar

2 Beaten eggs

1 Tablespoon hot water

1 Small package butterscotch chips

2 Cups quick cooking oatmeal

1 Teaspoon vanilla

1 Cup crushed walnuts

Preheat oven to 375F degrees.
Sift flour and soda together; set aside.
Cream shortening and both sugars; add eggs and vanilla to creamed mixture and blend well.
Blend in oatmeal and nuts; drop teaspoon onto lightly greased cookie sheet and bake 10 to 12 minutes.

---
GLORIA'S HUNGARIAN NUT ROLL RECIPE

I always experience the joy of cooking when I make these!
The joy of cooking is in this nut roll when you experience nutty, lemon taste in the flaky crust.
1 Package yeast

1/2 Cup warm milk (110F degrees)

1 Tablespoon sugar

5 Cups flour

1/2 Teaspoon salt

3 Tablespoons sugar

1 1/2 Cups softened butter

7 egg yolks

1 Cup sour cream

2 Pounds ground walnuts

1 1/2 Cups sugar

1 Tablespoon grated lemon peel

7 Stiffly beaten egg whites

1/8 Teaspoon salt

1/2 Teaspoon cream of tartar

Combine yeast, milk and 1 tablespoon sugar; let stand 5 minutes.
Combine flour, 1/2 teaspoon salt and 3 tablespoons sugar in large bowl; make well in center.
Add softened butter, egg yolks, sour cream and yeast mixture.
I mix with spoon at first and then use my hands to blend well; divide dough into 4 balls.
Place balls in plastic bag and refrigerate overnight.
Preheat oven to 350F degrees.
Beat egg white, 1/8 teaspoon salt and cream of tartar until stiff peaks form; set aside.
Combine in large bowl ground walnuts, lemon peel and 1 1/2 cups sugar; blend well.
Blend egg white mixture in the walnut mixture; stir until well blended.
NOTE: If walnut mixture is too dry to spread, I dip the back of spoon in water and spread
Roll out each ball of dough into a rectangle, spread with walnut mixture and roll up jelly roll style.
Place on baking sheets; I bake 2 at a time on one tray.
Brush each long roll with melted butter; bake 30 to 40 minutes.
Brush log again with melted butter and sift powdered sugar over the top.
Cut across in 1 to 1 1/2 inch pieces to serve; great warm or cold.