Tomatillo Recipes
Tomatillo recipes are mostly found in the Mexican cuisine although the are used in many countries of the world. Although tomatillos can be purchased in almost every town and city in this country, in Florida, Texas, California and other states they are very common. It was in Florida, in a Mexican restaurant where I first discovered them. I could not figure out what that slightly unique taste was coming from in the green salsa.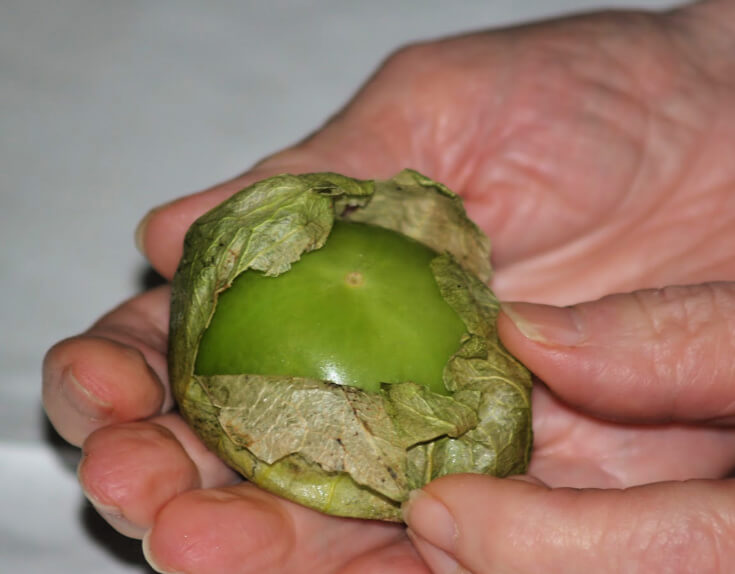 Tomatillo
What are tomatillos? The simplest description I can give you is that tomatillos are like small green tomatoes; that is after the husk is removed. The word "tomatillos" actually mean little tomatoes. Unlike our tomatoes which sometimes grow to be very large, the tomatillos are usually about one inch across. Green tomatoes can be used as a substitution in tomatillo recipes if tomatillos are not available to you. The taste is very similar with the tomatillos being a bit more tart (or acidic).
The tomatillo, like the regular tomato, is considered  part of the nightshade family and is referred to as a "fruit" instead of a vegetable. Unlike the tomato, tomatillos must be   "husked" before making tomatillo recipes. When these grow they are covered with paper thin peels or "husks" and is the reason some refer to them as husk tomatoes. You will see other names used in referring to this little tomato like Mexican ground cherry, tomato verde,  fresadilla, tomatitto and Spanish tomato.
When making tomatillo recipes after husking the little tomatoes you will feel a sticky residue covering the fruit. Wash this off with lukewarm water and pat the little tomatoes dry. Sometimes the places which sell them will market them as "peeled". The little tomatoes are not actually peeled but the husks have already been removed for you. The skin of the tomatillo is never peeled way for using in recipes.
For most tomatillo recipes the fruit is precooked slightly, cooked in recipes or you can purchase them already canned in the Mexican food section of the supermarkets. I prefer using fresh ones and cooking is very easy and quick because of its fragility. if they are overcooked, they will pop open breaking it apart. To cook place the peeled and washed tomatillos in a saucepan. Pour enough boiling water over them making sure they are covered. Cook them only 2 to 3 minutes. You will notice the skins becoming lighter which is your signal to remove them from the hot water. This brief cooking contributes to  a milder flavor  ( my opinion) in tomatillo recipes.
NOTE: Canned tomatillos often disinegrate into pieces when they are processed because they are so fragile. The best way to deal with this is to strain the tomatillos as much as possible and use the liquid also for the flavor. Try to substitute this liquid for liquid in the tomatillo recipes. Sometimes this is just a judgement call on your part.The ALTERNATIVE way which I prefer, like  I stated above, is to use the fresh ones and precook briefly as I instructed in the above text.
Tomatillos are said to have been first grown by the Aztec Indians and became a very important crop in Central America to make all kinds of tomatillo recipes. They are cultivated on a large scale (huge fields) in Guatemala and even more so in Mexico. These two countries export them to many countries around the world. They are also grown on a smaller scale in many home gardens all over the world. They grow best in well drained sandy soil in a spot receiving full sunlight. Tomatillos grow very easily. The only problem I had is that the wild animals love them as much as I do!! If you leave the fruit on the plants to deteriorate they will reseed and grown again.
Of all my tomatillo recipes my favorite is the fried tomatillo recipe. I love fried green tomatoes but I must say I prefer fried green tomatillos. They can be served with any type of entree, side dish, with a salad or as a simple snack. They have a little stronger and more tart taste to me than regular green tomatoes. This is such an easy dish to make and is one which does not require precooking the tomatillos.  
HOW TO MAKE FRIED GREEN TOMATILLOS? Start with green tomatillos. They all appear to be green but as they ripen they will become a lighter color of green. You want to use firm "green" tomatillos. After cleaning slice about 1/4 to 1/2 inch in thickness. Make a mixture of milk and egg in a bowl and set aside. In another bowl dump seasoned breadcrumbs, flour, cornmeal or cracker crumbs (It is your choice; whichever you prefer.) In a large skillet heat a little vegetable oil or a mixture of oil and butter. Dip the tomatillo slices in the egg mixture and then coat with breadcrumbs (or your choice). Brown in skillet on both sides and serve.
NOTE: Many tomatillo recipes will also include hot peppers. Remember to use gloves when preparing hot peppers and keep hands away from your face. They really do burn!

STEAK SALAD with fried green tomatillos
Vinaigrettte
2 Tablespoons cumin
1 Tablespoon water
1  1/4 Cups olive oil
2 Tablespoons cider vinegar
Salt/ pepper to taste
Steak and Fried Tomatillos

1 Pound boneless sirloin steak (3/4 inch thick)
Salt/ pepper
2 Tablespoons olive oil (Divided)
1/2 Cup buttermilk
1/2 Cup cornmeal
1/2 Cup flour
3 Medium tomatillos (Peel, wash, dry, cut into 1/4 inch slices)
2 Tablespoons butter
4 Ounces baby lettuce greens
FOR VINAIGRETTE combine cumin with 1 tablespoon water in food processor.
Add olive oil and process 3 minutes; transfer to a bowl and let stand 30 minutes.
Whisk into cumin mixture the vinegar; season with salt and pepper.
FOR STEAK AND FRIED TOMATILLOS season steak with salt and pepper.
Heat 1 TABLESPOON olive oil in a large heavy skillet over high heat.
Pan  fry steak until browned on both sides turning one time.
Transfer steak to carving board and let stand 10 minutes.
Pour buttermilk into a shallow bowl; season with salt and pepper.
Combine cornmeal and flour in another shallow dish; season with salt and pepper.
Dip sliced tomatillos in the buttermilk; coat both sides with cornmeal mixture.
Heat butter and 2 TABLESPOONS olive oil in a large skillet over medium heat.
Add tomatillos and fry until golden brown on both sides turning over one time.
Transfer tomatillos to a warm platter and keep warm.
TO SERVE toss baby lettuce with half of the vinaigrette; arrange on 4 serving dishes.
Slice steak thinly against the grain; fan slices out and arrange a FOURTH on each plate.
Arrange a FOURTH of the tomatillos on each plate; drizzle remaining vinaigrette over salad.
Serves 4.
---
CREAMY CHICKEN ENCHILADAS
Among my Mexican tomatillo recipes, one of my favorite is for enchiladas.
1 Jar (8 Ounces) Picante sauce (Divided)
1/4 Cup chopped green bell pepper (Finely chopped)
1 Cup chopped fresh tomatillos (Husk, wash and chop fine)
2 Cups chopped cooked chicken
1 Package (8 Ounces) cream cheese (Cut in cubes)
8 Flour tortillas (8 Inch)
12 Ounces Velveeta cheese (Cut in cubes)
1/4 Cup milk 
Preheat oven to 350F degrees.
In medium heavy saucepan combine 1/2 CUP of the picante sauce, bell peppers and tomatillos.
Heat over medium until hot; add the chicken and chunks of cream cheese.
REDUCE HEAT TO LOW; stir constantly until cheese melts.
Spoon 1/3 cup of chicken mixture onto each flour tortilla and roll up.
Place rolls seam side down in a lightly greased casserole baking dish; set aside.
In a heavy saucepan combine the Velveeta cheese and milk.
Over low heat stir mixture until melted and smooth; pour over the rolled tortillas.
Cover and bake for 20 to 25 minutes until thoroughly heated.
Pour REMAINING picante sauce over the top; serves 4 to 6.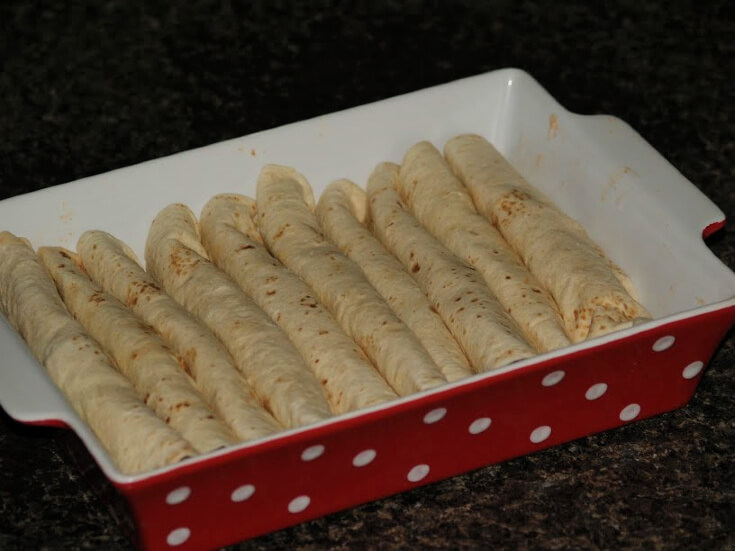 Creamy Chicken Enchiladas
Creamy Chicken Enchiladas
---
BEEF STEW RECIPE with pumpkin seed sauce
Learn how to make tomatillo recipes to serve as a delicious entree served with rice.
3 Pounds boneless beef (Cut in 2 inch chunks)
2 Cups chicken or beef stock (OR a little to cover meat)
3/4 Cup pumpkin seeds
1 Medium chopped onion
2 Coves minced garlic
3 Fresh jalapeno peppers (Seed and chop)
1/2 Cup chopped fresh cilantro
1 Can (10 Ounces) tomatillos (Drain)
6 Leaves Romaine lettuce (Chop)
2 Tablespoons vegetable oil
Salt/ pepper
Place meat in large Dutch oven; cover with stock.
Bring to a simmer; cover and simmer over low until tender about 1 1/2 hours.
Drain meat reserving stock;  place meat back in Dutch oven and set aside
Toast pumpkin seeds in an ungreased skillet a few minutes; cool.
Place seeds in food processor; process until finely chopped.
Add to processor the onion, garlic, jalapeno,cilantro, tomatillos and Romaine.
Process to a paste (Add a little stock if needed).
In skillet heat the vegetable oil; add the seed paste.
Cook and stir mixture about 3 minutes; stir in about  2 CUPS of the stock.
NOTE: Mixture shoud be consistency of heavy cream.
Season sauce with salt and pepper; pour over the meat in Dutch oven.
Place Dutch oven over medium low heat just until thoroughly heated.
Serrves 6.
---
GREEN TOMATILLO SAUCE RECIPE
Learn how to make tomatillo recipes like this sauce to serve with fish or chicken.
2 Cans (10 Ounces each) tomatillos (Drained)
3 Jalapeno peppers
5 Cloves minced garlic
1/2 Cup vinegar
1/4 Teaspoon allspice
1/4 Teaspoon oregano
Salt/ pepper
Place tomatillos, jalapeno peppers and garlic in a medium saucepan.
Cook and stir over medium high heat until tomatillos fall apart about 3 minutes.
Add remaining ingredients; heat while stirring until well bleended.
Set off to cool; pour into covered container and refrigerate until ready to serve.
---
COLD FRESH TOMATILLO GAZPACHO
Tomatillo recipes include many soups and sauces.
4 Slices dry bread (Break in pieces)
2 to 3 Cloves garlic
1/4 Cup toasted pumpkin seeds
1/2 Cup chopped fresh cilantro
1 Tablespoon olive oil
1 Tablespoon red wine vinegar
1/2 Pound fresh tomatillos (Peel, wash, chop)
3 Cups water (Divided)
1 Pound seedless green grapes (Wash, stem)
Salt/ pepper to taste
2 Tablespoons sour cream
Place bread in food processor; chop until crumbly.
Dump crumbs into a large bowl and set aside.
Combine in the processor the garlic and next 4 ingredients.
Process the mixture to a coarse puree; add tomatillos and 1 1/2 CUPS water
Process until tomatillos are coarsely chopped; pour MOST into a large bowl.
To remaining soup in processor add grapes, breadcrumbs and 1 1/2 CUPS water.
Process just until grapes are chopped (NOT pureed); pour into the bowl.
Season with salt and pepper; cover bowl and chill thoroughly.
To serve garnish with dollops of sour cream; 4 servings.
---
ENCHILADA SAUCE RECIPE
Delicious tomatilla recipes are mostly in Mexican cuisine like this enchilada sauce.
3 Tablespoons olive oil
2 Medium chopped onions
3 Medium mild green Anaheim peppers (Or other) (Seed, chop)
2 Pounds fresh tomatillos (Peel, wash, chop fine)
3 Cloves garlic
1 3/4 Cups chicken broth
Salt/ pepper to taste
1 Bunch chopped fresh cilantro
Combine olive oil and onion in a large skillet; saute and stir about  3 minutes.
Add peppers and chopped tomatillas; saute and stir about 4 minutes.
Add the broth and garlic; bring to a boil.
REDUCE HEAT and simmer uncovered about 30 minutes.
NOTE: Sauce should thicken.
Remove from heat and season with salt and pepper; stir in cilantro.
Process in food processor until smooth; reheat slowly before serving.
3 to 4 Servings.
---
GREEN CHILI (Or chili verde recipe)
Beans and chili peppers are often found in tomatillo recipes.
1 Pound dried white beans 
About 10 mild chili peppers (Mixing your favorites make a good flavor)
4 Jalapeno peppers
2 Tablespoons vegetable oil
2 Medium chopped onions
5 Cloves minced garlic
1 Tablespoon cumin
1 Tablespoon coriander
2 Quarts water
2 Pounds tomatillos (Peel, clean, chop)
2 Cups frozen whole kernel corn Thawed)
1 Chopped red bell pepper 
1/4 Cup chopped hulled pumpkin seeds
Juice of 1 lime
Salt/ pepper to taste
1/2 Cup chopped fresh cilantro
Sour cream
TO COOK BEANS wash and pick out any bad beans.
Cover with fresh water;soak beans overnight.
Rinse beans and place in large pot; cover with plenty of water.
Bring beans to a boil for 5 minutes; REMOVE FROM HEAT and let stand 1 hour.
PREPARE PEPPERS: PREHEAT BROILER.
Place the 10 chili peppers and jalapenos on a baking tray.
Place tray under heat until the skins are blistered and charred.
Rotate peppers until all sides are blistered and charred.
Remove peppers from oven and let cool.
Peel skins from peppers and seed: chop into small pieces.
FOR CHILI heat oil in large Dutch oven over medium heat.
Add the onions and chopped peppers; saute 5 minutes stirring occasionally.
Add cumin and coriander and cook 2 minutes longer.
Drain, rinse and drain again the BEANS; add to Dutch oven plus 2 quart water.
Bring chili to a boil; REDUCE HEAT and simmer for 1 1/2 hours (Add more water if needed).
Stir in the roasted chopped chili peppers, tomatillos, corn and red bell pepper.
Simmer mixture for 30 minutes; stir in pumpkin seeds.
Stir in lime juice, salt, pepper and cilantro; ladle into bowls.
Top with dollops of sour cream; serves 4.
---
WHITE FISH FILLETS with tomatillo salsa
Tomatillo recipes for salsa liven up the taste of white fish.
4 White fish fillets (4 - 6 Ounces each)
1 Tablespoon olive oil
1/4 Cup finely chopped onion
1/4 Cup finely chopped celery
2 Cloves minced garlic
1 Cup finely chopped fresh tomatillos (Peel and wash)
2 Tablespoons finely chopped green bell pepper
1/4 Cup clam juice
2 Tablespoons canned chopped chilies
2 Tablespoons lime juice
1 Teaspoon chopped fresh cilantro
1/2 Teaspoon cumin
1/4 Teaspoon oregano
1/8 Teaspoon salt
1/8 Teaspoon cayenne pepper
Heat oil in a medium saucepan over medium high heat.
Add onion, celery, garlic, tomatillos and bell pepper; stir and cook 5 minutes.
Stir in clam juice and next 7 ingredients; return to a boil.
REDUCE HEAT, cover and simmer for 15 minutes stirring occasionally.
Set off heat but keep warm
PREHEAT BOILER.
Spray or brush broiler rack with vegetable oil; place fish fillets on broiler rack.
Cook fish about 7 minutes on each side or until it flakes when tested with a fork.
Serve fish with tomatillo salsa; serves 4.
---
NOTE: The NEXT  2 TOMATILLO RECIPES  for  salsa and many others will call for ROASTED TOMATILLOS. Below are instructions:

HOW TO ROAST FRESH TOMATILLOS and  other vegetables
Try roasting tomatillos for making tomatillo recipes.
1. Preheat the broiler.
2. Remove husk from the tomatillos; wash the sticky off and pat dry.
3. Coat tomatillos all over with vegetable oil; place on rimmed baking sheets..
4. Place under broiler until blackened in spots and softened (about 8 minutes turning once).
5. Let cool on baking sheets.
---
TOMATILLO RECIPE FOR ROASTED TOMATILLO SALSA
The flavor of tomatillo recipes change a little by roasting them.
2  1/2 Pounds  tomatillos (Roasted; see above instructions)
6 Cloves garlic (With peels on)
4 Large jalapeno peppers 
2 Large onions (Peel and cut in quarters)
3/4 Teaspoon salt
1/2 Teaspoon black pepper
1/2  Cup chopped fresh cilantro
1/2 Cup heavy whipping cream
Roast tomatillos, garlic, jalapenos and onions (As in above text for tomatillos).
Peel garlic and remove stems from jalapenos; place in food processor.
Add tomatillos to processor discarding any liquid; pulse processor 4 times to coarsely chop.
Pour into a bowl; add salt, pepper, cilantro and cream.
Mix well; serve with tortilla chips or with entrees.
---
ROASTED TOMATILLO CHIPOTLE SALSA RECIPE
Many tomatillo recipes instruct you to roast them first.
6 Dried chipotle chiles (Stemmed)
6 -8 Large cloves garlic
1 Pound roasted tomatillos (See above instructions for roasting)
Salt/pepper to taste
Heat a large heavy skillet (Cast iron is good) over medium heat.
Place chiles in skillet; press down with a metal spatula until they start to crackles.
Turn chiles over and toast the other side; transfer to a heat proof bowl.
Cover chiles with hot water; let set to soften about 30 minutes stirring occasionally.
Drain well; Chop fine and set aside.
Heat the heavy skillet and toast the garlic turning occasionally until blackened in spots.
Let garlic cool and peel;set aside.
Scrape roasted tomatillos and juices into food processor; add chiles and roasted garlic.
Puree until thick and still slightly chunky; pour into a bowl.
NOTE: If it is too thick for you stir in a couple tablespoons of water.
Season with salt and pepper; serve with pork, chicken, beef or seafood.