How to Make Unleavened Bread Recipe
When you learn how to make unleavened bread recipes you will know that it is made without adding leavening to the recipe. It is a very interesting old time bread with great history.  It is mentioned in the Bible and dates back to the Early Egyptian bakers.  In the Bible God instructs the Israelites to eat only unleavened bread each year at Passover in remembrance of their Exodus from Egyptian bondage. Today this bread is also used in many church ceremonies by many different denominations referred to as church bread or altar bread.
HOW TO MAKE UNLEAVENED BREAD RECIPE
12 Cups flour white or whole wheat
1 Pound unsalted butter
4 Cups Milk  (White flour may take a little less and wheat may take a little more)
Preheat oven to 400F degrees.
Cut butter into flour until crumbly; add milk gradually while kneading in mixer 6-8 minutes.
Divide dough into 6 parts; roll out to ¼ inch thickness and place on ungreased cookie sheets.
Using yardstick score lightly in stripes so bread can easily be broken apart after baking.
Prick strips with a fork and bake 6-8 minutes until it has a light brown edge.
Cool and break apart.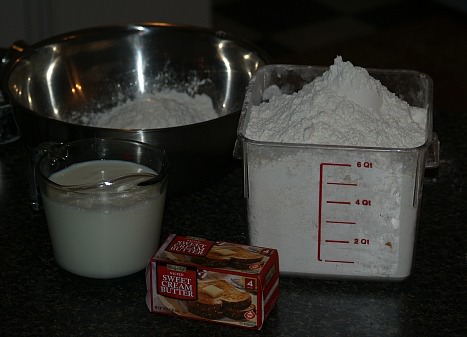 Ingredients for Unleavened Bread Recipe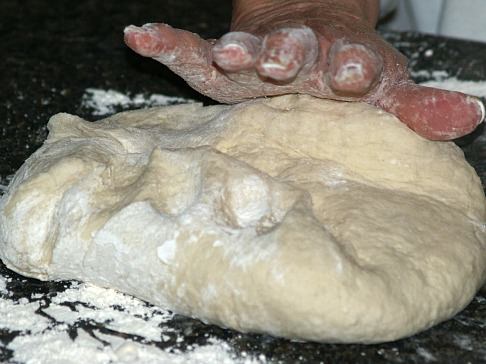 Kneading Unleavened Bread Dough
Measuring Unleavened Bread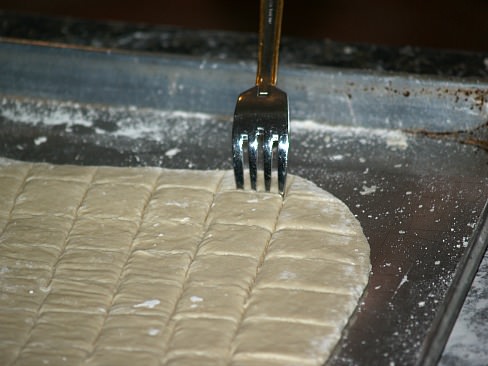 Preparing Unleavened Bread to Break Apart
Unleavened Bread Ready for Oven
---
When you learn how to make unleavened bread recipes you will learn that other breads can also be considered unleavened. Sour dough bread does not have any leavening like yeast added to the recipe but it produces its own yeast by setting for long periods of time at warm temperatures. Sour dough bread is made by using a sour dough starter and other ingredients are added to the recipe. After using part of the starter more flour and water are added to the starter to "feed" it for the next time.  This is the type of bread used in the early years before the yeast and other leavening agents were available. These starters were carried in our early history on wagon trains and by miners to bake bread.
Another type of bread considered to be an unleavened bread recipe is not made with a starter. It is completely blended together and placed in a baking pan. It is then placed in a warm place in the pan for many hours which produces yeast and rises before it is baked.
I know how to make an unleavened bread recipe that is simple. I am amazed at how well  it turns out. I used 3 cups whole wheat flour, 1 teaspoon salt and enough water to make soft dough. After kneading until smooth I placed into a well greased loaf pan and set it in a warm place for 15 hours to rise. After baking for about 50 minutes at 350 F degrees, I removed from the pan. The bread tasted much like sour dough bread. It was amazing to me to think that these three simple ingredients made edible bread. 
---
RAISIN BREAD RECIPE
a favorite unleavened bread recipe
3 ½ Cups stone ground whole wheat flour
½ Cups stone ground corn meal
3 Teaspoons cinnamon
1 ½ Cups thick applesauce
1 ½ Cups raisins
2/3 Cup molasses
½ Cup water
Combine the flour, cornmeal and cinnamon in a large bowl; set aside.
Combine the applesauce, raisins, molasses and water in a saucepan; heat to simmering. 
Stir the raisin mixture into the dry ingredients.
Turn dough out onto a floured board; knead for several minutes. 
Place dough into a buttered bowl and turn to butter all sides. 
Cover dough and let stand at room temperature for 8 hours or longer. 
Briefly knead again and shape into a round loaf; place loaf on a greased baking sheet.
 Let loaf stand while heating oven; preheat oven to 350F degrees
Bake loaf for about 1 hour and 40 minutes or until done.
---
HOMINY BREAD RECIPE
1 Cup cooked hominy
1 Cup raw washed hominy (drain and dry as much as possible)
1 Egg
1 Large tablespoon shortening
½ Teaspoon salt
Preheat oven to 350F degrees.
Combine cooked hominy with egg, shortening and salt; blend well. 
Blend in washed raw hominy; spoon into greased muffin tins.
Bake about 30 minutes or until browned
---
HOT WATER FRIED CORNBREAD
1 ½ Cups white cornmeal
1 Teaspoon salt
1 Cup boiling water
2 Tablespoons bacon grease
½ Cup oil for frying
Combine in a bowl cornmeal and salt; add boiling water and bacon grease.
Stir to blend well; heat skillet with 3 or 4 tablespoons of oil.
Spoon heaping tablespoons of batter into hot oil; brown on both sides.
Flatten with spatula as they cook.
Painless Cooking

›
Bread
› Unleavened