Various Types and Uses for Salt
Since ancient times, there have been more uses for salt than any other ingredient on earth. It has played a major role in our world history. Small villages became large cities solely due to the mining and exporting of salt. Roads were set up just for the transporting of it and then cities developed along these roads. Heavy taxes and duties were levied on the transporting of this important product. There were times when only the richest people were allowed to consume salt.

Today, we might look at some of the uses for salt as having been strange. Throughout ancient history, after executing a convicted traitor and demolishing his house, salt was poured on his land. This was done to let everyone know that this land was never to be built on again. Wars were fought over salt and it caused mass population shifts.


There have been many uses for salt throughout our shorter American history. One very important use was for preserving food long before refrigeration was available. This preservation played a very important part in providing food for our soldiers during some of our wars.


When I was growing up, I vividly remember Dad preserving pork with salt when we butchered. It is very good but you have to know how to cook it to remove the salt. Sometimes I still purchase salt pork just because I like the taste. I boil it first to remove the salt. Then I brown the meat in a skillet; it is very flavorful. I don't want to fail to mention that every time we make homemade ice cream, we need rock salt for our freezers.


Throughout our history there have been other uses for salt. Because of its value it has been used as a currency. In some wars due to the lack of money, soldiers were paid with salt. It is hard for us today to believe that salt carried so much value but I am sure it did. I have heard so many stories from my parents and siblings about not having salt or pepper as recent as the depression. I grew up with the knowledge of them storing enough of both so that they would never have to be without again.


The uses for salt come from two different types; rock and sea salt. Mined rock salt has played an important part in religious ceremonies throughout time having been mentioned in the Bible many times. Currently, refined table salt is probably the cheapest thing you can purchase at the grocery store and is readily available on every table.  This may not always be so! As we have seen through history this can change any time for many different reasons.


There are other uses for salt besides our human food consumption. Rock salt plays a very important role in our animals' diets. We have always provided a salt block for our horses to supplement their diet; Cattle farmers do the same with their herds of cattle. As many of you know, we use forms of rock salt to melt the ice during the winter months. Many of you with water softeners on your homes use plenty of rock salt all year long to keep your water nice and soft.


Sea salt comes from the mineral evaporation of sea brine. Being much more expensive, it is generally used only to replace our refined table salt. I have read the Mayo Clinic claims that sea salt is no different than ingesting regular table salt. I know of many who prefer the taste over table salt. I use both but have no preference one over the other; only the texture is more coarse. According to the FDA, manufacturers can label their salt "sea salt" even if it was taken from a mine; it only needs to meet their "purity requirements".

USES FOR SALT & TYPES OF SALT
| | |
| --- | --- |
| | TABLE SALT can be plain or iodized; in either case it is a fine grain containing a calcium silicate to prevent it from caking and works well dispensing from a salt shaker. |
CANNING OR PICKLING SALT is a fine grain but does not include any additives; no iodized or anti caking agents.

| | |
| --- | --- |
| | What is labeled ROCK SALT is not a "food grade" for use IN food but is used for making ice cream; in the freezer to make the ice melt and freeze the cream. |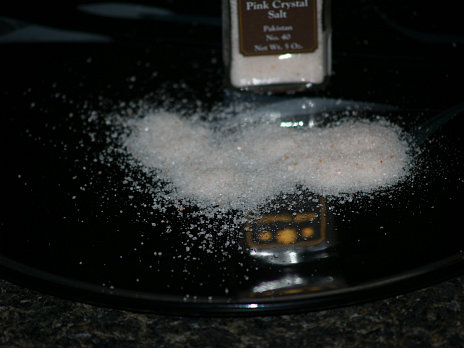 Many natural health professionals recommend HIMALAYAN SALT as the most pure and healthiest form available. It is reported as being able to support a healthy balance throughout your body. It has a very high quality of naturally clean sodium chloride. Although some reports state all salt encourage high blood pressure, many say Himalayan salt helps to regulate blood pressure. Other benefits that have been reported are regulating water in our bodies, regulating blood sugar, helping with respiratory problems, slow down aging, relieve migraine headaches, help with insomnia, helps with ADHS, autism, strengthen bones and vascular health. It was once known as the "King Salt" because only royalty was allowed to use it.

---
SALTED PEANUT COOKIE RECIPE
The most popular uses for salt include salting nuts either for eating as snacks or including in many delicious recipes.

1 Cup softened butter

1 ½ Cups packed brown sugar

2 Eggs

2 Teaspoons vanilla

3 Cups flour

½ Teaspoon baking soda

1 Teaspoon salt

2 Cups salted peanuts

Preheat oven to 375F degrees.
Combine and mix butter, sugar, eggs and vanilla thoroughly.
Sift and measure flour and blend with baking soda and salt; add to creamed mixture.
Drop by rounded teaspoonfuls on lightly greased baking sheet about 2 inches apart.
Flatten slightly with bottom of glass dipped in sugar.
Bake 8 to 10 minutes until golden brown.

---
SPICED SEASONED SALT RECIPE
Another popular use for salt is in many different seasoned salt recipes. This one is a little spicy; use as a dry rub or in dips.

1 Teaspoon cumin seeds

1 Teaspoon fennel seeds

1 Teaspoon Szechuan peppercorns

½ Teaspoon freshly ground black pepper

2 Tablespoons coarse salt

Combine fennel seeds, cumin seeds and Szechuan peppercorns in a small dry skillet.
Over medium low heat stir until toasted and aromatic about 3 minutes; cool.
Grind in a spice grinder and transfer to a small bowl.
Add black pepper and salt; mix well; makes about ¼ cup.

---
SEASONED SALT RECIPE
5 Tablespoons salt
2 Tablespoons sugar
1 Tablespoon paprika
1 Teaspoon celery salt
1 Teaspoon onion powder
1 Teaspoon garlic powder
1 Teaspoon dry mustard
1 Teaspoon dry thyme
1 Teaspoon ground nutmeg
COMBINE AND MIX; store in tightly covered container.
---
SEASONING MIX
Uses for salt can be found in all types of seasoning mixes.
2 Teaspoons salt
1 Tablespoon paprika
2 Teaspoons dry mustard
1 ½ Teaspoons onion powder
1 Teaspoon dried thyme
¾ Teaspoon white pepper
½ Teaspoon black pepper
½ Teaspoon cumin
1 Teaspoon ground ginger
COMBINE and mix together all ingredients; store in airtight container.