Valentine Celebration Food
How to Plan a Valentine Celebration 
Learn how to plan a Valentine celebration which will be enjoyed by many of us in a few weeks. Each will celebrate in a different way but most with the typical heart shapes in some form. If you ask your friends for their favorite Valentine treats, many will answer with a chocolate dessert recipe.
When my children were young, I learned how to plan our Valentine celebration using some of my simple recipes like chicken casserole, chicken and dumplings or a tuna noodle casserole. Then I would make special Valentines Day recipes for dessert. Sometimes I would make a delicious chocolate fudge cake, which was a favorite. I would ice it and decorate it with Valentine hearts. Other times I might use one of my easy holiday recipes like moist brownies cut in heart shapes or a simple sugar cookie recipe with pink or red icing. A favorite Valentine treat was from my frozen dessert recipes and very simple to make.
FROZEN STRAWBERRY DESSERT RECIPE
1 Small tub Cool Whip
1 Small box strawberry gelatin
1 Cup strawberries, chopped small
½ Cup chopped pecans
Combine ingredients and mix thoroughly together; spoon into paper lined muffin tins.
Freeze until solid.  
May garnish with whipped cream and sliced strawberries.
NOTE: If using tins without paper liners you may need to apply hot wet towel to bottom of tin to loosen.
---
TUNA NOODLE CASSEROLE RECIPE
½ Cup butter
½ Cup chopped celery
½ Cup chopped green pepper
1 medium chopped onion
2 Cans tuna fish
1 Can cream mushroom soup (no water)
1 Can cream chicken soup (no water)
½ Cup mayonnaise
1 Jar pimento
1 Pound cooked noodles
½ Cup chopped almonds
1 Cup grated cheddar cheese
Preheat oven to 375 F degrees.
Melt butter in a skillet; sautee' celery, green pepper and onion until tender.
Combine tuna, cooked noodles, soups, mayonnaise, pimento and almonds.
Combine noodle mixture with the sautéed vegetables.
Spoon into a greased casserole baking dish; bake 40 minutes.
Top with grated cheese; bake additional 15 minutes.
---
BEST SUGAR COOKIE RECIPE

decorate festive for a Valentine celebration
1 Cup softened butter
1 ½ Cups powdered sugar
1 Egg
1 Teaspoon vanilla
2 ½ Cups all purpose flour
1 Teaspoon baking soda
1 Teaspoon cream of tartar
Mix all ingredients thoroughly together; cover and refrigerate for at least 3 hours.
Preheat oven to 375F degrees.

Divide dough into half; roll each half to ¼ inch thickness on a lightly floured area.
Cut with cookie cutters; and place on an ungreased cookie sheet.
Bake 8 to 10 minutes or until golden brown.
Frost and decorate.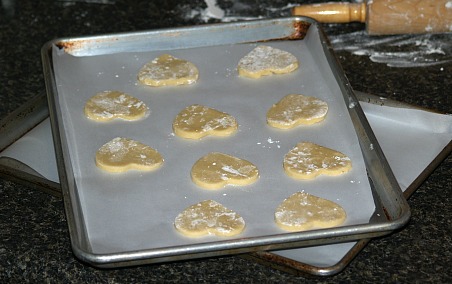 The Best Sugar Cookies Ready for the Oven
---
VALENTINE CHEESE SCONES
2 Cups flour
2 Tablespoons sugar
1 Tablespoon baking powder
1 Teaspoon salt
¼ Teaspoon baking soda
1 ½ Cups shredded Cheddar cheese
1 Egg
½ cup sour cream
¼ Cup vegetable oil
3 Tablespoons milk
Preheat oven to 425F degrees.
Combine flour, baking powder, sugar, salt and baking soda in a large bowl; stir in the cheese.
In another bowl combine egg, sour cream, oil and milk; stir into the dry ingredients just until moistened.
Turn out onto floured surface and knead about 10 times; gently pat out to 1/3 inch thickness.
Cut with 3 inch heart shape cutter; place on ungreased baking sheet and bake 15 to 20 minutes or until golden brown.
---
CHOCOLATE STRAWBERRY SHORTCAKE 
3 ½ Cups biscuit baking mix
2/3 Cup PLUS 2 teaspoons sugar divided
½ Cup cocoa powder
1 Cup milk
1/3 Cup melted butter
1 Egg white
2 ½ Pints fresh strawberries
2 Cups whipping cream
3 Tablespoons powdered sugar
1 Cup chocolate syrup
Preheat oven to 400F degrees.
Combine biscuit mix, 2/3 cup sugar and cocoa powder in a large bowl. 
Stir in milk and butter; mix well.
Drop by 1/3 cup about 2 inches apart on greased baking sheet; sprinkle with remaining sugar.
Bake for 15 to 18 minutes; cool on wire rack.
Set aside 10 whole strawberries; slice remaining berries.
In mixing bowl beat cream and powdered sugar until stiff peaks form.
Split shortcakes in half; spoon whipped cream and sliced berries between layers.
Spoon whipped cream on top and drizzle with chocolate syrup; top with whole berry.
---
For my Valentine celebration this year I will be in Ecuador. I was there last year. I thought that Valentines Day was simply an American thing. A couple days before the holiday I went in to make reservations at La Mirage for several friends for dinner. I began to explain what this American holiday was about. I got this smile and nod. I said, "Do you know about Valentines Day." Again I got this smile and nod. OK I thought.
The Valentine's Day arrived. Seven AM came. I heard a knock on the door. When I opened the door, a friend stood there with flowers and a box of candy. That was only the beginning! All day Kelly and I received beautiful Ecuador flowers, candy and delicious chocolate strawberries. I very quickly realized that this is also one of the Ecuador holidays and even more a part of the Ecuador culture than here in the US. Needless to say, this is one reason I want to be there this year.
I hope helps you learn how to plan your Valentine celebration!