How to Make a Valentine Day Menu
Many of us are asking how to make a Valentine Day menu to celebrate this special day. Most of the time we think of this holiday as romantic and it can be very romantic; but sometimes it is just a good reason to have a party or special dinner.
If you have been thinking about having any kind of get-together for a crowd, now is the time. The bright red and white colors make it easy to decorate; red hearts, red cupids, and red roses. You might want to add a little pink here and there. Decorations always make the occasion more special.
Before I help you learn how to make a Valentine Day menu, I am offering some beauty tips for your tables; both the buffet and dining tables. The tables should be bright and cherry and reflect the occasion. For dinners, I love white; crisply ironed white table clothes are a good way to begin with all tables. Then add red!
Red napkins can be used as napkins or use them opened as a runner down the middle of the dining table or place under the dishes of food. You might want to cut some large hearts from bright red vinyl to decorate with. I also have used fabric remnants to decorate over a white tablecloth; there are many Valentine Day fabrics.
As you are learning ho w to make a Valentine Day menu, I do want to stress not to overdo the decorating. Always avoid the cluttered look on your tables; again simple is best. Food, silver, linens and dishes should blend well. If you are using patterns in the linens or fabrics, then plain white dishes are best. (Although I am not fond of disposable dishes, sometimes I prefer good quality disposable plates in white over multi colored dishes for these special buffets). If you only have printed dishes, then stick with solid fabrics. Avoid too many extra objects, too many colors or too many flowers on the tables.
As you already know, when cooking for a crowd like Valentine Day, I prefer a Valentine Day menu buffet dinner; they are so much easier for one person to handle. Many of these recipes can be prepared the day before like the make ahead mashed potatoes recipe. First let me repeat a few buffet tips that you may have already read on the website. Avoid a traffic jam at the buffet table by arranging food and utensils in a logical order.
Plates and salad plates should be placed at the beginning of the table and condiments, utensils and napkins at the end, unless preplaced on dining table. Your Valentine Day menu food should be arranged so there is no criss crossing of arms when reaching, no reaching across the table and no traffic congestion. Keep menu simple so all can be placed on a large table (This could exclude drinks and desserts which might be placed on another table). Arrange food in easy order; after plates the salads, entrees, starches, vegetables, breads, then desserts.
PROSCIUTTO APPETIZER RECIPE

for a Valentine Day menu
This prosciutto appetizer recipe is nice for your Valentine Day menu; serve to guest as you await arriving guests. They could be baked in mini heart shaped pans or try them in mini Valentine paper mini cup liners. This makes 24 appetizers so plan accordingly for your party.
1 Package (10 ounces) frozen chopped spinach
1 Cup ricotta cheese
½ Cup grated Parmesan cheese
1 Cup chopped mushrooms
2 Tablespoons minced onion
¼ Teaspoon dried oregano
¼ Teaspoon salt
1 Lightly beaten egg
24 Thin slices prosciutto (2 inch square)
Sour cream
2 Thinly sliced green onions
Cook spinach according to directions; drain and press out excess moisture.
Combine spinach, ricotta cheese, Parmesan cheese, mushrooms, minced onion, oregano, salt and egg.
Preheat oven to 375F degrees; lightly butter mini muffin cups.
Place 1 slice prosciutto in each cup pressing down in bottom and on sides.
Spoon cheese mixture into lined cups; bake about 20 to 25 minutes.
To serve garnish with a little sour cream on top and slice of green onion.
NOTE: These can be made ahead of time. Let cool 10 minutes in pans. Cover and refrigerate up to 24 hours.
Remove cover and reheat in oven at 350F degrees for about 7 minutes. Remove from pans and garnish.
---
VEGETABLE MEDLEY SALAD
This vegetable medley salad is nice for a Valentine Day menu. If you are entertaining a large crowd, you might want to also add a bowl of tossed salad. This recipe contains delicious shoe peg corn and is enough for about 10 people so adjust it according to your guest list.
1 Cup diced bell pepper
1 Cup diced celery
1 Cup diced onions
1 Can drained white shoe peg corn (Extra sweet white sweet corn)
1 Jar diced pimientos
1 Can drained petite peas
1 Can drained French cut green beans
Dressing:
¾ Cup vinegar
½ Cup oil
1 Cup sugar
1 Tablespoon water
1 Tablespoon salt
½ Teaspoon black pepper
Combine all vegetables in a container having a lid.
Mix dressing ingredients in saucepan and bring to a boil; cool and pour over vegetables.
Refrigerate overnight before serving.
---
STUFFED PORK ROAST RECIPE with apple stuffing recipe
This stuffed pork roast recipe is an elegant entrée for your Valentine Day menu. The apple stuffing recipe compliments the pork in every way. The recipe will serve about 10 to 12 people so again adjust it to accommodate your crowd.
4 Pounds boneless loin pork roast
½ Cup melted butter
1 Cup finely chopped onion
1 Teaspoon chicken bouillon granules (or condensed chicken stock)
1 Cup milk
6 Cups dried bread cubes
4 Eggs
1 Cup dry white wine
2 Teaspoons salt
1 Teaspoon black pepper
1 Teaspoon ground ginger
3 Peeled and finely chopped tart apples
¾ Cup finely chopped pistachio nuts
Have butcher cut a pork loin from the rib end; trim off excess fat.
Split loin open and continue cutting in jelly roll fashion until loin lays flat.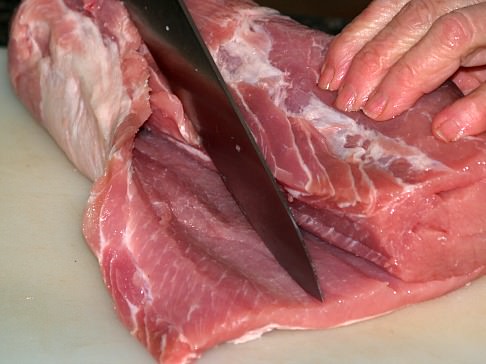 Split Loin Open
Continue Cutting Jelly Roll Fashion
Place butter and onions in saucepan and sauté until onions are tender; stir in milk and chicken flavoring.
Put bread cubes in a large bowl; pour milk mixture over top and soak bread.
Add salt, pepper, ginger, apples, wine, eggs and nuts; mix all ingredients until well blended.
Spread stuffing over prepared roast; roll up jelly roll style and secure with meat string.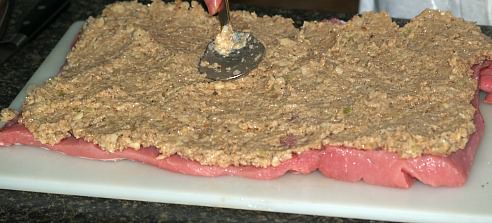 Spread Stuffing Over Loin
Roll Up Jelly Style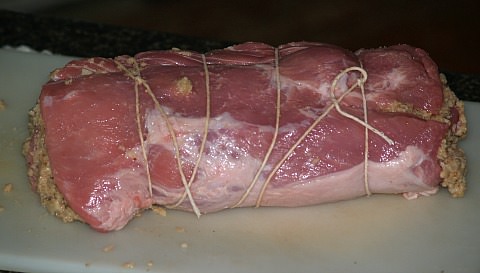 Tie with Meat String
Set in roasting pan and roast for 30 minutes at 400F degrees.
Reduce heat to 325F degrees and roast about another 1 hour or until internal temperature reaches 140 to 160F degrees on thermometer.
Slice roll on diagonal and serve with lagoon of bordelaise sauce recipe (Optional).
BORDELAISE SAUCE RECIPE (You might call it mushroom sauce recipe)
For special flavors on your Valentine Day menu, I teamed up this delicious beef bordelaise sauce recipe with the delicious flavor of the stuffed pork roast recipe.
1 Tablespoon butter
1 Cup sliced fresh mushrooms
2 Tablespoons butter
1 Finely chopped shallot
1 Clove finely chopped garlic
1 Onion slice (only one slice)
2 Slices of carrot
Parsley sprig
6 Whole black peppercorns
1 Whole clove
1 Bay leaf
2 Tablespoons flour
1 Cup canned beef bouillon condensed
¼ Teaspoon salt
1/8 Teaspoon black pepper
1/3 Cup burgundy wine
1 Tablespoon finely chopped parsley
Melt 1 tablespoon butter; add mushrooms and sauté about 5 minutes and set aside.
Heat 2 tablespoons butter in skillet; add shallot, garlic, onion, carrot parsley, peppercorns, cloves and bay leaf.
Sauté mixture until onions are tender; remove from heat.
Add flour and stir until smooth; cook over low heat until flour is slightly brown.
Remove from heat and gradually stir in canned bouillon; replace on medium heat, cook and stir until comes to boil.
Reduce heat and simmer while stirring for 10 minutes; strain and discard vegetables.
Add salt, pepper, mushrooms, burgundy and parsley.
---
MAKE AHEAD MASHED POTATOES RECIPE
This make ahead mashed potatoes recipe is great for a Valentine Day menu because it can be made ahead. It will feed 6 to 8 people depending on the serving size.
4 Large potatoes, about 3 pounds
½ Teaspoon salt
2 Tablespoons butter
2 Packages (3 ounces each) softened cream cheese
2/3 Cup sour cream
¼ Cup cream
¾ Teaspoon salt
1 Tablespoon melted butter
½ Teaspoon paprika
Place potatoes in a saucepan, cover with water, add ½ teaspoon salt and bring to a boil.
Reduce heat to medium and simmer until potatoes are tender about 25 minutes; drain.
Peel potatoes, place in a large mixing bowl; mash with a potato masher.
Add 2 tablespoons butter, cream cheese, sour cream and cream; mix until all ingredients are blended and creamy.
Spoon mixture into a buttered casserole baking dish; brush top with melted butter.
Sprinkle top with paprika; bake uncovered at 350F degrees for 30 minutes.
NOTE: If prepared ahead of time cover and refrigerate. Let set at room temperature 30 minutes before baking. Bake until hot.
---
BAKED VEGETABLE MEDLEY RECIPE
This baked medley recipe also works well with your Valentine Day menu; your guests will love it.
2 Packages (10 ounces each) frozen cauliflower
2 Packages (10 ounces each) frozen broccoli
1 Can (16 ounces) fingerling carrots
1 Can (10 ounces) Cheddar cheese soup
½ Cup mayonnaise
½ Cup chopped onions
Paprika
Onion rings for garnish
Preheat oven to 350F degrees.
Partially cook cauliflower and broccoli according to package directions; drain and place in casserole baking dish.
Combine soup, mayonnaise and onion; pour over vegetables.
Sprinkle top with paprika and garnish top with onion rings; bake for 30 minutes.
---
CHOCOLATE CREAM CAKE RECIPE
Finally you can't have a Valentine Day menu without chocolate. This chocolate cream cake recipe is perfect for Valentine Day, especially if baked in a heart shape.
8 Squares unsweetened chocolate
2 ¼ Cups sifted flour
2 Teaspoons baking soda
½ Teaspoon salt
½ Cup softened butter
2 ¼ Cups packed light brown sugar
3 Eggs
1 ½ Teaspoons vanilla
1 Cup sour cream
1 Cup boiling water
Preheat oven to 350F degrees.
Melt chocolate in double boiler; let cool.
Sift flour, baking soda and salt; set aside.
Beat butter, sugar and eggs until light and fluffy; beat in vanilla and cooled chocolate.
Stir in flour mixture and sour cream a little at a time on low speed until smooth.
Stir in water to make a thin batter; pour into 2 nine inch greased and floured cake pans.
Bake 35 minutes or until pick comes out clean; cool 10 minutes, remove from pans and cool completely.
Split each cake layer in half horizontally and frost cakes with creamy chocolate frosting recipe.
CREAMY CHOCOLATE FROSTING RECIPE
2/3 Cup powdered sugar
1 Teaspoon vanilla
1 Pint heavy whipping cream
½ Cup unsweetened cocoa powder
Whip powdered sugar, cream, cocoa powder and vanilla until stiff; spread between layers and over cake.

I hope you enjoy this Valentine Day Menu.