How to Make Valentine Dessert Ideas
When I learned how to make my Valentine dessert ideas, I realized I made many in the shape of a heart. This symbol of "love" comes from the feelings of our "hearts".  As a little child and during my young years, I always thought this shape of a heart was the actual shape of our hearts which spew out those intense emotions of love.

When I was old enough to understand a little when looking at a visual picture of the heart in our body, I was really disappointed. The hearts we carry around with us look nothing like the ones I had been drawing for Valentine's Day. Those real ones are nothing like the "pretty ones" we use to celebrate this day of love. Not only that but those "hearts" are not located where I was taught to place my hand when I said the "Pledge of Allegiance".  What a disappointing bummer! This was another welcome to the "adult world".

So where does this shape come from that I used when learning how to make all my Valentine dessert ideas? When searching for this answer, I have found that there is much speculation but no definite answer which I could find. One thing for certain is that this shape has been around for a long time. It can be traced all the way back to the thirteenth and fourteenth centuries being used in a variety of different ways. The idea of it representing "love" seems to have begun in the fifteenth century.

One thing I am totally confident stating is that the Hallmark Card Company picked up the idea and RAN with it. What I thought was an American holiday, I found to be even more popular in other countries promoted mainly by Hallmark.

HOW TO MAKE VALENTINE DESSERT IDEAS like this

STRAWBERRY CAKE RECIPE

 
As I learned how to make my Valentine dessert ideas I have always include beautiful and delicious cakes either in heart shapes or simply decorated for the occasion. This one is really special in presentation and taste!
NOTE: Use heart shaped or round cake pans
Cake:

3 ½ Cups cake flour

1 ½ Teaspoons baking soda

½ Teaspoon salt

1 Cup solid white vegetable shortening

2 Cups granulated sugar (divided)

2 Teaspoons vanilla

2 Tablespoons strawberry liqueur

1 Cup buttermilk

12 Drops red food coloring

2/3 Cup diced fresh strawberries

6 Egg whites

1 Teaspoon cream of tartar


Filling:

2 Packages (8 ounces each) softened cream cheese

½ Cup softened butter

1 Cup powdered sugar

½ Teaspoon lemon extract

1 Teaspoon vanilla

8 Drops red food coloring

Milk

½ Cup diced strawberries


Frosting:

½ Cup softened butter

1 Package (8 ounces) softened cream cheese

5 Cups sifted powdered sugar

1 Teaspoon vanilla

1 Teaspoon lemon extract

Milk

Garnish: Fresh strawberries and fresh mint leaves.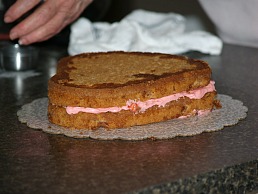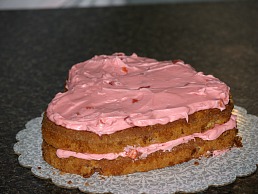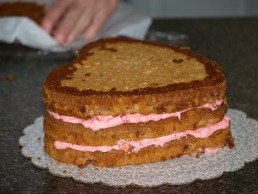 Directions:
For CAKE preheat oven to 350F degrees.
Grease 3 heart shaped cake pans (or round) and line with wax paper; grease again and dust with flour.
Sift together the flour, baking soda and salt into a large bowl.
Beat shortening in a large mixing bowl on medium speed; gradually ADD 1 ½ cups of the sugar.
Beat mixture until smooth adding the vanilla and strawberry liqueur.
Add dry mixture to the creamed mixture alternating with the buttermilk.
Add red food coloring and mix until well blended; fold in diced strawberries.
In a clean bowl beat egg whites until foamy; add cream of tartar.
Beat on high speed gradually adding in ½ cup of the sugar; beat to stiff peaks.
Fold beaten egg whites into batter 1/3 at a time; divide batter into 3 prepared pans.
Bake 25 to 30 minutes or until pick comes out clean; cool 10 minutes.
Remove cakes from pans, remove wax paper and cool completely.

For FILLING cream the butter and cream cheese.
Add flavorings and powdered sugar; add only enough sugar to make a nice spreading consistency.
Add the food coloring and mix until well blended; fold in the strawberries.
Spread filling evenly between the cake layers; place cake in the refrigerator while mixing the frosting.

For FROSTING cream the butter with the cream cheese; beat in the flavorings.
Add the powdered sugar and enough milk to make desired spreading consistency.
Frost top and sides of cake; store in refrigerator.

NOTE: If you garnish with fresh strawberries, place them on top immediately before serving. They will get a little "runny" if put on the cake too early. Wash the berries and dry them thoroughly before placing on cake. Set aside a little of the frosting (use at room temperature) to adhere the berries when ready to place them on top.

---
RED RASPBERRY TRUFFLE RECIPE
This is a favorite of the Valentine dessert ideas.
½ Cup sweetened condensed milk

½ Cup light cream

5 Ounces semi sweet chocolate melted

4 Ounces unsweetened chocolate melted

2 Egg yolks

2 Tablespoons amaretto

2 Tablespoons raspberry liqueur

Fresh raspberries

Cocoa powder, coconut, finely chopped nuts or powdered sugar

In a heavy saucepan, combine condensed milk and cream; bring just to a boil.
Remove from the heat and cool 5 minutes.
In a food processor combine milk mixture with chocolates; process 5 to 10 seconds.
Add egg yolks and process 5 seconds; add liqueurs and process 5 seconds.
Pour mixture into a large mixing bowl; place bowl in a large container and pack around with ice.
DO NOT LET ANY WATER OR ICE GET IN THE BOWL.
Stir mixture until thick and completely cool.
Whip on high speed of mixer until stiff peaks form; cool about 1 hour until firm.
Use 1 tablespoon of mixture for each ball wrapping mixture around a whole raspberry.
Roll each ball in cocoa powder, coconut, nuts or sugar.
Store in a cool dry place for about 7 to 10 days.

---
CHERRY CHOCOLATE TART RECIPE

a decadent Valentine dessert idea
This is one of my Valentine dessert ideas that I like all year round. This FROZEN dessert recipe is especially good in the summer; great for all special occasions.
Chocolate tart shells (Recipe below)

1 Jar (7 ounces) marshmallow cream

1/3 Cup white creme de cacao

½ Cup chopped maraschino cherries

2 Squares (1 ounce each) semi sweet chocolate coarsely chopped

2 Cups whipping cream

Fudge topping

Whole maraschino cherries

To make FILLING combine marshmallow cream and creme de cacao in a large bowl.
Beat mixture until smooth with a rotary beater; fold in the chopped cherries and chocolate.
In a large mixing bowl beat the whipping cream to soft peaks; fold into the marshmallow mixture.
Spoon into tart shells mounding slightly; cover and freeze until firm or overnight.
Serve frozen topped with chocolate fudge topping and a cherry on the top.

Chocolate shells:
I like to include these shells in my Valentine dessert ideas because they can be filled with ice cream and many other fillings.

2 Cups flour

1/3 Cup sugar

¼ Cup cocoa powder

½ Teaspoon salt2/3 Cup solid shortening

Cold water
To make TART SHELLS stir together in large bowl flour sugar, cocoa powder and salt.
Cut in the shortening; sprinkle 1 tablespoon water over top and toss with fork.
Continue adding tablespoons water and tossing until a soft ball forms (May take 6 to 7 tablespoons)
Roll half of dough on lightly floured surface to 1/8 inch thickness; cut into 5 inch circles.
Fit dough circles over inverted 6 ounces oven proof (Grease) custard cups; prick dough with a fork.
Place inverted cups on baking sheet and bake for 10 to 12 minutes at 425F degrees.
Cool and remove shells from cups carefully.